All of these Las Vegas day trips can be made in one day of less. Gas up your car and explore some of the most spectacular scenery in Nevada. Las Vegas offers numerous scenic treasures within driving distance of the city. Ghost towns, state parks, snow-covered mountains and spectacular desert destinations. All mileage for these trips is from downtown Las Vegas.
Las Vegas Day Trips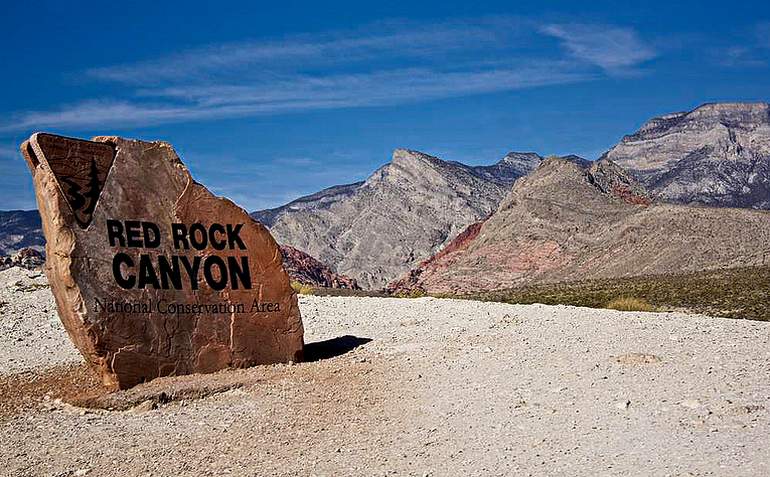 17 miles – Red Rock Canyon is a quick 20-mile drive from Las Vegas. Activities at Red Rock Canyon include hiking, mountain biking, horseback riding, rock climbing, and photography. The canyons elevation is about 3000 feet so in the summer its a few degrees cooler and winter it can get down right cold.
27 miles – Bonnie Springs Ranch is one of the best places to rent a horse and see the red rock canyon. They have a large stable area where they offer guided horseback trail rides and pony rides for kids. The ranch is much more than a stable. They also have a ghost town, train ride, western theme shows, and restaurant. Bonnie Springs Ranch is about a 45-minute drive from the strip.
Save on admission to Las Vegas attractions and tours. Pay one low price and save over 50%. Enjoy the flexibility to choose attractions as you go and do as much as you want each day.
34 miles – Hoover Dam is an easy day trip from Las Vegas. Many tour operators offered guided tours from the strip. If you have a car it is cheaper to drive yourself plus you are not restricted to what you can do and where you can go. There are several points of interest along the way that are worth checking out. Your typical tourist tour takes you to the dam and back. There is so much more to see when you drive.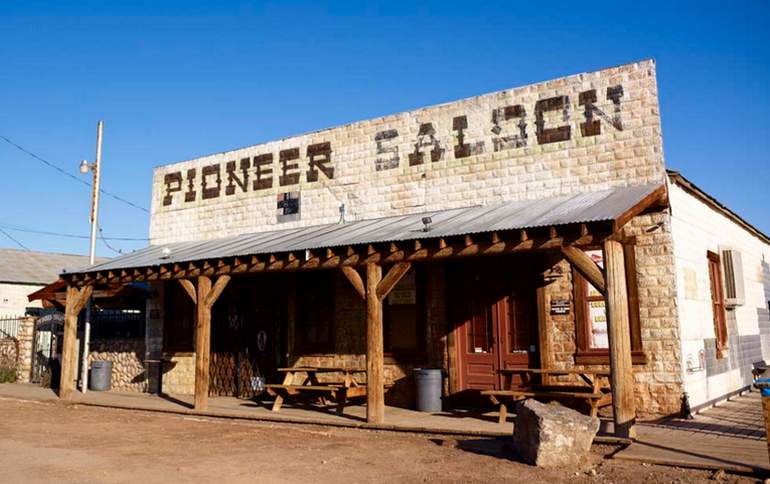 38 miles – The Pioneer saloon is said to be haunted, whether you believe it is or not depends on how many cold beers you indulge in. Inside the Pioneer Saloon, you will find a memorial room with photos from celebrity visitors and a memorial to Clark Gable and his wife Carole Lombard who was killed in a plane crash in the nearby mountains. Goodsprings has a few permanent residents, some crumbling buildings, the saloon and not much else. Pioneer Saloon is one of the most popular Las Vegas day trips on this list.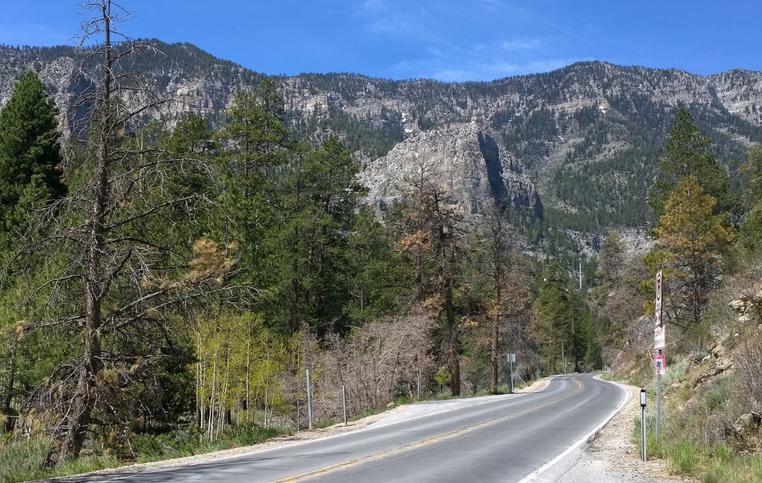 39 miles – Fresh air and silence are what you will find atop the state's eighth highest mountain peak situated 40 miles northwest of Las Vegas. Mount Charleston feels a million miles away from the city. Things to do include hiking, mountain biking, camping, and sightseeing. During the winter the mountains are the perfect place to play in the snow.
40 miles – Nelson Ghost Town is situated in the middle of Eldorado Canyon a once booming gold mining district near the Colorado River.  Tours of the largest and most productive gold mine in the Eldorado Canyon are available for groups of four or more person. The mine property has been a backdrop for several movies and music videos.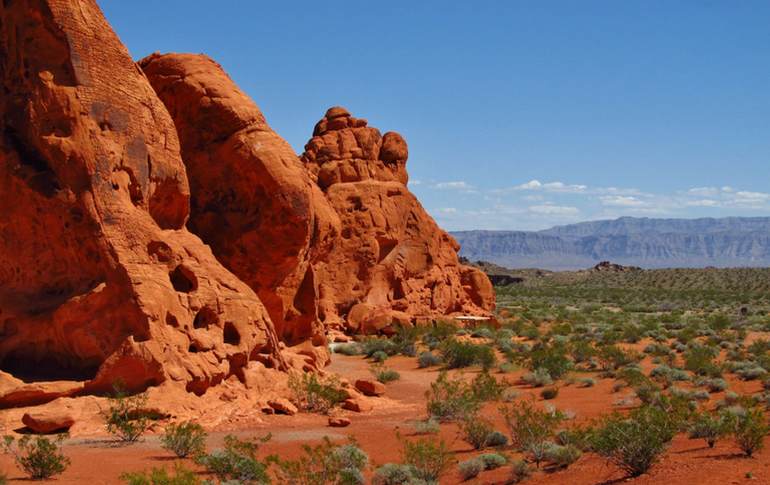 48 miles – Less than an hours drive from Las Vegas Valley of Fire is one of Nevada's most visited attractions. Valley of fire road runs through the park east to west and is just under 11 miles long. Most of the park's attractions are located on or near the main road. Popular points of interest include Rainbow Vista, Fire Wave, Arch Rock, Cabins, Elephant Rock, Fire Wave and White Domes. Bus tours take tourists to the park but we recommend driving in order to see all that this amazing State Park has to offer.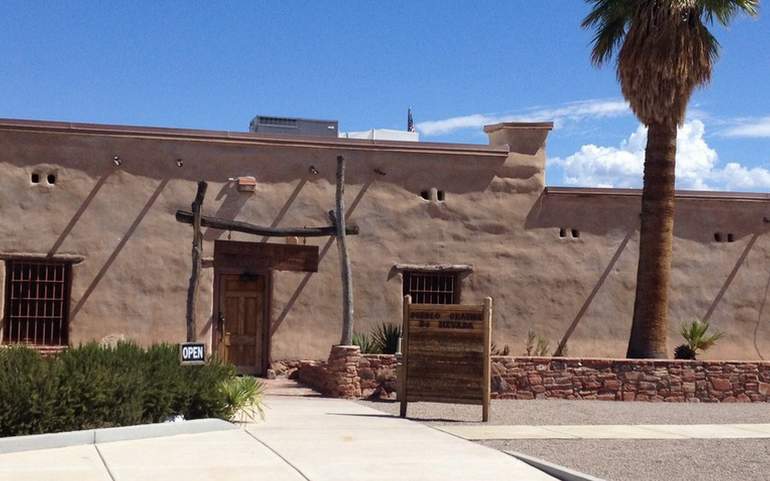 65 miles – The reconstructed pueblo on the grounds of the Los City Museum is designed to look like the original pueblo that was situated here hundreds of years ago. The museum displays Indian artifacts that were excavated from the Moapa Valley in order to save them from the waters of Lake Mead as it was filled up. Lost City makes a nice side trip while visiting Valley of Fire State Park.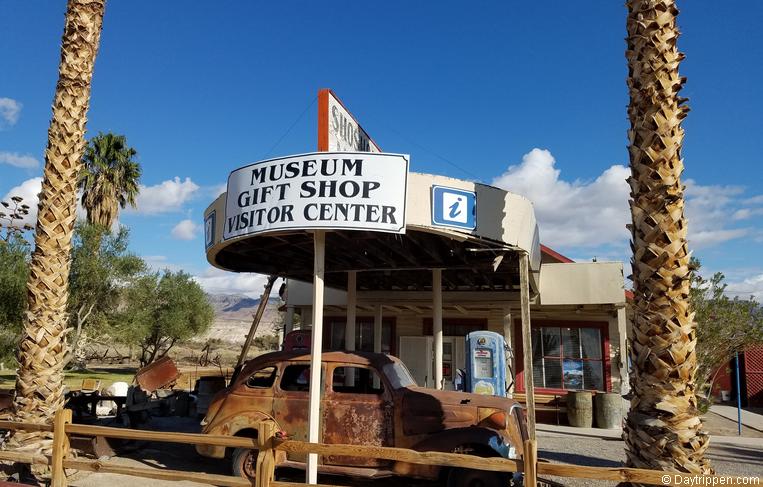 80 miles – Shoshone is an easy day trip from Las Vegas by car or motorcycle. Along with an interesting little museum, the main attraction here is the Crowbar Saloon and Cafe. The grub is good and the beer ice cold. On a hot summer day, what more could you ask for? Stop by China Date Ranch on your way back and you and stock up on Date Bread and be back in Las Vegas by Dinner time. Shoshone is a great popular day trip from Las Vegas bikers and off-road adventurers.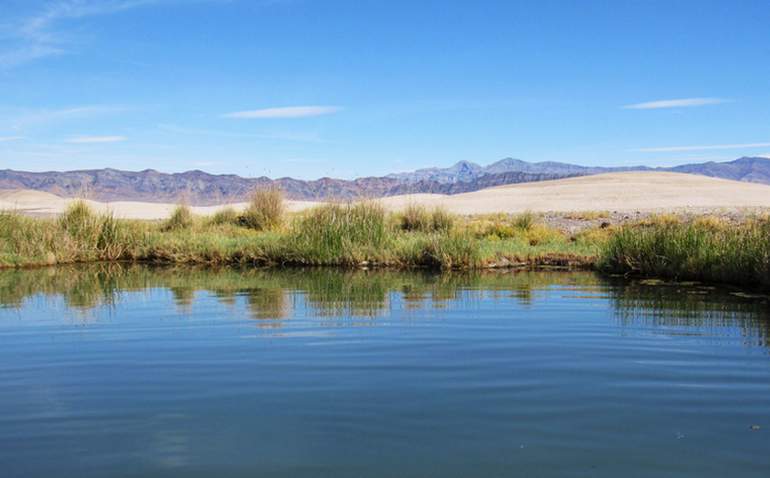 91 miles – Tecopa Hot Springs is a quirky little town located along the Old Spanish Trail. The main attractions in Tecopa are the natural hot springs. There are a couple of low-key resorts that offer day passes and overnight accommodations. And there is also a free public area with a family large natural hot spring pool just outside of town. Keep in mind most folks that visit Tecopa Hot Springs prefer dipping in the nude.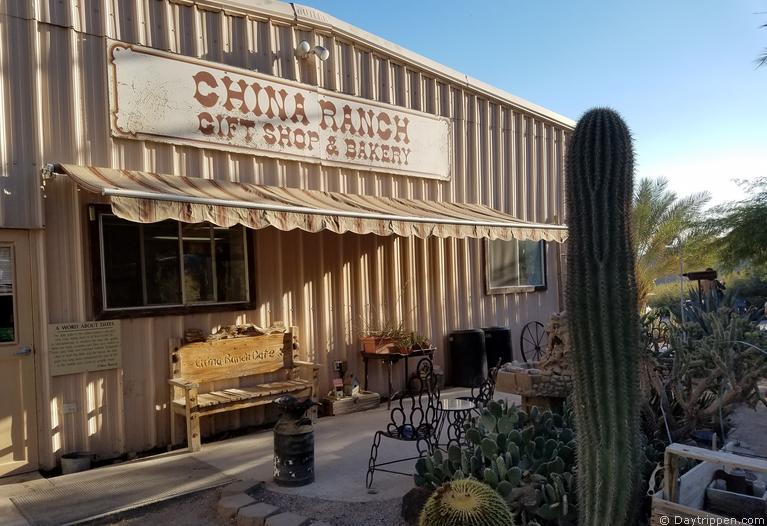 94 miles – China Ranch is a hidden gem that is way off the beaten path. Along with a gift shop and bakery. China Ranch is a great place to go hiking.  The ranch is situated in the Amargosa River Valley. This area is protected as a National Wild and Scenic River and one of the few places where the river flows above ground.
116 miles – If you are heading on a trip to Death Valley chances are you will be passing through Beatty. Most visitors to Beatty Nevada are on their way to the park, however, there are several interesting points of interest nearby.  In town, there are several motels, dining establishments, a couple of small casinos. Be sure to check out the Beatty Museum to learn about the history of the town and the surrounding Bullfrog Mining District. The museum is located US Highway 95 at the junction of Nevada Highway 374.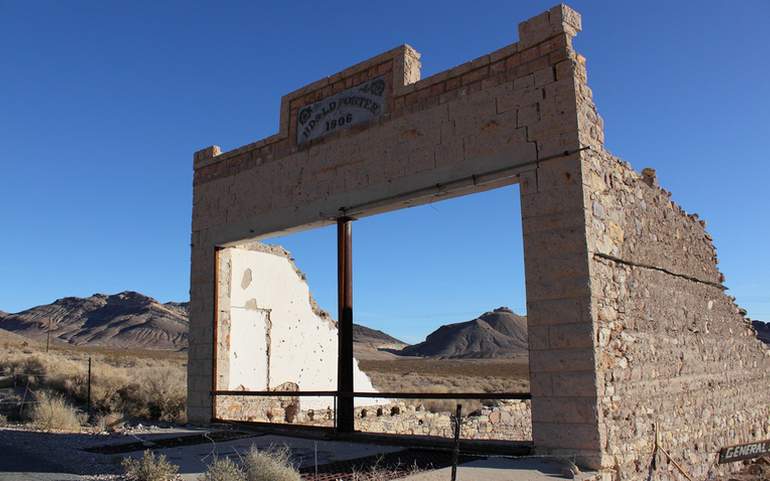 120 miles – Rhyolite is about a two-hour drive from Las Vegas and makes a great side trip while visiting Death Valley Park. Rhyolite historic site is maintained by the Bureau of Land Management and is one of the most photographed ghost towns in the West. Goldwell Open Air Museum, an outdoor sculpture park near the southern entrance to the ghost town.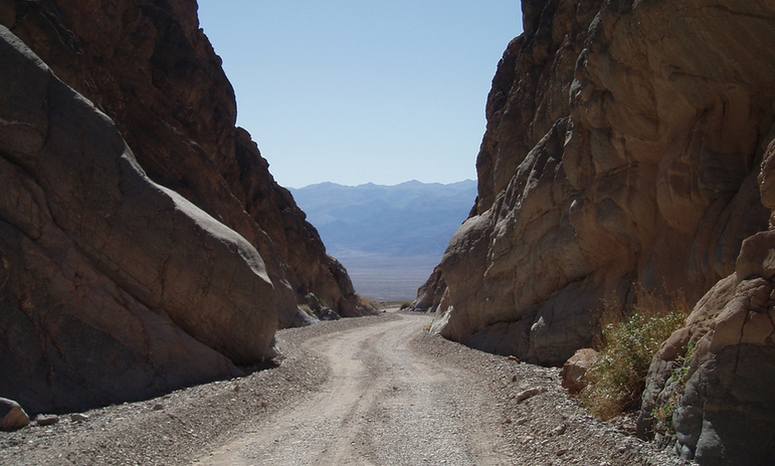 122 miles – Titus Canyon Road is a 27-mile one-way off-road route into Death Valley National Park. The route starts about ten miles south of Beatty Nevada along NV374. This day trip is best suited for high clearance of 4-wheel drive vehicles. Although some people drive this route in the family sedan. The first ten miles are flat and dusty. Then the climb begins. Up, over and through canyons. Points of interest along the route include a ghost town and the narrows with 100-foot cliffs on both sides of the road.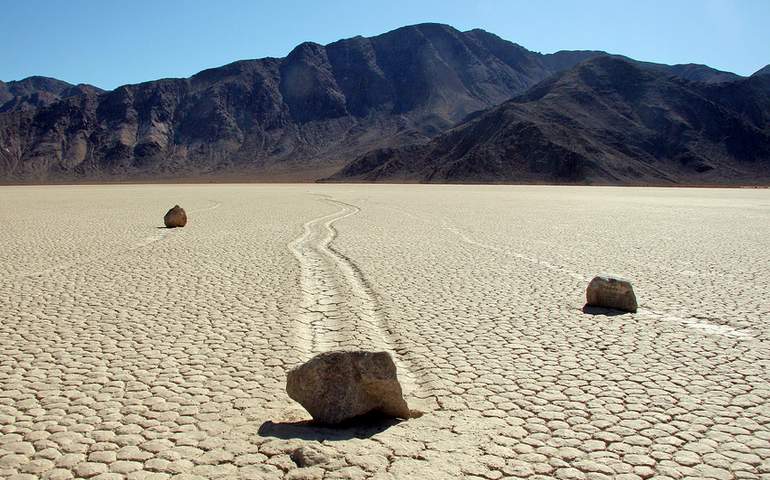 125 miles – Death Valley is within day trip distance of Las Vegas. Many visitors stay overnight in the park or Beatty Nevada to give them enough time to explore Death Valley. Some travelers enjoy visiting in the summer just for bragging rights about experiencing the 100 degrees plus heat. We recommend visiting in late fall to spring and staying in or near the park for a day or two. From Las Vegas, the easiest way into Death Valley is via Beatty Nevada.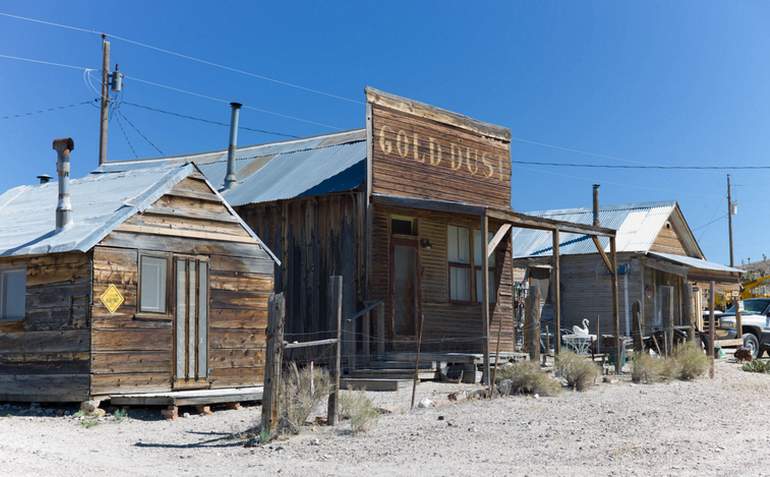 184 miles – Gold Point is about a three-hour drive from Las Vegas. The town was first settled by ranchers and miners during the 1880s. Gold was discovered in the 1920's and the town of Gold Point was born. At one time nearly 2,000 people called the town home. Today there are only a couple of hundred living in the area. Visitors to Gold Point can take a self-guided tour around the town or explore old mining camps and hundreds of mines are all within a short drive. Visitors can also rent a cabin for an old west adventure.