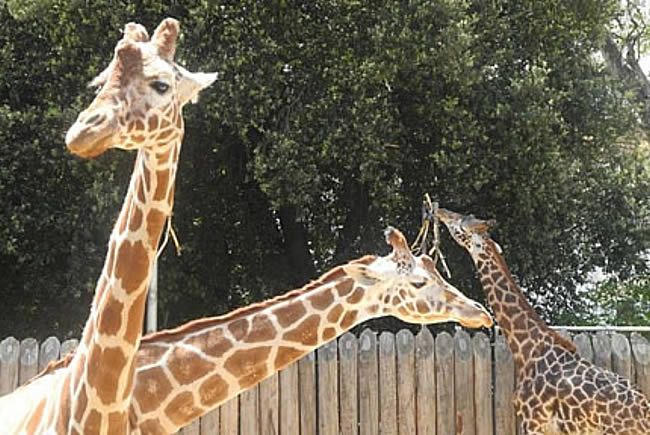 From the plains of Africa to the Amazon rain forest, the Sacramento Zoo is home to more than 140 species of birds, mammals, amphibians and reptiles from around the world.
Specializing in exotic and endangered species, the zoo is involved in several global conservation projects and hosts a variety of educational programs on its 14.5 acre property in William Land Park, in Sacramento, California.Visitors of all ages will be impressed by the extensive roster of animals which includes lemurs, zebras, red pandas and snow leopards just to name a few.
Guests will experience no shortage of color with creatures such as poisonous dart frogs, pink flamingos and the rainbow colored giant day gecko of Madagascar.
The zoo also provides an opportunity to experience the unique sounds of some of the world's more vocal animals. The thunderous roar of the male lion and the charming hoots and chuckles of the Laughing Kookaburra create an atmosphere that is truly out of the ordinary.
For the best animal viewing, guests should arrive early or choose a day when the temperature is cool. The animals are less active in the heat and may retreat inside their enclosures when the weather is warm.
Crowds are minimal in the winter months, but there are also fewer programs and activities. The Wildlife Stage Show is a fun, educational, animal presentation that takes place in the zoo's amphitheater. The show occurs most days in the summer but is typically reserved for weekends the rest of the year.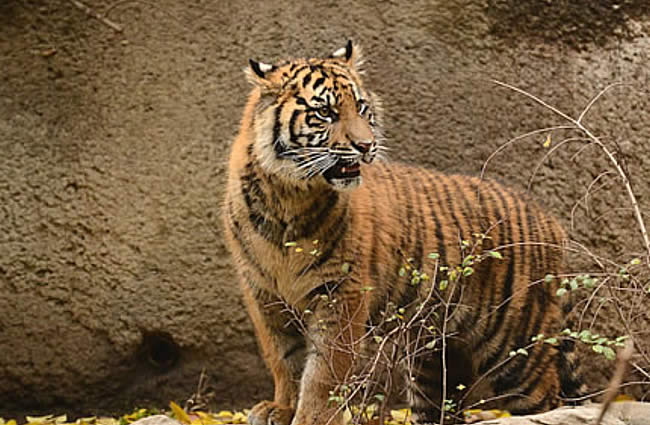 One of the most popular attractions at the zoo is the Giraffe Encounter. For a small fee, guests may feed the giraffes a small portion of their favorite tree branches referred to as "browse".
The browse is provided by zoo staff and can be purchased at the Tall Wonders viewing deck five minutes prior to each scheduled encounter. Giraffe encounters occur twice daily but are subject to change, cancellation and occasionally, the disinterested mood of the giraffes.
Giraffes are not likely to bite so children of all ages are welcome to join the fun. Guests may not pet the giraffes. Participants are limited to one food portion per person and tickets can sell out.
Keeper Chats are fun way for visitors to get an up close and personal look at some of the zoo's residents. Previous Keeper Chats have included a mongoose, anteater, pelican and other critters. Keepers give short presentations and children are given the opportunity to ask questions. Keeper chats are generally offered in the late spring and summer only.
Volunteer docents can be found throughout the zoo offering fun facts and conducting small demonstrations. Take a spin on the Conservation Carousel or hop on the zoo's train for a small extra fee.
A photo booth pressed penny machine and Zoofari Market gift shop allow visitors to pick up a souvenir to suit most any budget.
Kids looking for an even more in-depth experience are encouraged to participate in a day camp or career class. Day camps teach children about the animals at the zoo through fun activities, games, and crafts.
Junior high school students are eligible for career classes where they can learn about becoming a zookeeper or zoo veterinarian from actual keepers and veterinarians. Class schedules and fees vary.Those living in Sacramento or nearby areas, may wish to become zoo members to receive special discounts on entry fees, event tickets, concessions and more. The zoo has two eateries with several meal choices including burgers, veggie burgers, fries and ice cream treats.
Additional picnic areas can be found just outside the zoo in William Land Park. Visitors can exit and reenter with a handstamp. Smoking is not allowed on the zoo grounds.
Neighboring Funderland and Fairytale Town are also part of William Land Park and just a short walk from the zoo entrance. The Sacramento Zoo is open daily except for some holidays.
As a rule, the Sacramento Zoo doesn't offer discounts or coupons. AAA Auto Club members can get $3.00 off when they show their card. Zoo tickets are very affordable and are a bargain compared to other Northern California attractions.