Discover the best places and events to celebrate the Christmas season in Southern California.  Our list covers some of the most popular family attractions, including parades, Christmas lights, shows, train rides, festivals, and activities.


Sawdust Winter Festival runs for five weekends: Mid-November through mid-December.  Open the Friday after Thanksgiving. The Sawdust Art Festival Winter Fantasy is the perfect place for a relaxing afternoon or evening stroll with friends and family. Kids can play with real snow, create art and craft projects or try a potters wheel. Adults can enjoy a glass of wine and listen to live entertainment and shop for some very unique holiday presents.
L.A. Zoo Lights is a nighttime light experience with glowing animals rendered in LED lights, lasers, 3D projections, and interactive displays. Visitors will not see any of the zoo's animals except for reindeer. Late November through January 3. Ticket times 6 p.m., 7 p.m., 8 p.m., or 9 p.m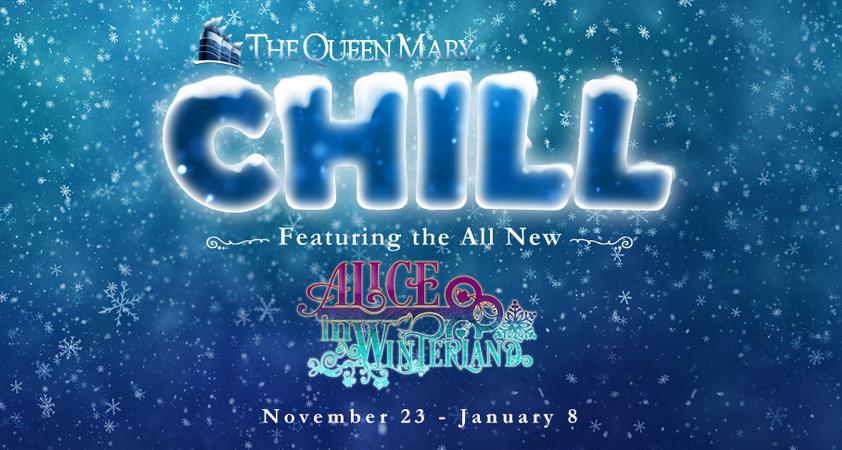 The Queen Mary's Chill event is fast becoming one of Southern California's most popular Holiday Events. Features include a walk-through Fairytale Castle, Ice Cave, Santa's Toy land, Nativity Scene and 24-foot-tall Queen Mary Ship and Slide and ice skating ring. There may not be much snow in Southern California, but there is plenty of Ice at this Long Beach frozen holiday event. Tickets are on the expensive side but are much more affordable with discounts.
(December 13 – 17, 2017) The Newport Beach holiday lights boat parade has been a Southern California favorite holiday tradition for over 100 years.  For the entire month of December through New Years many of the homes and around Newport Bay are lit up with amazing displays of lights. Several tour operators offer harbor lights cruises in case you miss the parade or just want another look at the holiday lights.
Descanso Gardens becomes an Enchanted: Forest of Light for 43 nights, starting Nov. 25, 2016, Trees, plants and walkways will be decorated with a seasonal light show. Visitors will stroll along a one-mile walk through the Gardens. 10 different areas with light displays, three of which will be interactive, allowing visitors to manipulate the lights and sounds.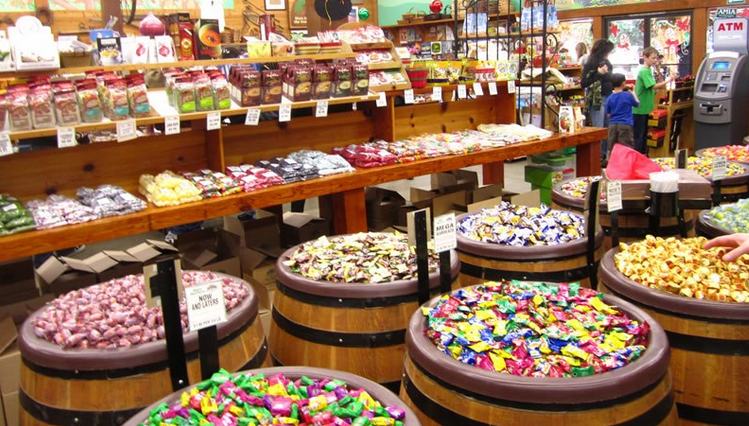 80 plus craft booths selling a variety of handmade crafts and fine art. BBQ and food vendors plus live music on the Bates Stage. Select weekends through Christmas. Open all week for holiday gifts and candies. Bates Nut Farm 15954 Woods Valley Road Valley Center, CA 92082
Every year, America's oldest theme park is magically transformed into Knott's Merry Farm with seasonal entertainment, and spectacular decorations including a 65-foot tall Christmas tree, and a colorful Christmas parade featuring Peanuts. Knott's Christmas Craft Fair is free Monday through Thursday. Friday through Sunday park admission is required to visit the Christmas Craft Fair.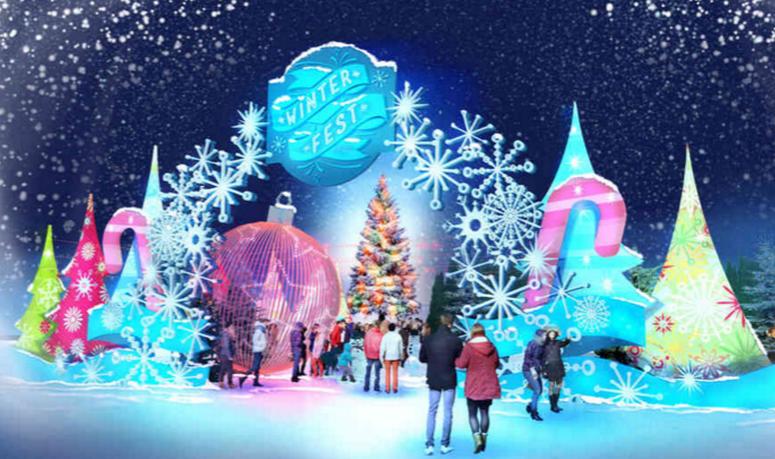 Winter Fest is Orange County's answer to Chill in Long Beach. Billed as the World's Biggest Walk-Thru Ornament, Winter Fest features the world's largest illuminated ornament, ice skating with holiday movie favorites projecting in the background,  a huge six-lane ice slide, nightly snow and reindeer feedings. Also on hand will be carnival rides and games, music performances. We will have a full review after this holiday event opens.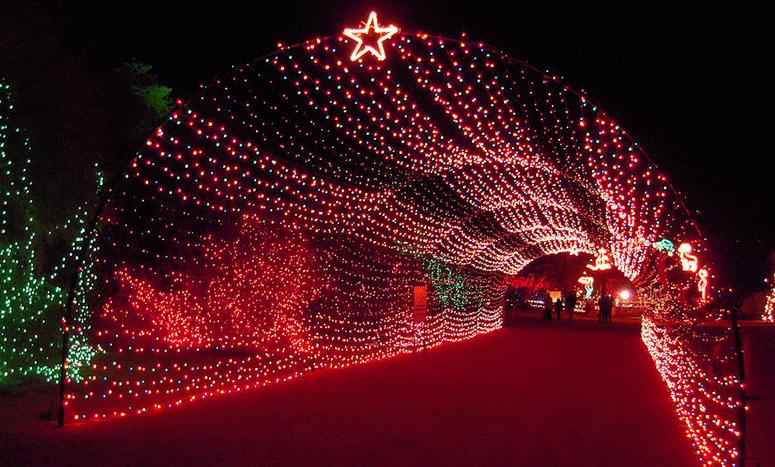 Holiday music and entertainment along with thousand of lights decorating the grounds of the Living Zoo. Stroll under the Tunnel of Lights, kids can take a ride a  train or carousel, see the huge model train track decorated with lights.  Make this a day trip enjoy the zoo during the day and Wild Lights at night. Runs selected nights through Dec. 31.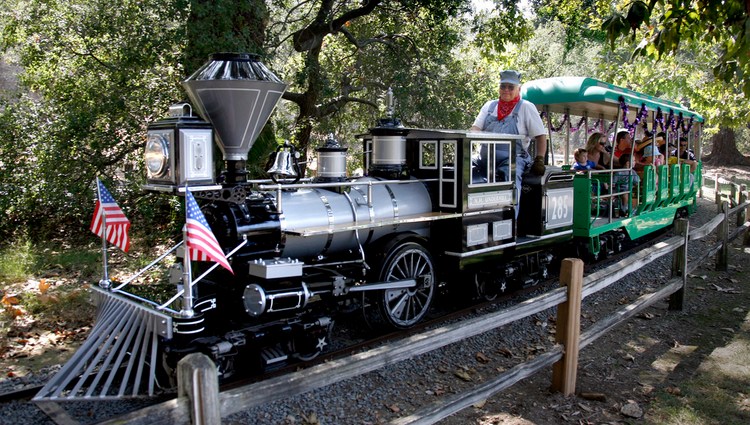 One of Southern California's most popular holiday events. Kids and parents take an evening ride through the park to meet Santa Claus. The train depot is decorated for the holidays with hundreds of lights as passengers head off the North Pole to visit Santa. November 27th – December 23rd. Tickets are $12.00 per person.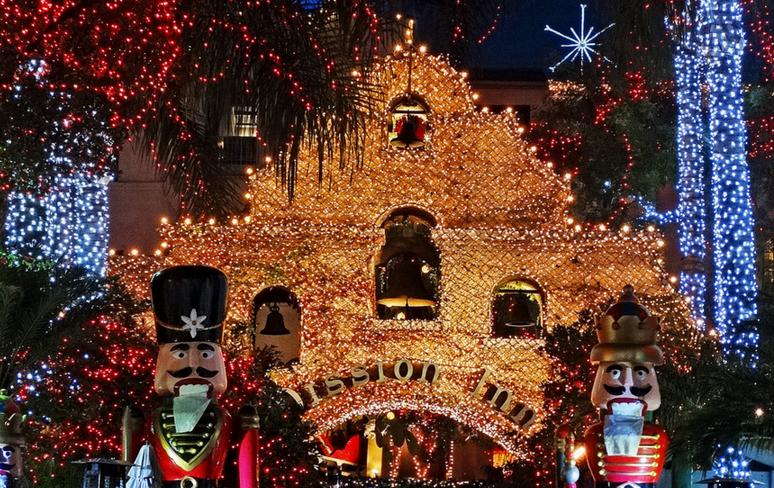 Riverside's Mission Inn Holiday Event is rated one of the best in the nation.  Thousands of lights decorate the historic Mission in and the surrounding streets. Outdoor ice-skating rink on the Main Street pedestrian mall, holiday vendors, and family-friendly entertainment.   Hours November 27, 2015 through January 6, 2016  Monday – Thursday: 4 – 9 p.m. Friday: 4 – 11 p.m. Saturday: 4 – 11 p.m. Sunday: 4 – 10 p.m. December 24 2 – 7 P.M.