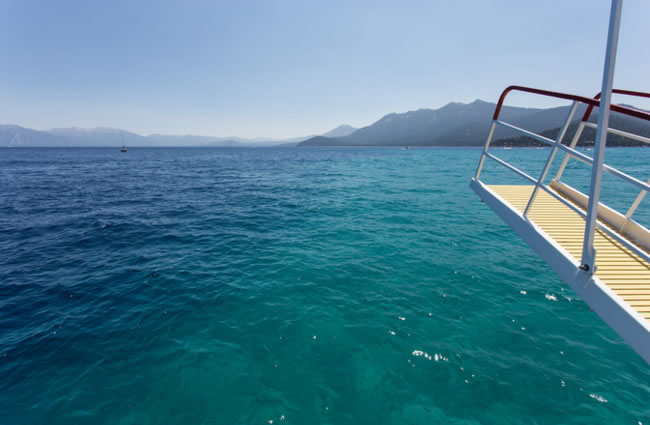 Less than two hours north of Sacramento, at an elevation of 6,250 feet, Tahoe City rests on the edge of beautiful Lake Tahoe. Nestled in the Sierra Nevada mountains, the city offers breathtaking sights, great restaurants and fun activities.
Tahoe City provides travelers with a perfect getaway during any season.With summer temperatures of up to 75 degrees, visitors can enjoy the lake's clear blue waters and numerous hiking trails. For those seeking a winter wonderland adventure, Tahoe City is the gateway to some of the best ski resorts in the world.
The snow covered pines that surround this small mountain town make this trip particularly impressive when temperatures begin to drop.
North Lake Boulevard offers a variety of shops and eateries. Jump start your day at the Coffee Connexion for house-roasted coffee and fresh pastries.
Enjoy pub fare at Tahoe Mountain Brewing Company and live music at The Fat Cat. For an upscale dining experience with views of Lake Tahoe, visit Wolfdale's Cuisine Unique or Dockside 700, both located on North Lake Boulevard.
For a scenic tour of Lake Tahoe, hop aboard the low-emission, fuel-efficient Tahoe Gal. This Mississippi riverboat replica provides a fun expedition for both families and couples. Choose from a variety of day cruises, a romantic sunset cruise or the live magician evening cruise, a great choice for kids.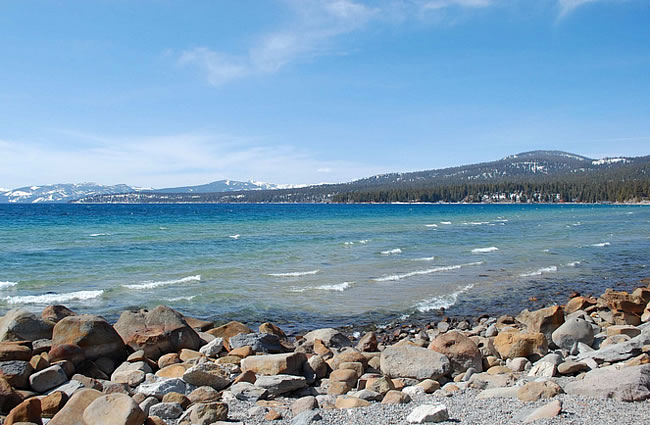 Travelers who aren't afraid of a bird's eye view will want to visit the Tahoe Treetop Adventure Park off Granlibakken Road. This aerial adventure has 70 tree platforms, over 50 bridges, and 15 zip lines to keep tiny Tarzans entertained for hours.In early spring,
visitors are invited to attend the North Lake Tahoe SnowFest, a local tradition with events and activities for all ages. SnowFest celebrates the beginning of longer spring days with plenty of snow held over from winter.
Enjoy 10 days and nights with the people and places that make North Lake Tahoe unique. Most of the major ski resorts host events in addition to the parades, parties, contests and concerts that take place around town.
The North Tahoe Arts Center is a great place to view and purchase works of art from talented local artists. Located in a historical building on the shore of Lake Tahoe, North Tahoe Arts Center contains two galleries with exhibits that change each month.
Several themed exhibits are held throughout the year and the ARTisan Shop is filled with original pieces from nationally-recognized and emerging artists. Choose from a variety of mediums including pottery, paintings, jewelry and more.
Visitors interested in a more historical look at art will enjoy the North Lake Tahoe Historical Society and Gatekeepers Museum. This small museum houses a large collection of baskets, pottery, clothing, dolls and artifacts from over 85 Native American tribes. Historical photographs, maps, newspapers and other artifacts are also available for public view.
The Gatekeeper's Museum is a reconstruction of the original Gatekeeper's Cabin, the former home of the Watermaster who controlled the flow of water out of Lake Tahoe. Museum hours vary with the seasons.
If time allows, the historic Hellman-Ehrman Mansion, is worth the 30 minute drive south to Sugar Pine Point State Park. This exquisite estate, built in 1903, offers guided tours and introduces guests to the life and times of its builder, Isaias Hellman. Explore the nature trail, visit the butler's cabin, or relax on the sandy beach.
During the winter months, visitors have their choice of several world-class ski resorts. Alpine Meadows Ski Resort is well known for its long ski season, diverse terrain, fantastic snow quality and back-country access for advanced skiers.
Alpine Meadows recently merged with neighboring Squaw Valley to offer its guests over 6,000 skiable acres and a wide variety of lessons and tours for all levels of experience.
Just steps from the Lake Tahoe shore, Homewood Mountain Resort is a smaller resort and a great choice for visitors who want to avoid the crowds. A best kept secret for many locals, this resort offers unobstructed views of the lake from the slopes as well as their outdoor watering hole, Big Blue View Bar.
Homewood also offers Adventure 55, a class for experienced skiers age 55 and over interested in a group session with like minded skiers of similar ability.
Whether visiting at the height of ski season or the warmest day of the year, Tahoe City has something for all who venture to this woodsy paradise.
Activities and establishment hours are subject to seasonal changes and fluctuating weather conditions. Travelers are encouraged to call ahead and prepare for possible road closures in the winter.