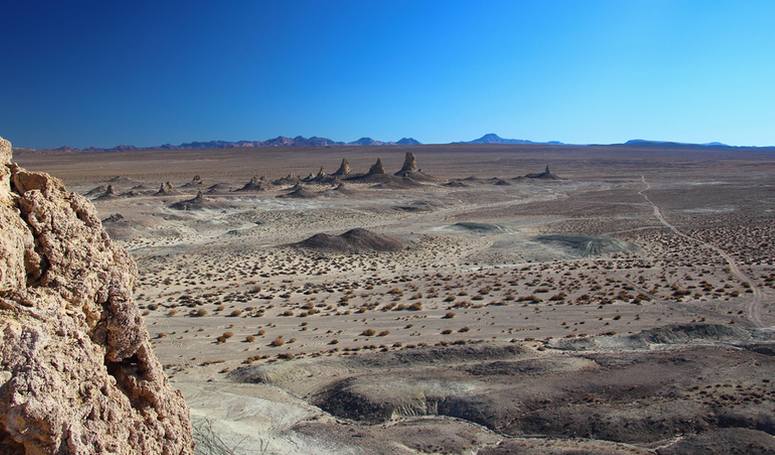 Trona Pinnacles are located about twenty miles east of east of the town of Ridgecrest in northeastern Kern County. The landscape here looks like it is right out of a science fiction movie. Scenes from Star Trek V The Final Frontier along with the original Planet of the Apes filmed in and around tufa pinnacles.
These unusual rock formations were formed over 10,000 years ago when this area of the Mojave desert was covered by the water. Thousands of years later all that is left of the lake that covered this area is the wind-swept towers called the Trona Pinnacles.
Trona Pinnacles National Natural Landmark has three groups of tufa towers the northern section has the tallest towers with serval of them over 100 feet high. The southernmost section contains the oldest pinnacles, some almost 100,000 years old. Taller pinnacles are the newest, round and ground down pinnacles are the oldest.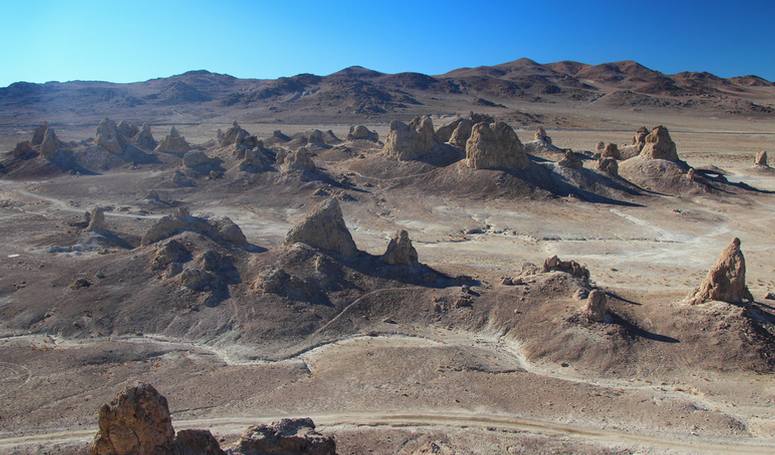 Primitive camping is allowed at the Trona Pinnacles and if you do decide to stay overnight you will be treated to a spectacular display of stars. Packs of coyote's are known to roam the area so keep an eye on pets & kids day or night. Most visitors only stay for a few hours to view and photograph the Pinnacles. Best time to visit is fall or spring. Summer temperatures reach over 100 degrees.
There are plenty of trails to explore along with numerous dirt roads that weave in and out of the tufa towers. Four-wheel-drive is not required just about any car can make it down the five-mile dirt road from SR 178.
There are no services at Trona Pinnacles National Natural Landmark other than a pit toilet so be prepared for this trip. Visiting the Pinnacles is way off the beaten path and reserved for the most adventurous day-trippers.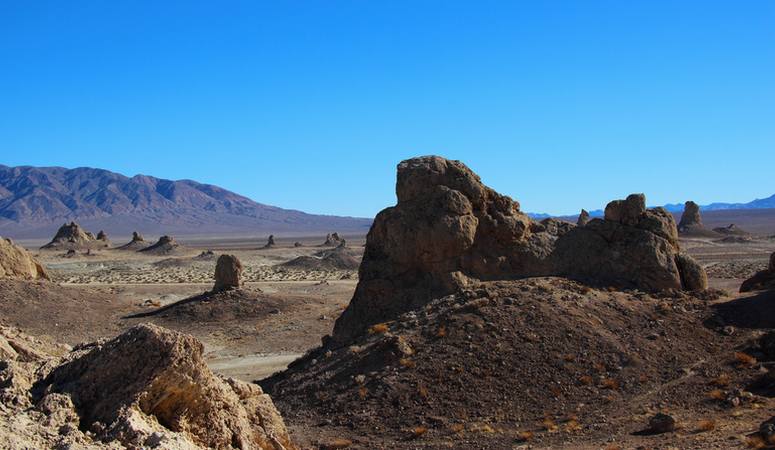 Perhaps the best time to visit is during the second weekend October during the during the annual Trona Searles Dry Lake Gem Show. Visitors are allowed to drive onto Searles Dry Lake and collect minerals. This is the only time the dry lake is open to the public.
At the gem show, dealers exhibit geodes, salt crystals and Pink Halite that can be collected on and near the dry lake. Admission to the show is free.
The small  mining town of Trona also has an interesting museum located in an old guest house. There is an extensive collection of artifacts and photographs from the area along with a Caboose from the Trona Railroad.
Trona Pinnacles National Natural Landmark is managed by the Bureau of Land Management. Directions: Highway 14 north to Lancaster and Mojave. East State Highway 178 toward Ridgecrest. East on SR 178  to Trona. 170 miles from Los Angeles.