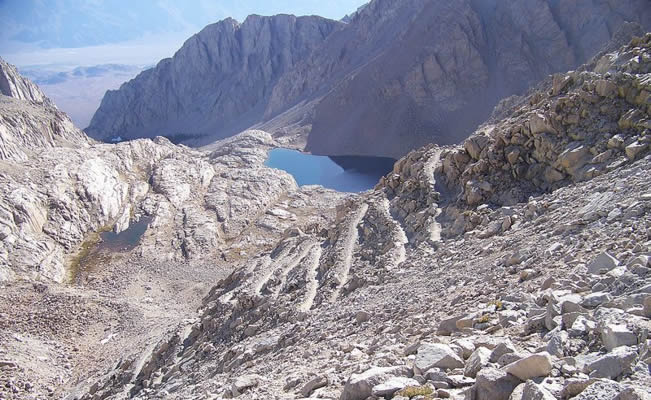 Tucked away just over 8,000 feet up in the Southern Sierra Nevada Mountains, straddling the boundaries of Sequoia National Park and Inyo National Forest, Whitney Portal is the gateway to lofty Mount Whitney, the highest point in the contiguous United States with an elevation of 14,505 feet.
Set against towering pines and rugged granite peaks, Whitney Portal, formerly known as Hunter Flat and Hunters Camp, is located 13 miles west of the quaint town of Lone Pine, and serves as the trailhead for the Mount Whitney Trail and the access point for the John Muir Wilderness Area, as well as Sequoia and Kings Canyon National Park.
Aside from its natural beauty, the entry road leading to Whitney Portal is also known for its role as the backdrop for at least two American feature films, including the 1953 comedy The Long Long Trailer starring Lucille Ball, and 1941's High Sierra with Humphrey Bogart.
Today, Whitney Portal is a popular home base for hikers as well as a place for families to camp that want to explore the areas many natural treasures.
With numerous RV and tent campgrounds only a half-mile from three major railheads, spacious parking area areas, food storage facilities, a store and a restaurant. Whitney Portal provides all the facilities and services of an enjoyable adventure in the spectacular Eastern Sierras.
The entire area is teeming with wildlife, including black bear, mule deer, mountain lions, and a host of birds and fish in the area's numerous lakes, streams and small ponds, making it a perfect environment for critter lovers and anglers alike.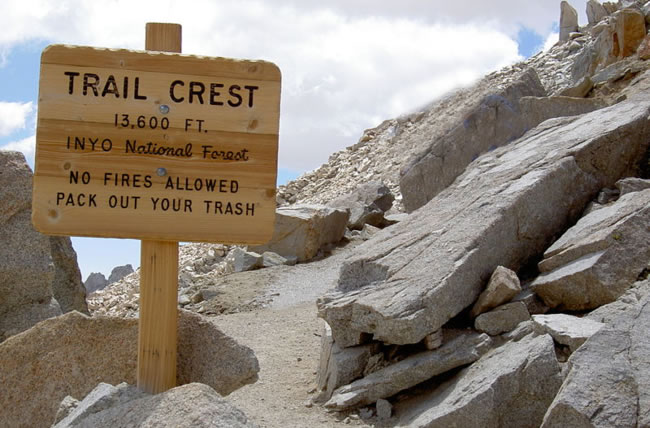 However, the biggest draw to Whitney Portal is the hiking, and to make the trek to the top of Mt. Whitney itself, one must acquire a permit, available only by lottery. The entire round trip hike, is 22 miles and ascends just over 6,000 feet.
This is a non-technical ascent, and therefore often accomplished by even non-experienced hikers. It is suggested to camp at least one night at Whitney Portal to get your body acclimated before setting out.
Permits for Mt. Whitney are reserved by mail or online due to the high demand for reservations, and are randomly issued by a computerized lottery. For those that are not interested in hiking Whitney, there is still much to take pleasure in, and campers can enjoy the John Muir Wilderness, with its snow-capped peaks, yawning canyons and enormous mountain meadows year-round.
Aptly named after one of the Sierra's most devoted advocates, the more than half a million acres of John Muir Wilderness also requires a Wilderness Permit, and can be obtained from two locations, depending on where you plan to enter the Wilderness.
The area is accessible from both sides of the Sierra Nevada, with various points of entry along highway 395, from the town of Mammoth at the north to Lone Pine at the south
The more popular side of the entry is through the Inyo National Forest from the east, in close proximity to North Lake above the nearby town of Bishop.
With its crisp clean air, clear blue skies, and stunning views, Inyo National Forest is also home to Mono Lake, Mammoth Lakes Basin, and the Ancient Bristlecone Pine Forest.
There are many recreational opportunities including camping, picnicking, hiking, backpacking, and horseback riding, as well as several areas that are designated for off-highway vehicle use.
There are two ski resorts in the area that offer and man-made courses and obstacles for snowboarding, as well as over 100 miles of trails for snowmobiles, and around 45 miles of trails for cross-country skiing.
Getting to Whitney Portal is easy, and is about a 4-hour drive from Los Angeles via U.S. Highway 395 North to the town of Lone Pine. The campground is 13 miles west of Lone Pine on Whitney Portal Road.
A one day trip up the mountain usually starts before dawn. The hike to the summit can take anywhere from 5 – 15 hours. Because of the distance and high altitude a single day requires excellent fitness and endurance. Many people make this a two day hike camping at Outpost Camp or 12,000 ft Trail Camp.
Wilderness permits are always required to use the trail, and between May 1 and November 1, a quota permits only 60 overnight users and 100-day users per day. July and early August are best weather periods.
Permits are required year-round. Self-issued wilderness permits can be made at the Mount Whitney Ranger Station in Lone Pine for other trails in the area.