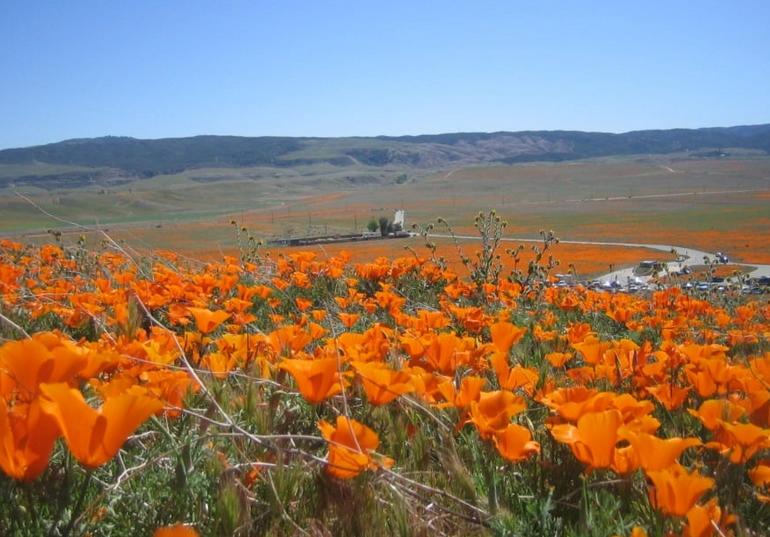 Antelope Valley Poppy Reserve is open year-round but is most visited during the poppy season, March through May. April and May are usually the best viewing months, depending on how much rain the fields get. There are eight miles of trails to explore at the poppy reserve, all with views of the flowers.
While you are out visiting, you might also see some of the native wildlife: hawks, meadowlarks, and lizards, and snakes all seem to enjoy the sea of color as much as the human visitors do.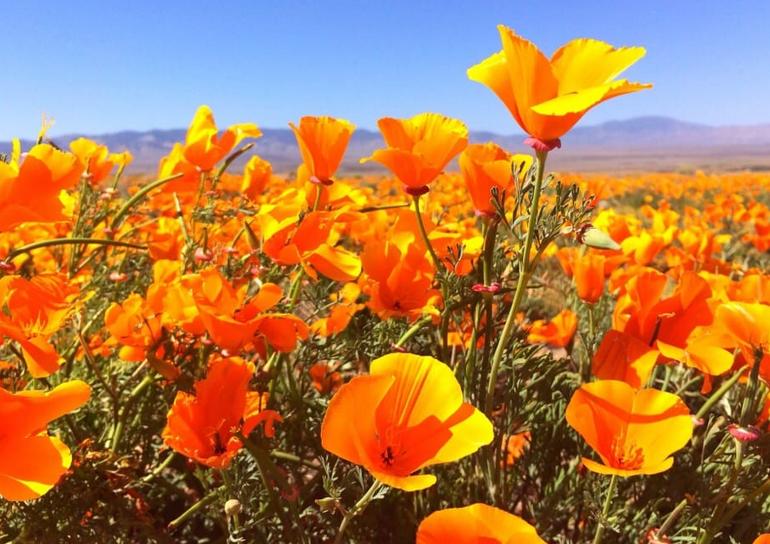 Shaded picnic tables are available so consider packing a picnic lunch for your day trip. Except for service dogs, pets are prohibited from the reserve. Under California state law, visitors are also prohibited from taking flowers away from the reserve.
California poppies grow all over the Antelope Valley. The preserve is a great place to find them, but you can find some wonderful uncrowded areas of wildflowers if you do a little exploring. Bring your camera and comfortable clothing; it can often be windy in the Antelope Valley.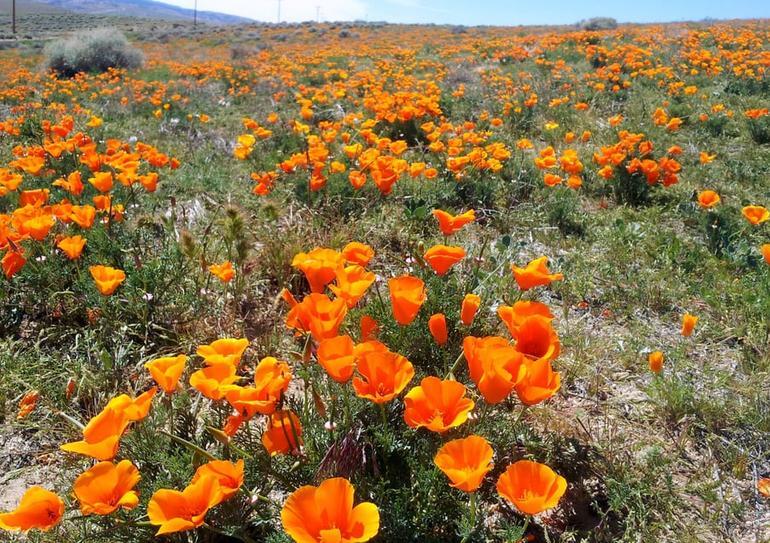 Flower season starts around mid-February through late May, depending on rainfall. Peak bloom is usually in March.
Before you enter the reserve, there are a few rules you need to know. Please do not pick the flowers. They are all protected. Stay on the trails to avoid crushing the flowers and stepping on a rattlesnake.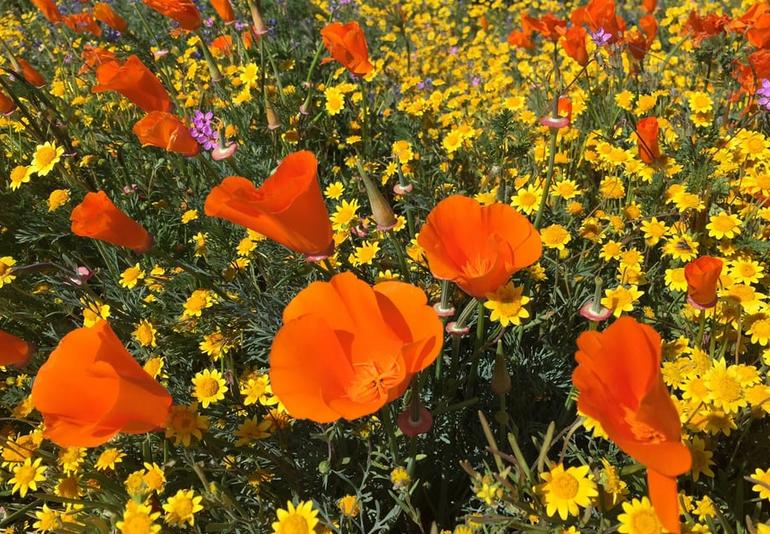 Antelope Valley Poppy Reserve has a per vehicle parking fee, so fill up the car with the whole family. There are some parking spots along the main road if you don't mind walking. The preserve can get really crowded at the weekend so arrive early.
An afternoon picnic is a great way to cap off a hike on one of the eight miles of dirt trails that all connect in a loop around the reserve.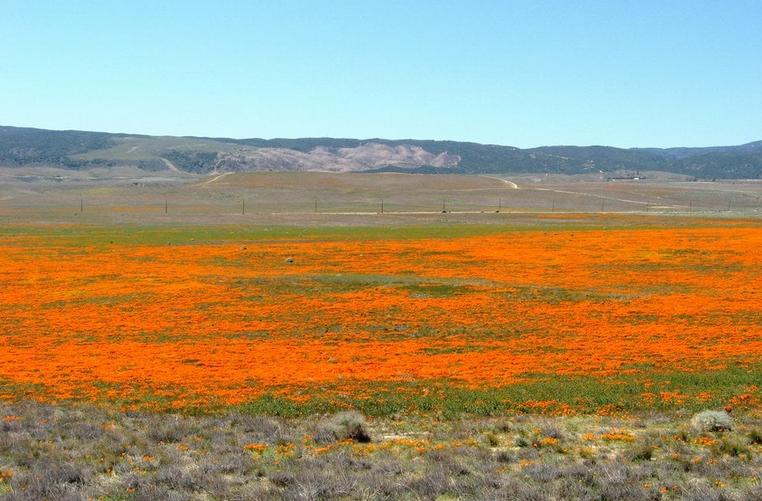 The Jane S. Pinheiro Interpretive Center offers a short video presentation about the reserve, wildlife, and plant displays and a gift shop open daily during the wildflower season.
Where is the Antelope Valley Poppy Reserve
The Poppy Reserve is located on California's most consistent poppy-bearing land. Other wildflowers: owl's clover, lupine, goldfield, cream cups, and coreopsis, to name a few, share the desert grassland to produce a mosaic of color and fragrance each spring.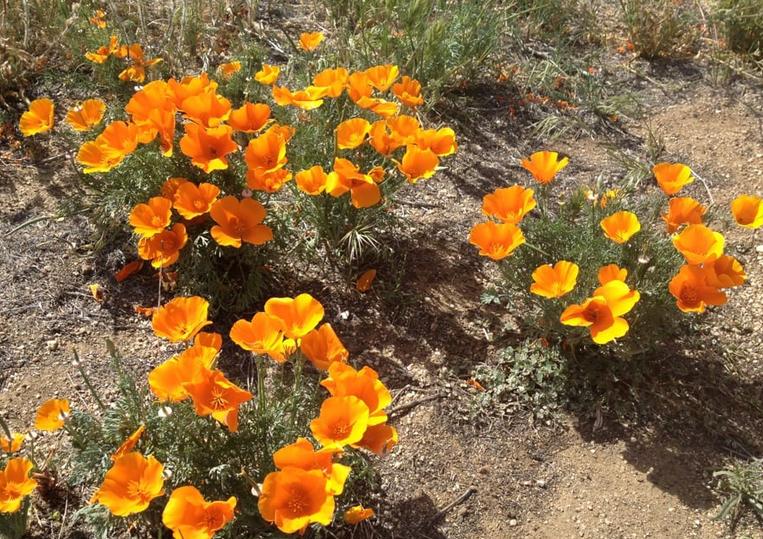 Directions: From Highway 14: Take the Avenue I exit and head west 15 miles. Avenue I becomes Lancaster Road. From I-5: Take Hwy 138 east and turn right on 170th Street West. Make a left at the end, onto Lancaster Road. Open sunrise to sunset.