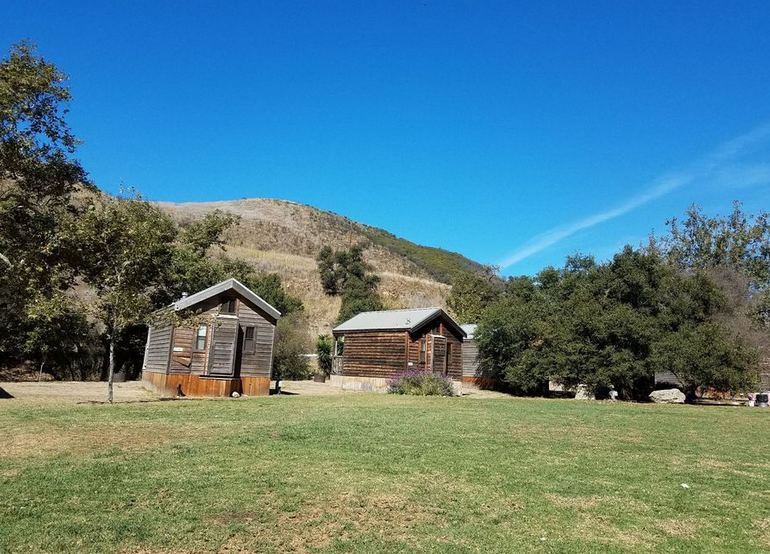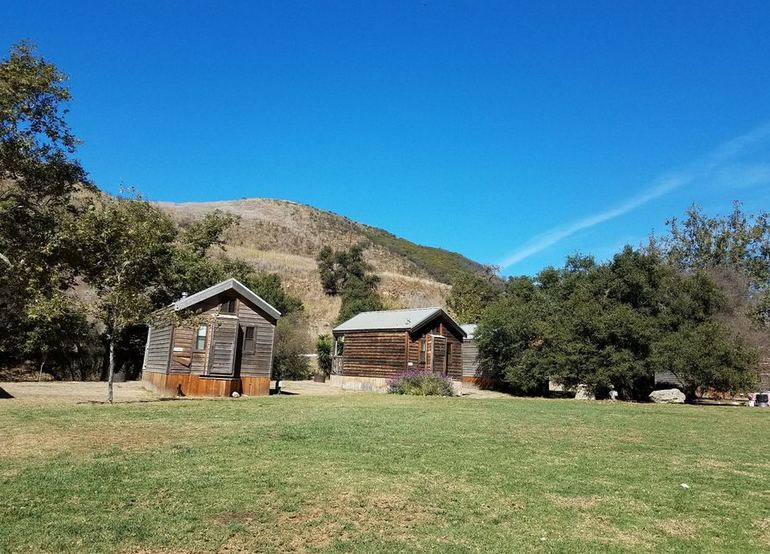 While not directly on the Beach, El Capitan Canyon Resort is within easy walking distance to the Beach. Accommodations at El Capitan Canyon Resort include Safari Tents, Cabins, and Yurts. Imagine going camping with the only chore you have to do is packing your suitcase.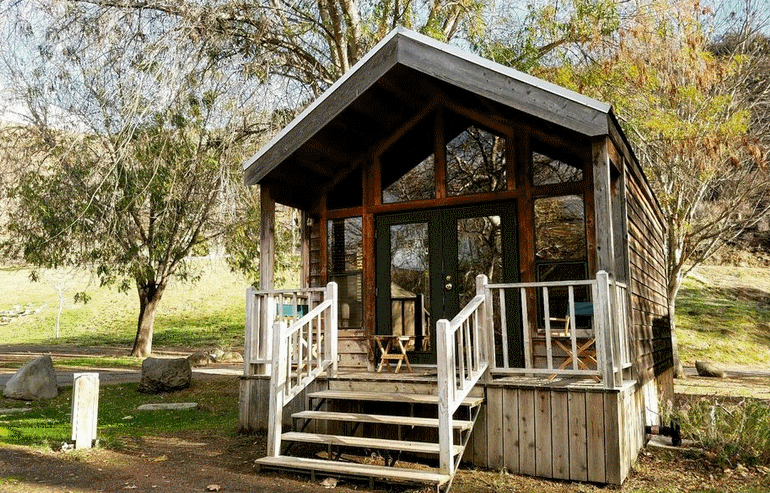 Canyon Cedar Cabins
El Capitan Canyon Resort offers 108 fully furnished cabins. Cabins have a king, queen, or double beds, front porch, small kitchen with microwave, fridge, coffee maker, and indoor bathroom facilities. All you need to bring is a suitcase and food. Cabins feature front porches and are fully equipped with bathroom facilities, king, queen, or double beds, linens, towels, a small kitchen with microwave, mini-fridge, and coffee maker.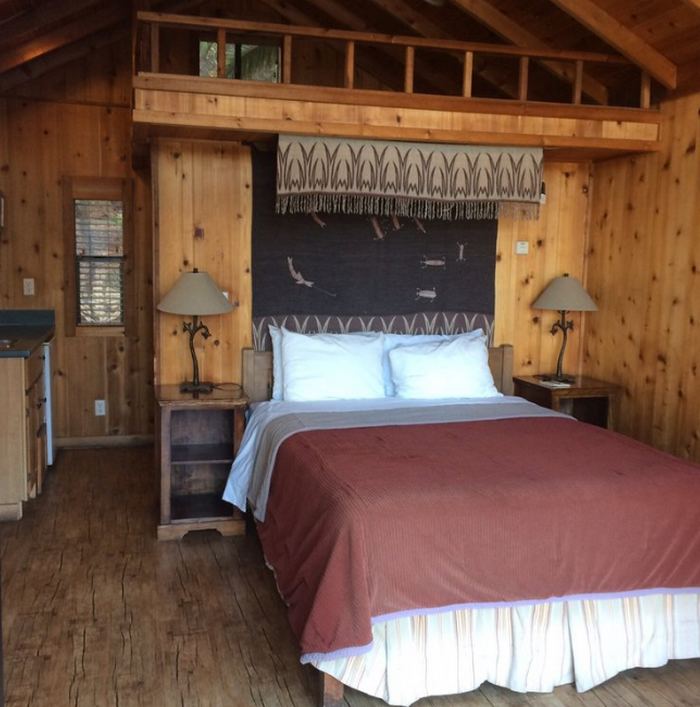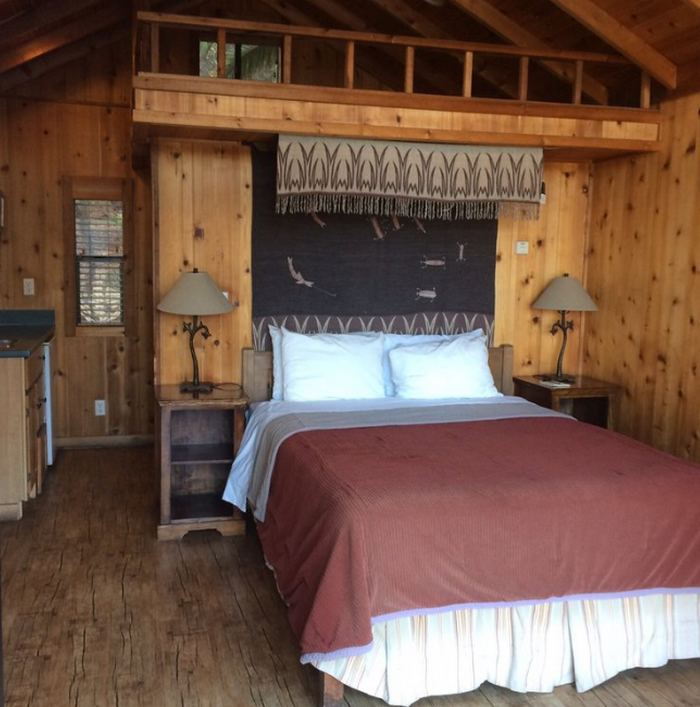 Safari Cabin Suite
If you demand even more comfort, then there is the Safari Cabin Suite. It is located on top of a bluff with views of the ocean and mountains. The two-bedroom Safari Cabin Suite has a full kitchen, including a gas stove, microwave, full-size refrigerator, cookware and dishware, pantry, and front porch with fire pit. The Safari Cabin Suite has its own hilltop location and a private parking area. Loft cabins are located in their canyon area and offer more spacious accommodations with a separate bedroom and sleeping loft.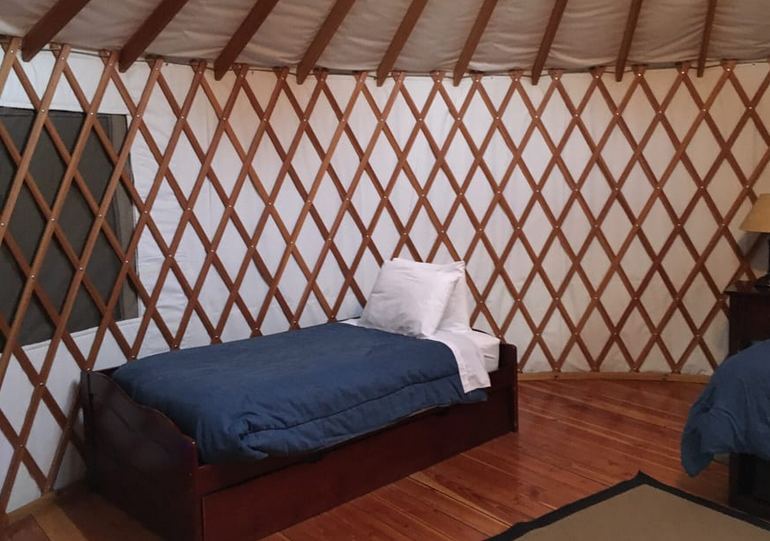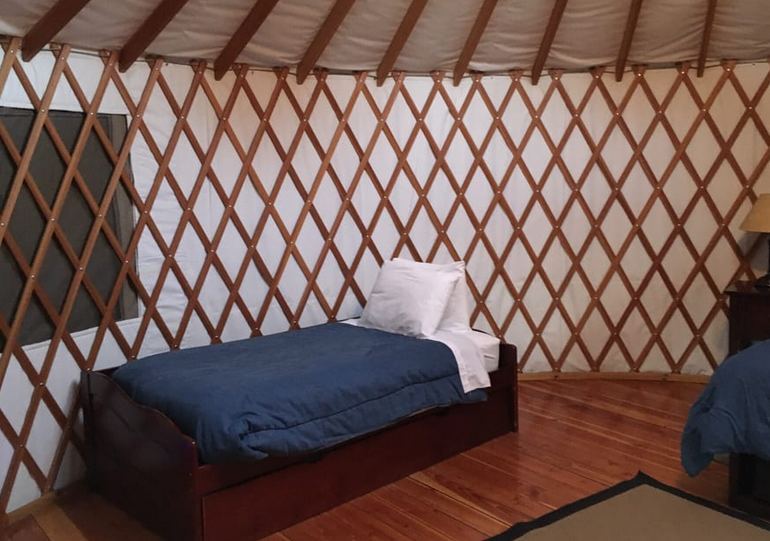 El Capitan Canyon Yurts
Yurts are a cross between cabins and tents. Each Yurt has a queen-size bed and a twin day bed. They can accommodate up to four guests comfortably. There are a picnic table and firepit for each Yurt, and they are all located close to the resort swimming pool. Rental rates for Yurts fall in between tents and cabins.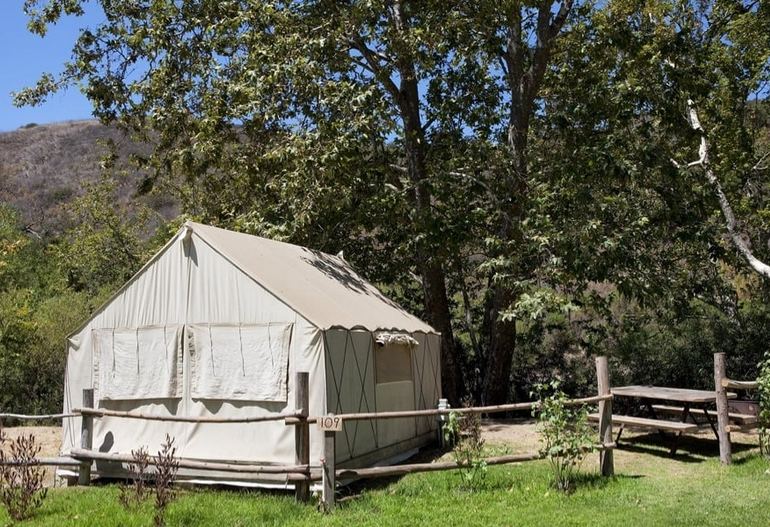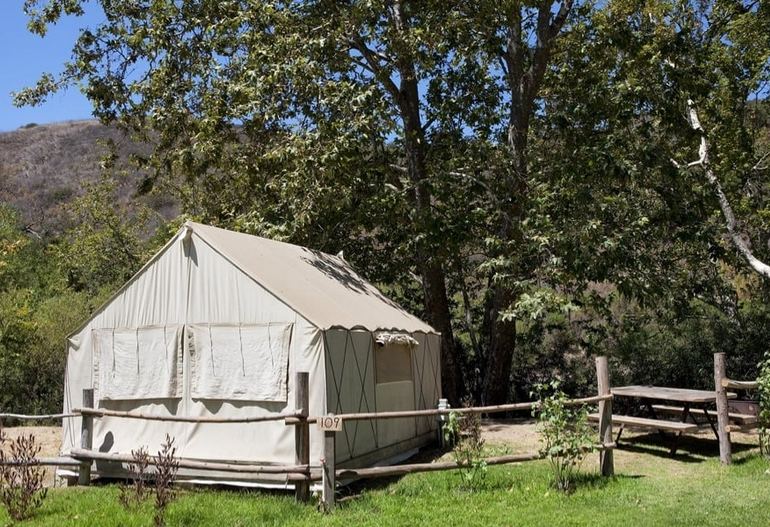 Safari Tents
Safari Tents with a queen bed or with two double beds offer a more traditional camping experience. Safari Tents have their own outdoor picnic table and firepit. Bathrooms are located in separate buildings near the tents. So if you wake up in the middle of the night for restroom duties, you may want to consider a cabin.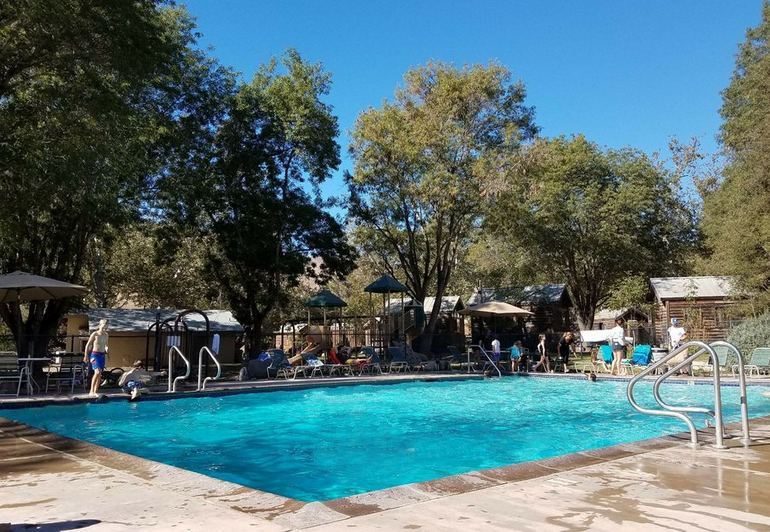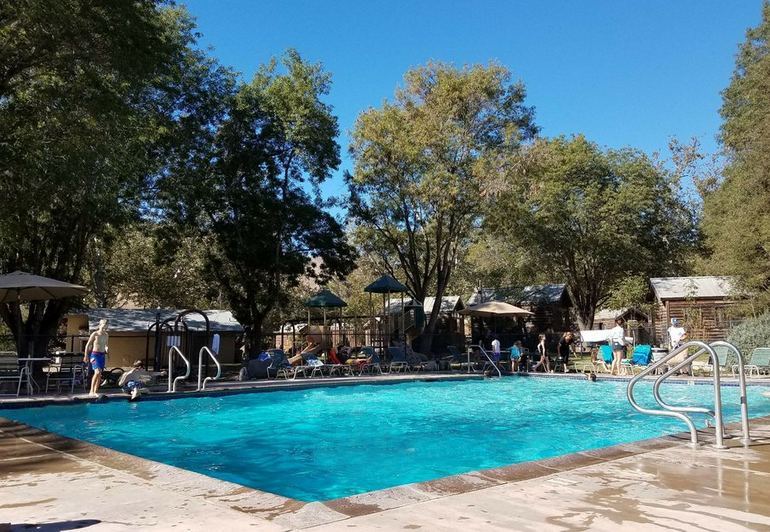 El Capitan Canyon Things To Do
On the other side of Highway, 101 El Capitan State Beach can be reached by a short hike. You can drive to the state beach but will have to pay an entrance fee to park your car. There are also Complimentary cruiser bikes available on a first-come, first-served basis.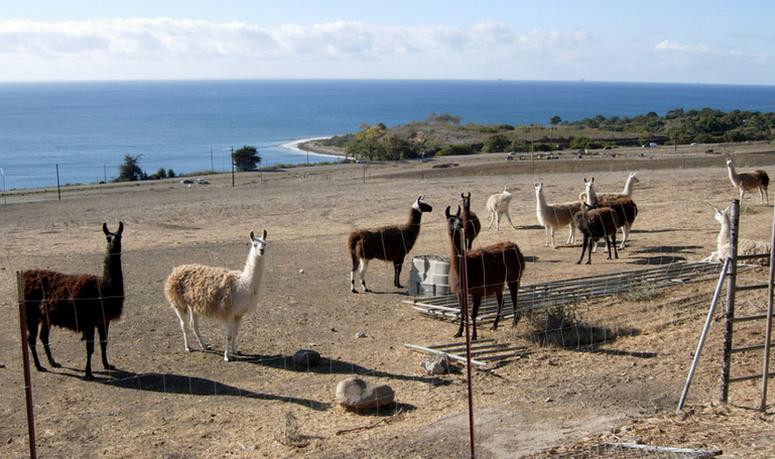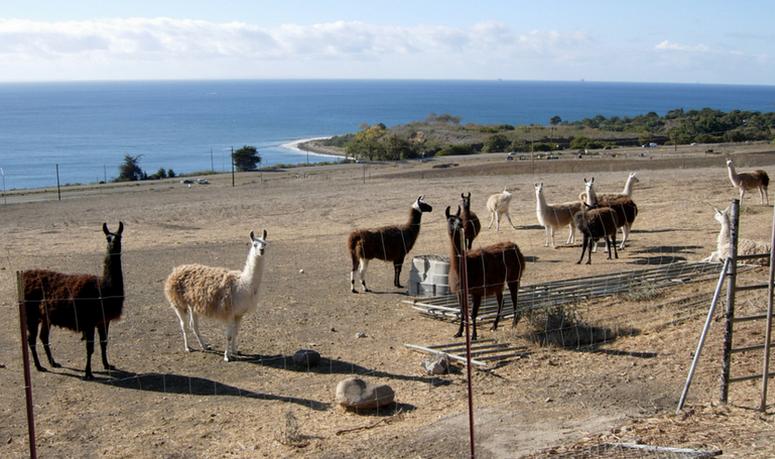 The resort has a heated swimming pool, miles of hiking trails, fire pits, llama and goats farm, kids playground, and a country store. If you did not bring any food, you could purchase a BBQ kit at the store with everything you need on Weekends, and there is usually a hosted BBQ with live entertainment.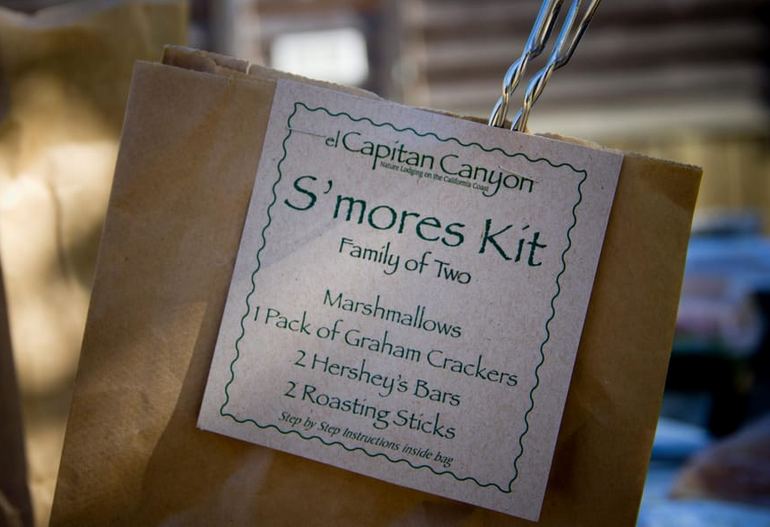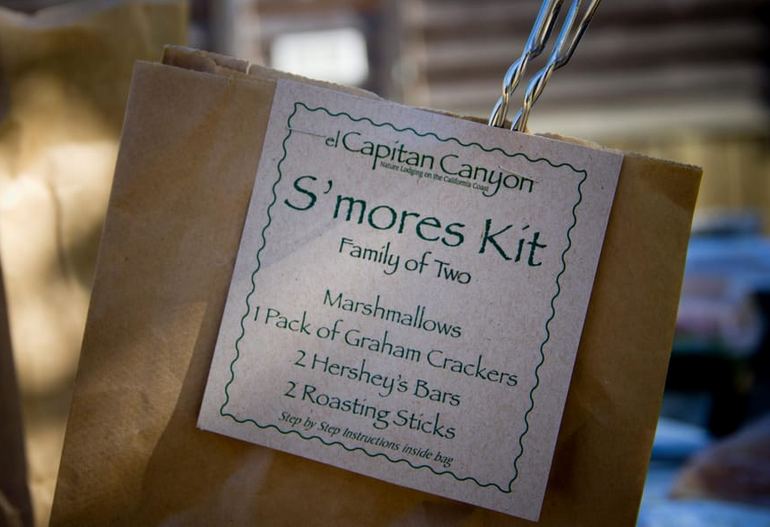 El Capitan Canyon Resort market serves breakfast, lunch, and dinner and offers cabin service with delivery to your campsite. El Capitan Canyon Resort is a perfect choice if you want to go beach camping but don't want to give up any conveniences.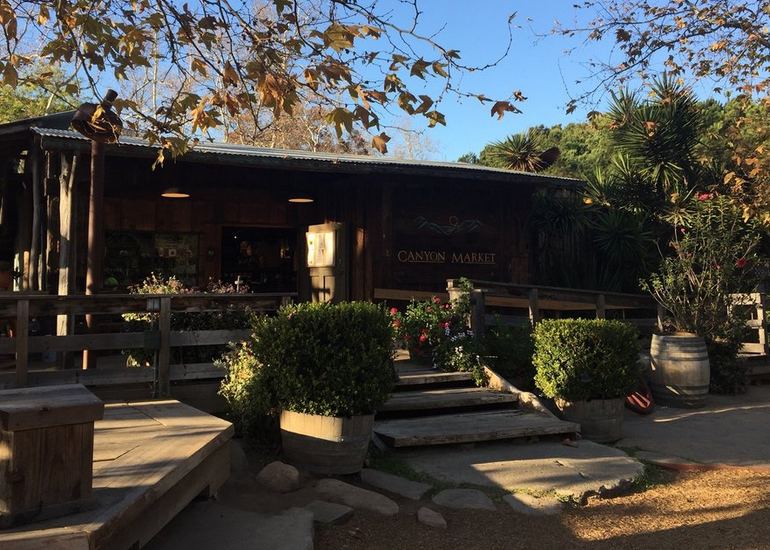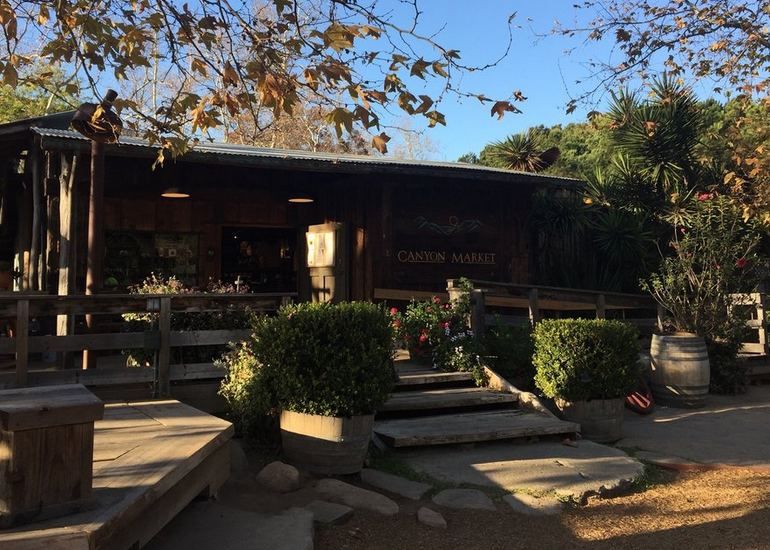 Getting There
El Capitan Canyon Resort is about twenty miles north of Santa Barbara. The resort covers 300 acres of the canyon directly across highway 101 from El Capitan State Beach. Address is11560 Calle Real Santa Barbara, California. Reservations can be made online. No pets are allowed in the canyon.