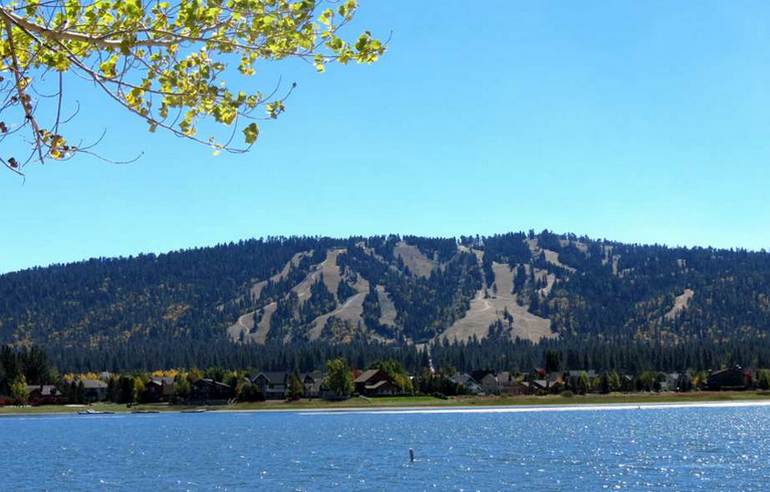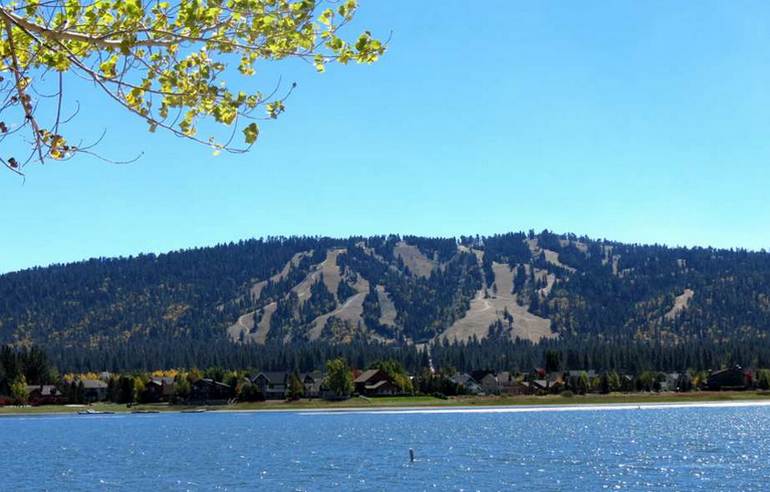 Fresh mountain breezes, clear blue skies, and a unique blend of calming stillness and vigorous outdoor activities are what you will find at Big Bear, located in the San Bernardino Mountains, approximately 100 miles northeast of downtown Los Angeles.
The towering aromatic pine trees, wild deer, and squirrels that inhabit the two main areas that makeup Big Bear Mountain Resorts (Snow Summit and Bear Mountain) allow visitors to feel a million miles away from the city.  When in reality, they are just a short drive from the suburban sprawl of southern California.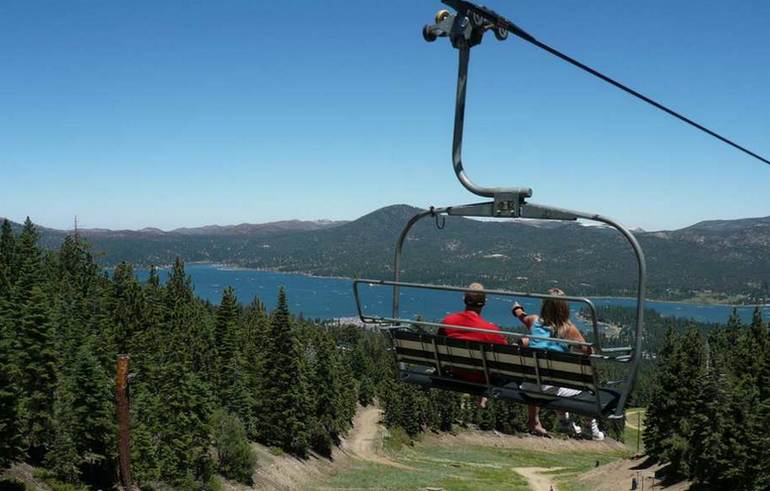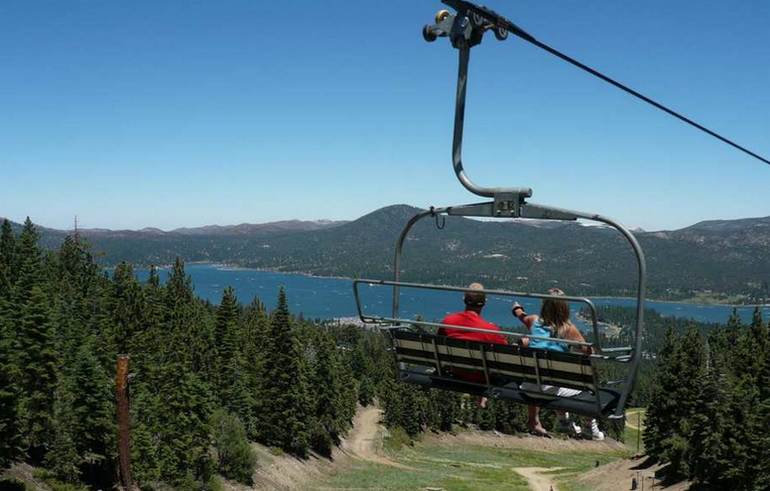 This distinctive alpine mountain destination is the ideal year-round getaway, providing visitors of all ages and skill levels with a wide selection of outdoor activities: skiing, snowboarding, golfing, hiking, mountain biking, or horseback riding.
Big Bear San Bernardino Mountains Summer
During the summer months, the resort transforms one of its two high-speed quads, the East Mountain Express, into the Scenic Sky Chair, whisking riders to an elevation of 8,200-feet in 15-minutes while providing visitors with a spectacular view of Big Bear Lake and the entire valley.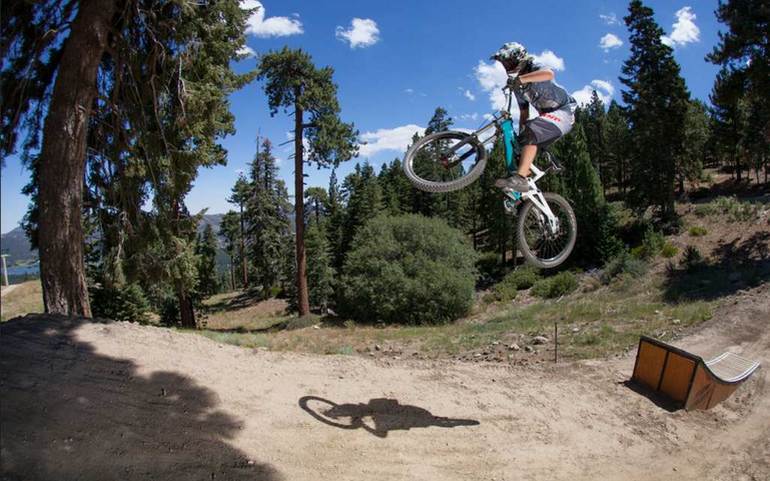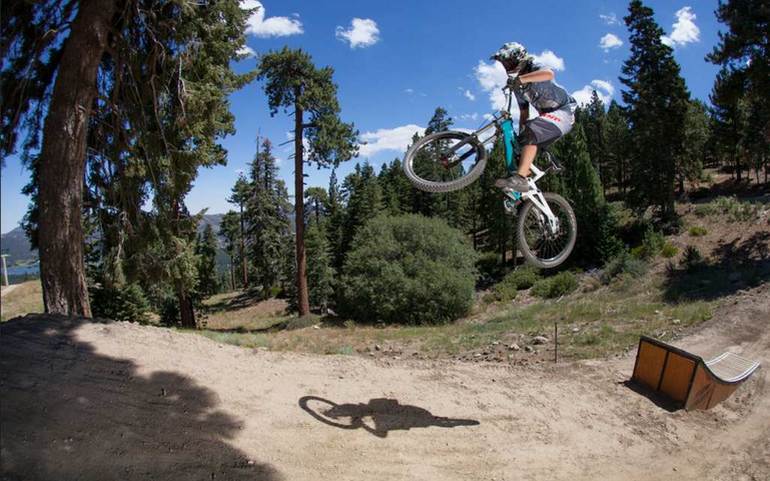 Starting in late May, the Sky Chair is open weekends only until early June, when it is available for operation daily.
Once at the summit, adventurers can grab a tasty BBQ lunch at the View Haus before hopping back on the Sky Chair for a gentle descent or head out on one of the many trail options for cross-country biking and hiking.
The area's expansive network of diverse trails and roads, including 40 miles of Forest Service infrastructure, sets up the perfect backdrop for all skill levels.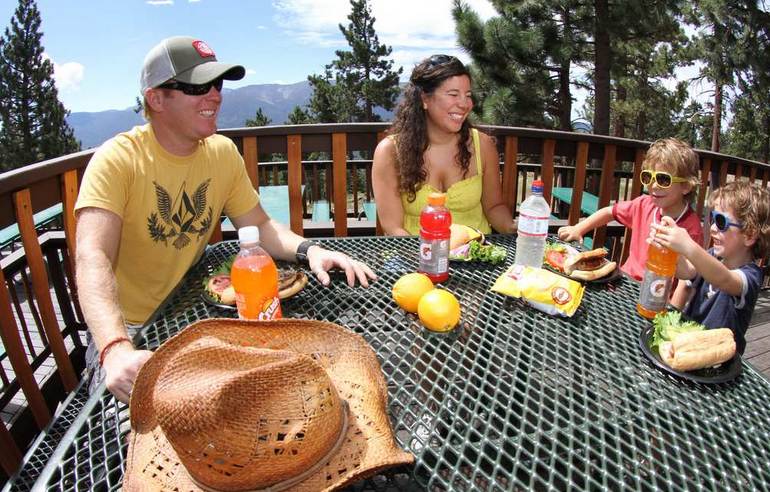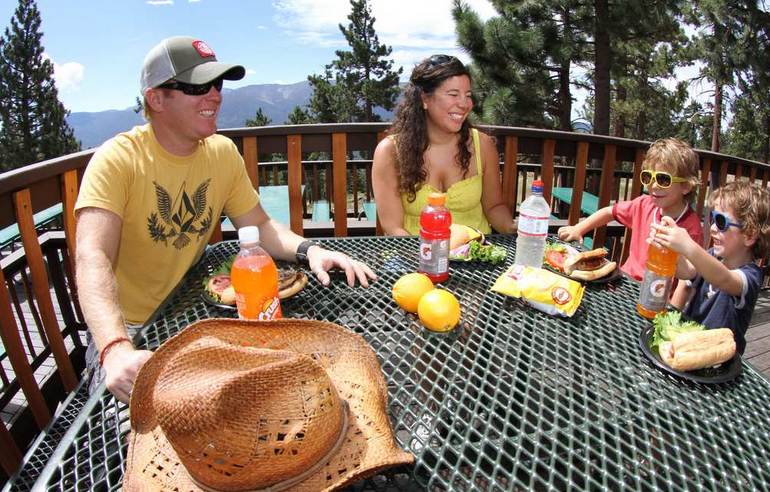 One of the shortest routes down the mountain is a one-mile service road, offering breathtaking vistas and a family-friendly way to view firsthand the numerous assortments of wildflowers that bloom during the spring and early summer months.
Head out behind the View Haus, down to Skyline Drive, which traverses the ridgeline, offering spectacular views of the Santa Ana River Valley and San Gorgonio Mountain for seasoned hikers.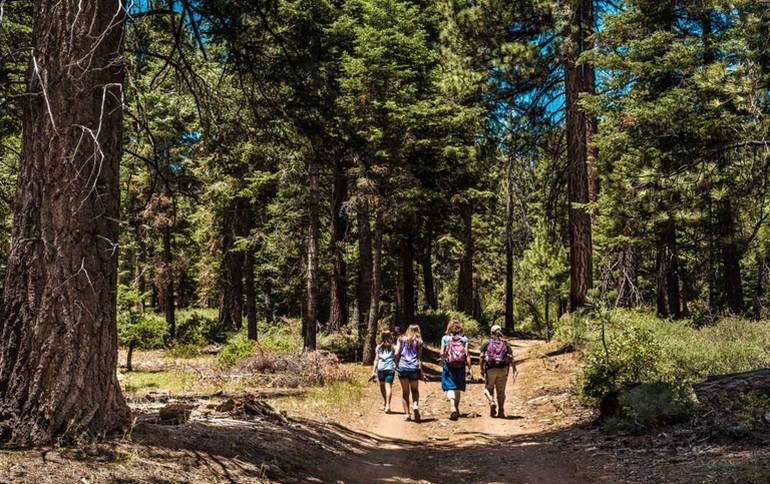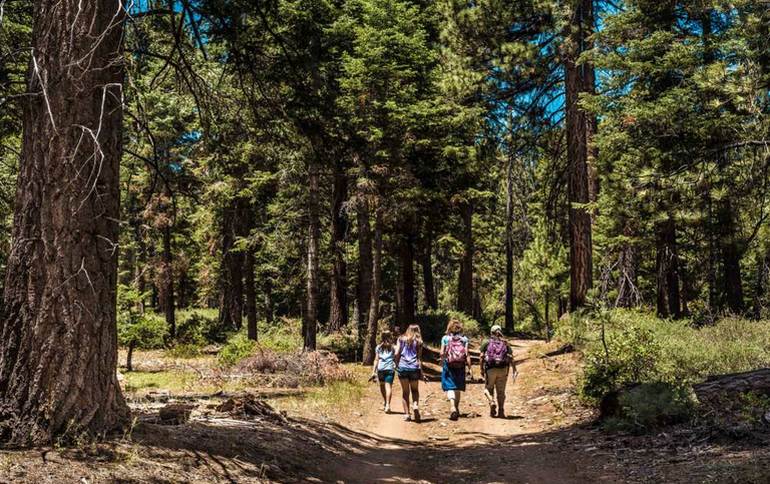 Finally, don't forget to bring the kids, as the nearby city of Big Bear offers plenty of things to keep the family busy. Attractions include Moonridge Animal Park and Zoo, the Alpine Slide, go-carts, miniature golf, water slides, arcades, Discovery Center, and much more.
Big Bear Lake also offers an excellent Golf course and some of the best antique stores and vintage shopping in Southern California.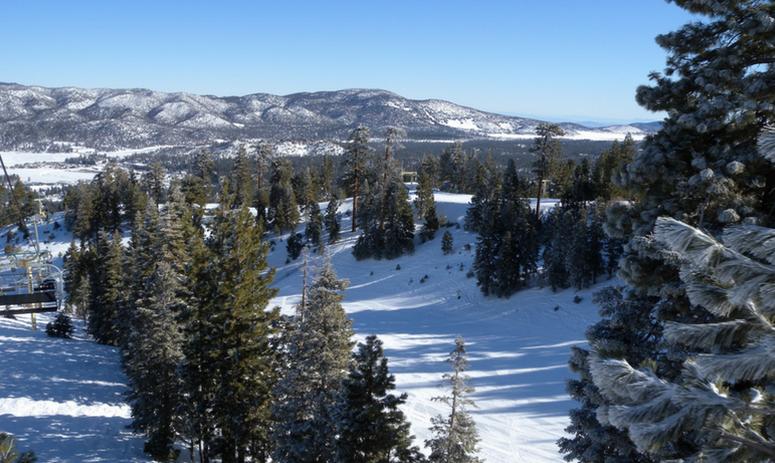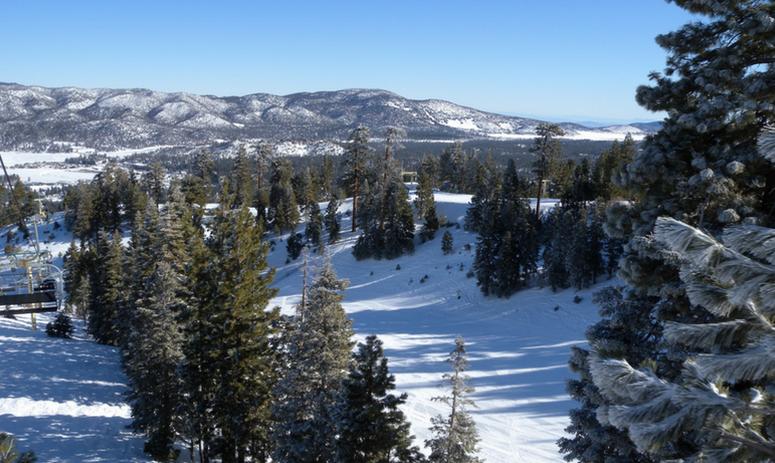 Big Bear San Bernardino Mountains Winter
In the winter, Snow Summit provides the perfect playground for skiers and snowboarders and includes many trails for all types of riders. The family fun park is a big hit, filled with low riding rails and jumps.
If you're looking to stay for more than just a day, the Big Bear offers all of the comforts travelers are accustomed to, from charming bed and breakfasts to rustic lodges.
Bear Mountain Resorts feature the Central Park Run that includes a 15-foot jump. There are a ski and snowboard school for newbies and a place to rent equipment if you don't own your own.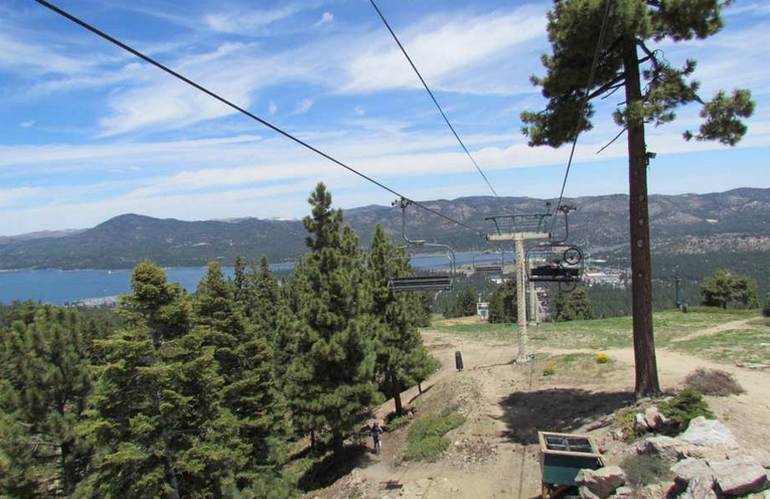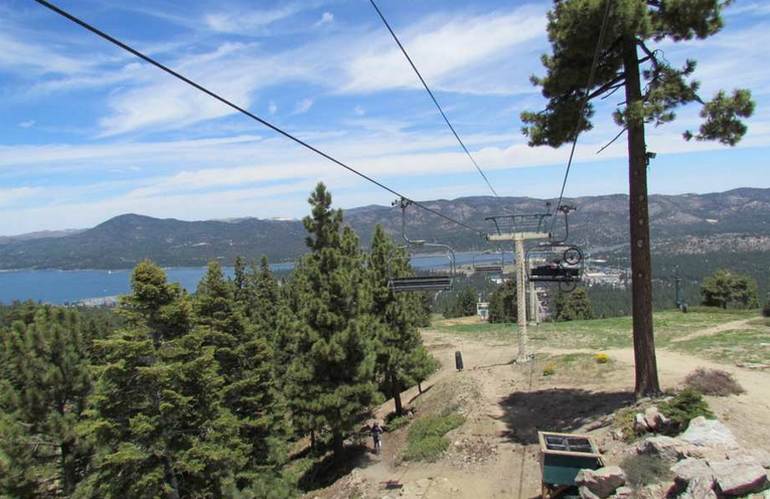 Directions:
There are three routes to choose from when traveling to the Big Bear Mountain Resorts area. Hwy 330/Hwy 18 is the fastest and easiest route but can get crowded on weekends and holidays.
Highway 38 is a bit longer but is the most scenic and often has less traffic than Hwy 330/Hwy 18. Finally, there is Highway 18, which gets less snowfall and has the least amount of mountain driving.
It is a good idea to choose your route depending on weather conditions and day of the week and always carry chains in your vehicle when traveling during the winter.