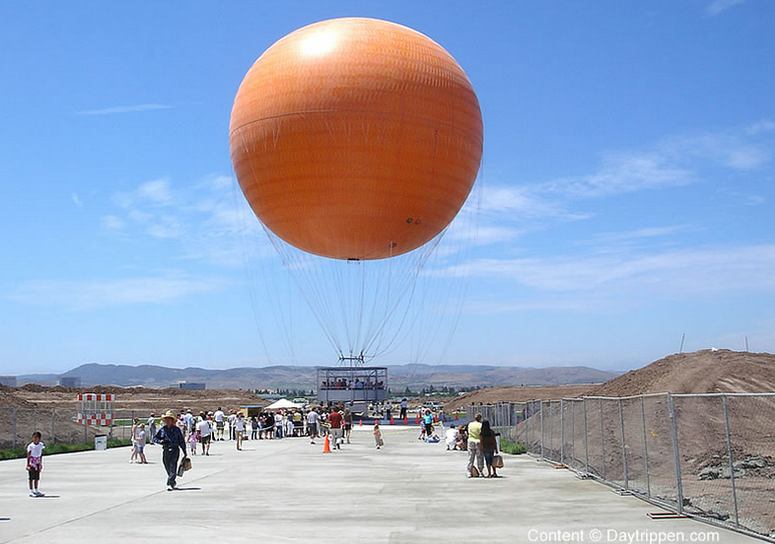 The Great Orange Balloon is the first attraction to open at the Great Park in Irvine, California. Balloon riders climb aboard the 30 passenger gondola and float 400 feet in the air. The birds-eye view of the Irvine Valley gives visitors a chance to see the 4,700 acres park as it is being built.
The balloon operates from Thursday through Sunday. If the wind kicks up the balloon will fly lower or will be grounded until conditions are favorable. The balloon is attached to the ground by a steel cable which is used to raise and lower the giant orange orb. In the event that the cable would break the pilot can free-fly the balloon to the ground.
The Great Park Balloon is a great way view the Irvine Valley. Plans for the Great Park have been scaled back and it looks like it will end up being the Great Housing Tract instead of a park.
Another attraction near the balloon ride is the Great Park Carousel. Up to 36 passengers can ride the Carousel and it's also wheelchair-accessible.
Kids Rock is a climbing structure at the 27.5-acre Balloon Park. Children can play on rocks or squeeze through underground tunnels on this environmentally friendly area of the park.
Finally each Sunday from 10:00 a.m.–2:00 p.m. a Farmers Market is held at the Balloon Park.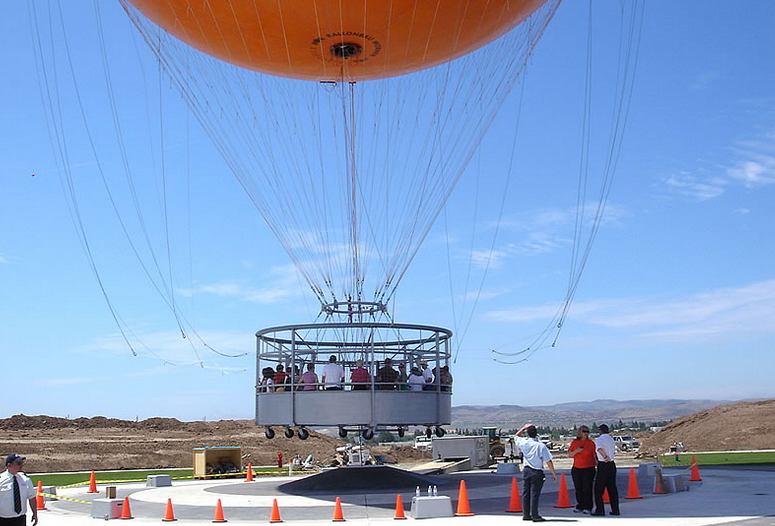 Directions to the Irvine Balloon Ride: exit the 5 freeway at Sand Canyon and enter the old El Toro base on Marine Way. follow the signs to the Great Balloon. Every passenger must sign a liability waiver, and passengers under the age of 12 must be accompanied by an adult.
Parking opens 30 minutes before operating hours. Registration to fly opens 30 minutes before operating hours in the morning, and one hour before night flights resume in the evening.
A registration waiver must be signed by every potential passenger prior to getting a boarding pass. A parent or guardian must sign for children under 18. Children under 12 must be accompanied by an adult.
The Balloon is wheelchair accessible, allowing guests with wheelchairs to remain in their seat during flight. The balloon ride is not dog-friendly so you must leave your four-legged friend at home if you intend to fly in the Orange Balloon.
The Big Orange Balloon in Irvine $10.00 adults, kids 6 to 16 $5.00 for a balloon ride. Great Park Carousel rides $3.00.
Reservations for groups are available upon request. Call ahead before you go and make sure the balloon ride is open the day you plan on visiting. Call the Visitors Center at (866) 829-3829 (toll-free) for information.