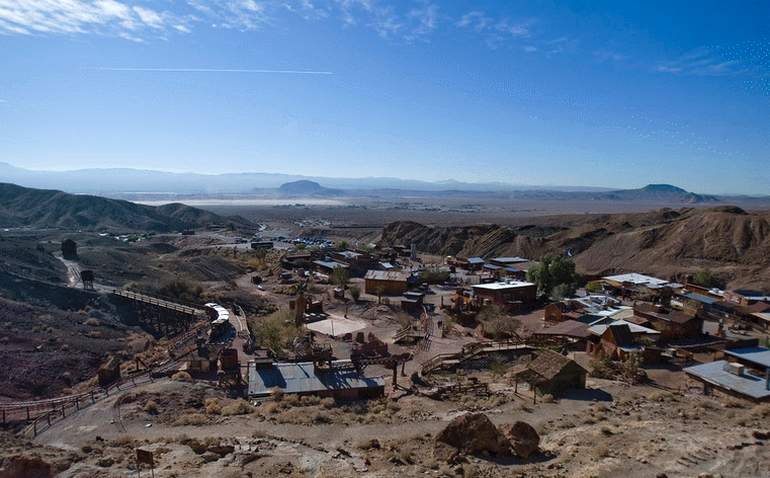 Calico Ghost Town is one of the few remaining original mining towns of the west. Donated to the County of San Bernardino in 1966 by Walter Knott (Knott's Berry Farm) the town is now alive and well. The streets that were once full of silver miners are now populated with tourists eager to explore all the town has to offer.
Calico is perched up on a hill overlooking the Mojave Desert and on a clear day, you can see for miles. Calico is a fun place to visit and if you are lucky you might even see a gunfight right on the main street.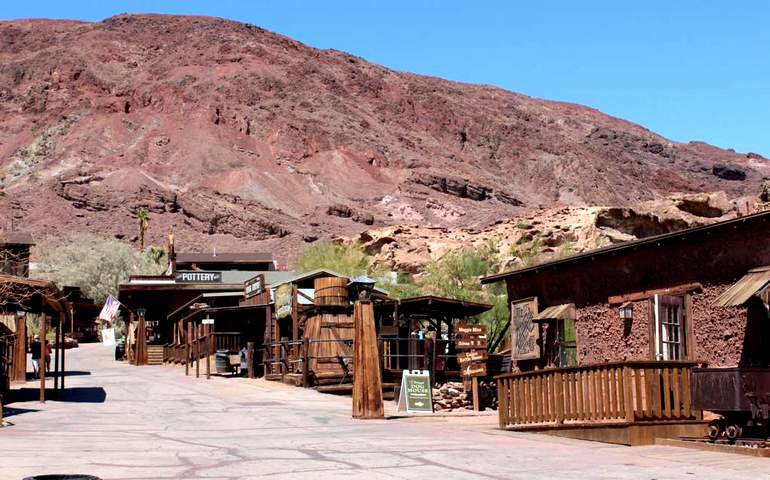 If you are traveling to Las Vegas or on your way back from the Colorado River, Calico is a good spot to take a break and enjoy this historic ghost town. There are many original buildings in Calico and it's not hard to imagine what life was like back in the silver mining days.
A walk down Main Street Calico is like taking a trip back in time. This once busy mine town is now populated mostly by tourists. Visitors come from all over the world to experience a real live western Ghost Town.
Calico Ghost Town History
At its height, Calico boasted a population of 1,200 people, and over 500 silver mines. Besides the usual assortment of bars, brothels, gambling halls and a few churches,
Calico also supported a newspaper, the Calico Print. During the mid-1890s, the price of silver dropped and Calico's silver mines were no longer economically viable.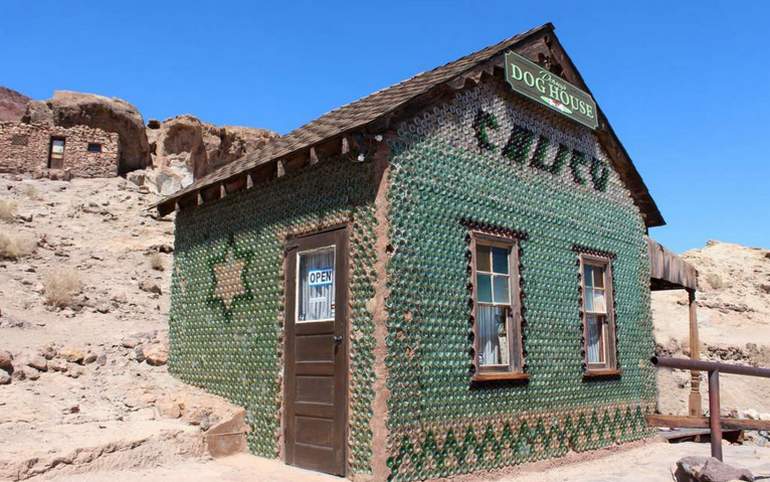 Calico became a ghost town with the end of mining in the region in 1907. In 1915, there was a small rebound before the town was all but abandoned.
The last original inhabitant of Calico was Mrs. Lucy Bell Lane, who died in the 1960s. Her house remains as the main museum in town.
In 1951, Walter Knott, founder of Knott's Berry Farm, purchased the town and began restoring it to its original condition referencing old photographs.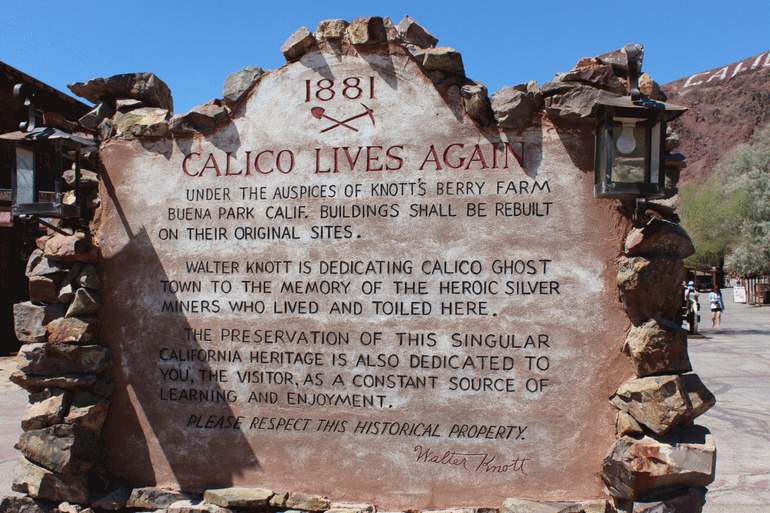 Though five of the original town buildings exist today, many others were recreated as replicas of their originals on preexisting foundations. In 1966, Walter Knott donated the town to San Bernardino County, and Calico became a county regional park.
Calico Ghost Town Things To Do
Calico is a registered California historic monument and is the "official state silver rush ghost town" of California.
During the year, Calico has various seasonal events and just about every weekend you can find some time of western entertainment going on along the main street.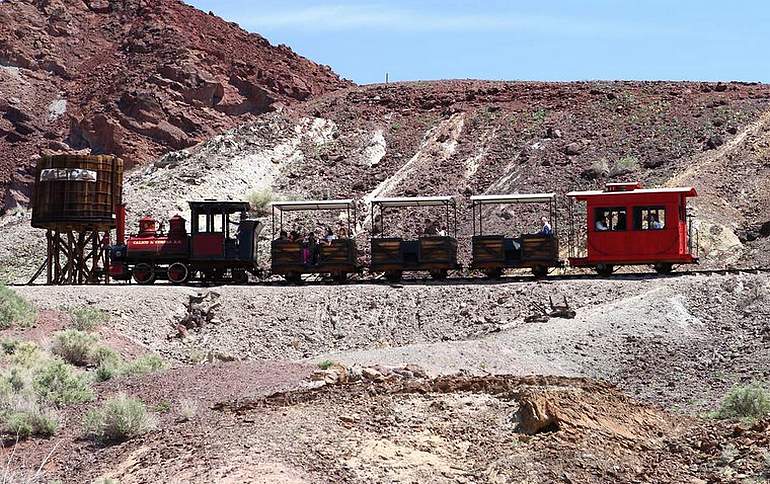 Visitors can take a self-guided tour through the original Maggie Silvermine and experience what it was like to work underground during the boom years of Calico.
At one time, the Calico Railroad hauled supplies up to the mines and ore down to Daggett California for processing at the Elephant Mountain Mills.
These days the Calico & Odessa Railroad circles through the Calico Mountains giving riders a birds-eye view of old mines and the desert valley below.
Calico main street is lined with shops selling souvenirs and gift items. If you take the time to go beyond the main street you can find the remains of miner cabins along with mining artifacts.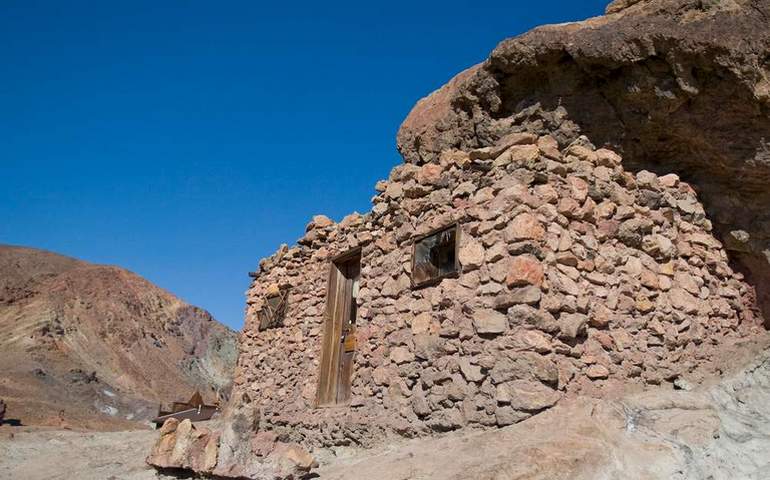 Camping Calico Ghost Town
Calico has a campground run by the County of San Bernardino Regional Parks Department. There are 265 campsites with full and partial hook-ups as well as a group tent camping sites.
There are also six cabins available that sleep up to four persons. The cabins are heated and air-conditioned, but no pets are allowed.
For larger groups, there are two bunkhouses one that sleeps 12 and a larger one that sleeps up to 20 persons. Nearby Mountain Bike Trails and an off-road vehicle area are popular with day-trippers and overnight campers.
CAUTION: The mines in the Calico area are extremely hazardous and must not be entered for any reason.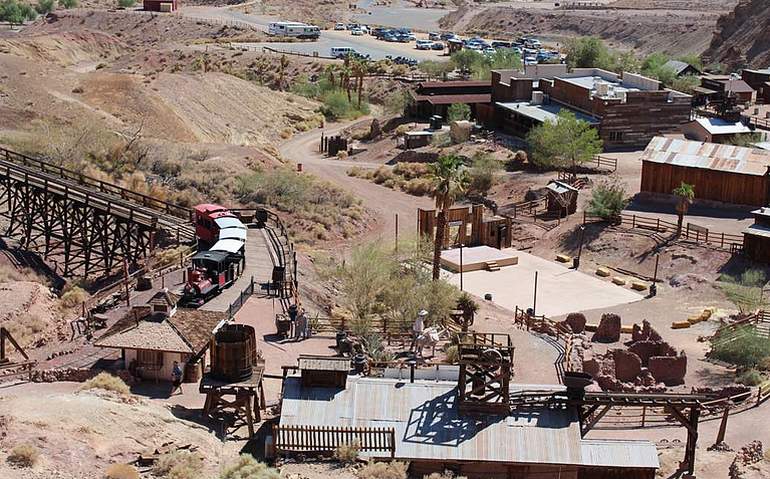 Getting to Calico Ghost Town
Calico Ghost Town is located off Interstate 15, 3 miles from Barstow. Look for the giant letters spelling CALICO that can be seen in
Exit the freeway at Ghost Town Road and head for the hills. All roads are paved and there is plenty of parking. Entrance fee is required.
Nearby Calico Ghost Town
Barstow Outlets are a favorite stop for travelers between Los Angeles and Las Vegas and only about a 30-minute drive from Calico.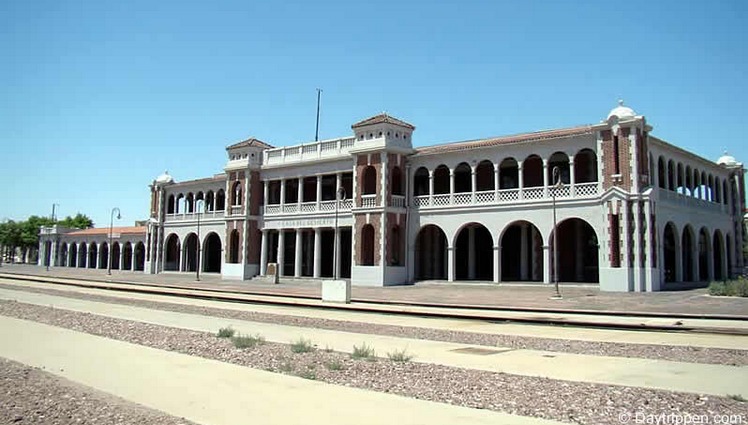 Harvey House Railroad Depot also is known as the Casa Del Desierto sits by the railroad tracks in Barstow, California.
The Barstow Railroad Depot opened in 1911 as a Santa Fee train station and Harvey House and is defiantly worth checking out while in the area.