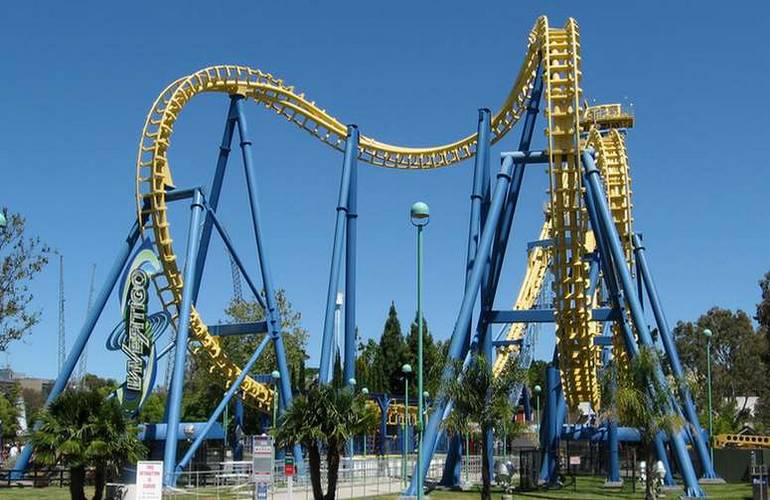 California's Great America Theme Park in Santa Clara is the largest amusement park in northern California's. Thrill rides here match or exceed theme parks in Southern California including Six Flags. Great America is about an hours drive from San Francisco and a little over two hours from Sacramento.
Popular rides at California's Great America Theme Park include Gold Striker a huge wood coaster, Flight Deck, the Demon, the Grizzly, and Vortex. There is also the exhilarating Rip Roaring Rapids, replicating a whitewater rafting trip. The  newest ride is Rail-Blazer a single-rail steel coaster.
Discount Tickets – Boomerang Bay Water Park –  Food & Drink – Parking Fees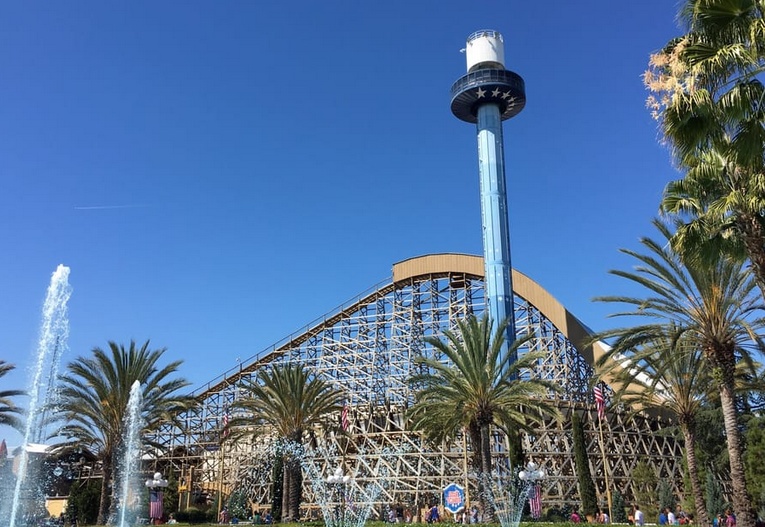 Go to Northern California's largest theme park without paying full price.
1. California's Great America Single Day Tickets
These tickets are good for any day during 2018 except for the Halloween Haunt. Print your ticket or scan the barcode at the entrance. No waiting at the ticket booth. The online savings for the Everyday Ticket is $29.00. Single Day Tickets Buy Now.
2. Go San Francisco® Card (Popular Bundled Attractions Pass)
The Go San Francisco® Card saves up to 55% off of admission to 25 top Northern California attractions including Six Flags Discovery Kingdom, Exploratorium, and the San Francisco Zoo.  Go San Francisco® Card.
3. Military Discounts
California's Great America usually offers a Military Discount for Active duty, Veterans, retired military, over the Memorial Day weekend when you show a Military I.D. Check the park website for details.
4. Costco Discount California's Great America
On occasion, Costco may offer discounted tickets for California's Great America. Check your local store for information and details.
8. Season Tickets
Season tickets are a great way to save if you live within easy driving distance of California's Great America Theme Park. Season Passes come in three flavors, Regular Pass, Gold Pass, and Platinum Pass that all Cedar Fair Parks including Knott's Berry Farm.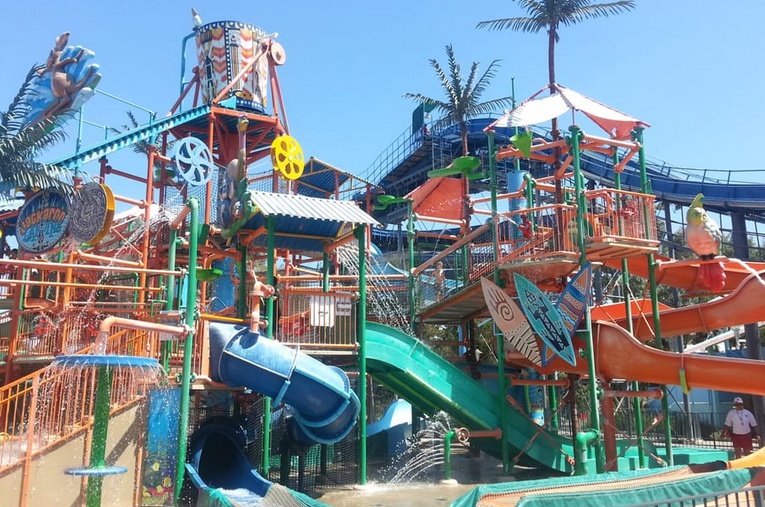 Boomerang Bay Water Park
Boomerang Bay Water Park is open during the summer season and a great place to cool off for the whole family. Great America's Halloween Haunt runs the last week in September through the month of October.
The theme park a is open March through October (weekends September and October.) California's Great America has the most kids' rides, the most thrill rides and the most water rides in Northern California. Full price tickets are a are expensive so be sure to take advantage of the discounts offered on this page.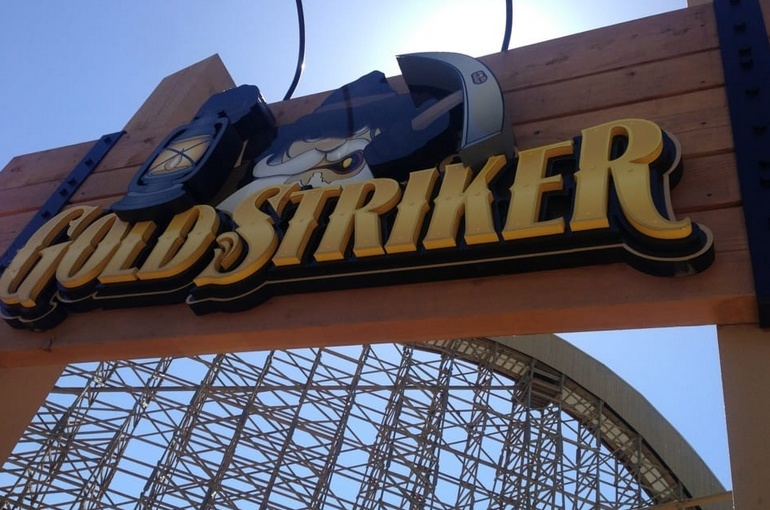 Planet Snoopy and Kidzville
For the younger set, there is Planet Snoopy and Kidzville which is full of rides perfect for children up to about age 12. Live stage productions entertain guest all day long and are a great way e to relax in between rides. All tickets include admission to Boomerang Bay water park.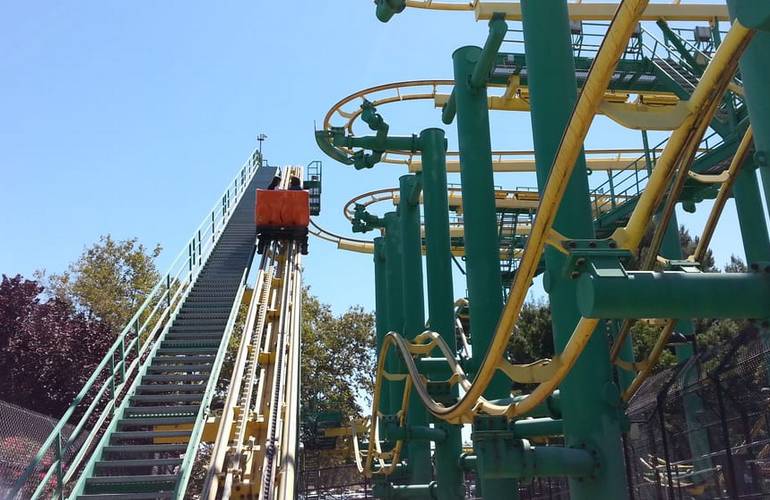 Food and Drink
Like most theme parks no outside food, beverages or coolers are allowed to be brought into California's Great America. The park offers a wide assortment of dining places from hot dogs to fried chicken. There are also plenty of places to eat nearby in Santa Clara.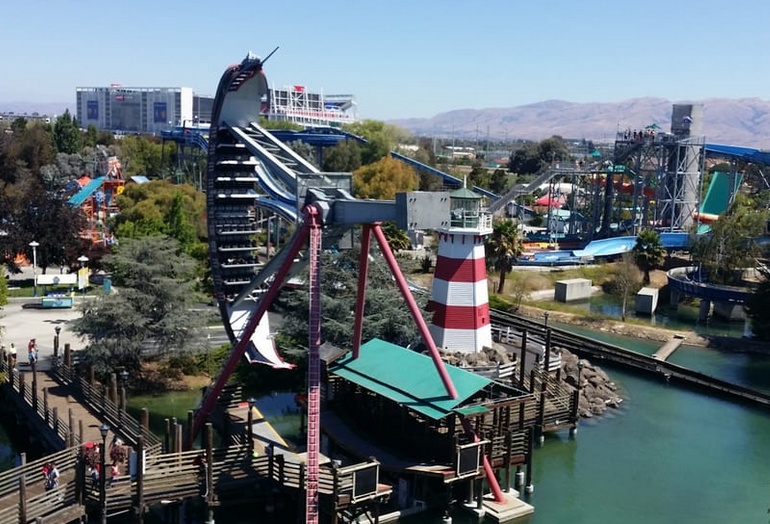 Parking at Great America
Parking is $20 per vehicle. RV parking is $25 per vehicle. Handicap parking spaces are available but space is limited. School bus parking is free.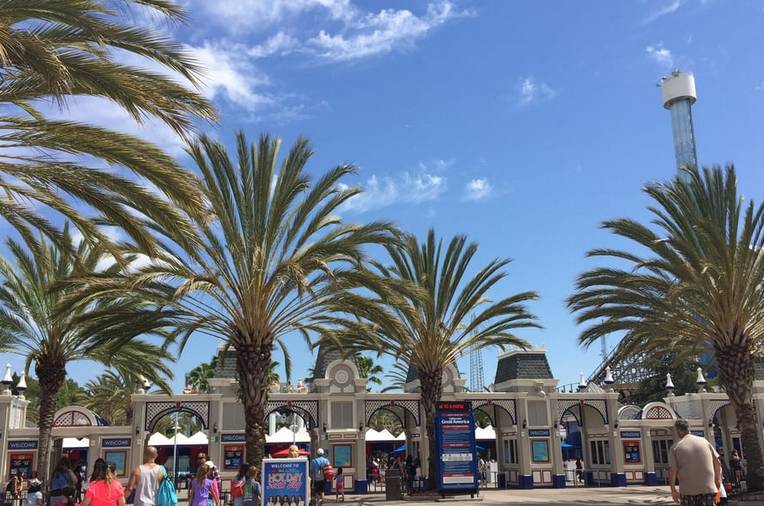 Getting to the Theme Park
California's Great America is owned by Cedar Fair the same company that owns Knotts Berry Farm in Buena Park and Gilroy Gardens Family Theme Park in Gilroy, CA. This is why you will see snoopy characters when you visit the theme park. California's Great America Theme Park 4701 Great America Pkwy, Santa Clara, CA 95054