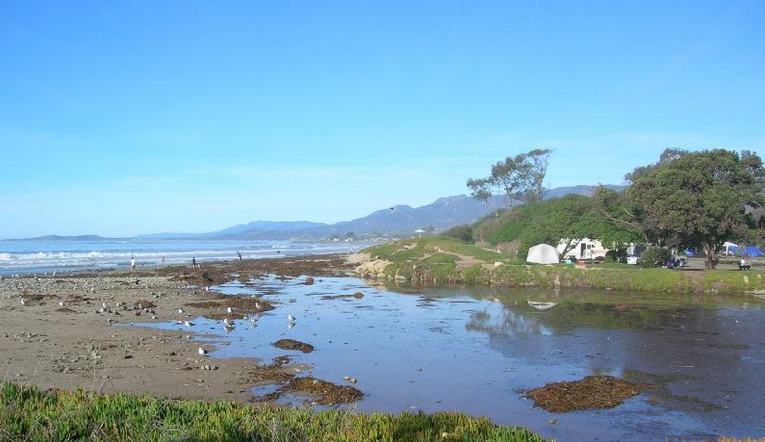 Carpinteria State Beach offers 216 campsites for RV's and tent camping. Campsites are located on the beach within the town of Carpinteria.
There are four campgrounds at the park: Anacapa, Santa Rosa, Santa Cruz and San Miguel. Both Santa Cruz and San Miguel have campsites directly on the sand, steps to the Ocean.
Shopping and restaurants are a short drive so if you forget anything or are looking for something other than camping food for dinner your minutes away.
Carpinteria beach is wide and sandy and rated "the safest beach in the world" by local residents. The name Carpinteria comes from the Chumash tribe, which lived in the area and built seagoing canoes.
Carpinteria is one of the most beautiful places along the Southern California coast and a very popular place to camp on the beach. Advance reservations are a must for the busy summer camping season.
One drawback to camping here is the Amtrak trains that pass close to the camping area. Don't be surprised if you hear the horn of a passing train blasting during the night.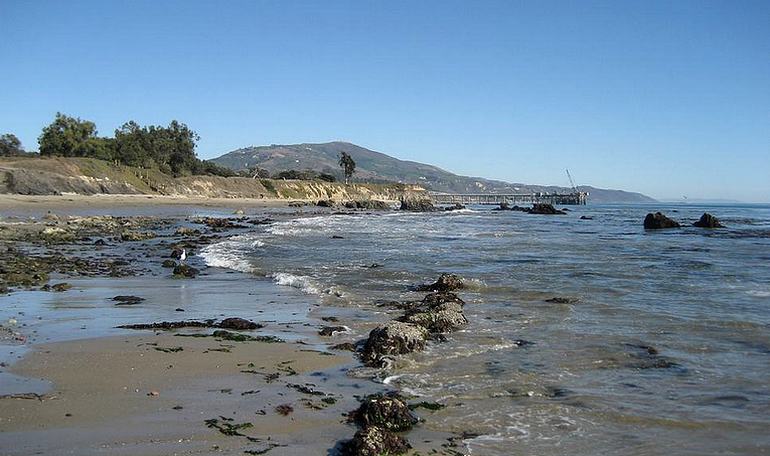 Winter, you can have the beach for yourself summer and holiday weekends expect to have company. Bathrooms and showers are clean and the camp hosts are very friendly. Reserve early for summer and weekends.
Carpinteria State Beach offers a mile of beach for swimming, surf fishing, tidepool exploring and camping.
Campers can use tents, motorhomes and trailers up to 30 feet long in the Anacapa and Santa Cruz Campground loops, but there are no hookups. water, sewer, and electrical hookups are available in the Santa Rosa loop.
The San Miguel loop offers 70 campsites, half with water and electrical hookups. Campsite check-in time is 2 p.m. Check-out time is noon. Each campsite accommodates up to 8 persons and one vehicle; additional vehicles require a fee. Due to congestion on park roads, free passes for deliveries or passenger drop off are not permitted.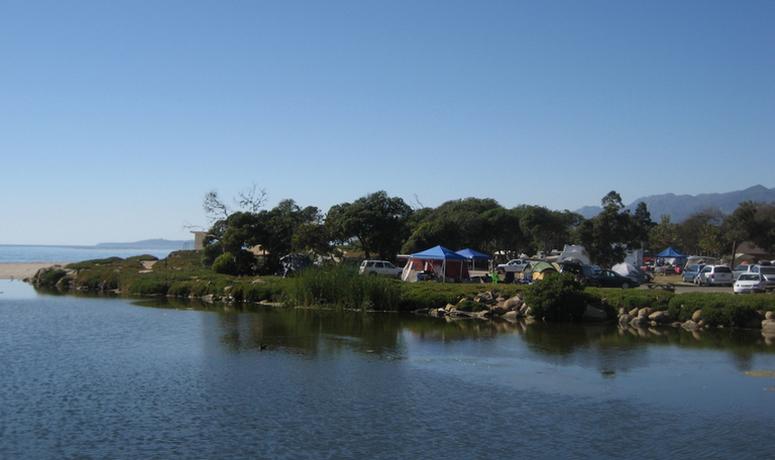 One nice feature about Carpinteria State Beach is the nearby Amtrak station allowing you to leave your car at home and tent camp at this wonderful California state beach.
One note about the beach you have to be careful of tar on the beach It will stick to your feet and is very hard to remove. The tar is natural, not from oil wells and was used by the native Indians to seal their canoes.
For RV sites on beachfront, reserve in Santa Rosa Beach or San Miguel Beach. Tent Camping is available in the Anacapa, Santa Cruz, Santa Rosa Beach, and San Miguel Inland loops. Santa Rosa Beach Row Motorhome/Trailer (Sites 124-146); campers are allowed and small tents.
Campsites here are a little cramped for full-size RV's but being so close to the beach makes it worth camping here. The town of Carpinteria is close enough to Los Angeles for a day trip, however, most people stay for at least one night.
Carpinteria Amtrak station is close enough to the campground so it's possible to beach camp by train.
Exit at Casitas Pass Road from either North or South Hwy 101, go down Casitas Pass Road to Carpinteria Avenue and make a right at the signal and a left on Palm, the first left. Go to the end of Palm Ave. at the beach.
High Season/March 1-November 30: 8 am to 10 pm Low Season/December 1-February. Campground Reservations
Once the consecutive night limit has been reached, the person(s), equipment, and/or vehicles(s) must vacate the campground for a period of 48 hours before returning for another stay. NO Dogs allowed on the Beach. Carpinteria State Beach 205 Palm Ave Carpinteria, CA 93013.