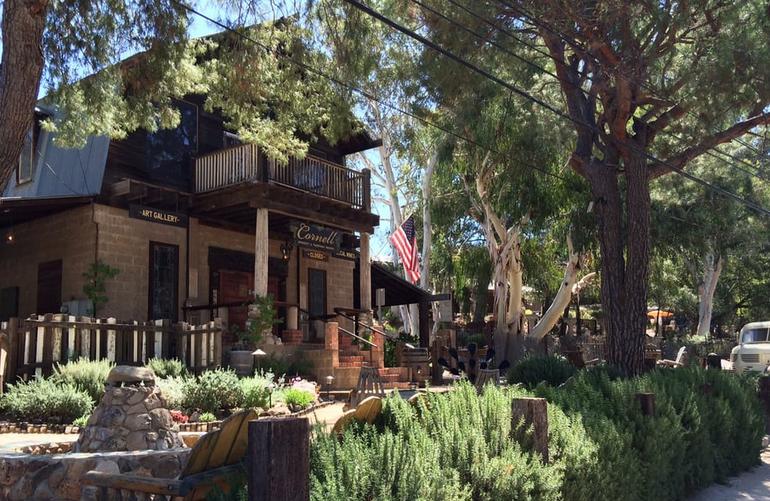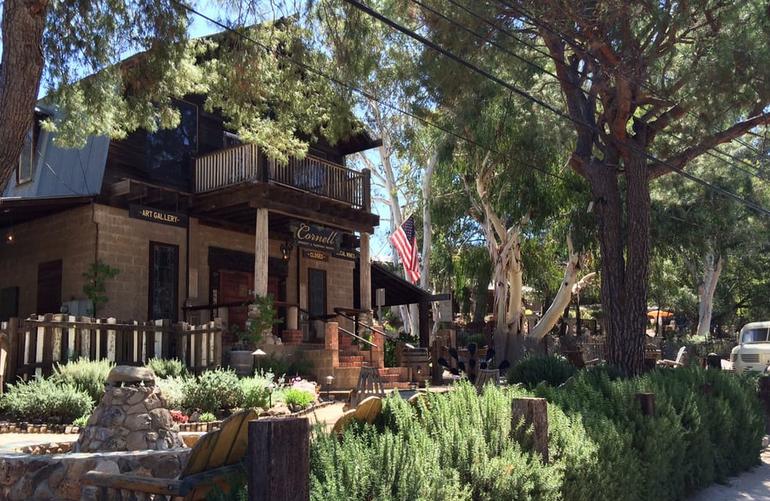 Cornell Wine Tasting Room is located along Mulholland Highway in what once was the town of Cornell. The motto here is "Drink Local Wine" and there is a wide selection of wines made from grapes harvested in the Santa Monica Mountains.
Step inside the rustic wine tasting room and enjoy some wine and then kick back on the porch and watch the parade of exotic cars pass by along Mulholland Highway. The tasting room also features paintings and photography by local artists that can be purchased or viewed.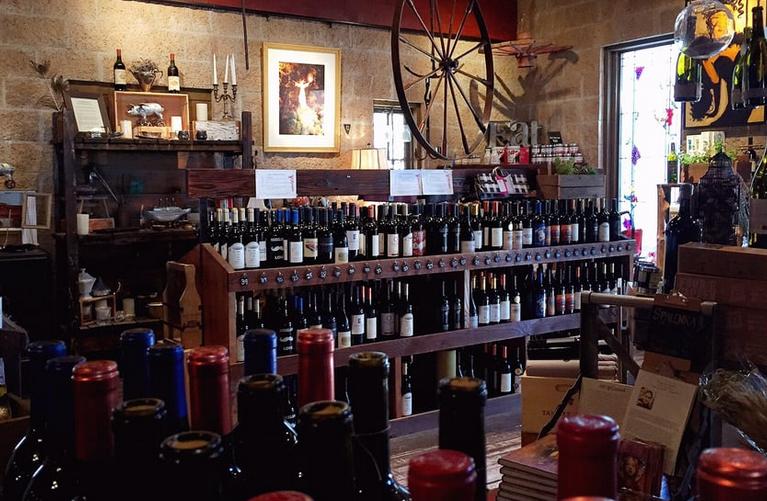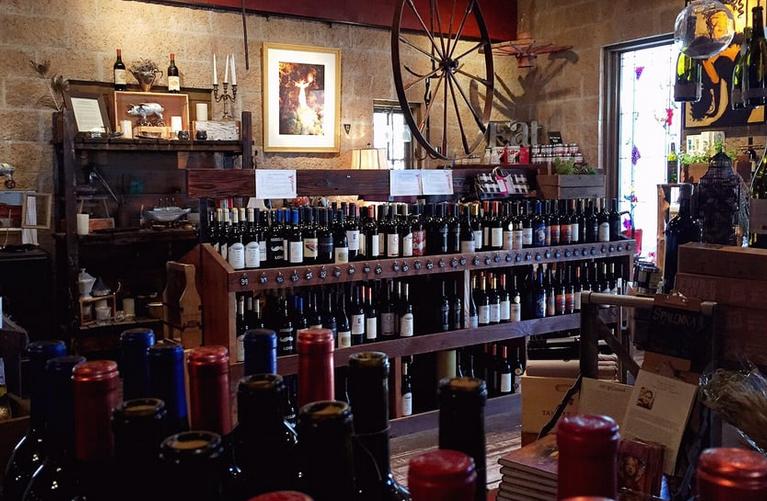 There are about 50 vineyards in the Santa Monica Mountains, some are just hobbies while others have elaborate affairs with several hundred acres. Local wines featured at Cornell include Rosenthal Estate Vineyards, Santa Monica Mountains Vineyards, Malibu Valley Vineyards, Trancas Vineyards.
Next door to Cornell Winery is The Old Place restaurant. Serving breakfast on weekends and dinner all week long. The Old Place is not your run of the mill eatery, with only four booths and bar seating, it's just the opposite.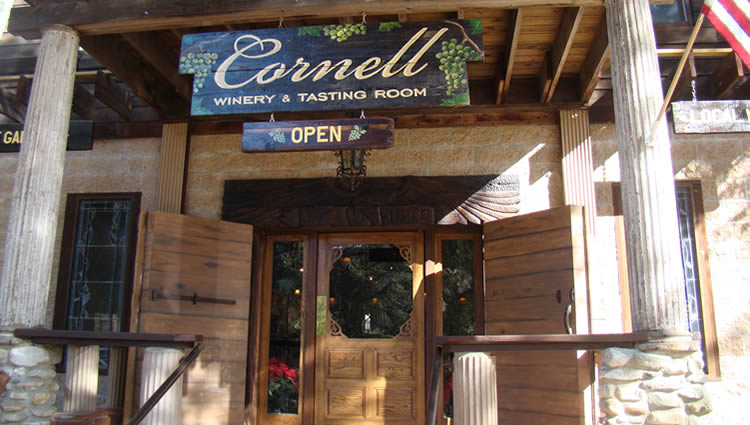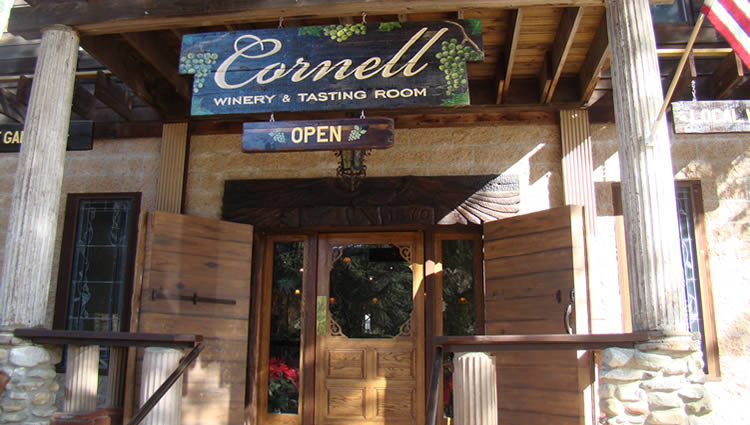 Cornell Winery is in the center of "The Three Magical Miles" of Mulholland Highway. Just east of the wine tasting room is Paramount Ranch where they have been making movies since the 1920s.
Cornell Winery and the surrounding Santa Monica Mountains are a treasure trove of things to do and places to see. Cornell is a good starting off point for a day trip to the Santa Monica Mountains. Enjoy a hearty breakfast at the Old Place and then head off and explore the local area.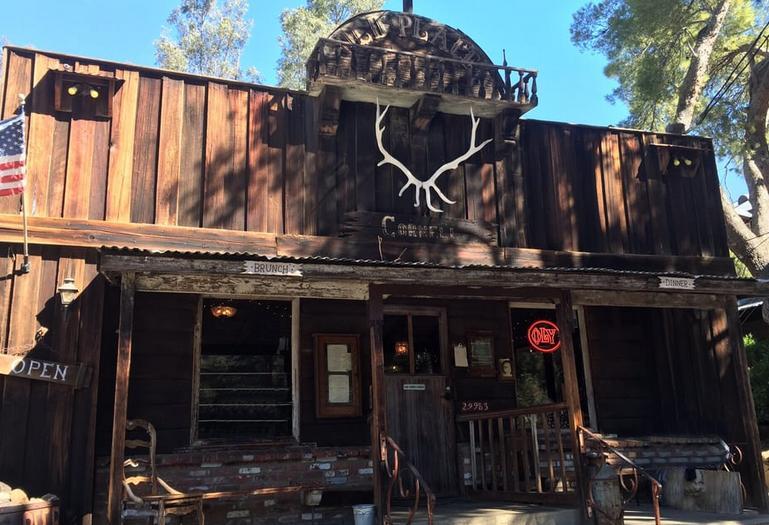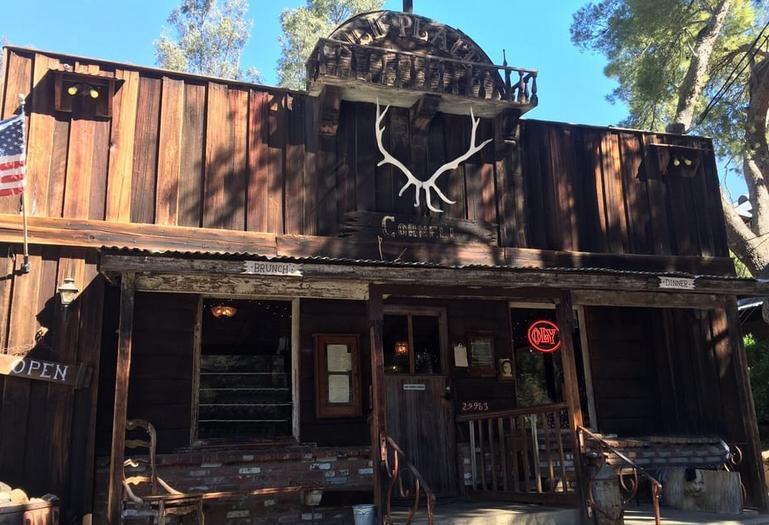 The Old Place is a unique restaurant located adjacent to Cornell Tasting Room. Breakfast menu items include Blue Corn Meal Flap and cinnamon rolls.  Dinner selections include Oak grilled Black Angus Sirloin, Wild Rosemary Pale Ale Chicken, "Old Place" Steamed Clams plus seasonal specials.
Cornell Winery Nearby Things To Do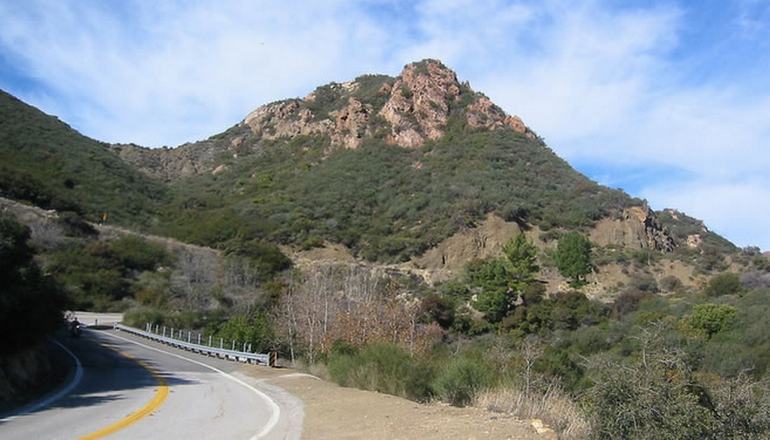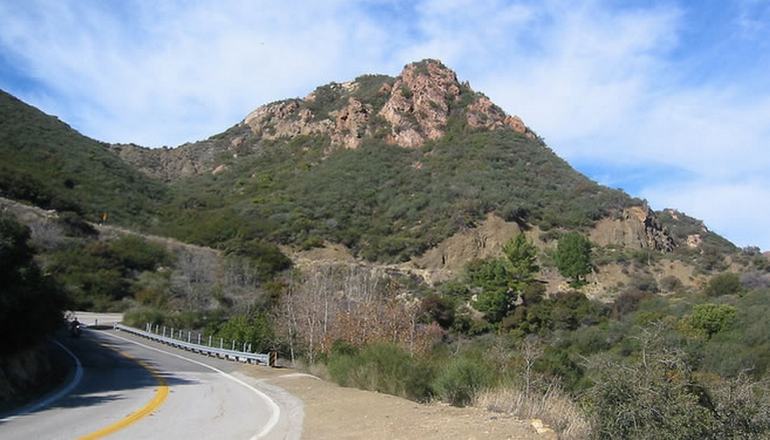 If you head south and climb Mulholland Highway through a section called the "twisties" or "snake" and you end up a world-famous biker hangout, the Rock Store. The entire route is about 50 miles Calabasas to Pacific Coast Highway.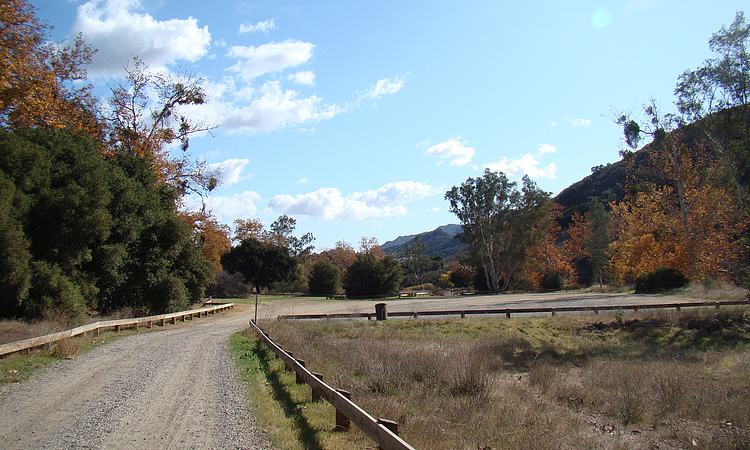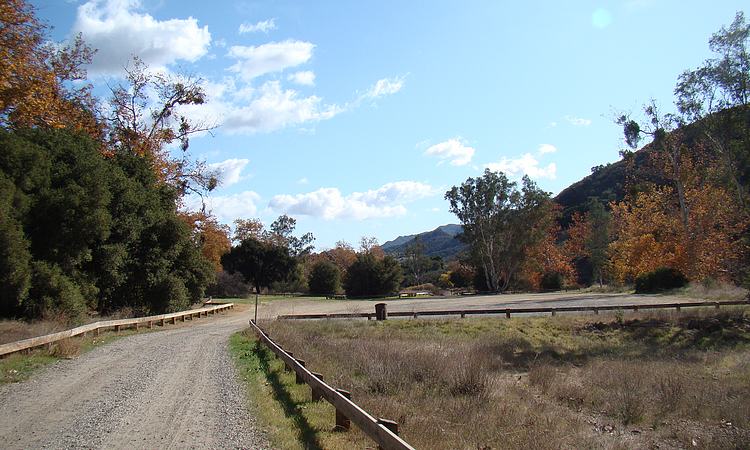 Directly across the street from Cornell is Peter Strauss Ranch which is part of the Santa Monica Mountains National Recreation Area. Peter Strauss Ranch has free parking and no admission charge and open dawn to dusk.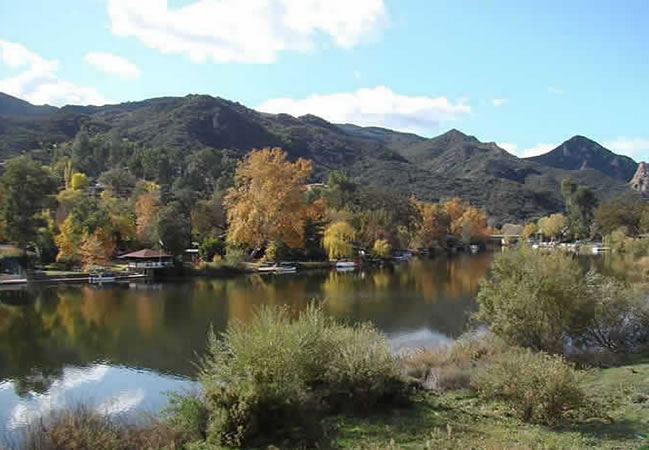 Nearby is Malibu Lake, The story goes that the lake was renamed by local residents to Malibou Lake in an attempt to hide the lake from tourists. Malibou Lake is private and lined with million-dollar estates, but you can drive along Lake Vista Drive and take a peek.
Malibou Lake was originally going to be the largest social club in Southern California in the 1920s. The lake never achieved this status although a clubhouse was built in 1924. Twelve years later the clubhouse burnt down and was replaced with the current structure which hosts weddings and events.
(Closed) Another interesting little nearby place is Troutdale a small fishing lake where you are guaranteed to catch a fish. Perfect for a family outing or as a place to teach kids how to fish.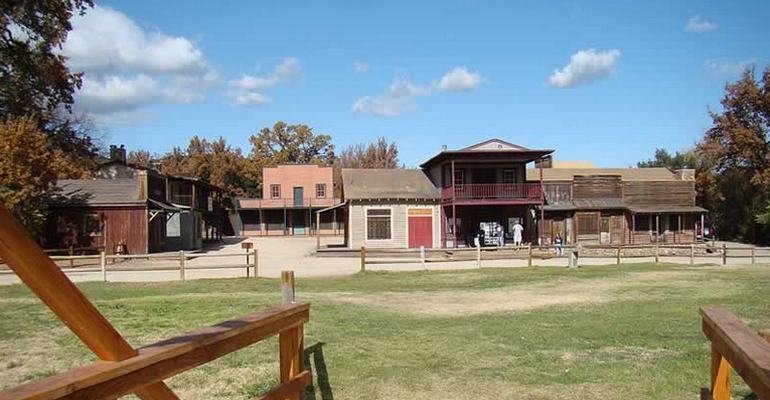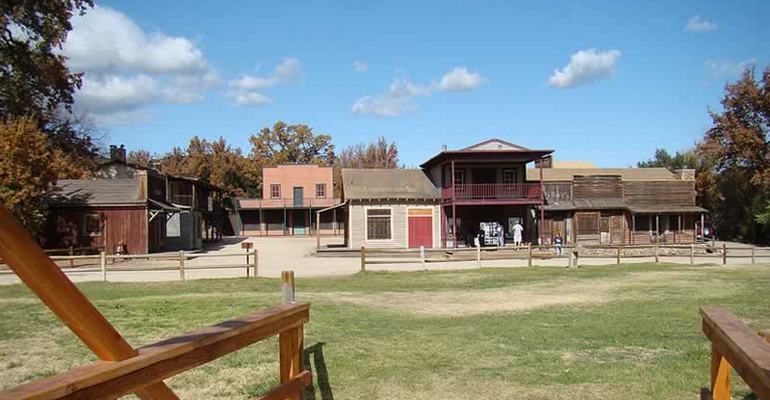 Paramount Ranch offers miles of hiking trails and a real western movie town. If you only have time for one stop Paramount Ranch should be it. Kids will love running around the "Ghost Town."
If you bring your hiking boots the most popular hike in the park is to the MASH filming location.
Western Town at Paramount Ranch was badly damaged in a wildfire. The National Park Service is planning to rebuild the western and with buildings that meet current fire codes. The only two remaining buildings are the chapel and train depot.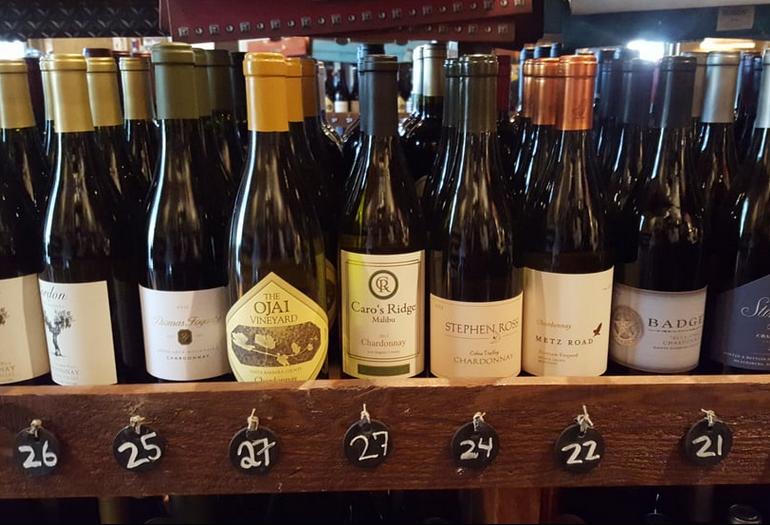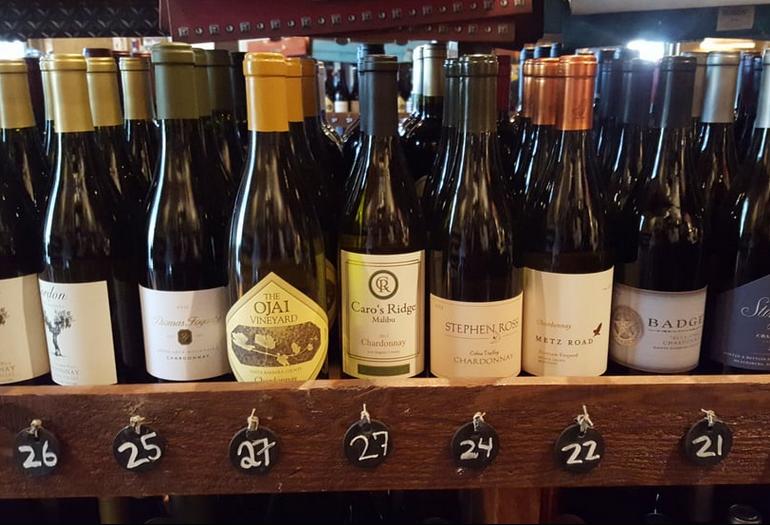 Where is Cornell Winery & Tasting Room
Cornell Winery & Tasting Room. 29975 Mulholland Hwy Agoura Hills, CA 91301. 818-735-3542 Open Thursday – Sunday 10 am – 9 pm.
Direction From The South: Take 101 N. Exit Kanan Rd. turn left. Travel 4 miles to Troutdale Rd. turn left. Mulholland Hwy. From Santa Monica/Malibu – Take Pacific Coast Highway North. Kanan Rd. turn right. Troutdale Rd. turn Right. Mulholland Hwy.
Direction From The North: Take 101 S. Exit Kanan Rd. turn left. Travel approximately 4 miles to Troutdale Rd. turn left. Mulholland Hwy. Cornell Winery in itself makes a great day trip and with so many other nearby things to see, it doesn't get any better than this.