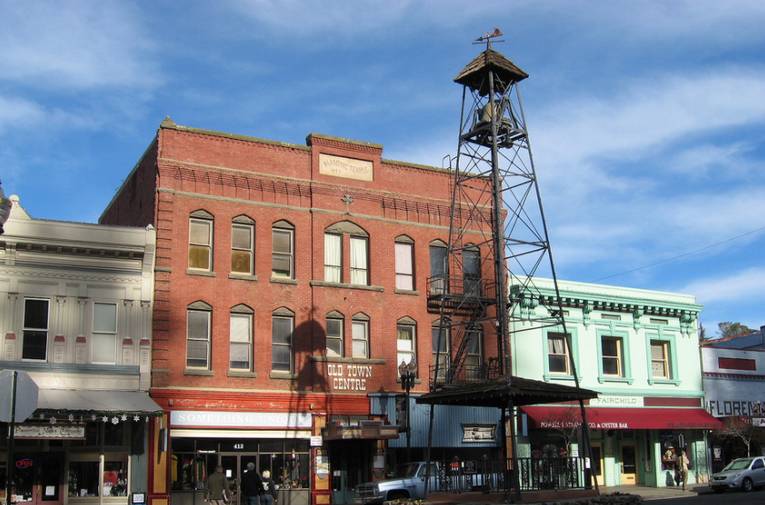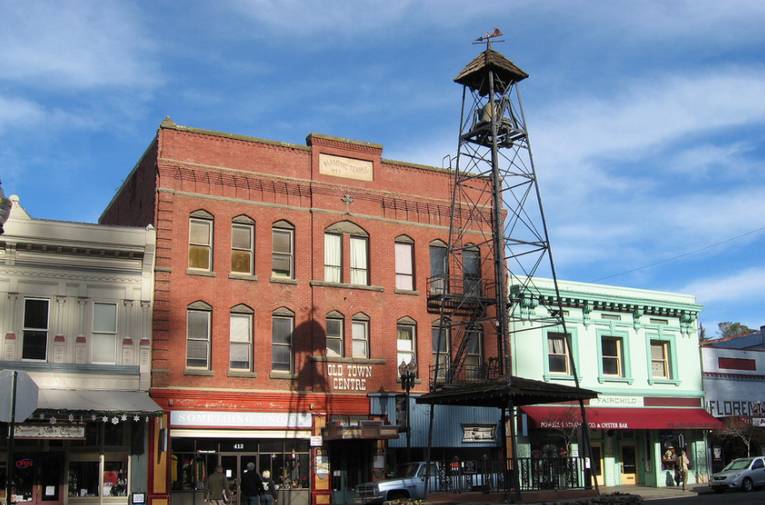 Situated along a picturesque stretch of highway that cuts through the Sierra foothills outside Sacramento and in the heart of the gold country is the City of Placerville, the seat of El Dorado County.
Located at 2,000′ elevation and capturing the spirit of The California Gold Rush, Placerville sits 30 miles east of California's Capitol, and 40 miles west of Carson City, Nevada's State Capitol.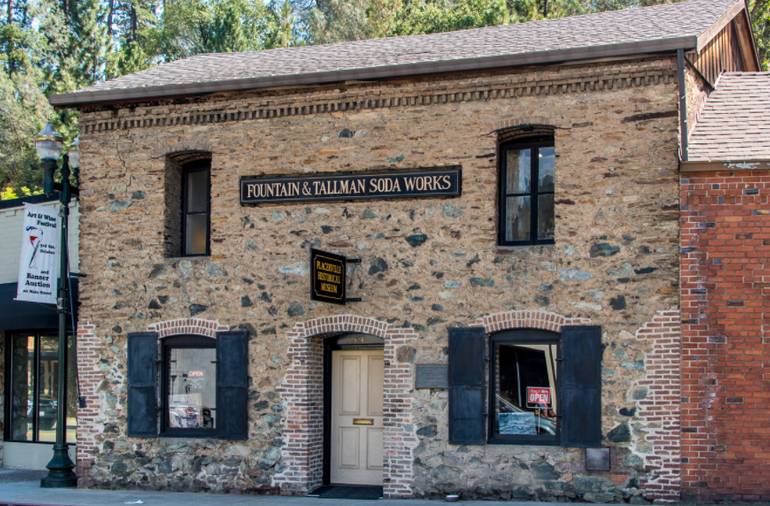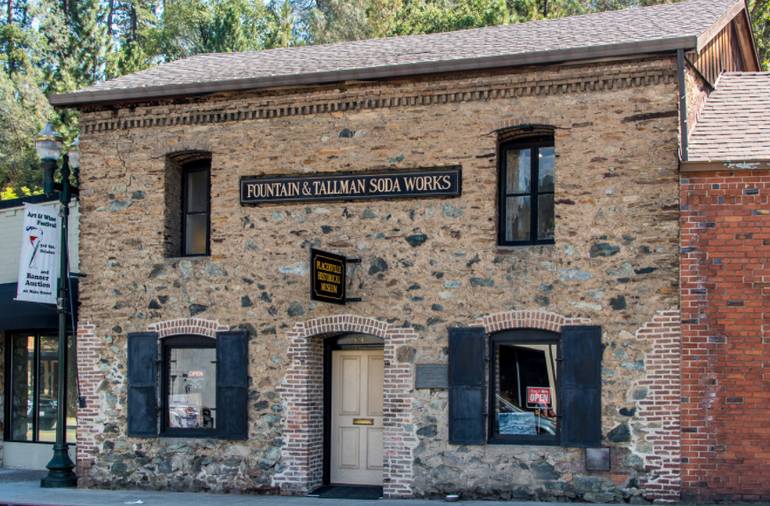 Placerville's Main Street is lined with historical buildings that are well preserved and serve as a stop at for people from around the globe who come to experience this unique place, which blends modern conveniences such as Starbucks, with turn-of-the 20th Century buildings with their antique furnishings seemingly frozen in time.
Initially called Dry Diggins, Placerville was later called "Hangtown," because it was one of the first places where justice was carried out at the end of a rope when outlaws took what they wanted.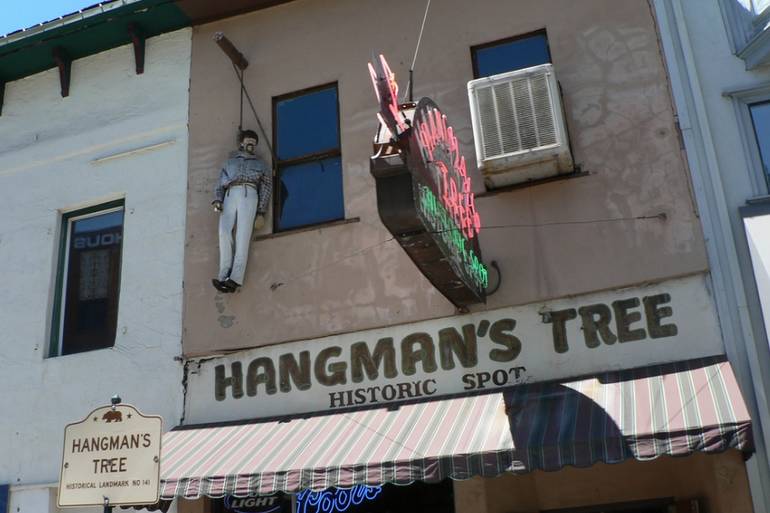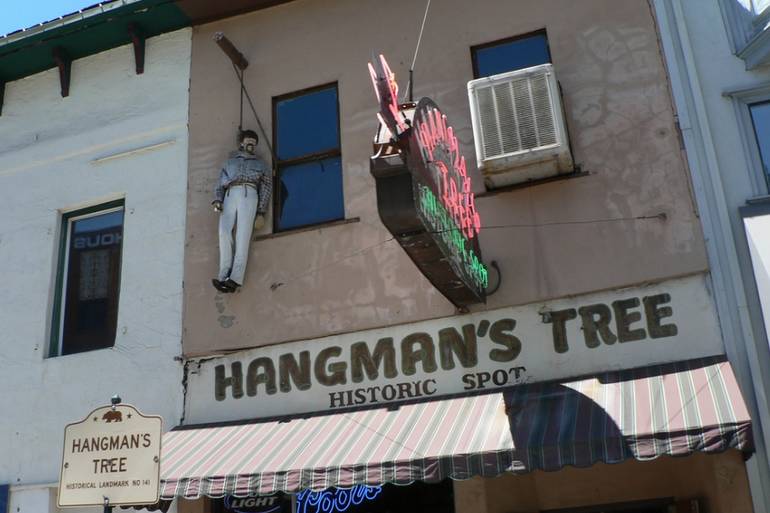 Today a dummy of a man hangs from the second floor, and there is a tree stump hidden in the cellar of the Hangman's Tree bar, a historic spot on Main Street that marks the spot of many of the town's hangings.
Just as it was during the 1800s, the saloon is open for wandering souls to stop in for a drink. Visitors can pull up a stool and hear stories of the hangings and ghosts believed to inhabit the authentic old west bar.
Placerville Belltower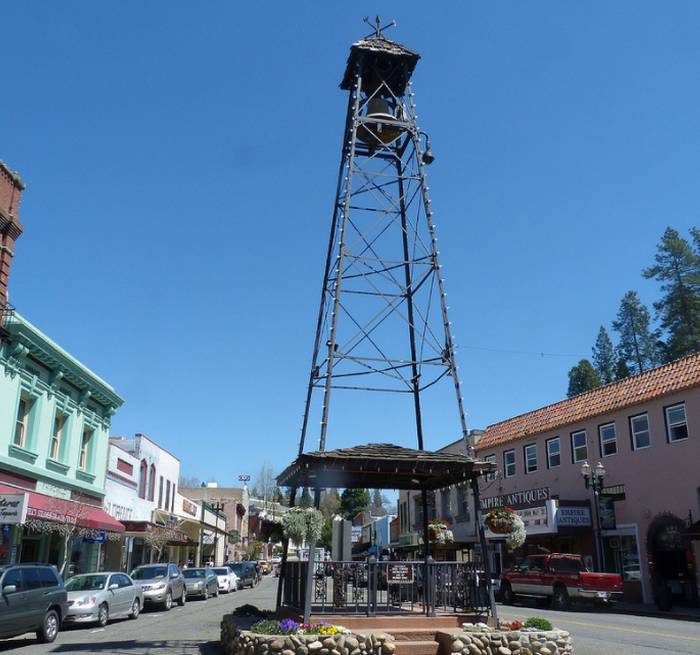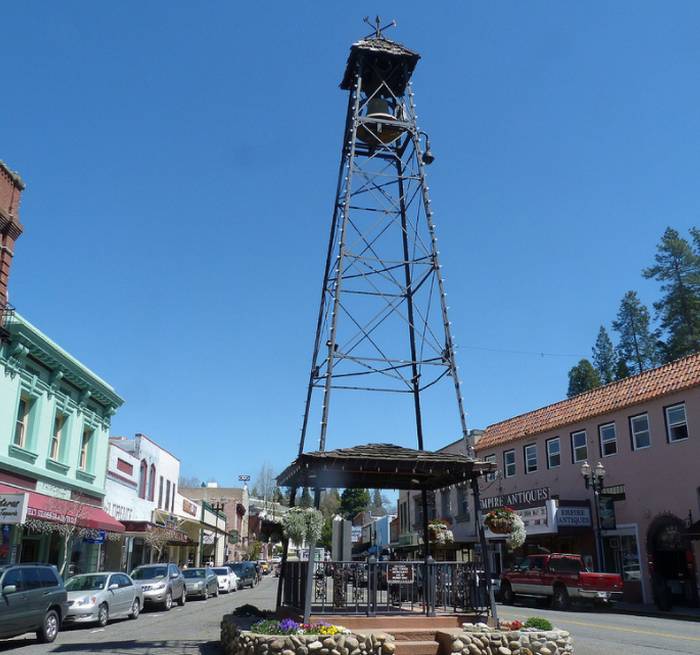 Nearby, situated in the middle of Main Street, is the Placerville Belltower, which played a vital role during the Gold Rush.
Once standing just 25 feet high on a wooden tower and built-in 1860 to serve as an alarm system for the town's volunteer fire department. Today a steel structure built rises feet 50 feet from the street from a concrete base, with a massive bell cast in England, topped with a miniature bronze fireman weather vane, and drinking fountain in the center.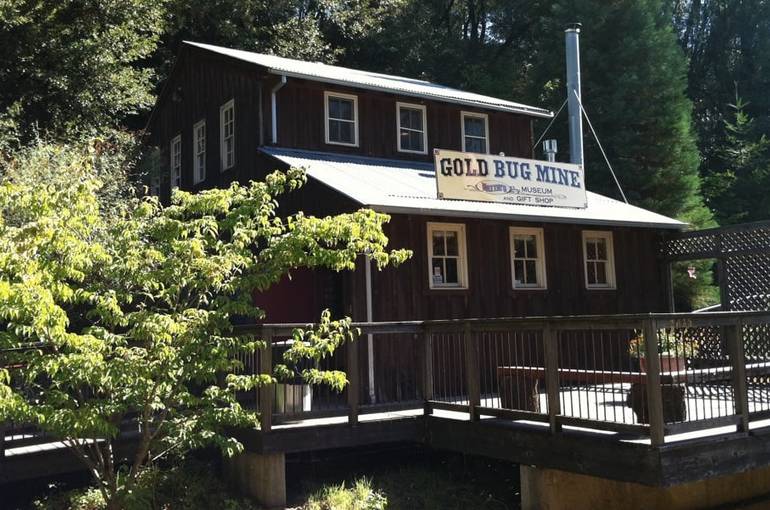 Gold Bug Mine
Close to the heart of downtown, and accessed by its streets, the City of Placerville owns and operates Gold Bug Mine, one of a few gold mines in California that is open to visitors.
Here visitors can explore a real gold mine with a practical guide or on their own. Hard hats required.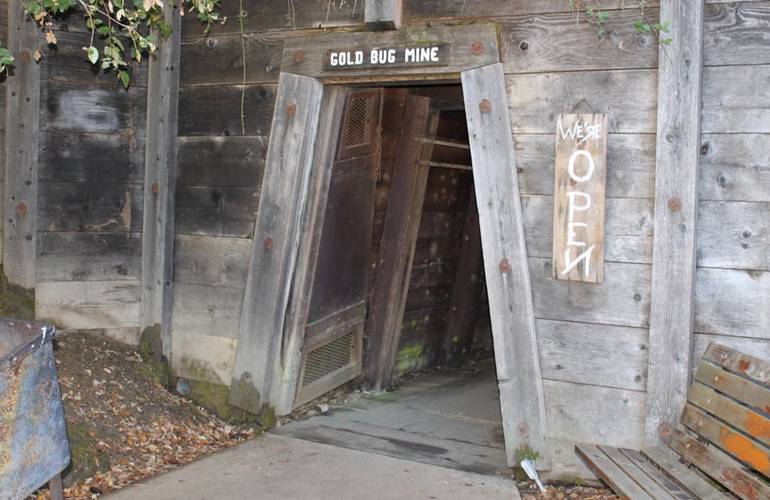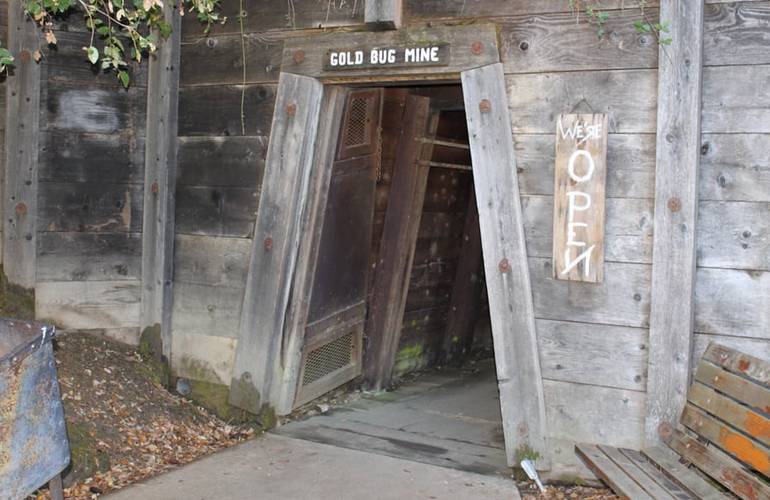 There is also a small museum on-site that explains how things work in the mining world, and visitors can even touch things. There is even a place to pan for gold, where kids and adults can get a down and dirty hands on a history lesson, as well as the thrill of catching the gold fever.
Just up the trail from the Gold Bug is Priest Mine, which can be explored by guided tour.
There are also some beautiful little trails around the mine, which provides an excellent opportunity to view wildlife, get in touch with nature, have a party, picnic, or family gathering. There are picnic areas as well as a pavilion that can be rented for special events.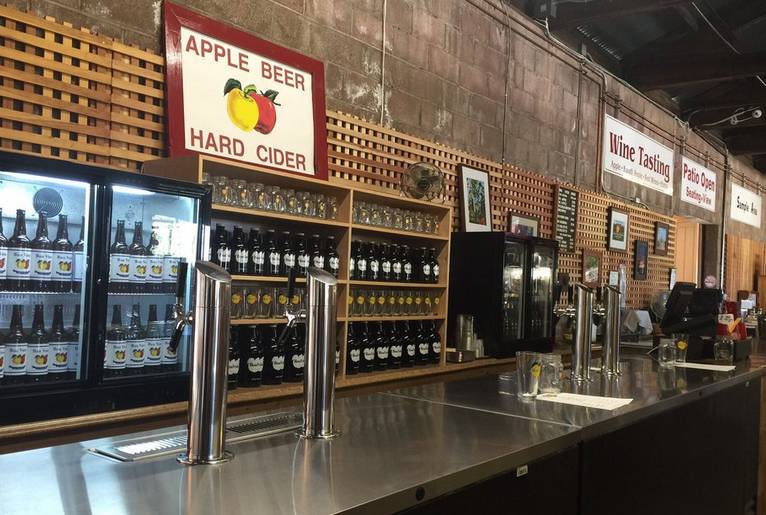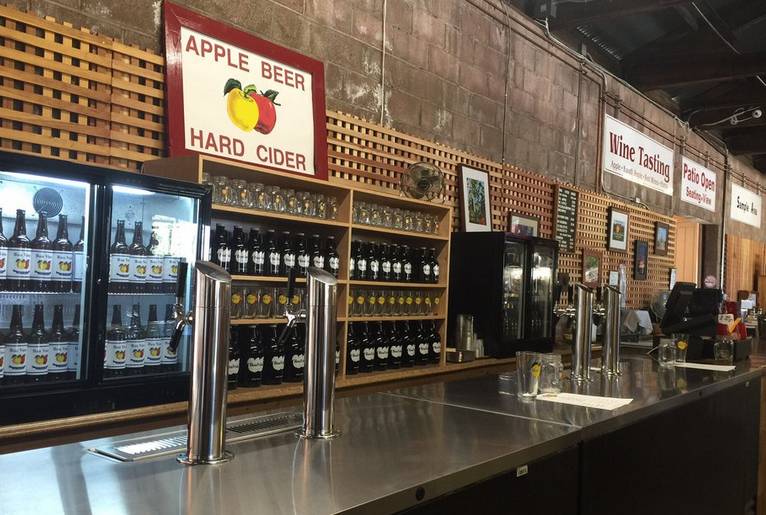 El Dorado County Wine Trail
Scattered around the City of Placerville, is a system of Wine Country Trails.
El Dorado County has over 60 distinctive wineries within its borders, including well-known Boa Vista Vineyards, David Girard Vineyards, Fenton Herriott Vineyards, Narrow Gate Vineyards and much more, all located in Placerville.
Placerville is located at the center of Mother Lode country, and there are plenty of side trips to take if you decide to stay longer than one day. In town, there are several motels and an excellent selection of restaurants. Placerville is a fun base camp for exploring California's Gold Country.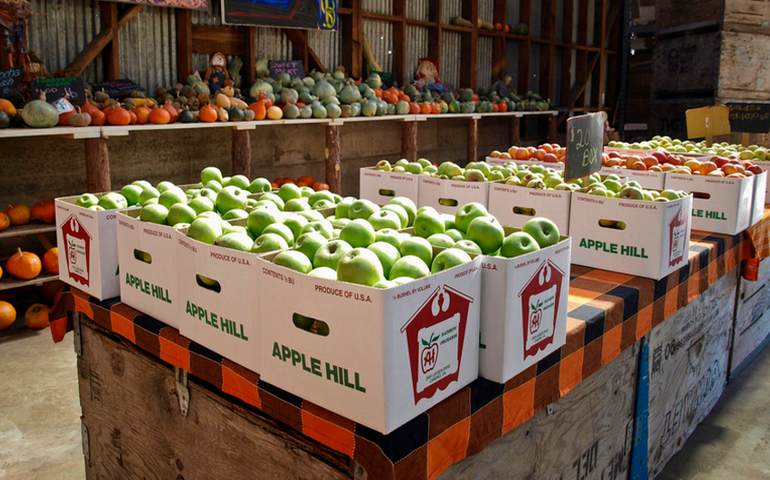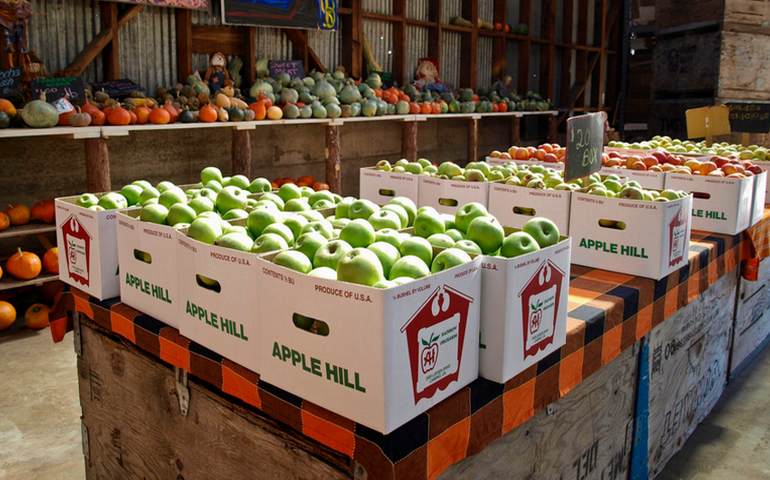 A nice side trip only a few miles from downtown Placerville is Apple Hills. Here visitors can enjoy farms and ranches offering u-pick apples and pumpkins during the season. One place well worth a visit is El Dorado Orchards, where you can take a ride on the Apple Ridge train.
Getting to Placerville and El Dorado County is easy. Located on the El Dorado Freeway 50, near the Gold Country Highway 49, travelers can access Placerville by heading east from Interstate 5 near Sacramento.