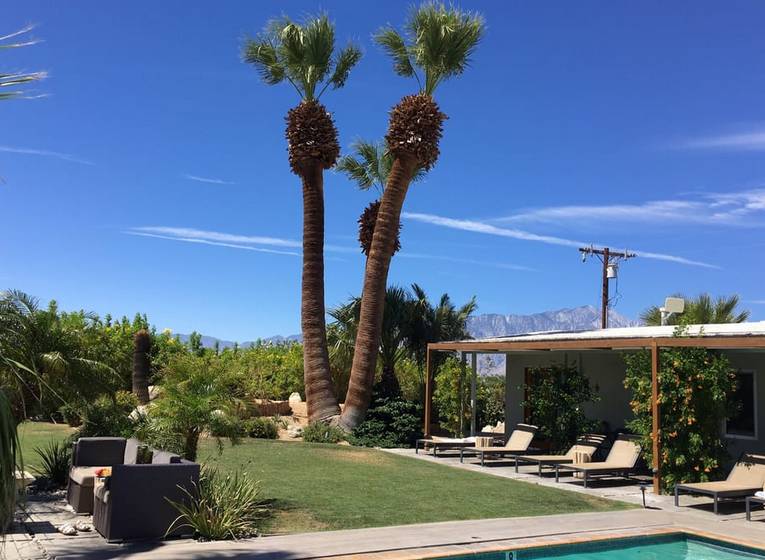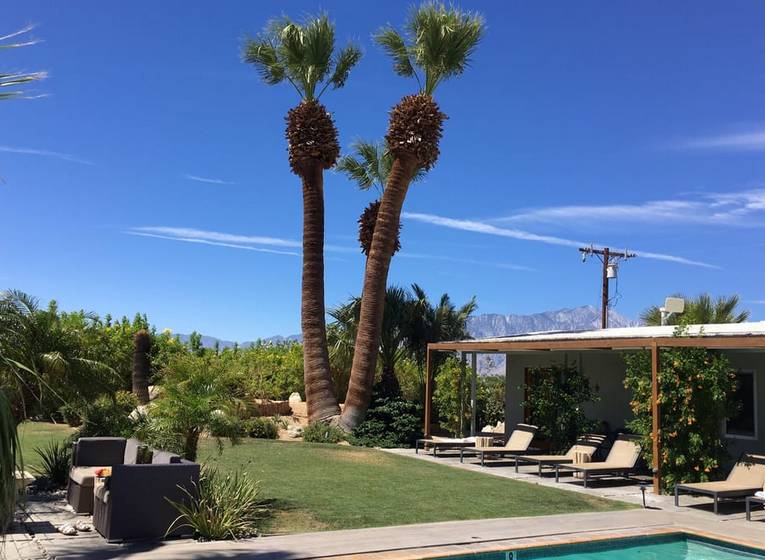 Situated in the foothills above the Coachella Valley floor, the inhabitants of Desert Hot Springs get a bird's eye view of the bustling life of the rich and famous in nearby Palm Springs. Plenty of sunshine with average temperatures in the mid to upper 80s allows visitors to enjoy one of the area's many great resorts, shopping, or outdoor sports year-round.
This relaxed spa town is supplied with abundant hot mineral water streams piped to the surface to fill the pools and tubs of hotels and spa resorts. Desert Hot Springs is a perfect destination for a day trip or weekend getaway.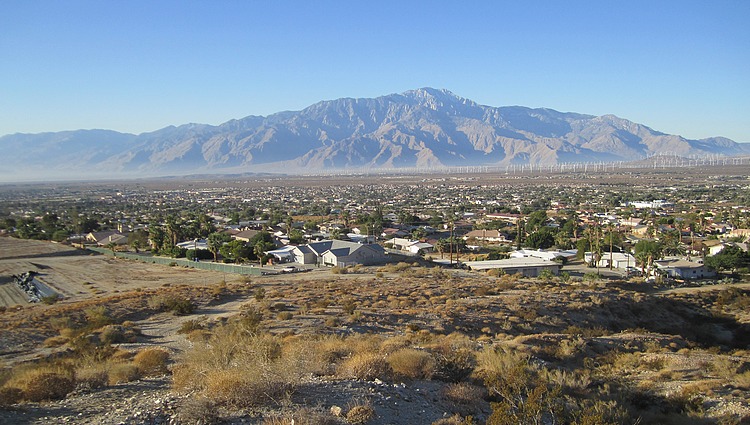 Long after discovering the Agua Caliente Indians, modern-day developers found the springs in the area and transformed this small town into a Mecca for visitors who wanted to soak in what they believed to be therapeutic waters.
Travelers arrive from Canada, the Midwest, and the East, escaping their harsh winter climates in the California Desert. During the winter months, the temperature averages in the mid-60s; however, 100 plus days are not uncommon during the summer.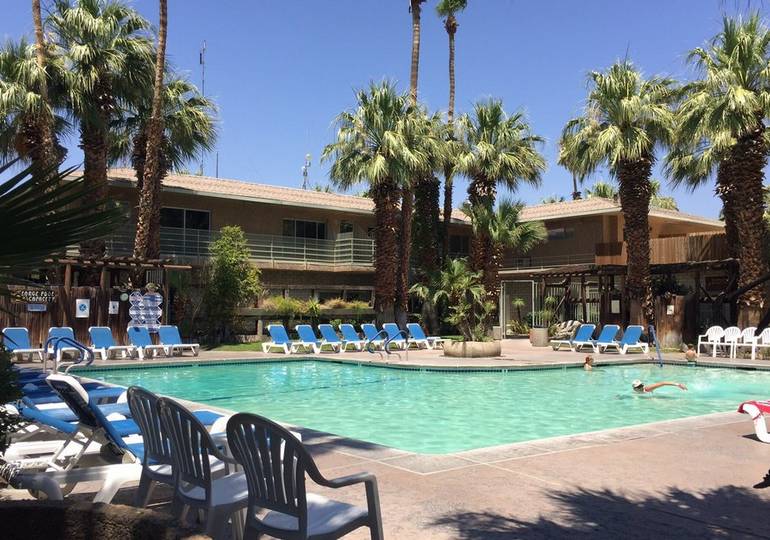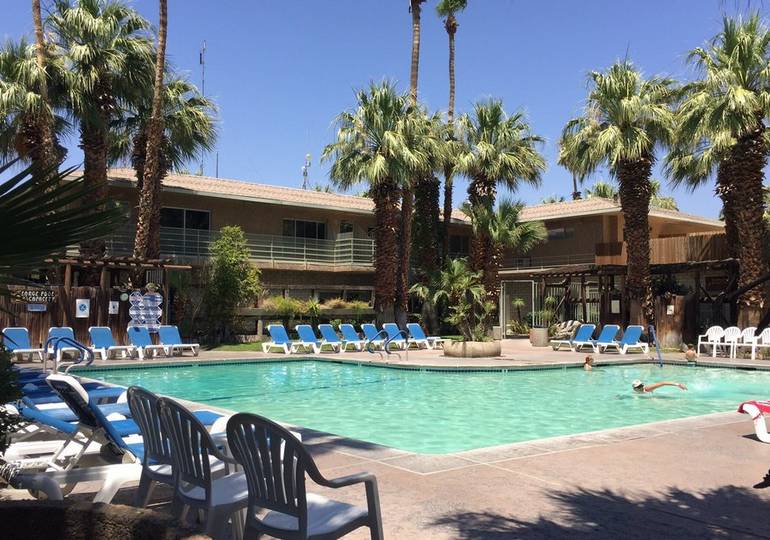 Many of the town's reasonably priced spas and hotels are located along Hacienda Avenue. Most of them have thermal wells.  Guests can purchase day passes at many resorts, but we recommend staying at least one night to relax and rejuvenate.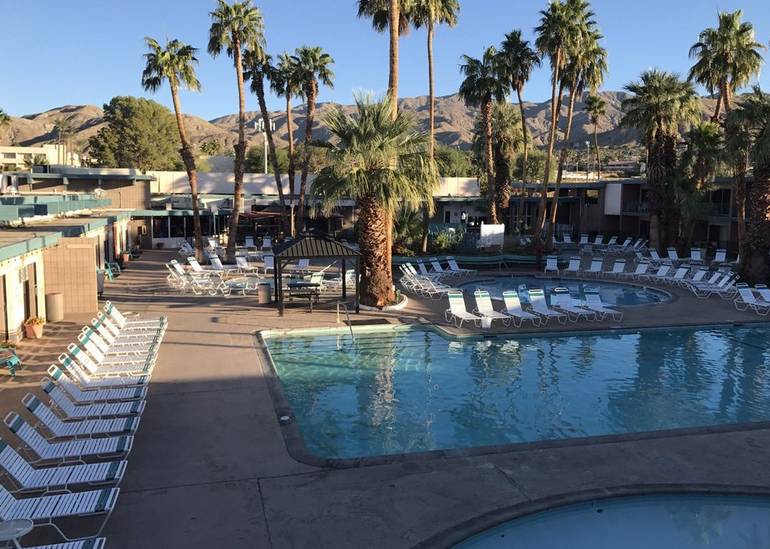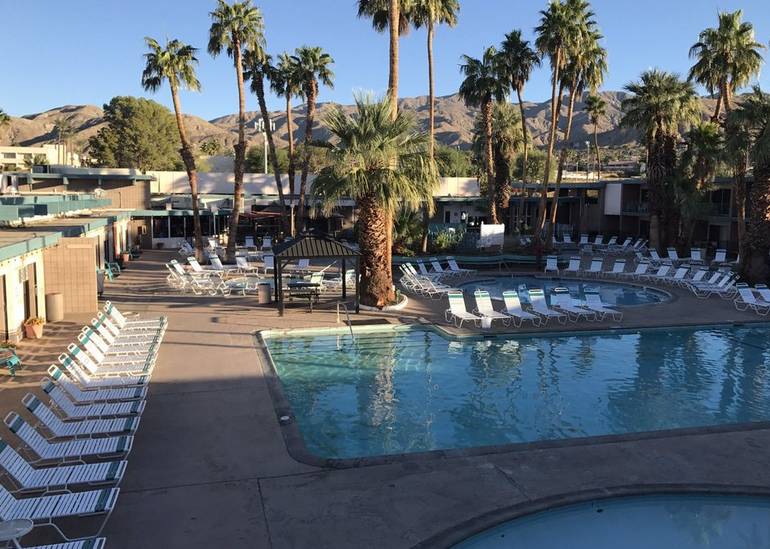 Desert Hot Springs Spa Hotel
Suppose you plan a weekend getaway, one of two well-known and most prominent spa hotels in Desert Hot Spring Spa Hotel. With built-in classic Mid-Century Modern style, the 50-room Desert Hot Springs Spa hotel offers eight natural hot mineral water pools ranging from 70°F to 104°F. Desert Hot Springs Spa Hotel 10805 Palm Drive. Desert Hot Springs, California.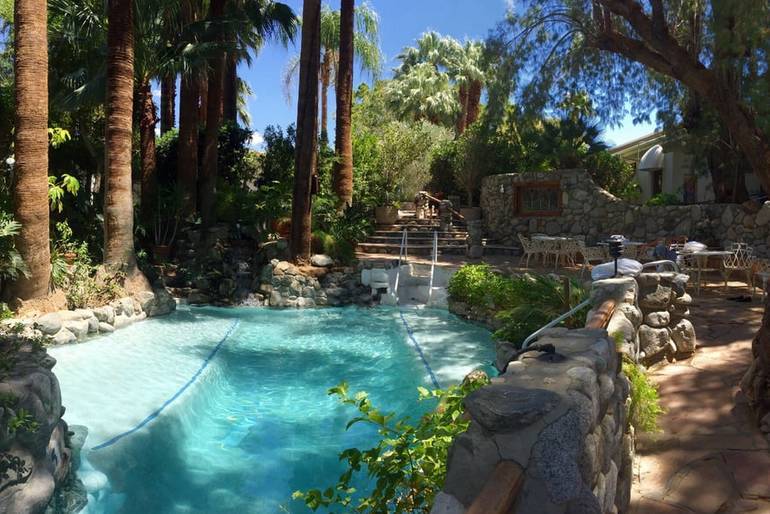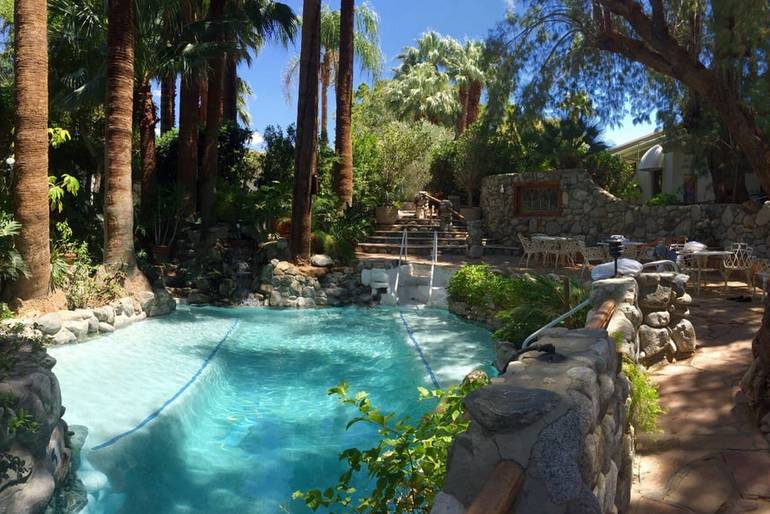 Two Bunch Palms
Two Bunch Palms is the second of the two spa hotels in the area worth a trip all by itself. This exclusive resort sits on a 28-acre palm oasis and has two hot mineral pools, a sauna, a swimming pool, and tennis courts.
The retreat has a history, which becomes embellished with the passing years. The hideaway of gangster Al Capone has been complete with a gambling casino and a lookout tower for security. 67425 Two Bunch Palms Trail, Desert Hot Springs, CA.
Things to do in Desert Hot Springs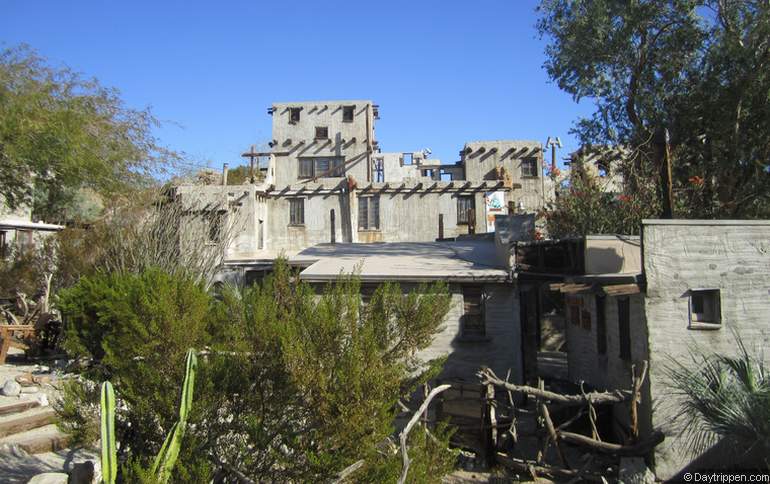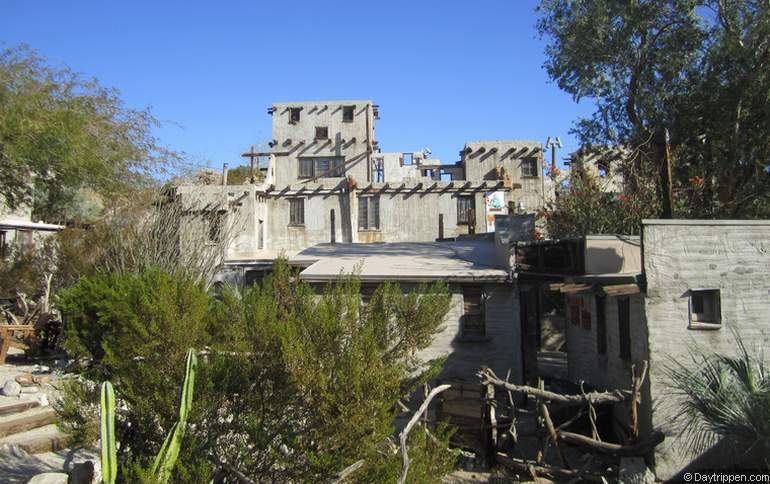 One of the area's most exciting attractions is Cabot's Old Indian Pueblo, a striking adobe building hand-made and created from reclaimed and found objects by a single man — Cabot Yerxa.
Cabot began building in 1939 and, over the next 24 years, created the four-story, 5,000 square feet structure with 35 rooms, 150 windows, and 65 doors. At the time of his death in 1965, the 81-year old Cabot had not yet finished the building. 67616 Desert View Ave, Desert Hot Springs, CA 92240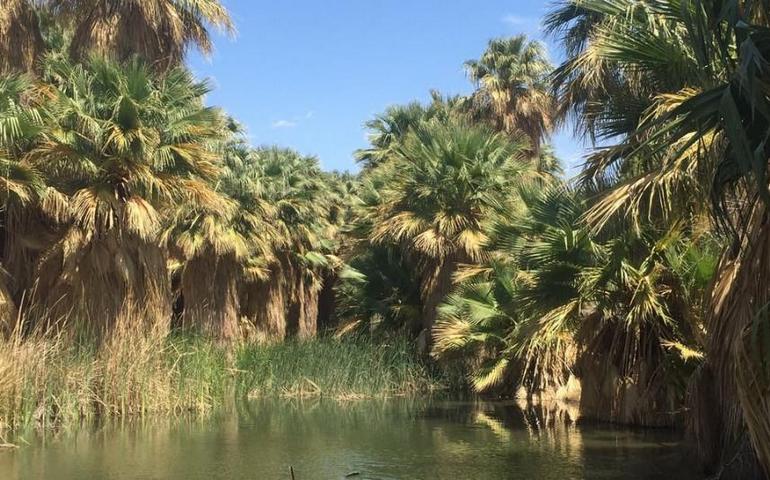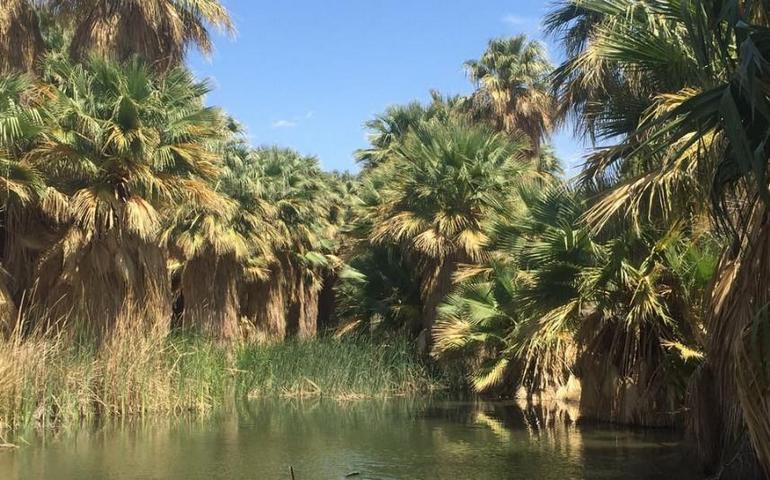 A short drive to the east is Coachella Valley Preserve. It is free and well worth a visit; it is one of the best palm oases in the Coachella Valley. Its well-marked trails are great for hiking, and it has terrific vistas overlooking the surrounding valley.
You can take an easy two-mile hike to see the oasis, or you can take far longer trails of up to six miles. During the spring, you can see wild desert flowers and wildlife, including lizards, birds, and various other critters that inhabit the desert landscape.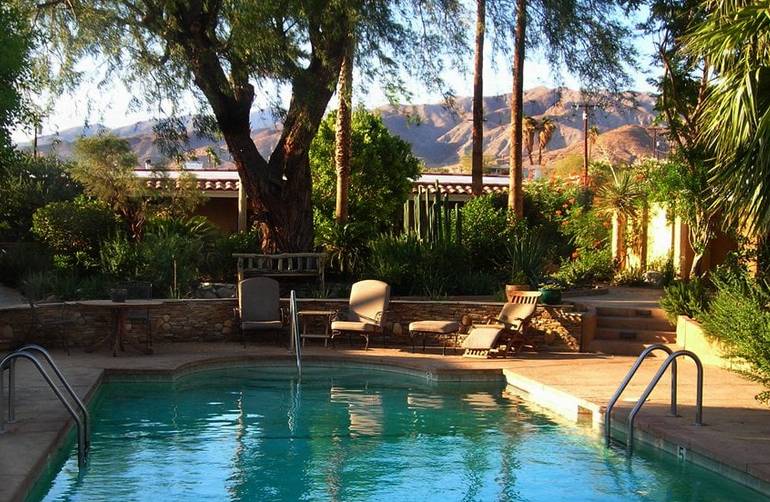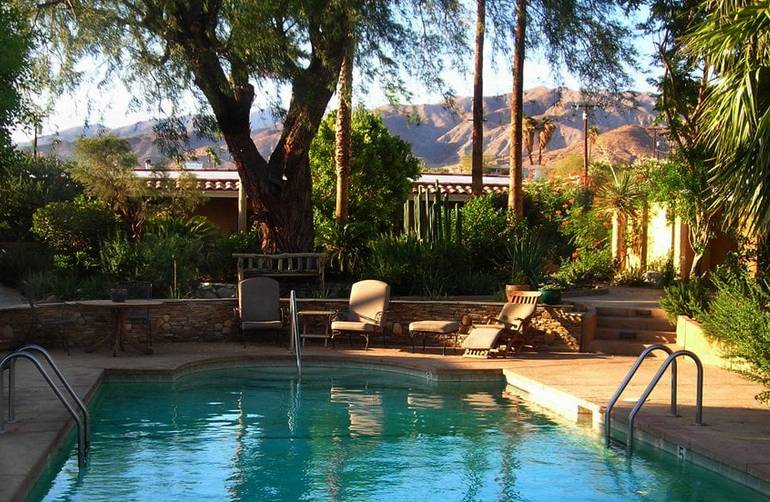 Desert Hot Springs is well situated for visiting many areas nearby in the Coachella Valley. Joshua Tree National Park is just to the north, the Salton Sea to the southwest and the Santa Rosa and San Jacinto mountain ranges to the southwest, and the Little San Bernardino Mountains on the northeast.
Desert Hot Springs only offers only a few dining options, with many of them closing up early. There is no need to worry, though; there is almost an unlimited list of restaurants to choose from in nearby Palm Springs.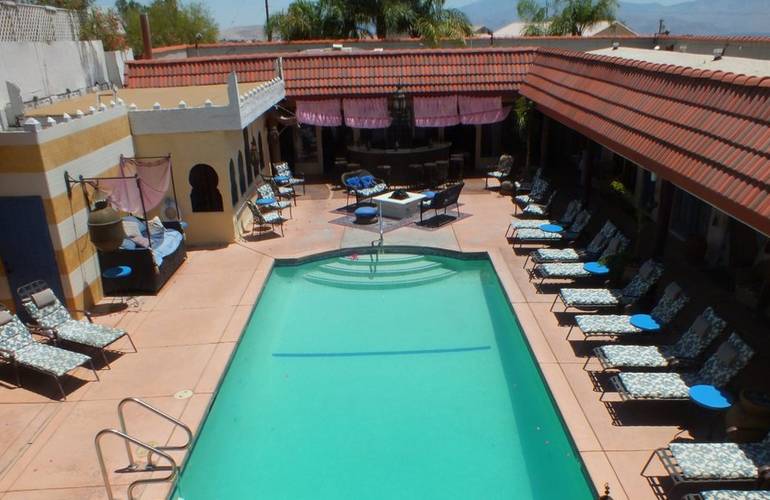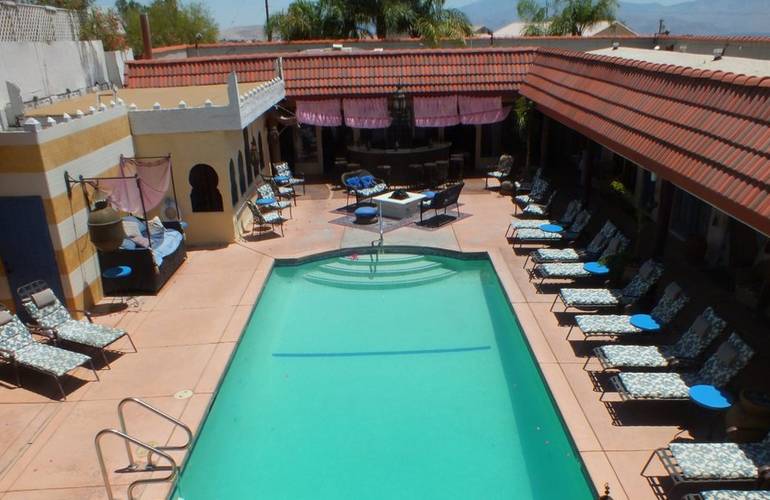 Desert Hot Springs is located 112 miles from Los Angeles via 1-10 or San Diego via 1-15 and 1-10. Palm Springs International Airport is only twelve miles away.