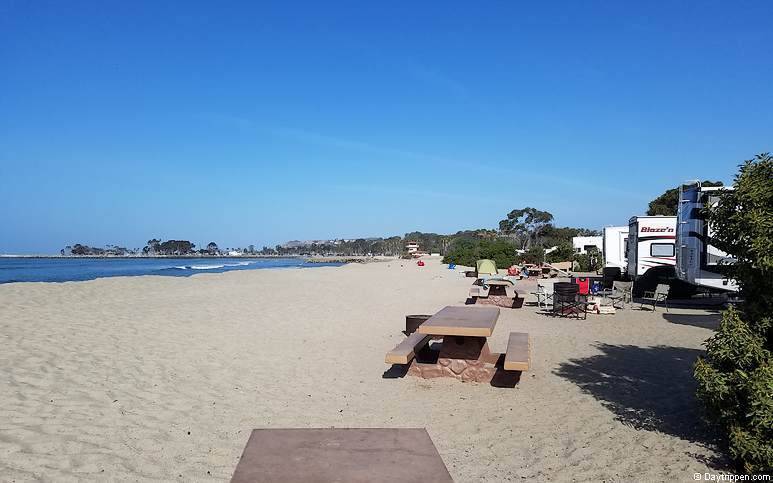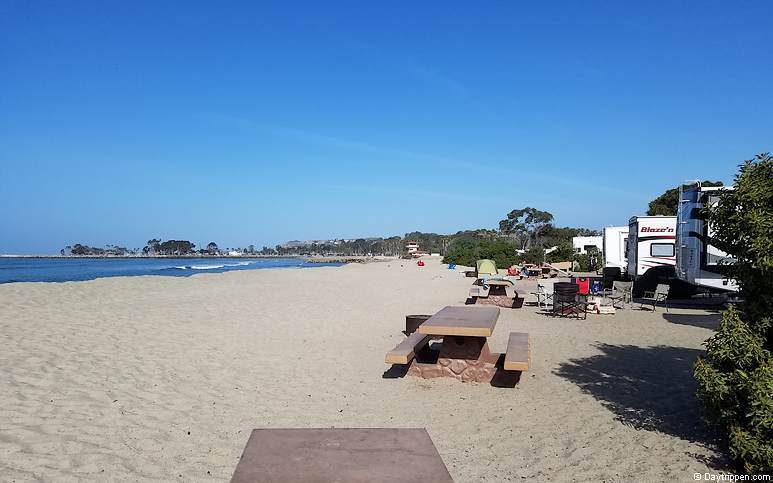 Doheny State Beach is located in South Orange County next to Dana Point Harbor. Doheny was California's first state beach, thanks to Edward Doheny, who donated 41 acres of oceanfront property to 1931.
Up until the Dana Point Harbor was built in 1971, Doheny Beach was a popular surfing beach. Dana Point was also once home to a unique wave known as the Killer Dana. The break got this name because it came out of deep water and broke on the rocks which lined the beach.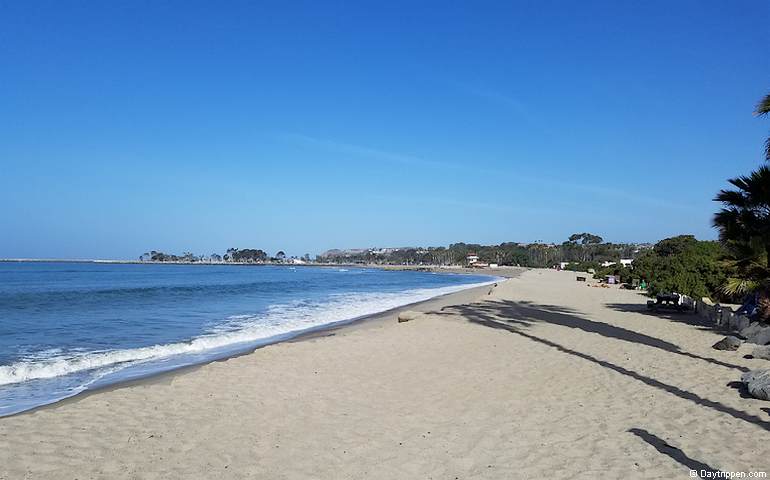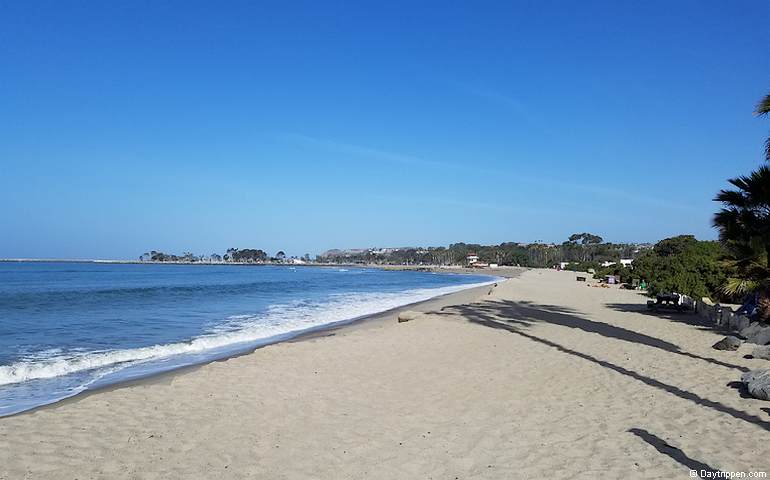 Today the waves are tame, blocked by the Dana Point Harbor rock jetty. One advantage of being located next to the breakwater is Doheny's gentle surf. Smaller waves make this an ideal place to learn surfing.
The northern section of the beach is day use and has a wide sandy beach plus a large grassy area perfect for picnics. You can rent bikes at the concession stand and travel all the way to San Clemente along the bike trail.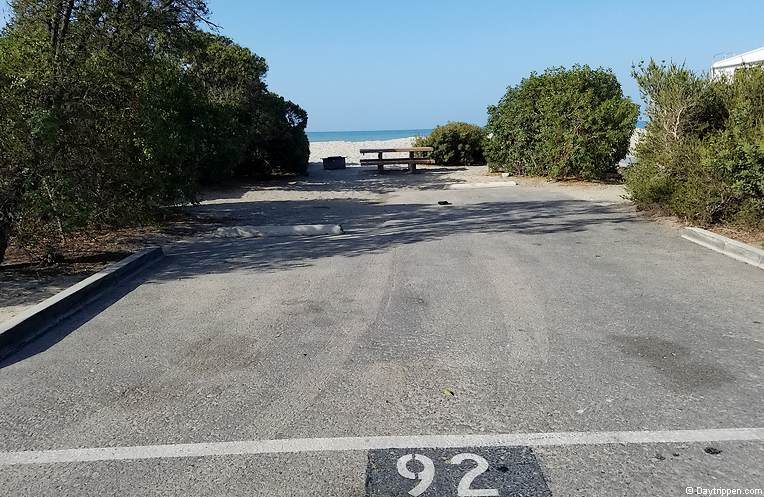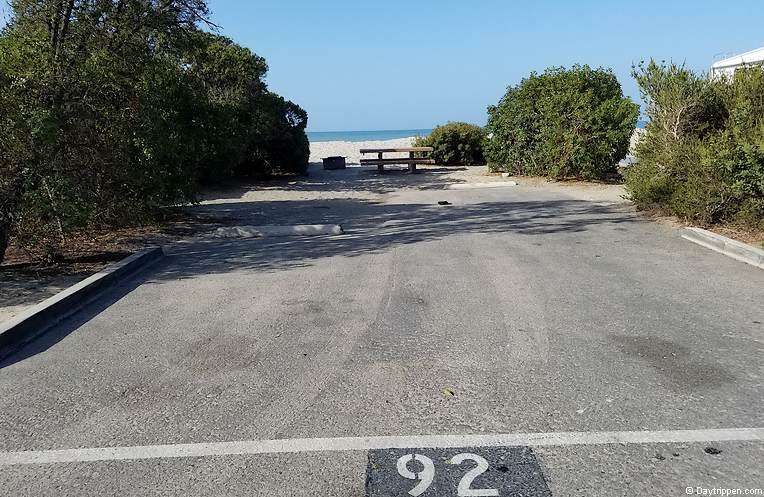 Doheny State Beach Camping
Doheny State Beach Camping. 114 campsites, 16 of them are RV – Trailer only. The southernmost section of the park has a group tent camping area.
Campsites 37 through 94 are the best at Doheny State Beach. All of these have direct access to the beach from the campsite. You are literally on the beach—campsites 27 through 36 back up to the creek.
Tent camping is allowed at Doheny State Beach in the southernmost section of the campground. Pitch your tent on the beach in the designated area and enjoy an amazing view of the coast all the way to San Clemente.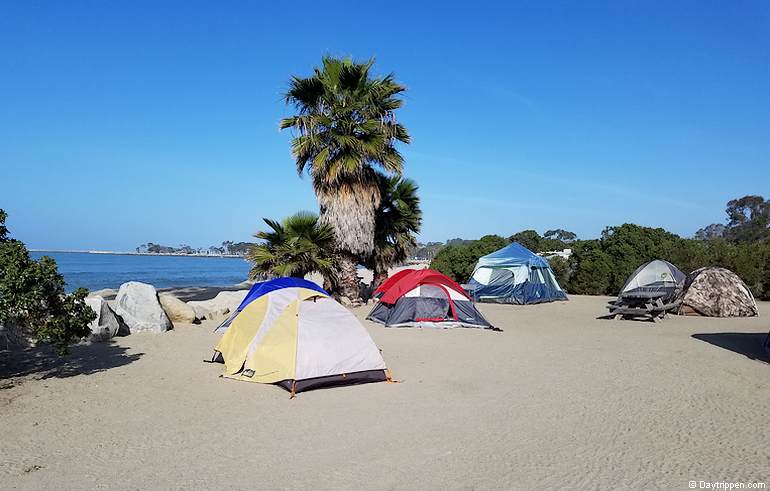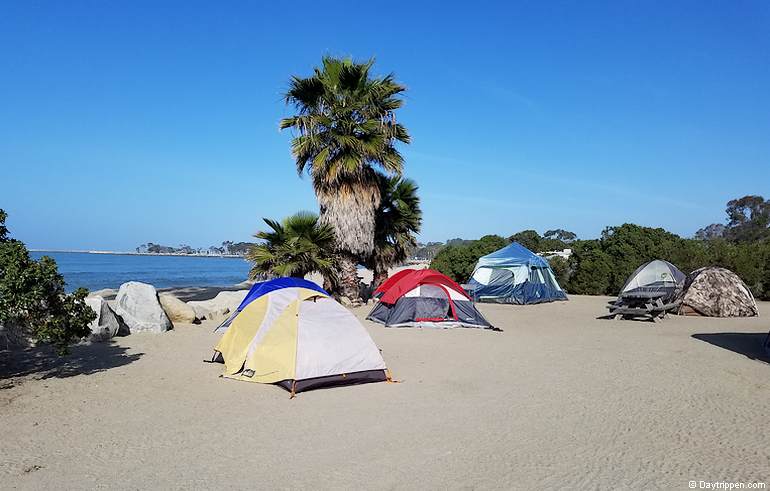 Doheny State Beach campground is on the south side of the creek with Pacific Coast Highway and the railroad tracks on one side and the beach on the other.
Campsites along the beach are wonderful places to stay, but if you get stuck in the back, you will get a lot of traffic noise, plus hear the Amtrak trains passing by. Most campers use an RV or trailer, but you can also pitch your tent.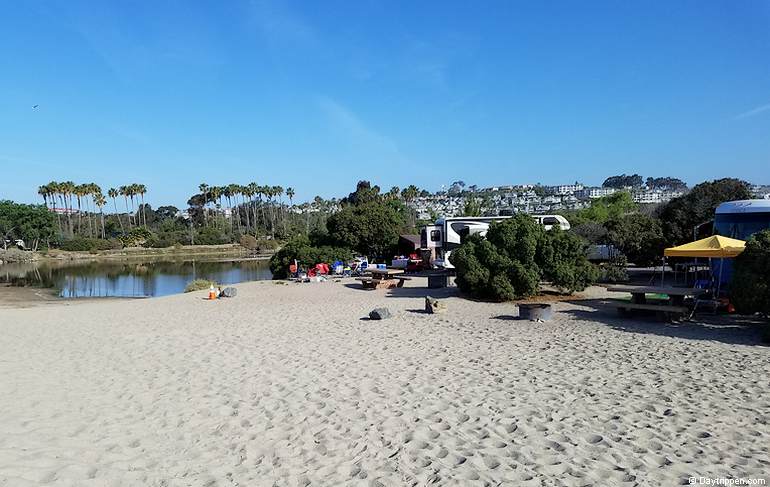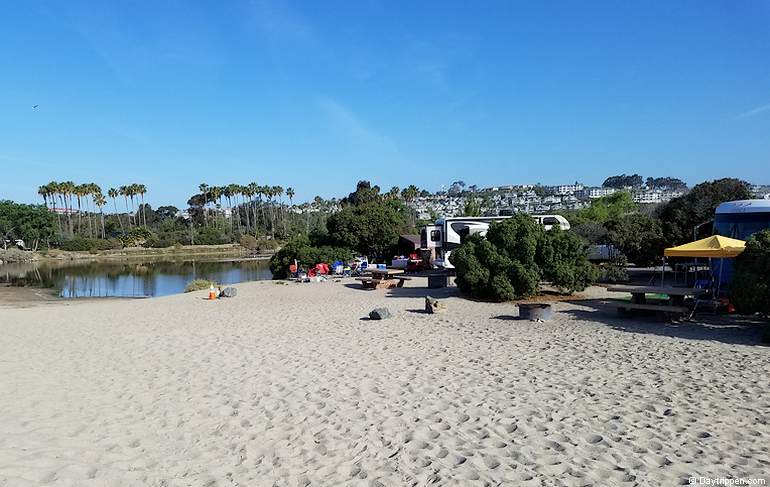 Doheny State Beach camping reservations are hard to come by during peak season, offseason, except for holiday weekends, you have a good chance of getting a beachfront campsite.
Reservations can be booked up to six months in advance. Plan early for summer camping trips. Doheny Beach is a top-rated destination. Campground Reservations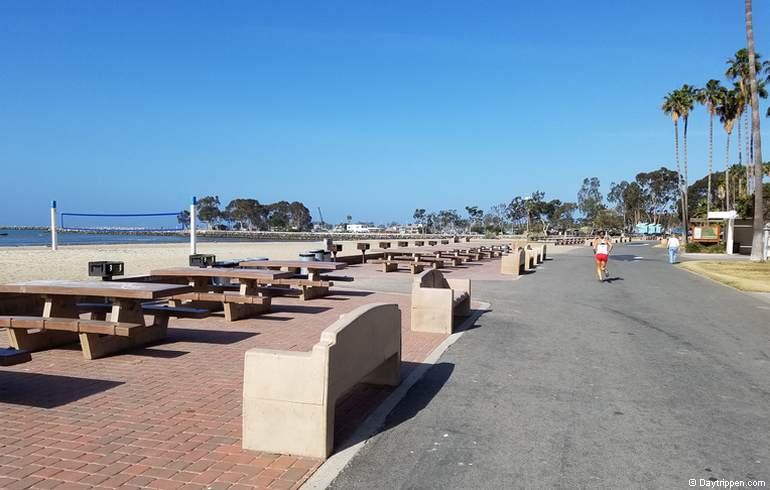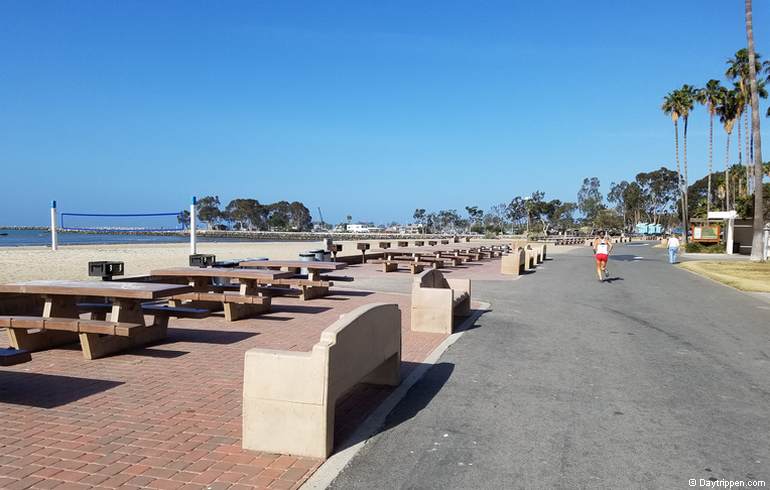 Nearby Attractions Doheny State Beach
Doheny Beach is next to Dana Point Harbor, which has boat rentals, whale watching trips, and plenty of dining options. Dogs are allowed in the campground. They must be leashed and attended to by an adult at all times.
Mission San Juan Capistrano 3 miles, San Clemente Pier 5 Miles, Outlets at San Clemente 4 miles, Laguna Beach 8 Miles. Doheny Annual events Doheny Blues Festival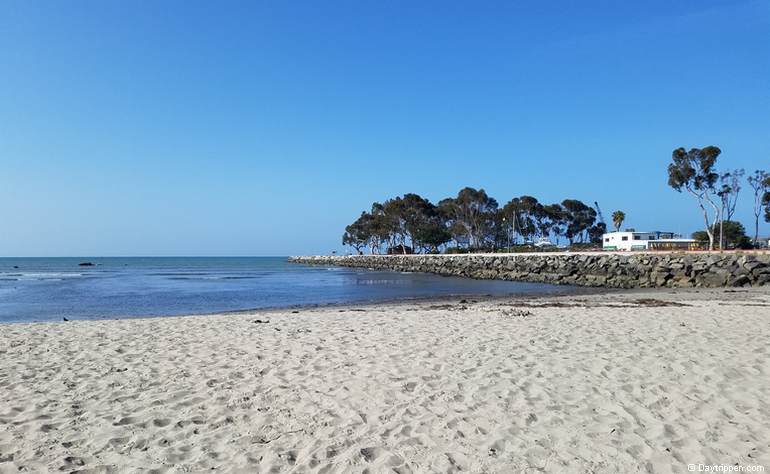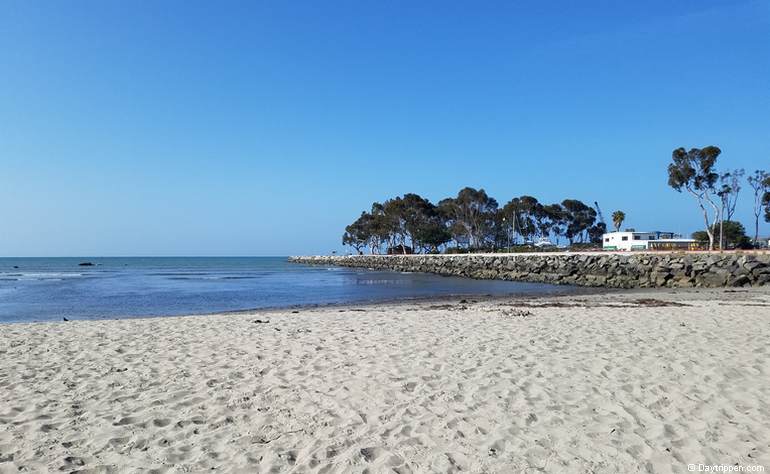 Getting There
Doheny State Beach is just off Dana Harbor Drive, just over one mile from the  I-5 freeway.
Parking is all day per vehicle at the state park. If you only want to visit for a few hours, there is a parking lot off Dana Harbor Drive which charges by the hour.
State Beach is perfect for a camping trip or a day at the beach. During the summer season, Doheny Beach can be very busy. The offseason can be very relaxing.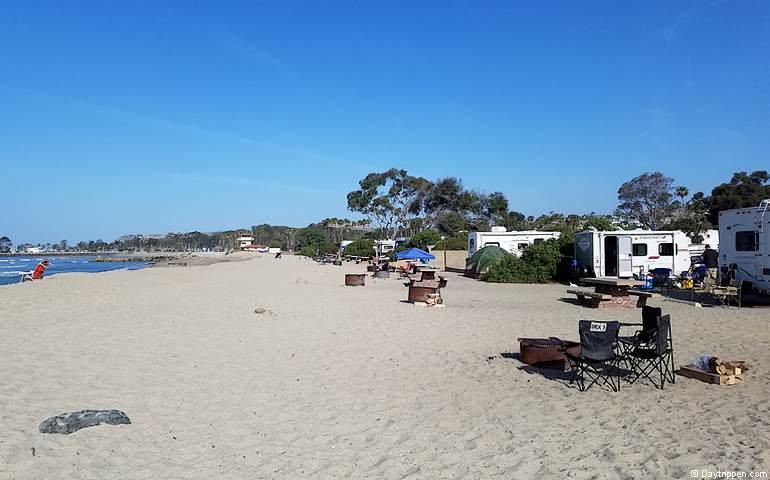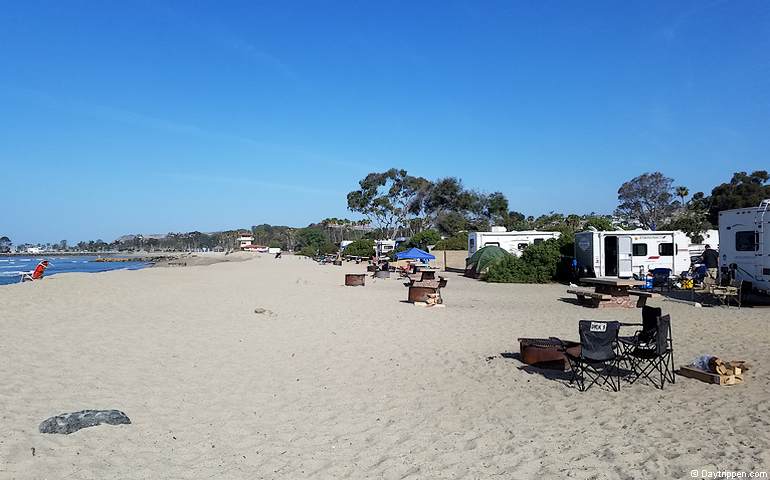 Doheny State Beach Campground Map


16 RV Trailer only campsites – 97 standard campsites – 1 group tent site.