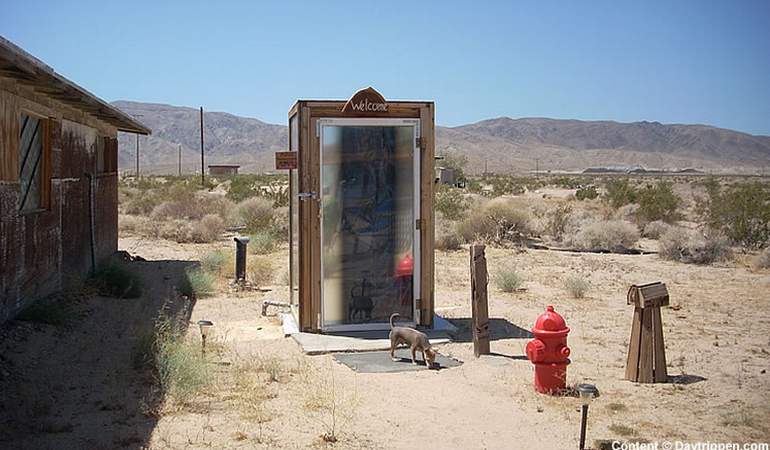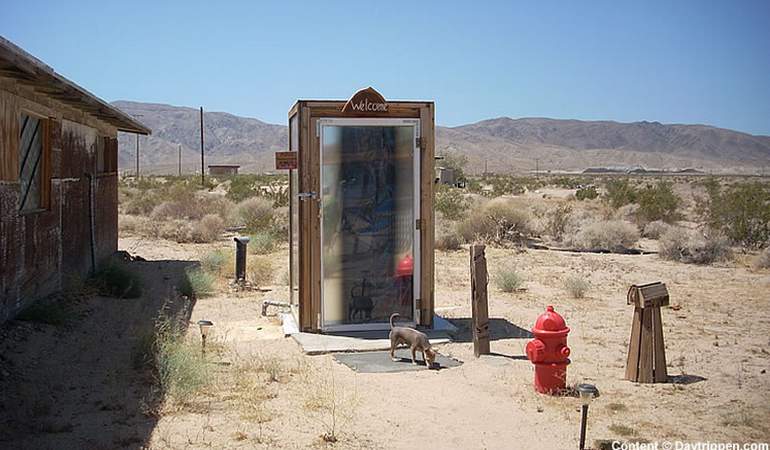 Answer Natures Call with a View
The Glass Outhouse Art Gallery 29 Palms is where. Visitors will find themselves viewing a unique art gallery with a very unusual outhouse.
The Glass Outhouse Art Gallery, located on Thunder Road just off Highway 62, is unique in several different ways, beginning with its location: a lonely spot in the desert, a few miles from the nearest town, Twenty-nine Palms, yet the gallery draws artists and art collectors from all over the country.
The gallery opened its doors in September 2009, in a refurbished building that had served owner/artist Laurel Seidl as a place to raise rabbits. Illness forced Laurel to find another venue for income. With the help of several handymen and one professional contractor, the building transformed, from rabbit warren to an art gallery. It now has several attractive rooms to accommodate artists' work.
On the first Saturday of every month (except July and August), there is a Grand Opening to which everyone is invited, a gala affair with refreshments, live music, and dancing under the stars. Lights strung through the trees add an air of enchantment to the event.
The works of one or two artists are featured and will hang for a month; then, another party marks the hanging of a new show. Since its first opening, it has become "the place to show" as one artist described it, for artists from all over California and several other states.
The Gallery itself is just part of the "show." Trails around the property are dotted with interesting and amusing pieces of "art" that may give the viewer a chuckle. Bring your camera.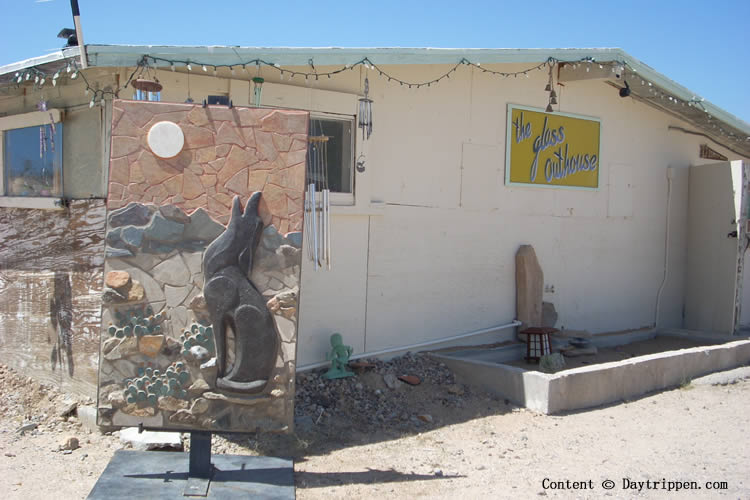 The Glass Outhouse Art Gallery is located on Thunder Road and Highway 62, about five miles from Utah Trail and Highway 62. It's open from 9 to 5 daily, closed through July and August. Just drive in, park your car and honk; someone will come to welcome you. And if you're wondering if there is a glass outhouse, well, go and see for yourself. You won't be disappointed.
Also close to the Joshua National Park East Entrance Headquarters is The 29 Palms Inn, located on the ancient Oasis of Mara, where indigenous peoples lived for thousands of years.
Guests have their choice of accommodation from fifteen possibilities, with most of the cottages designed on "Southwest" architecture. Ten of the rooms or suites will accept pets.
Nearby is the Inn restaurant; breakfast is complimentary to guests, and the swimming pool is beside the patio where diners may wish to sit and enjoy the desert air and the sunshine. Some of the vegetables used in the fare are grown in the Inn's garden, which is open to visitors. Lunch is served from 11 to 2 and dinner from 5 to 9 every night.
On Friday and Saturday, the kitchen serves until 9:30 p.m. On Sundays; brunch is served from 9 a.m. to 2 p.m. A library holds maps and guidebooks to help guests plan their activities.
With a little advance notice, picnic lunches can be prepared for guests planning a hike or travel. Massage is available with a 24-hour notice.
Just across the street from the Inn is The Old School House Museum, open Friday through Sunday, 1 to 4 p.m. The oldest schoolhouse in the Morongo Basin was brought to the site, and the rest of the museum built alongside it.
You can see where pioneer children went to school long ago; there are also tools, housewares, and more from the early miners and pioneers to the area. Admission is by donation only.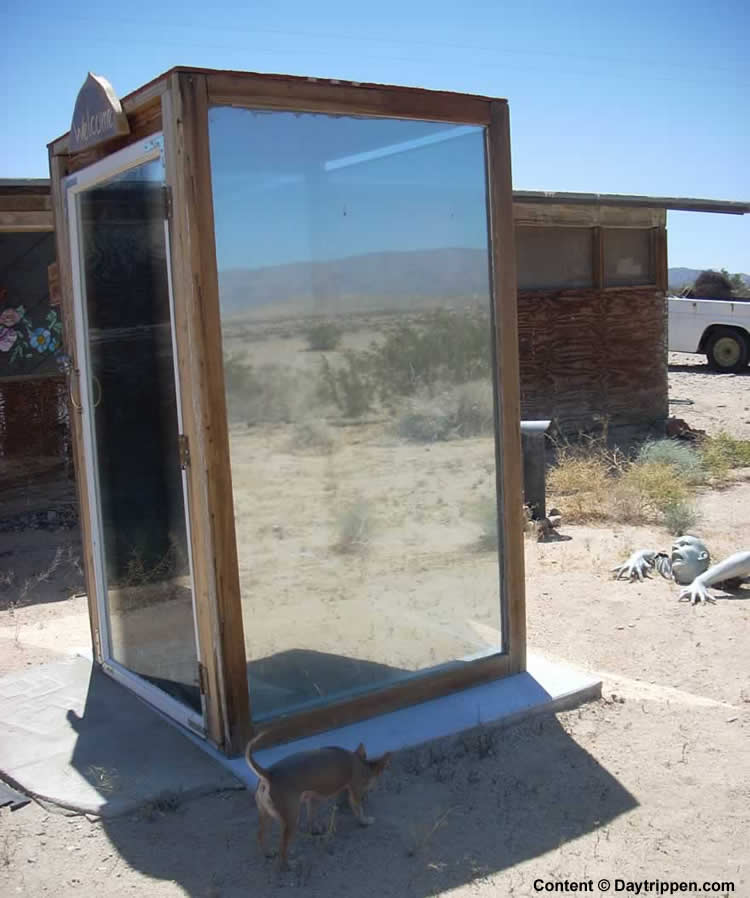 When the Glass Outhouse first opened, they had about a hundred people show up, but none of them would use the outhouse – the all have their picture taken in it, but they wouldn't use it. Only one little kid who was brave enough to use it. But now everybody uses it.
On a cloudy day, it's beautiful to be in there. It's an experience like you'll never have in your life – sitting on the throne with a 360-degree view of the sky. So that's how it came about.
One of the artists whose work is in The Glass Outhouse Gallery shared some of her thoughts about showing here. "Laurel's desire to have a gallery that provides artists 'a place' to hang is not just that; her attitude is responsible for creating an environment that is warm, open, and assisting.
The outside experience – chairs, music under the stars, and the moon provides a cozy, friendly, community feeling that leaves everyone in a laid-back state of mind.
The Glass Outhouse Art Gallery is located at 77575 Highway 62, Twenty-nine Palms, California. Laurel Seidl can be reached at P. O. Box 2228, 29 Palms, CA 92277. Laurel Seidl, owner, and creator of the Glass Outhouse.