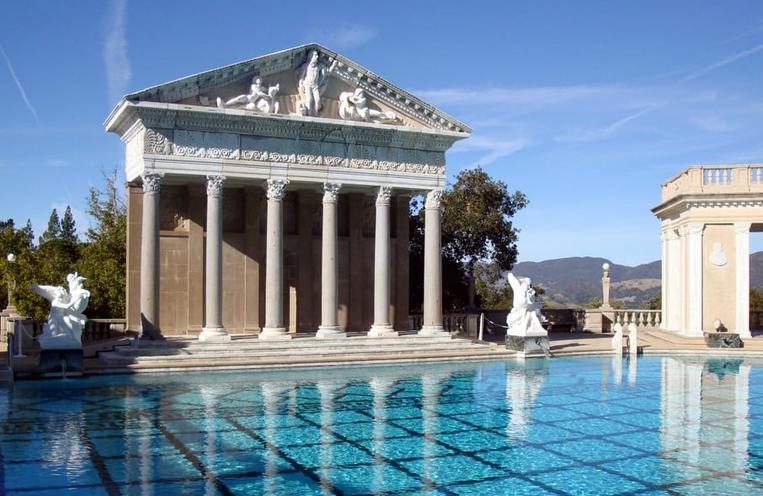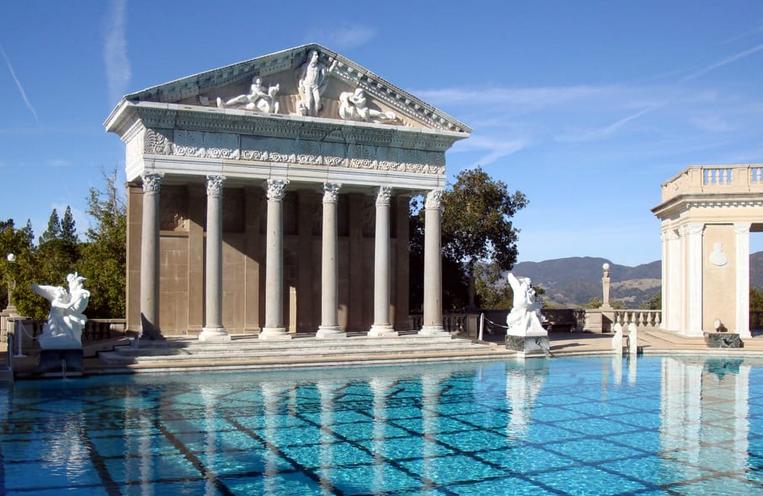 Hearst Castle at San Simeon is the one place you must see when visiting the California central coast. Hearst Castle is located about nine miles north of Cambria, California, along Highway one.
Hearst Castle was occupied by William Randolph Hearst from 1919 until 1947 and was used to entertain high profile guests and Hollywood celebrities.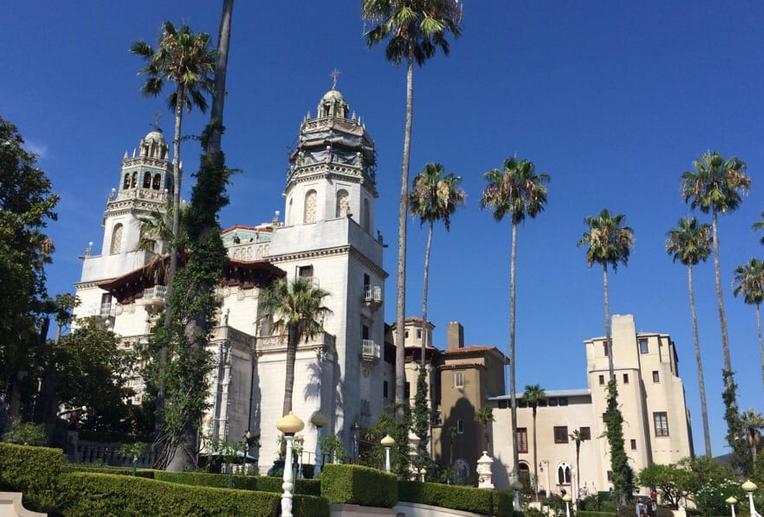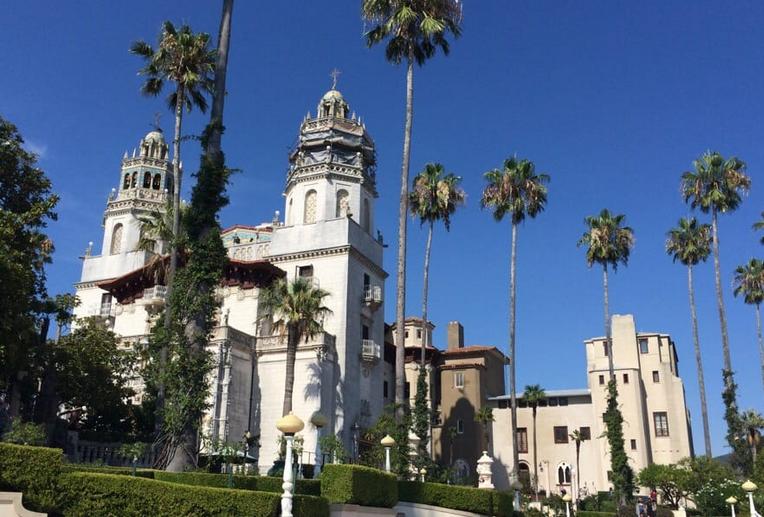 This colossal estate is about five miles inland and sits atop a hill overlooking the Pacific Ocean. Hearst Castle is surrounded by a 40,000-acre ranch, some of which is still owned by the Hearst family.
Your trip to San Simeon begins at the visitor center, where you can purchase tickets for the various tours. Tours depart about every 30 minutes, and only during the busy summer season will there ever be a need to make reservations.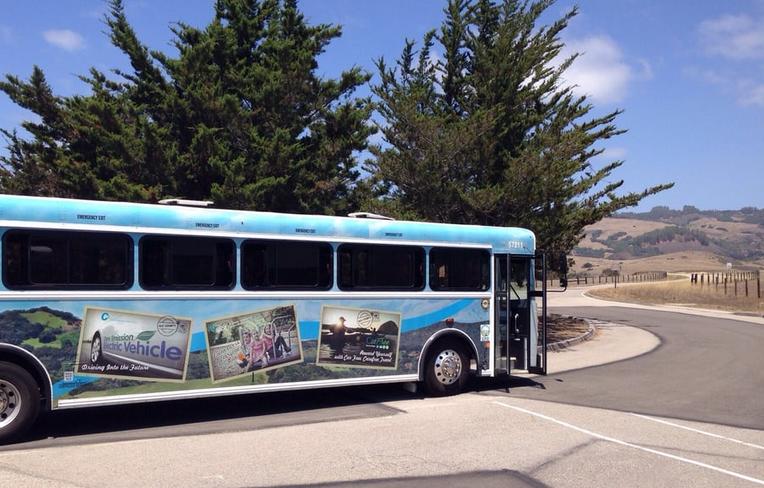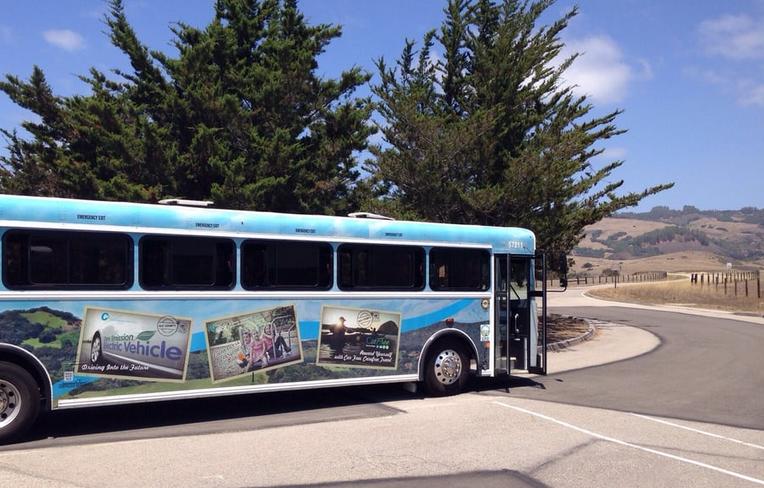 Hearst Castle Tours
The nighttime tour may sell out all others. You should be able to get tickets with little or no waiting.
Cars are not allowed to drive up the hill to Hearst Castle you must board one of the buses (included with the tour) and then take the winding road up to the estate. Once there, your guide takes your group on a walking tour of the castle.
First-time visitors can get the most out of their trip by taking the "Experience Tour," which covers all the major highlights and gives you an excellent overall view of Hearst Castle. If this is your second trip, then several other tours visit different areas of the estate.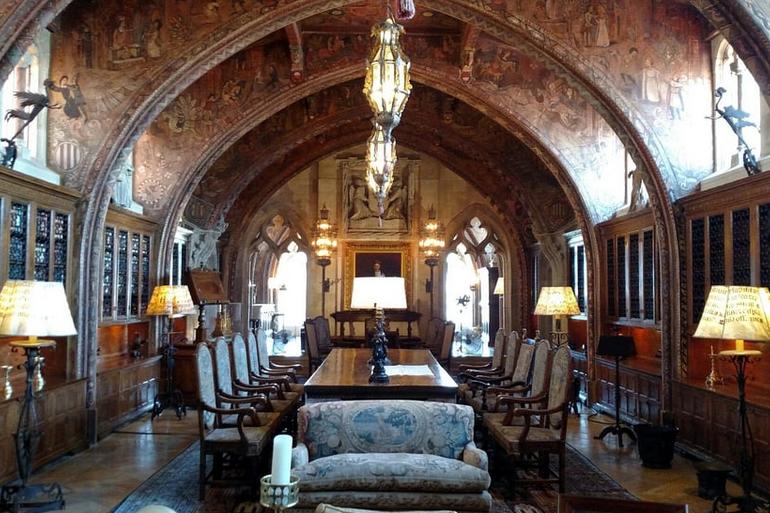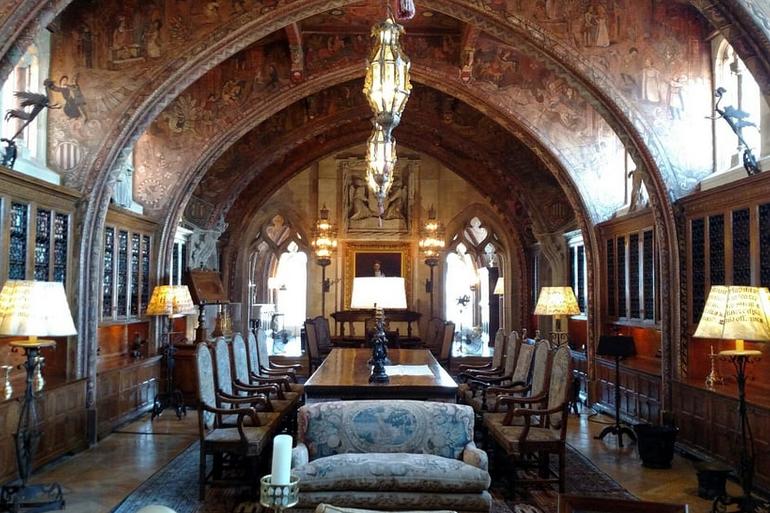 Tours are on the expensive side, a family of four will end up spending close to $75.00 for one hour and a 45-minute trip. On the other hand, Hearst Castle is a fascinating place and not to be missed.
If you are visiting the central coast or driving up Pacific Coast Highway to San Francisco, Hearst Castle is should be at the top of your must-see list.
Hearst Castle's total square footage of the estate exceeds 90,000 square feet. The area of Casa Grande, the "castle" is 60,645 square feet.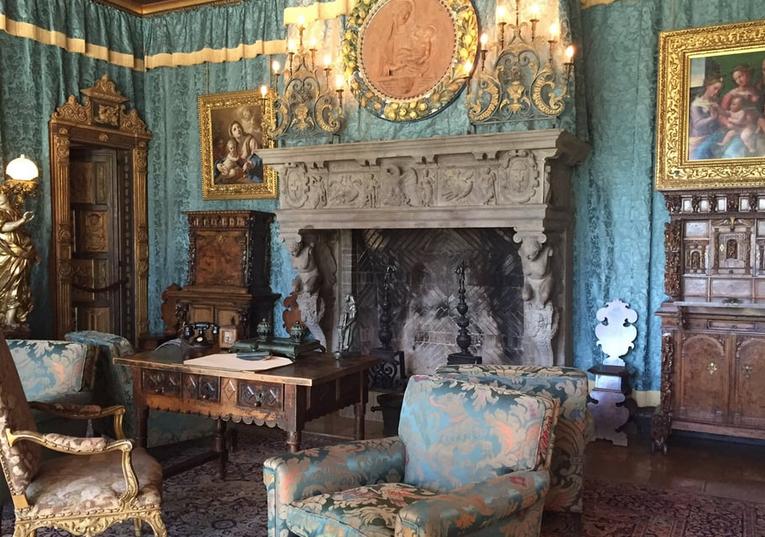 The castle joined the National Register of Historic Places on June 22, 1972, and became a United States National Historic Landmark on May 11, 1976.
Architect Julia Morgan designed this magnificent estate for newspaper magnate William Randolph Hearst. The Castle features 56 bedrooms, 61 bathrooms, 19 sitting rooms, 127 acres of gardens, indoor and outdoor swimming pools, tennis courts, a movie theater, an airfield, and at one time had the world's largest private zoo.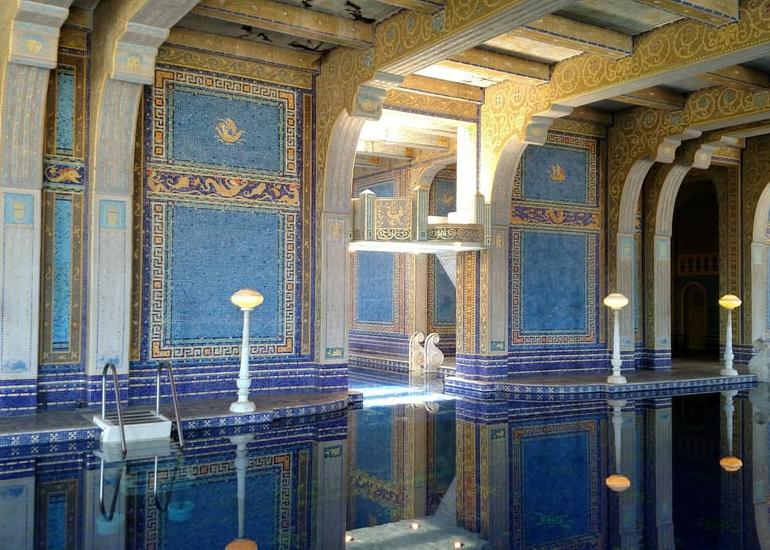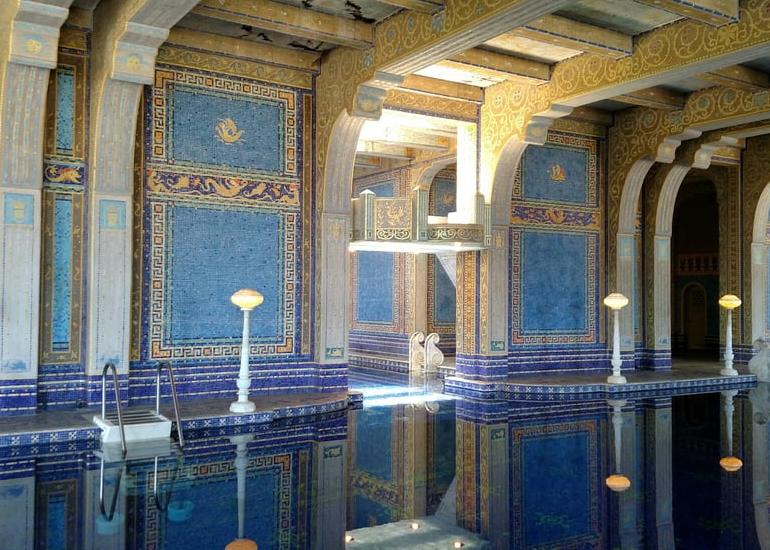 A nice little side trip when going to or returning from Hearst Castle is charming little Harmony, one of the smallest towns in California.
Hotels Near Hearst Castle
San Simeon Lodge is only a five-minute drive from Hearst Castle and across from the San Simeon Beach. There are a heated outdoor pool, fitness center, and a restaurant with a bar area. Being able to dine at the hotel comes in handy after a long day touring the castle, this is a relatively isolated area of the central coast and a five-mile drive to the nearest town.
Best Western Cavalier Oceanfront Resort This hotel is on the ocean side of Highway One. Many of the rooms have ocean views a definite plus if you're on a romantic getaway. There is a restaurant on-site and a beautiful lawn area with fire pits where you can enjoy the view of the Pacific Ocean. There are walking paths down to the beach, and if you are traveling with your dog, he is welcome.
The Morgan San Simeon The hotel is named after Julia Morgan, the mastermind behind Hearst Castle. Although this hotel is on the beachside of Highway one, you will have a short walk to access the beach. There is complimentary continental breakfast offered, but for dinner, you will walk next door to the El Chorlito Mexican Restaurant or drive to Cambria for more dining options.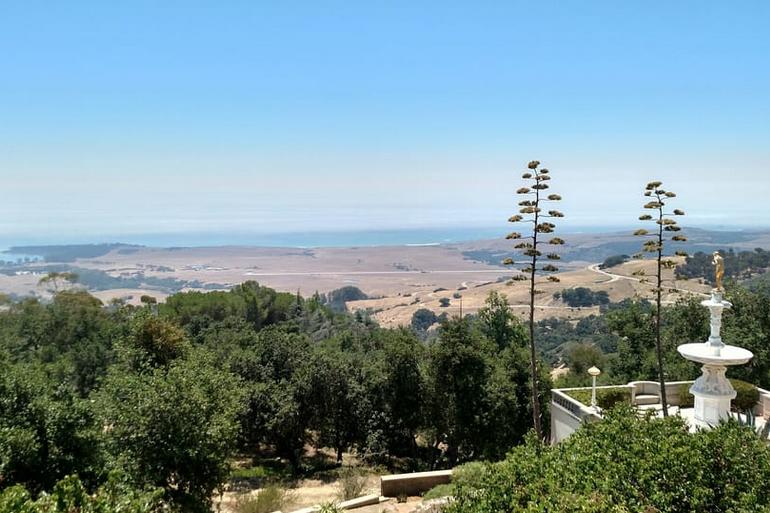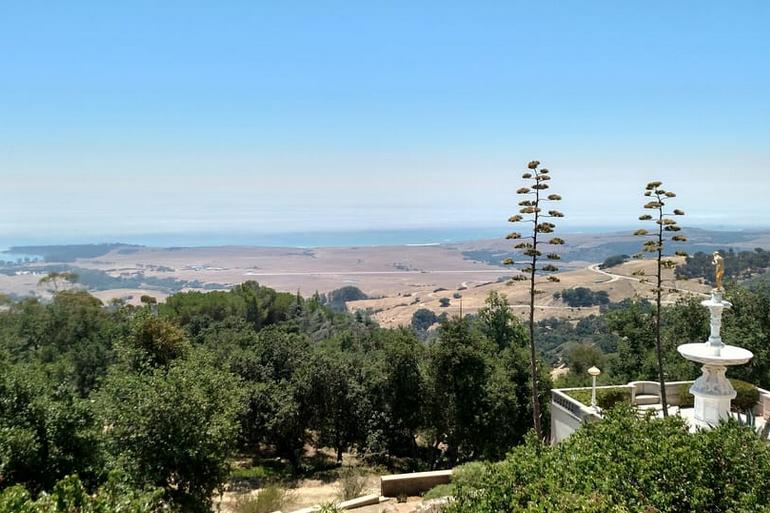 Where is Hearst Castle
Hearst Castle is located approximately 250 miles from both Los Angeles and San Francisco, and 43 miles from San Luis Obispo. Driving time from either city is four to six hours, depending on traffic.  Website.