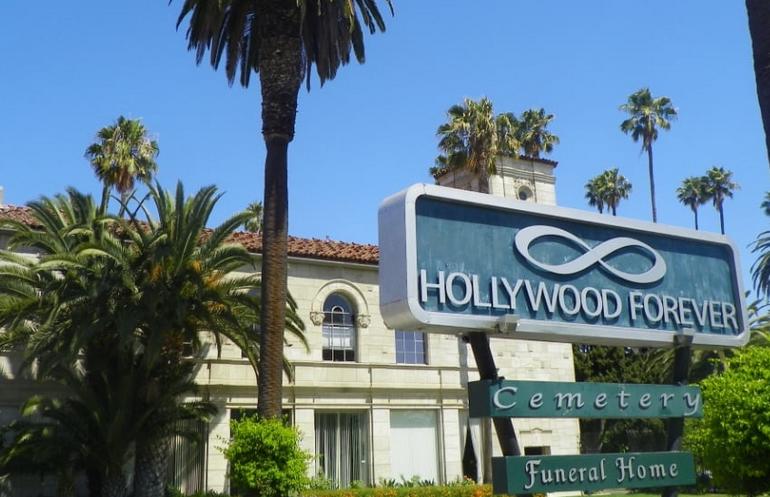 Only in Hollywood can a cemetery be a sacred resting space but also be a tourist attraction and a venue for cultural events.
Hollywood Forever Cemetery, which used to be known as Hollywood Memorial Park, is a functioning cemetery that is the final resting place of more of Hollywood's founders than any other place in the world. It is also one of the oldest cemeteries in Los Angeles.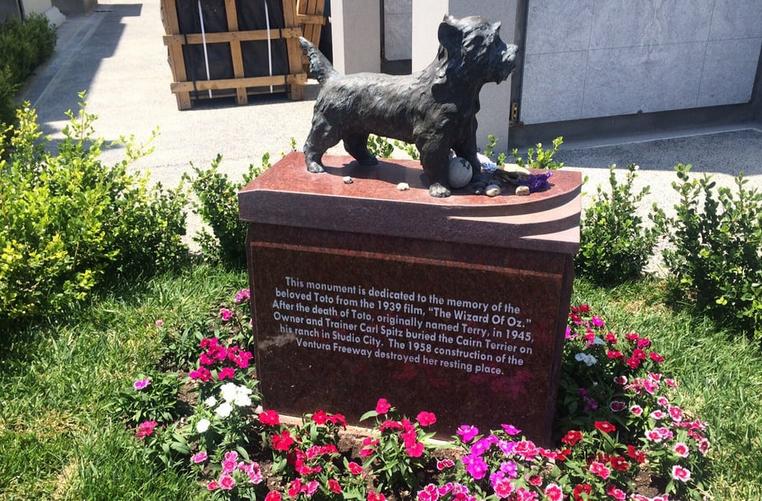 The cemetery is listed on the National Register of Historic Sites. If you live in the Los Angeles area or are planning a trip to Hollywood, a visit to Hollywood Forever Cemetery is a unique addition to your itinerary.
The cemetery was founded in 1899 on 100 acres. Later, the cemetery sold off some land to Hollywood Paramount Studios, which was built in the back half of the original cemetery property.
A portion of the cemetery is set aside as the Beth Olam Cemetery, which is a dedicated Jewish burial ground, is the final resting place for Hollywood's Jewish community.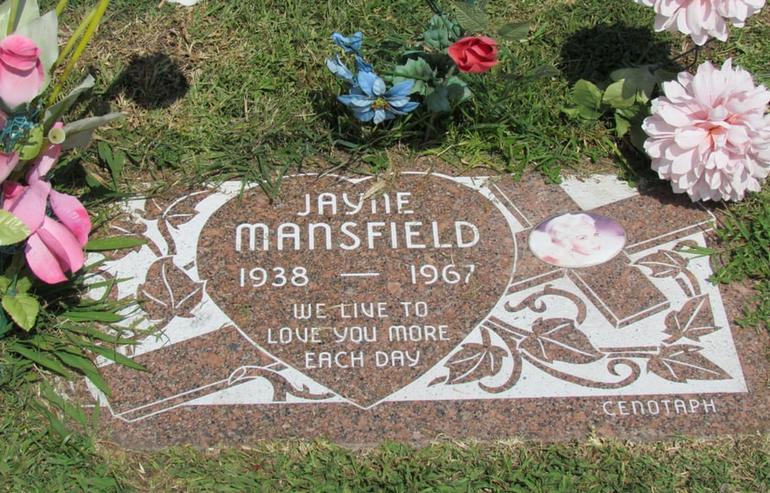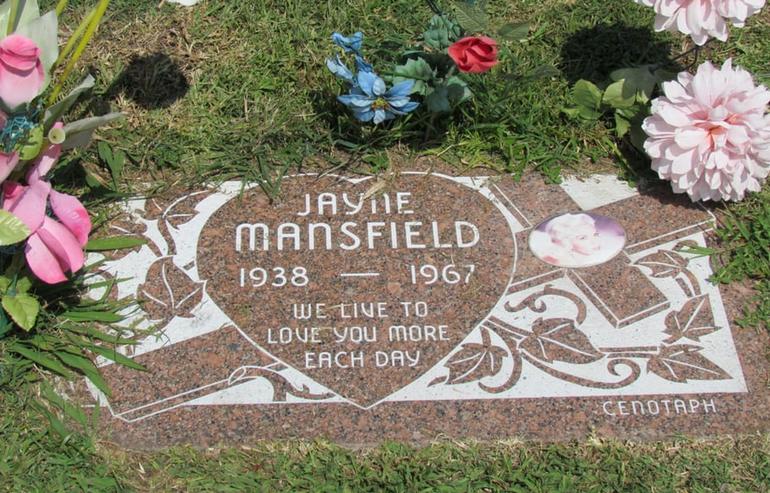 This cemetery was popular with many of the founders of Hollywood's largest studios, as well as directors, performers, and writers. Hundreds of famous early Hollywood stars are buried here, such as Jayne Mansfield, Rudolph Valentino, Douglas Fairbanks, and more.
Cecil B. DeMille, the director of the Ten Commandments is buried here and his large tomb depicts two matching Egyptian-style sarcophagi. Benjamin "Bugsy" Siegel is buried in the mausoleum on the cemetery grounds near Paramount Studios.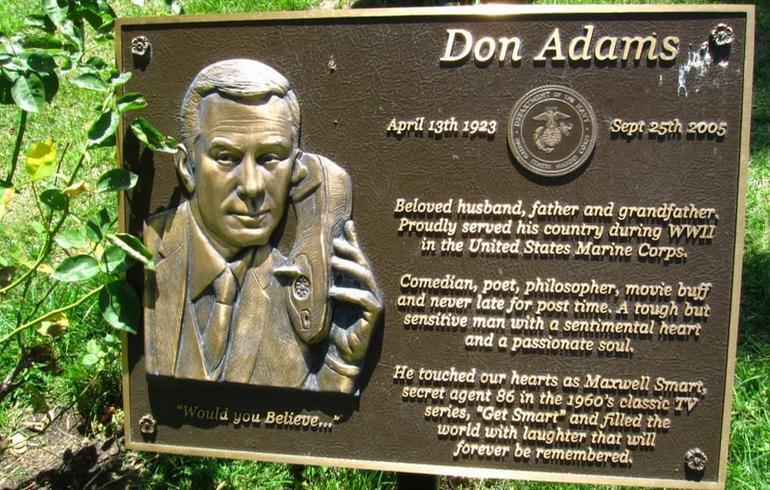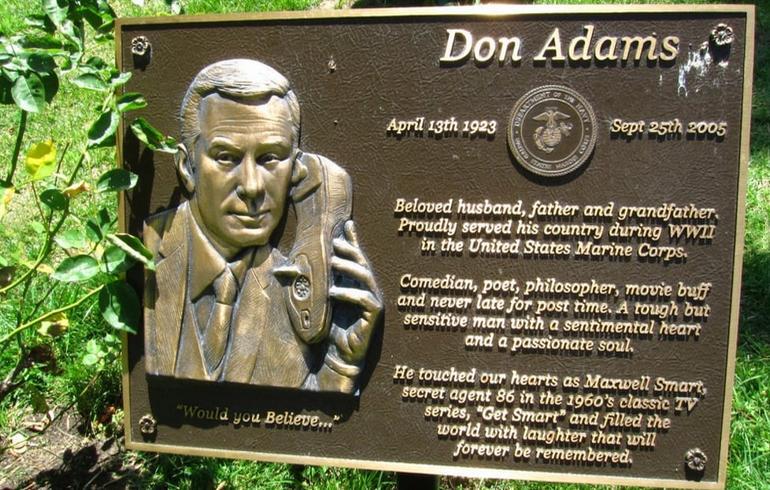 Johnny Ramone, the guitar player for the Ramones, is buried here, with his grave marker featuring a statue of him, from the waist up, rocking out on a guitar; a fitting memorial for punk rock powerhouse.
There was a period when the cemetery fell into despair. However, it was purchased in the late 1990s by a family from Missouri. They renamed the cemetery and worked to restore and refurbish the place. Through their investments, the cemetery was revitalized and people, once again, came to visit the final resting place of the stars.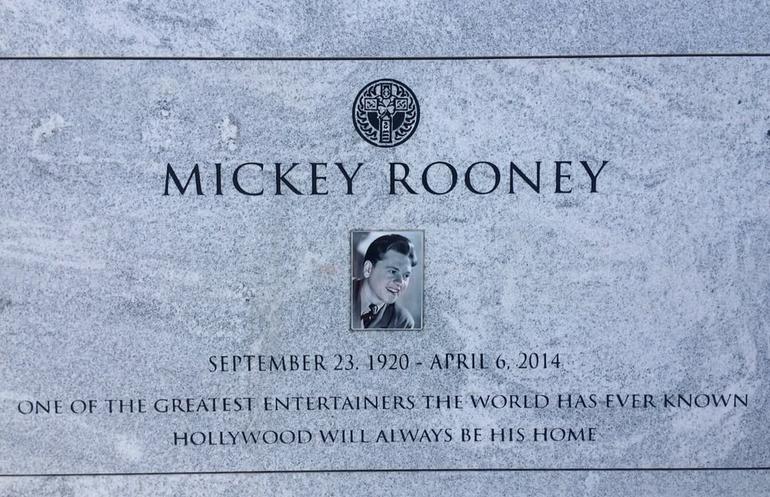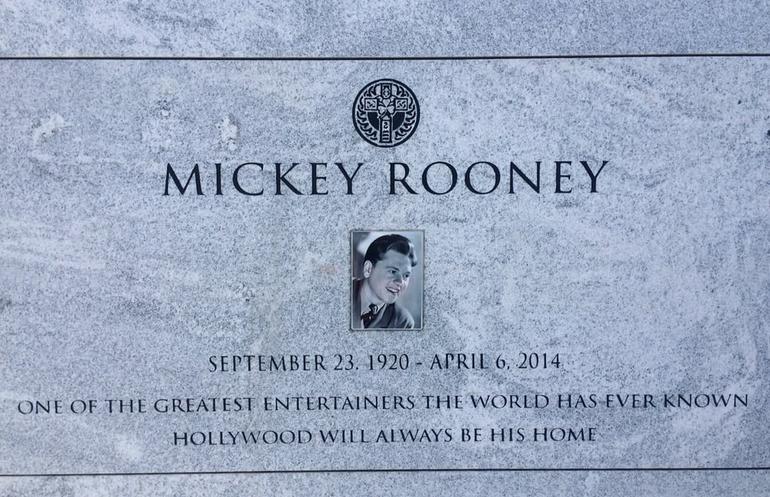 People choose to visit the cemetery for a variety of reasons. Family members come to see the resting place of their loved ones, fans, and Hollywood buffs come to see the graves of the town's stars and starlets. Others come just out of curiosity or to find a quiet space in the hustle and bustle of Los Angeles.
The cemetery includes large grassy areas, meandering roads, a pond feature, and several mausoleums. Some of the tombstones are dramatic, featuring ornate detail, pictures and more.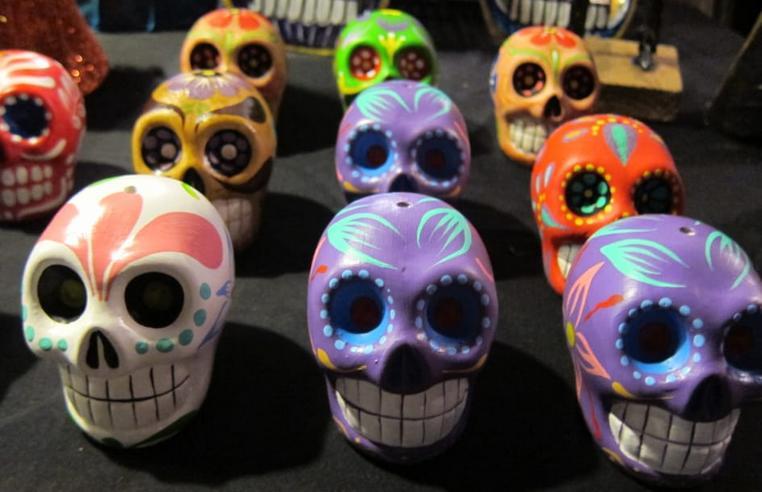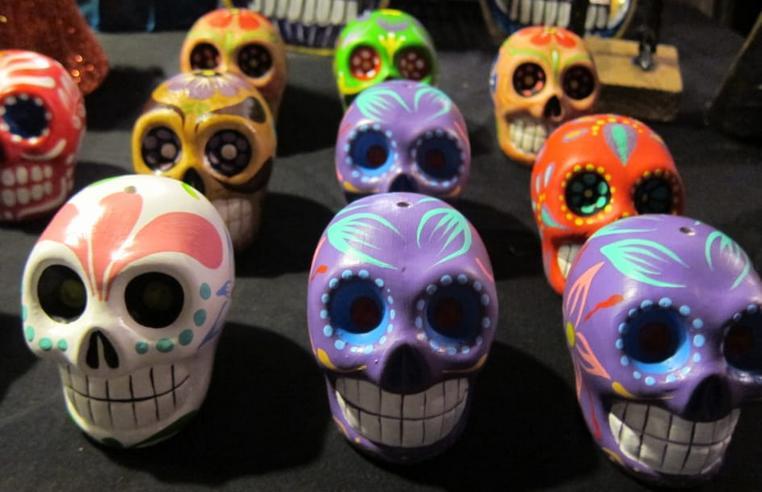 Hollywood Forever Cemetery Events
The cemetery hosts events, including summertime movie showings where movies are projected on a side of the white marble mausoleum. People bring blankets, lawn chairs, food, and drink and take in the show. Each movie draws an average of 3,000 people.
There are also Dia de Los Muertos festivities in late October/early November where families artfully decorate the graves and tombs of their deceased relatives. The Masonic Hall, which is also at the cemetery host's live musical events, which often sell out.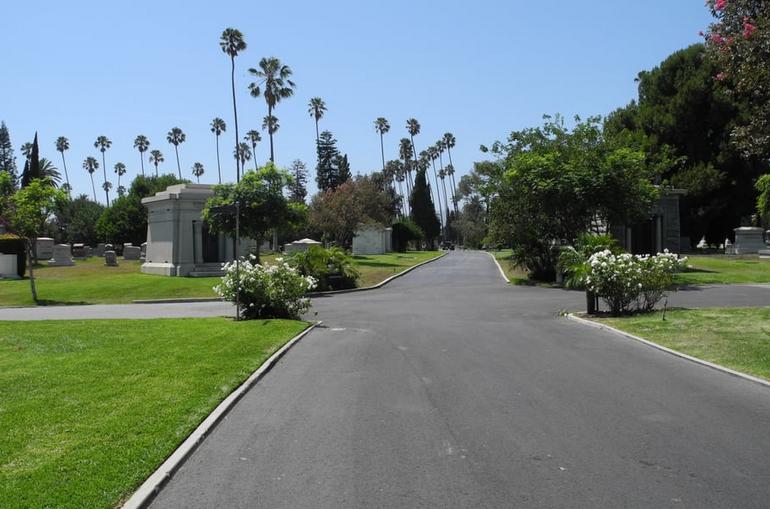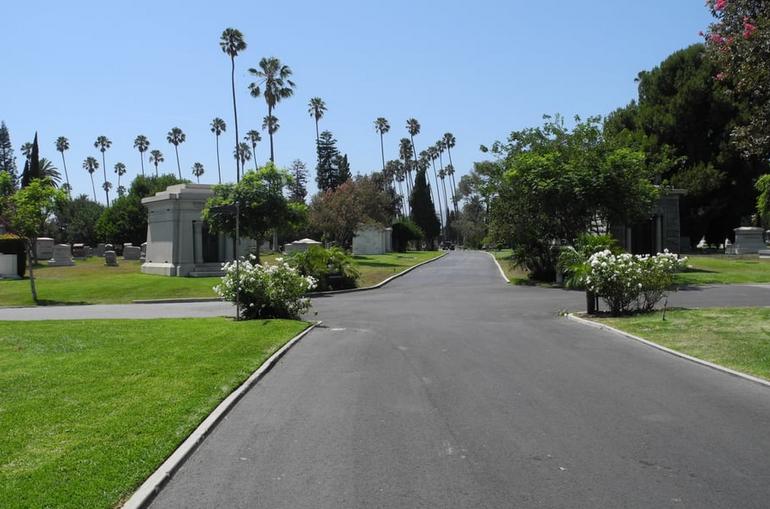 Cemetery Ghost Stories
For those of you who like ghost stories, there are many stories of ghostly encounters. One story is that the ghost of William Randolph Hearst is said to visit the grave of Marion Davies, his mistress.
Some visiting the grave of Virginia Rappe, a silent film actress, report hearing sounds of a woman sobbing, though no one is around that is crying. These are just a few stories of the paranormal activity that may be occurring at the cemetery.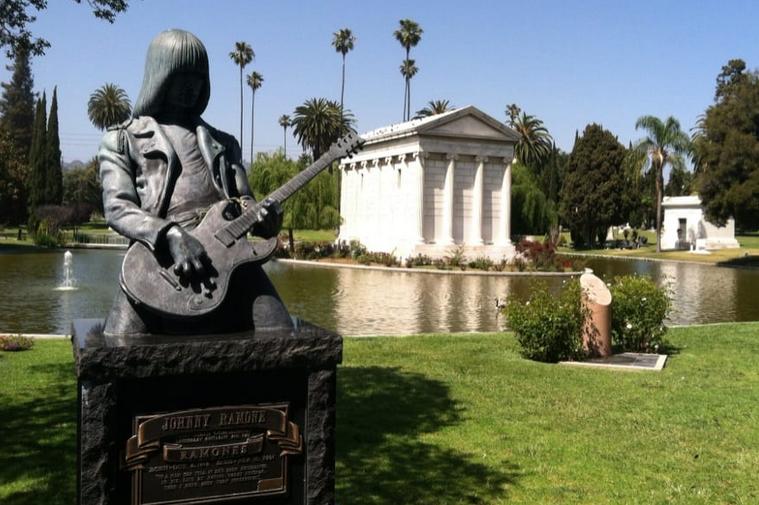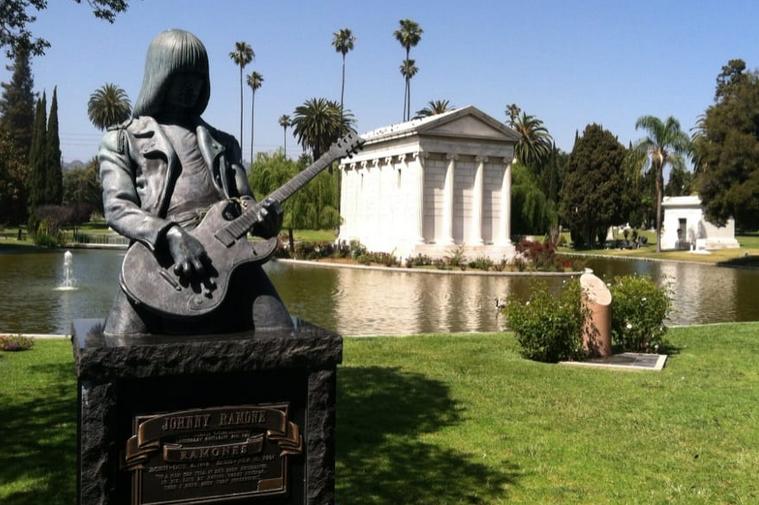 Hollywood Forever Cemetery Parking
Parking is free in the cemetery (events are not) and there is a small shop to purchase flowers and gifts. Free street parking can be found nearby.
If you plan to visit Hollywood Forever, please remember that this is a cemetery and you should politely carry yourself during your visit. Don't horseplay, using loud voices, running or engaging in activities that could damage gravesites or markers or be disruptive to other visitors.
Motion picture historian Karie Bible leads a walking tour through the cemetery on Wednesdays and Saturdays, or you can wander around the cemetery for free. Bring along sunscreen, a hat, a light jacket for weather changes and some water.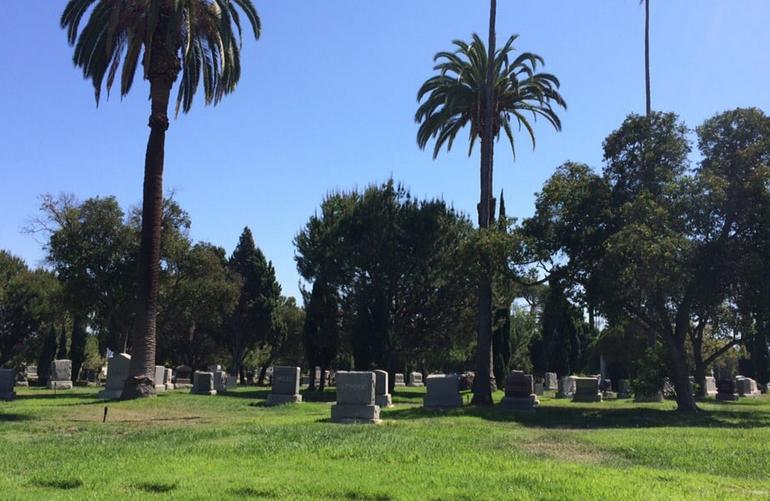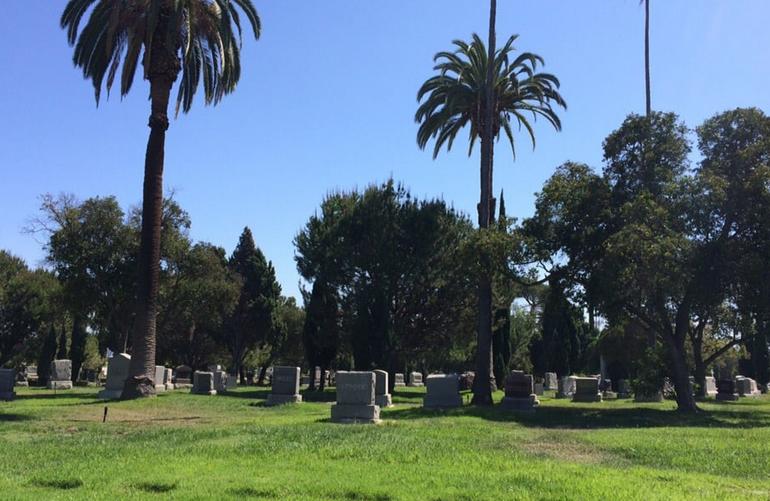 Where is Hollywood Forever Cemetery
Plan on spending about one hour at Hollywood Forever cemetery, leaving plenty of time for checking out the rest of Hollywood's attractions.
Planning your Visit: Hollywood Forever is located at 6000 Santa Monica Boulevard, just west of N. Van Ness Avenue in Hollywood. From Highway 101 take the Santa Monica Blvd (SR-2) exit and proceed west. Cemetery hours of operation are 7:00 AM to 6:00 PM, seven days a week.