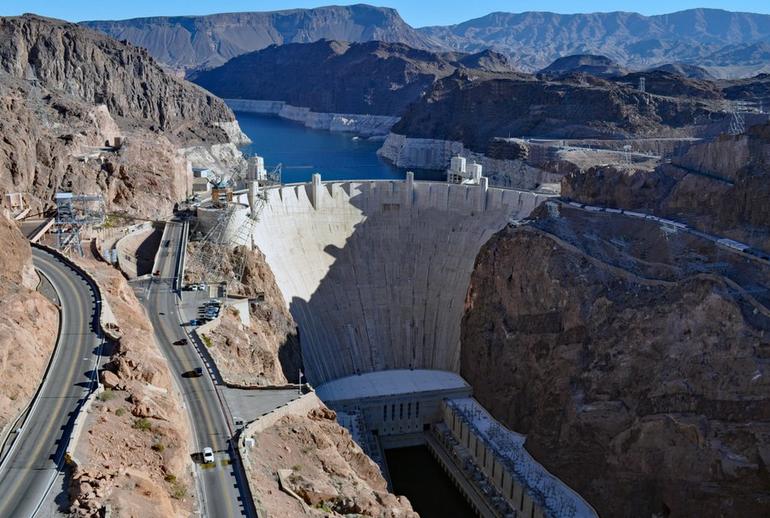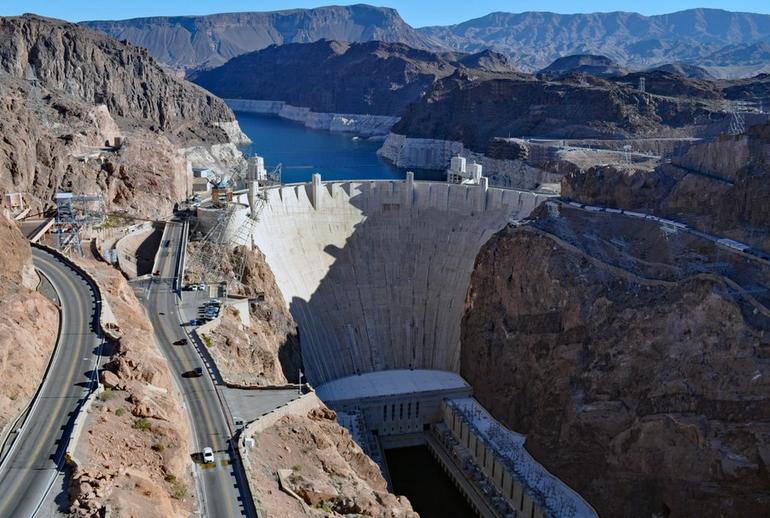 Hoover Dam is only about 35 miles from the strip making it a popular day trip from Las Vegas. While there are many tour companies offering Day Trips to the dam we recommend you drive if you have a car available.
Your first stop should be the visitor center. where you will find information about the construction and operation of Hoover Dam.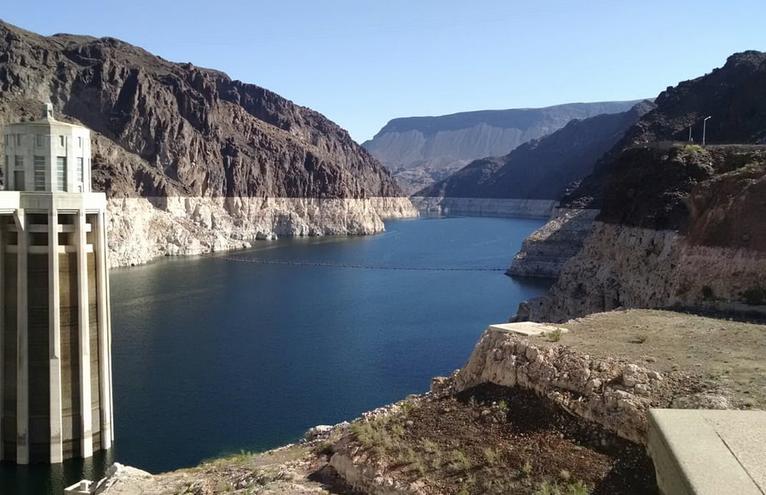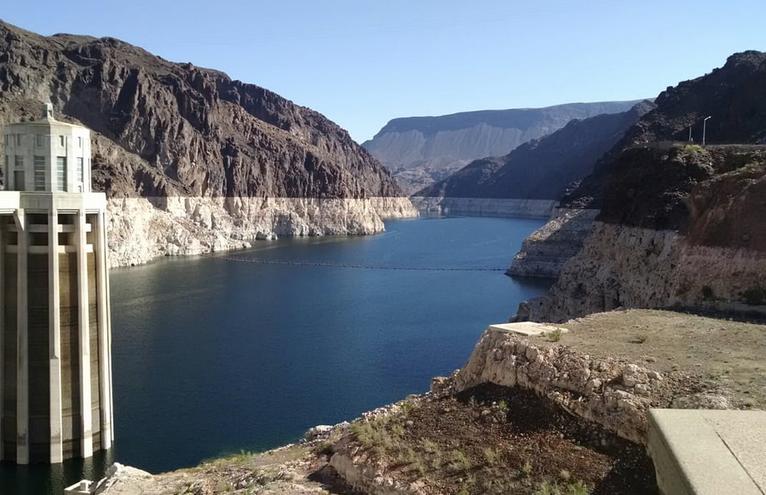 On top, there are plenty of scenic overlooks with views of the dam and Lake Meade and the Colorado River.
Hoover Dam opened for tours in 1937, after its completion, but on December 7, 1941, was closed to the public for the duration of World War II, during which only authorized traffic, in convoys, was permitted. It reopened September 2, 1945. The dam closed again to the public on September 11, 2001.  Tours were resumed in December of the same year.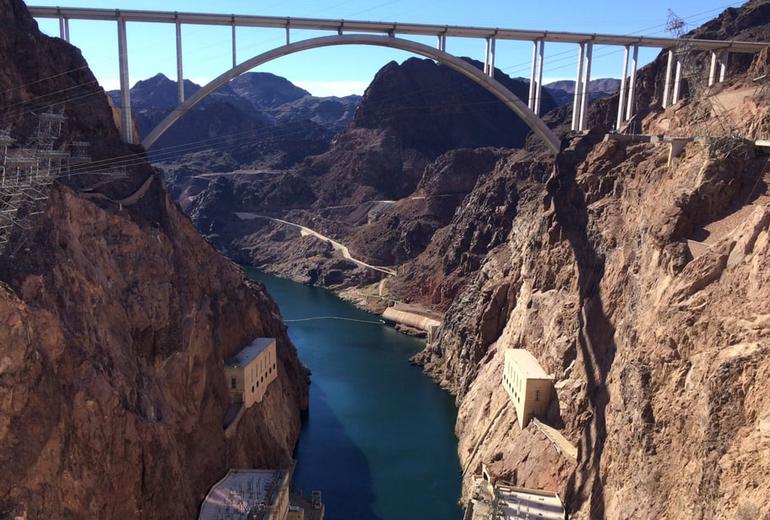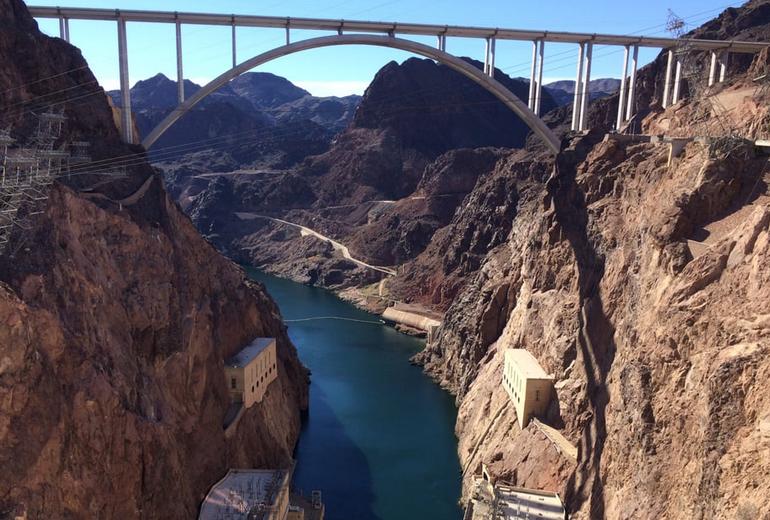 Hoover Dam is one of the great engineering marvels of the modern world and only a short drive from Las Vegas. Take a break from the casinos and spend a day at this historic Nevada structure.
Hoover Dam creates Lake Mead and is located near Boulder City, Nevada, a town originally constructed for workers on the construction project, about 25 mi southeast of Las Vegas.
The dam's generators provide power for public and private utilities in Nevada, Arizona, and California. Hoover Dam is a major tourist attraction; nearly a million people tour the dam each year.
Pedestrians are prohibited from the top of the dam during hours of darkness. If you are in Las Vegas without a car there are numerous guided tours of the dam. It's best to book a tour from your hotel or online rather than sidewalk vendors.
Hoover Dam Tours
The visitor center is where Hoover Dam tours can be booked.
Power Plant Tours take you in an elevator to the bottom of the dam. See the inner-workings of the dam including the giant generators used to create electricity. 30-minute tour.
Hoover Dam Tours are taken in groups of 20. This tour lets you see more of the working of the dam than the Power Plant Tour. One hour tour.
Visitor Center Yes they even charge you to enter the visitors center. ($10.00.)
Dam Tour Hours: Winter: The first tour is at 9:15 a.m.; The last tour is at 4:15 p.m. Summer: The first tour is at 9:15 a.m.; The last tour is at 5:15 p.m.
There is plenty to see on top of the dam and if you're uncomfortable in closed areas inside the dam the guided tours are probably not for you.
You can only purchase tickets at the visitor center.
Where is Hoover Dam
Motorists wishing to cross the dam must pass through an inspection checkpoint located either on U.S. Highway 93 one mile north of the dam in Nevada, or 9 miles south of the dam in Arizona.
Directions to Hoover Dam: drive southeast of Las Vegas on US Highway 93 to the Nevada-Arizona border. Hoover Dam Visitor Center: Open 9:00 a.m. — Close 6:00 p.m. Tickets sold until 5:15 p.m. For reservation information about Hoover, Dam tours call (702) 494-2517