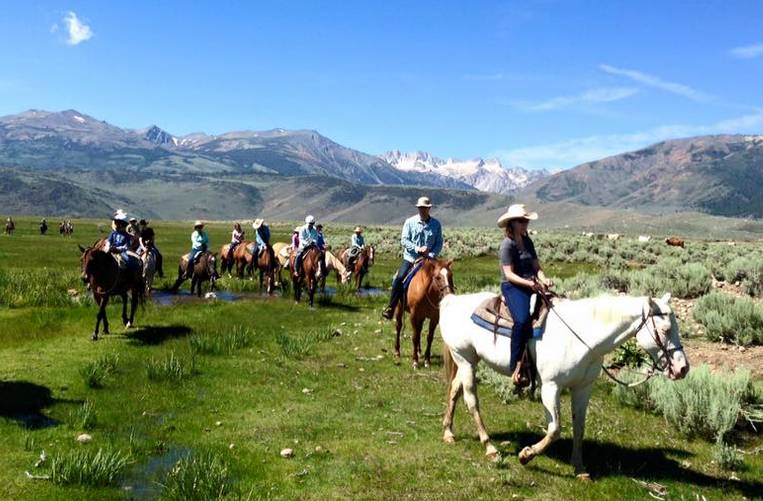 Hunewill Ranch is located in Bridgeport Valley below the snow-covered mountains of the eastern Sierra. Hunewill is a working cattle ranch that is still run by the Hunewill family. The Guest Ranch has been around since 1931 and is even more popular now than it was when it first opened.
This may be a working ranch, but guests stay in cabins near the main ranch house where meals are served. During your stay, you will have a chance to "dine out" at various locations on the ranch.
The most popular activity on the ranch is horse riding with morning and afternoon rides scheduled every day except Sunday. If you are new to riding, there are horses for every level of skill. The ranch has over 150 horses and nearly 400 acres of land. Trail rides for beginner, intermediate, advanced riders are offered.
Hikers will not be disappointed. There are nearby trails. Bridgeport is famous for its fishing with anglers traveling from all over the USA to try their luck in the local lakes and streams.
If you're looking for a western theme vacation or getaway, then Hunewill Ranch is defiantly worth checking out. The ranch is 6 miles outside of Bridgeport, California – east of Yosemite Park.
Twin Lakes is only a short drive  Hunewill Ranch. Fishing is the most popular activity at Twin Lakes. Several species of trout are found in the rivers and lakes in the Bridgeport area. Travertine Hot Springs is located on the outskirts of Bridgeport and is a popular place to soak in hot mineral water.
Hunewill Ranch is the oldest working guest ranch in California and one of the oldest family ranches in the American West. The farm has been in the Bridgeport Valley for over 150 years and a guest ranch for more than eighty decades.
Address: 1110 Hunewill Ranch Rd, Bridgeport, CA 93517. Contact the ranch for reservations and pricing information. Phone:(760) 932-7710