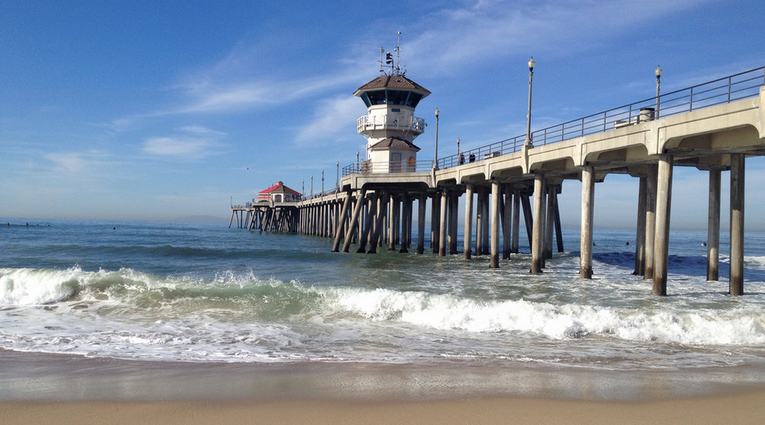 Huntington Beach, aptly named "Surf City USA", boasts over eight miles of wide, sandy beaches, and is the longest stretch of uninterrupted beachfront anywhere on the West Coast.
The climate is sunny and comfortable year-round and is one of the most popular surfing spots in California, and most recently is home to the US Open Surfing Championships.
Huntington Beach and immediate area have retained a few of the vestiges of the 60s when surfing was the topic of movies and music, while a developing into a popular upscale tourist spot, attracting millions of beachgoers every year.
If you plan on arriving early, you might want to start your day by having breakfast at the Park Bench Café'.
Nestled amongst the oak trees in beautiful Huntington Beach Central Park, this outdoor café' is one of the city's hidden gems. It's family friendly and diners are welcome to bring along their canine companions too.
The menu consists of breakfast and lunch entrees, and various Canine Cuisine entrees', which includes items such as Bow-Wow-Wow chicken and Rover Easy scrambled eggs. There is even a Doggie Dining Section where Fido can dine and mingle with his own kind.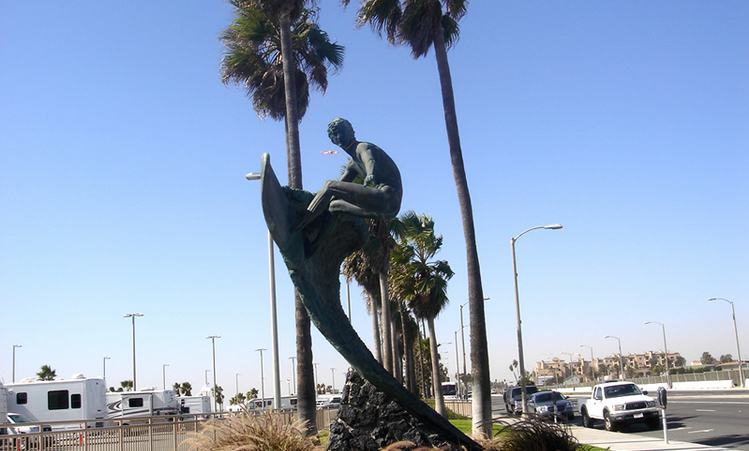 After a hearty breakfast, you can head over to the Bolsa Chica Ecological Reserve located along the east side of the Pacific Coast Highway. Early morning or just before dusk is the best times for birdwatching or just taking a leisurely stroll.
There are two wildlife stops along the reserves' marked nature trail, where hikers will see tons of feisty diving Terns as they look for fish as well as Great Egrets as they glide across the green marshy waters. The 330-acre reserve is open to the public daily from sunrise to sunset. Admission and parking are free, but spaces are limited.
This statue of a surfer riding a wave is titled the Ultimate Challenge, locals have another name for the iconic statue 'Nude Dude." you can find this dude at the corner of Pacific Coast Highway and Huntington Street.
Artist Edmond Shumpert created the statue in 1976 and Edmond also has a second statue in Huntington Beach standing in front of Huntington Surfers' Hall of Fame of Duke Kahanamoku
Just a short drive south of Huntington Harbour is Main Street, the heart of the downtown district that includes an active art center, a colorful shopping district, and the International Surfing Museum.
As you continue your stroll down the five blocks that make up downtown, you'll weave your way through swimsuits, surfboards, people walking their dogs, bicycles and lots of smiles, as well as past several dozen restaurants ranging from beer pubs to fusion cuisine – all with year-round al fresco outdoor table dining.
Stop for lunch or return after a long day at the beach for a delightful dining experience.
Before leaving Main Street, don't forget to have your picture taken with "the father of modern surfing," Duke Kahanamoku. The sculpture along with hand and footprints and autographs of the top surfers around the globe surrounding it is located in front of Huntington Surf and Sport.
Adjacent from Huntington Beach Main Street and directly across the Pacific Coast Highway and running along the beach, is the beach promenade, a pathway that offers an ongoing parade of visitors – not just surfers, but youngsters, oldsters, families, couples and a cross-section of anybody and everybody.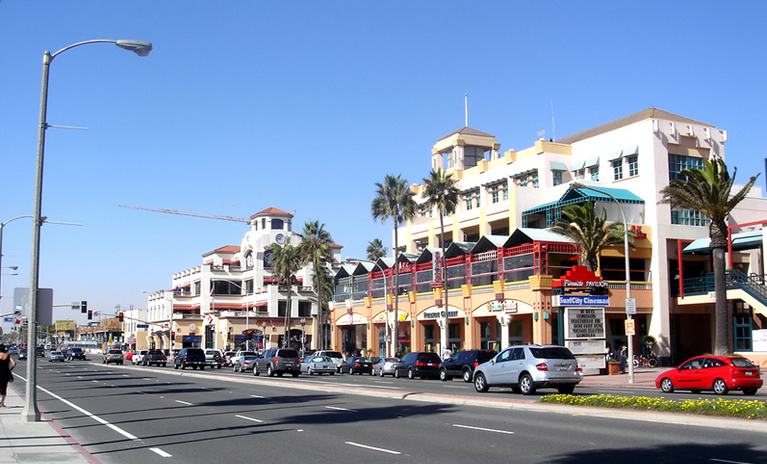 The main attraction on the promenade is the Huntington Beach Pier that stretches over 1,800 feet into the Pacific Ocean. The pier offers visitors a perfect vantage point for viewing the magnificent coastline, viewing a passing pod of Pacific bottlenose dolphins, pier fishing or watching the local surfers slice through the concrete pylons below.
Adjacent to the pier, there is row after row of volleyball nets, a few more restaurants and several places where you can rent a variety of beach toys including surfboards, boogie boards, and selection of bicycles and other vehicles to pedal up and down the beach walk.
As sunset approaches, you can smell the wood burning up and down the coast as visitors take advantage of the city's first come first serve fire rings for cooking or just a cozy beach campfire.
If you're looking for a romantic interlude, then share the romance and tradition of Venice, Italy with that special someone serenaded by a Gondolier as you glide through the canals of Huntington Harbor and Sunset Beach on your private gondola at Sunset Gondola.
You'll probably find that you will need more than a day to explore all that Huntington Beach has to offer. If so, there is plenty of lodging ranging from exquisite all-inclusive resorts to budget motor lodges with the flair of old Huntington.
If you are bringing along your four-legged friend on this trip be sure to stop by dog beach about a mile north of the pier. There is a second unofficial dog beach in Huntington Beach at the mouth of the Santa Ana River.
Huntington Beach is located about 35 miles south of Los Angeles and about 80 miles North of San Diego. If you're planning to visit any of the Southern California theme parks, most are within an easy driving distance of Huntington Beach.