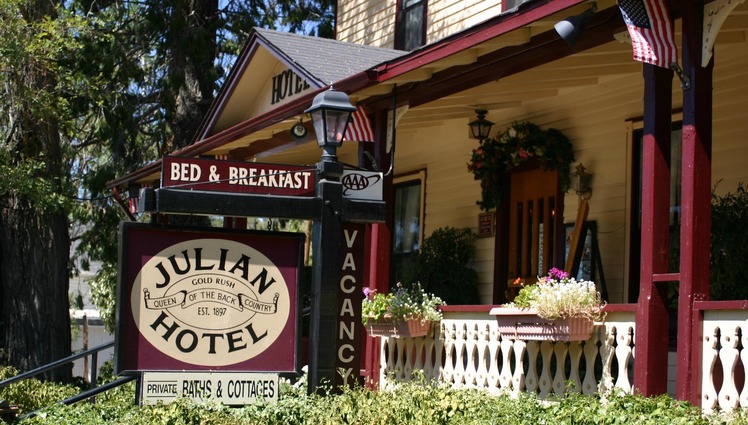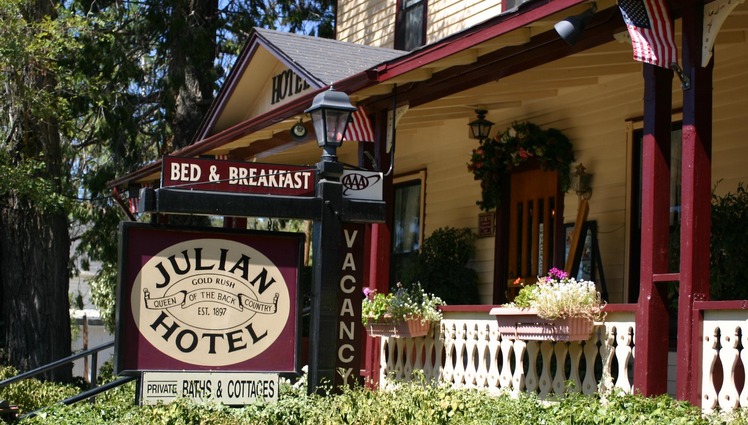 Julian Day Trip Fun Things To Do
Located in the mountains 60 miles east of downtown San Diego is Julian's historic gold mining town. Once a booming hub during California's gold rush, this rustic but charismatic hidden gem retains much of the charm and the atmosphere of those times.
Its shops range from tawdry tourist to normal small-town fixtures like hardware and drug stores, antique malls, book boutiques, and restaurants. Julian is a popular year-round day trip. Although the apples are the biggest draw to Julian when it comes to other fun, there is plenty to do.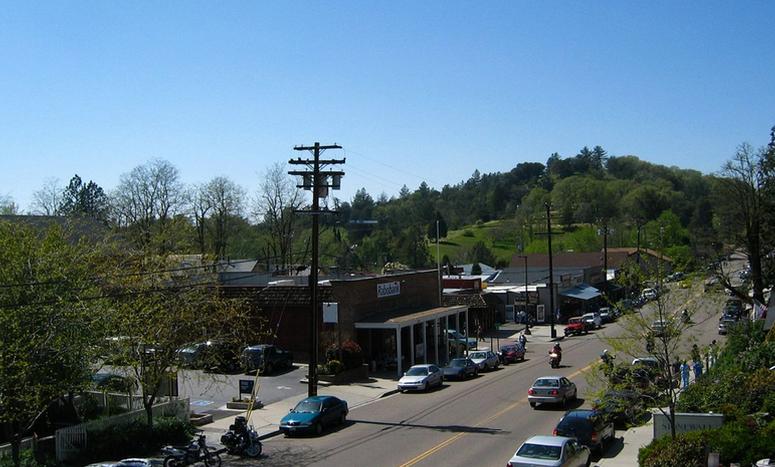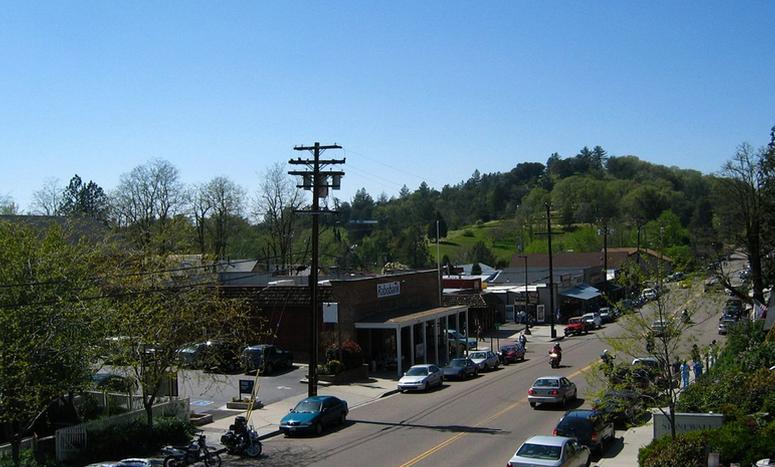 1. Downtown Julian
Julian's downtown district, which includes the main drag and several side streets, is only about three blocks long and four blocks wide, making the town small enough to walk in its entirety in a single day easily. Most days, there is plenty of parking on the main street, but you might have to walk a few blocks during the apple harvest.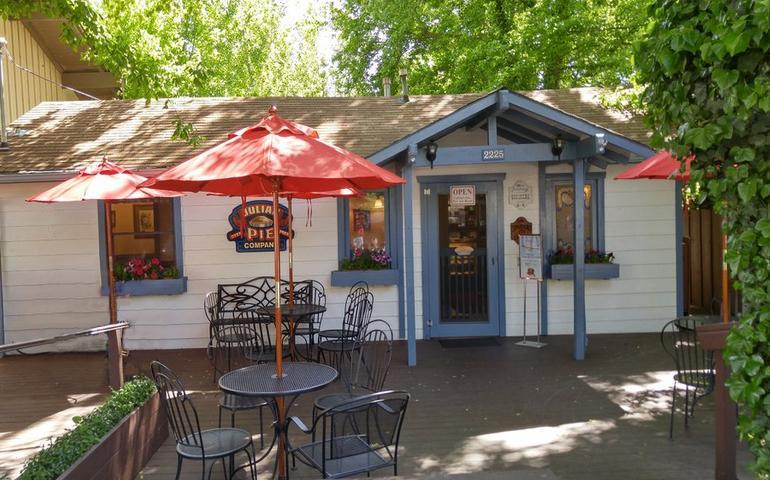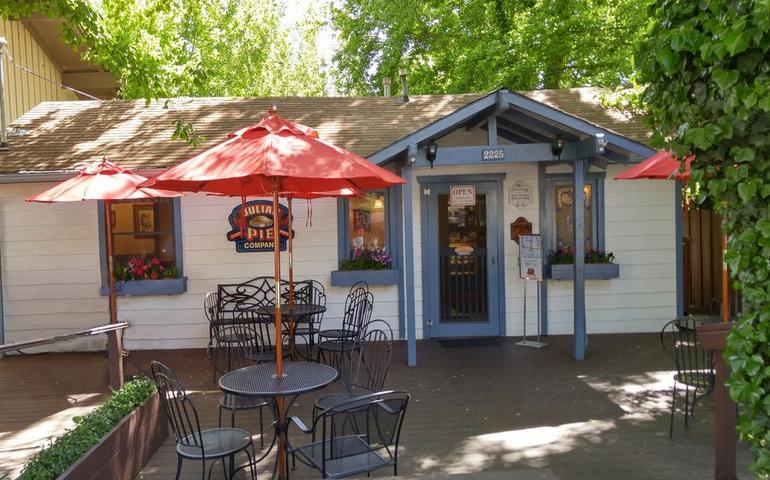 2. Julian Pie Company
Appropriately named for its specialty–apple pie–this is no ordinary pie shop. It is a sweet oasis and includes a variety of pastry pleasures, including a Dutch apple with a crumb top, boysenberry apple crumb, natural strawberry apple, and apple rhubarb pies, to name a few. Two locations Julian and Santa Ysabel. Website.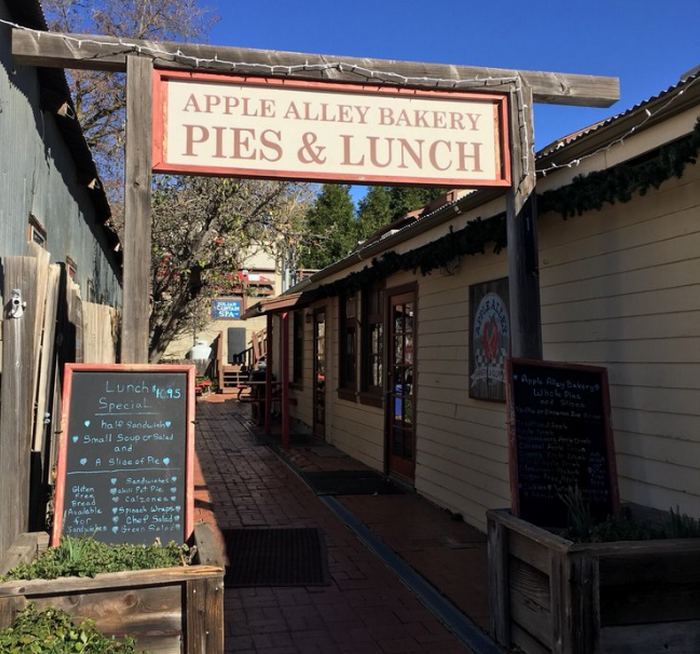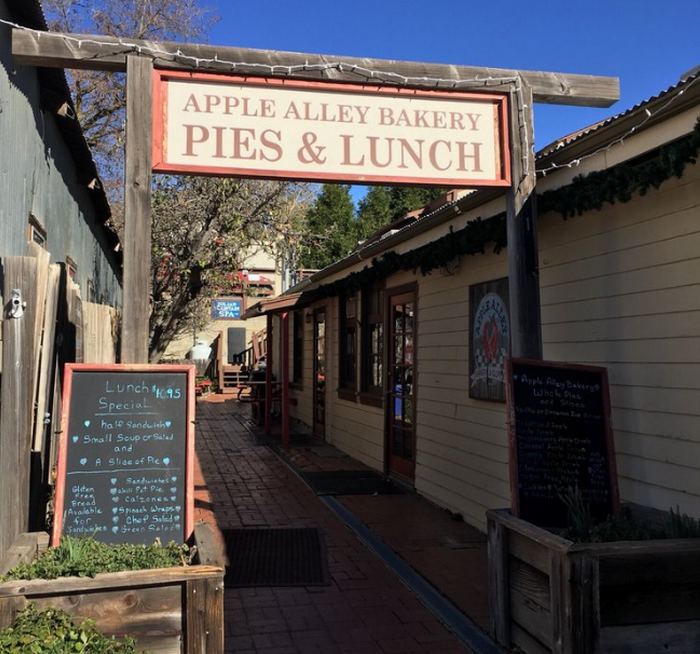 3. Apple Alley Bakery
Apple Alley Bakery is a little mom-and-pop restaurant in Julian. Along with fresh pies, they sell strudels, cookies, and cinnamon rolls. Lunch is served from 11 am to 3 pm and consists of sandwiches, soups, salads, chili, and of course, apple pie. They also have a lunch special that includes half a sandwich, soup or salad, and a pie slice. Address 2122 Main Street.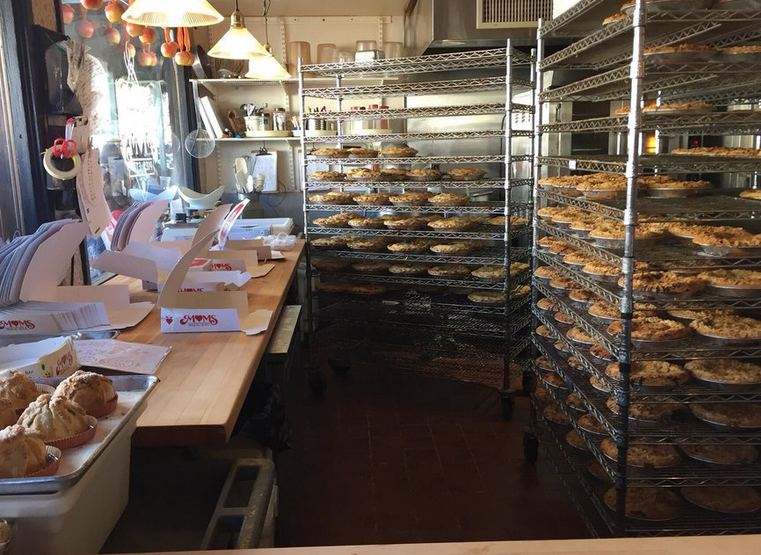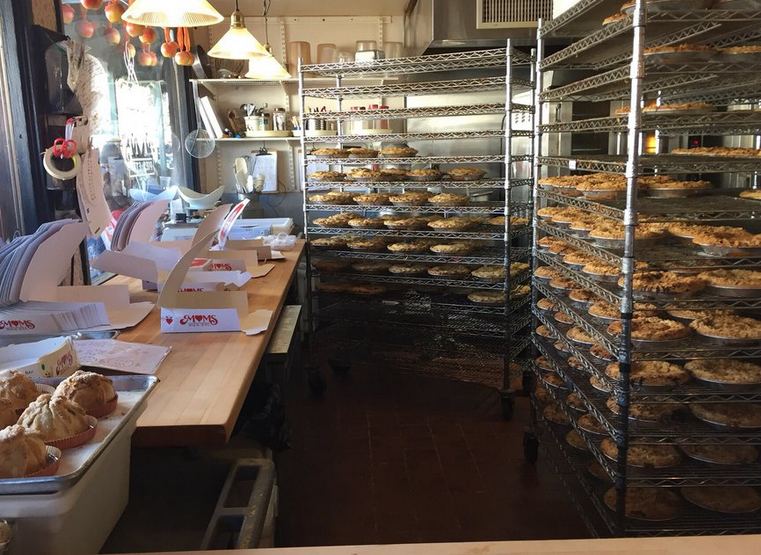 4. Mom's Pie House
It's all about the pie at Mom's Pie House in Julian. You can watch them preparing pies through the front window. Once you get inside, you will be greeted with racks of freshly baked pies. Whole pies, a slice of pie, or pie with ice cream. They also serve lunch, coffee, apple cider, and soft drinks, but most people come for the freshly baked pies. Located on Main Steet, you can't miss it. Website.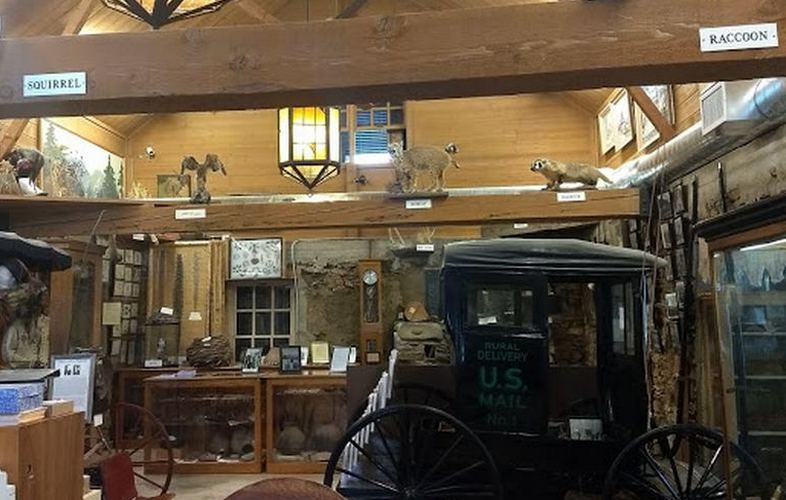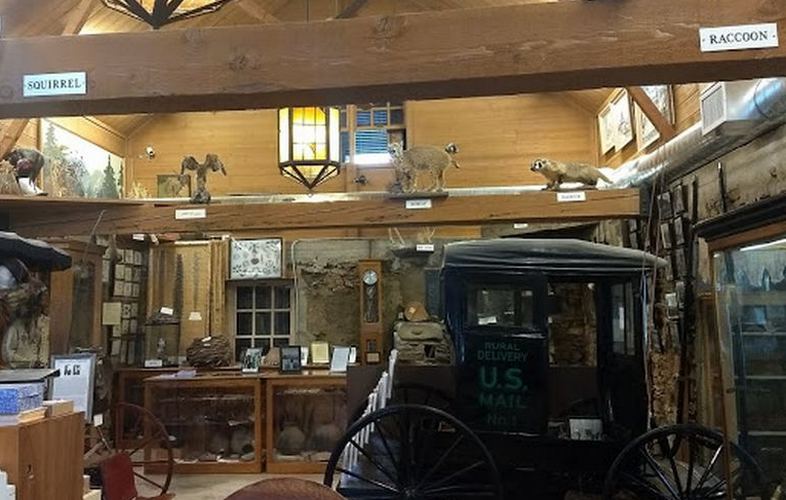 5. Julian Pioneer Museum
Learn about the history of Julian from native Americans to the Gold Rush days. The museum is housed in the old blacksmith shop and is filled with artifacts, pictures, and memorabilia. This museum is small but staffed by volunteers who are extremely knowledgeable about the history of the area. Website.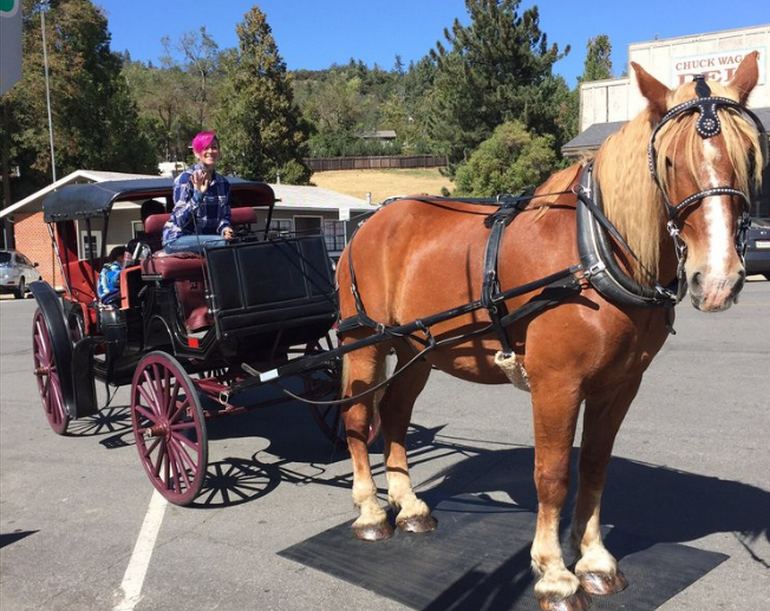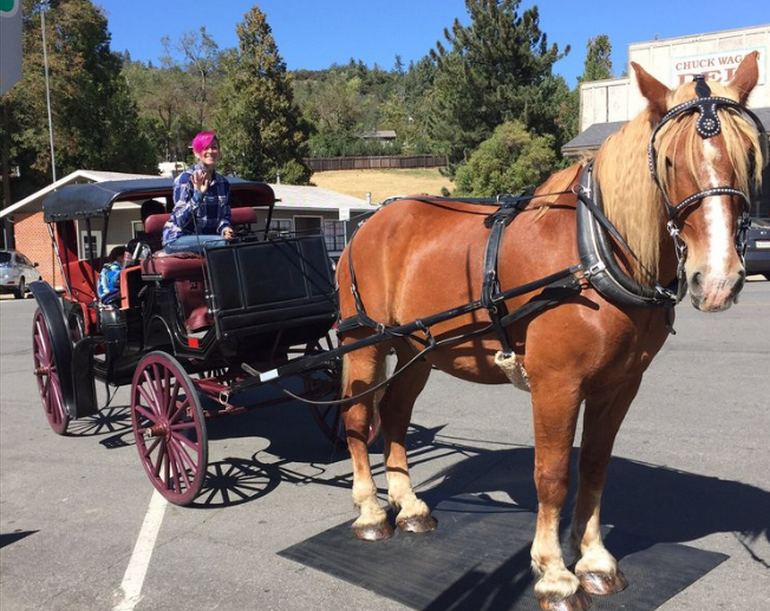 6. Julian Carriage Company
A fun way to see the town of Julian is on a horse-drawn surrey. Offered on weekends, the rides last about 15 minutes and carry riders up and down Main Street. Longer picturesque horse-drawn carriage rides through Julian's countryside are also available with reservations. Fun for family or couples. More information.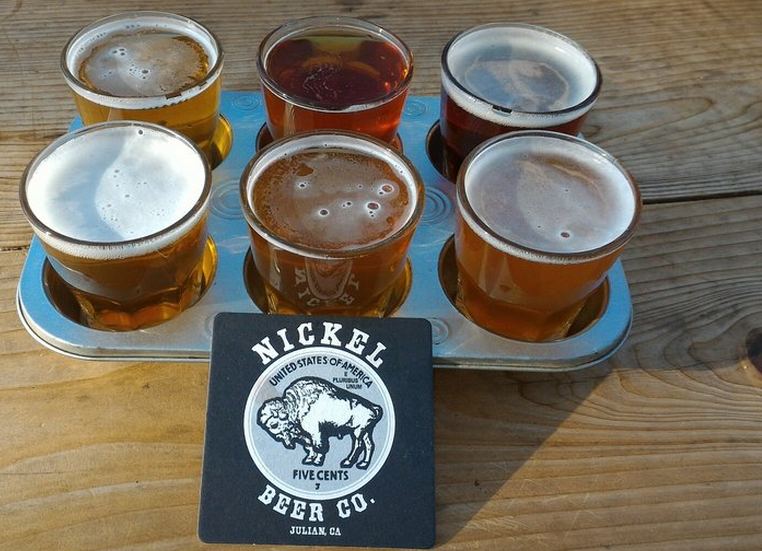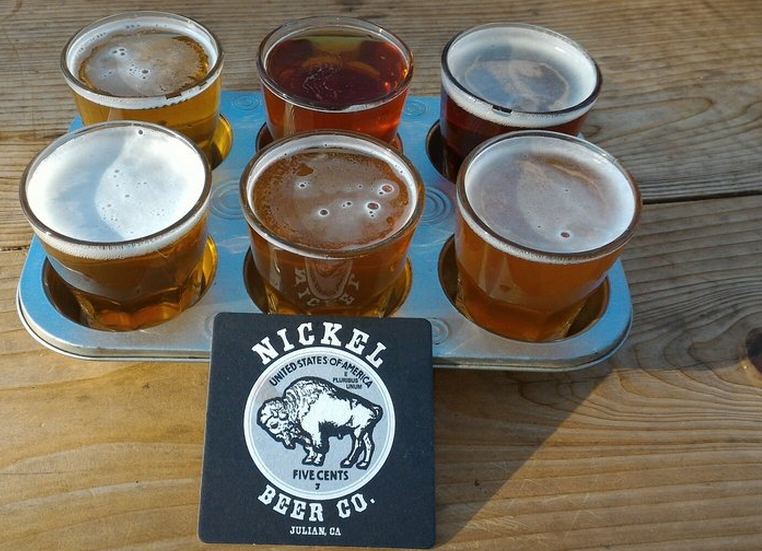 7. Nickel Beer Company
We know you came to Julian for apples, but stop in at the Nickel Beer Company if you love craft beer. Nickel features an interesting selection of beer from light to dark, including seasonal Apple Pie Ale. Nothing fancy here, but if you're in the mood for a beer, stop by the Nickel Beer Company.1485 Hollow Glen Road 1/2 mile east of downtown Julian. Website.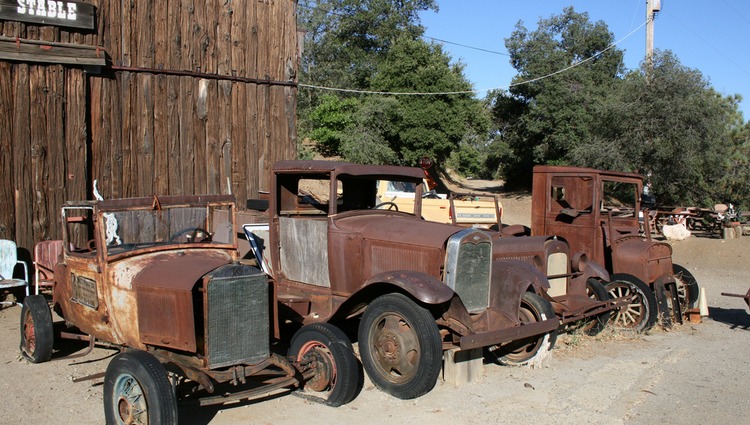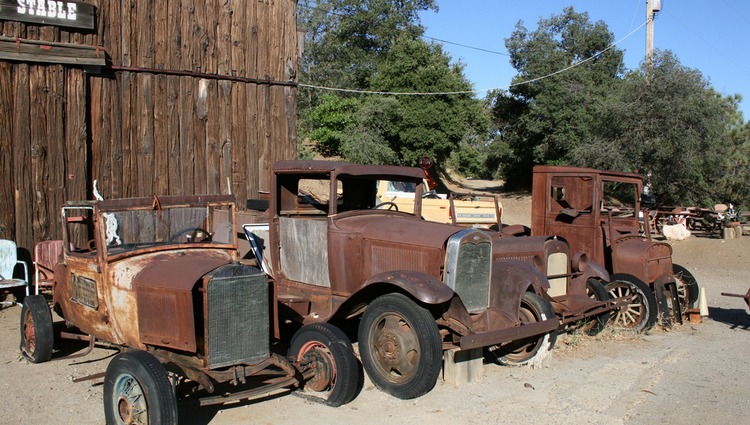 8. Eagle And High Peak Mine Company
Offers mine tours where you go deep into a real gold mine. If you have claustrophobia, you may want to give this tour a pass and check out the small on-site museum while more the adventurous in your group take the gold mine tour. Halfway through the tour, your mine guide will turn out the lights and let you experience pitch black inside a gold mine. The mine and museum are located at 2320 C Street, just outside of town. Website.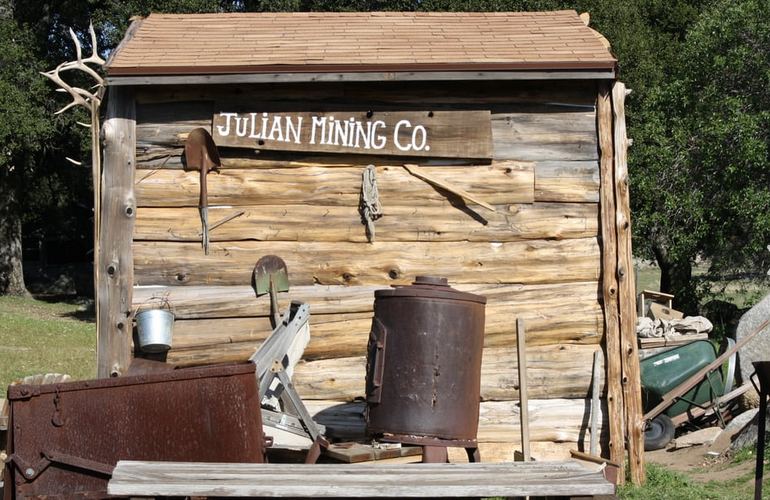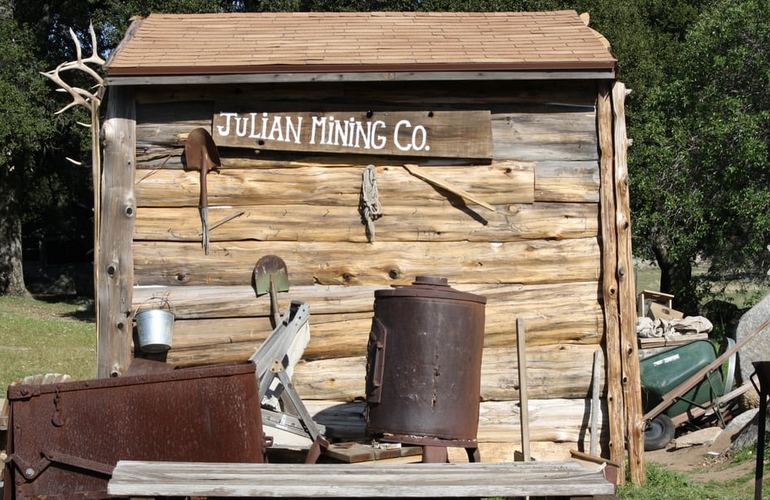 9. Julian Mining Company
Julian Mining Company is a fun stop if you have children with you on this trip. Activities include panning for real gold, a petting zoo, berry, apple, and pumpkin picking, depending on the season. There is also a small gift shop with collectibles and candies. Apple Stand and cider pressing on site. Website. 4444 CA-78 next to Julian Station.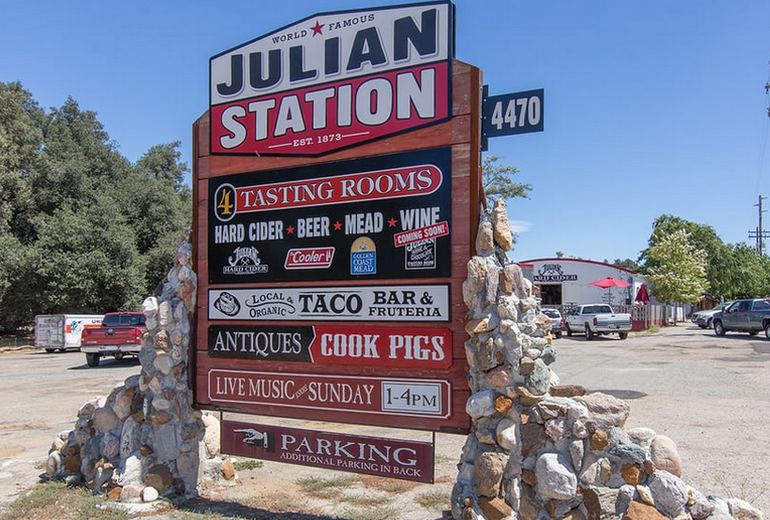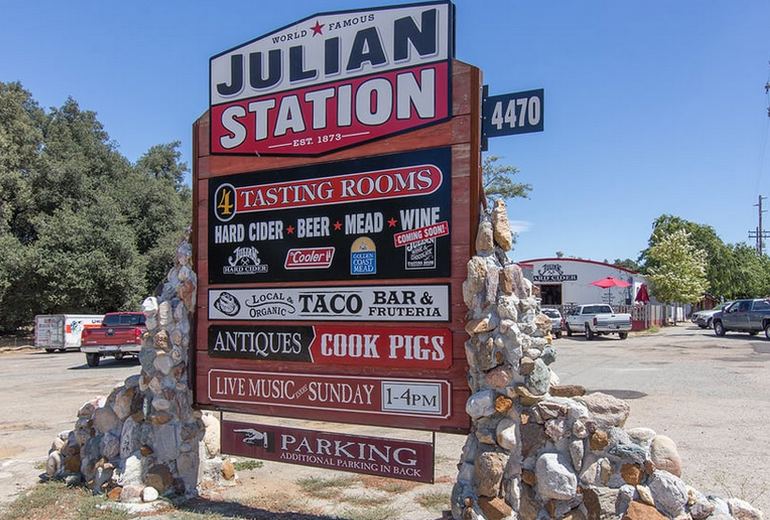 10. Julian Station
Julian Station makes a nice little stop while on a road trip to Julian. The Station features tasting rooms for wine, beer, and hard cider, along with an interesting collection of antiques for sale. The Station is also the home of Mr. Manitas Taco Bar & Fruteria. Live Music most Sundays. 4470 Highway 78. Website.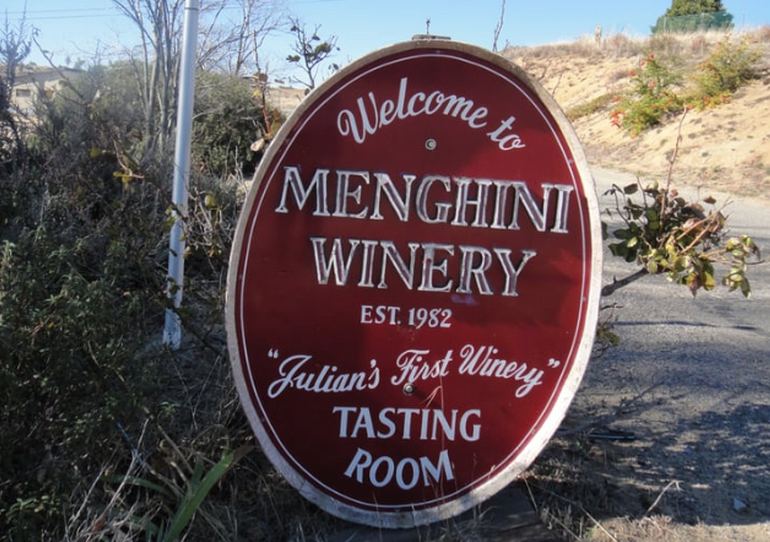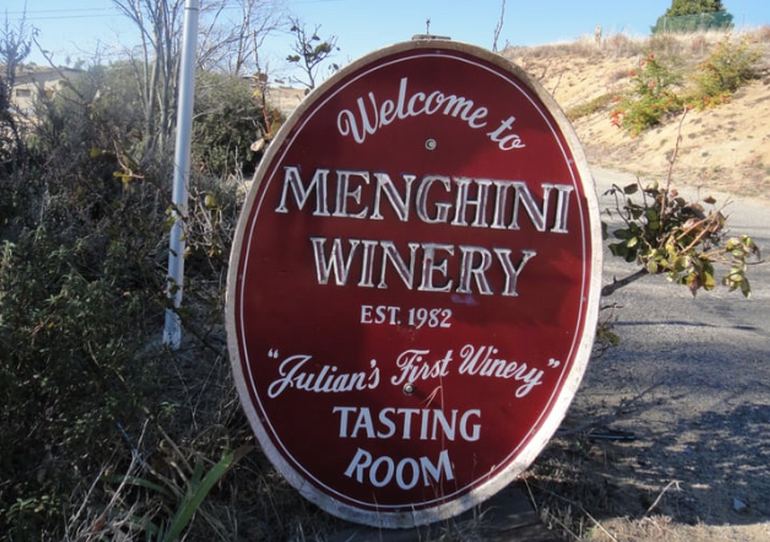 11. Menghini Winery
Menghini Winery is a family-owned boutique winery 3 miles north of downtown Julian in Volcan Mountain's foothills. Surrounded by apple orchards and a six-acre vineyard, the winery produces approximately 4,000 cases of wine annually. 1150 Julian Orchards Drive. Website.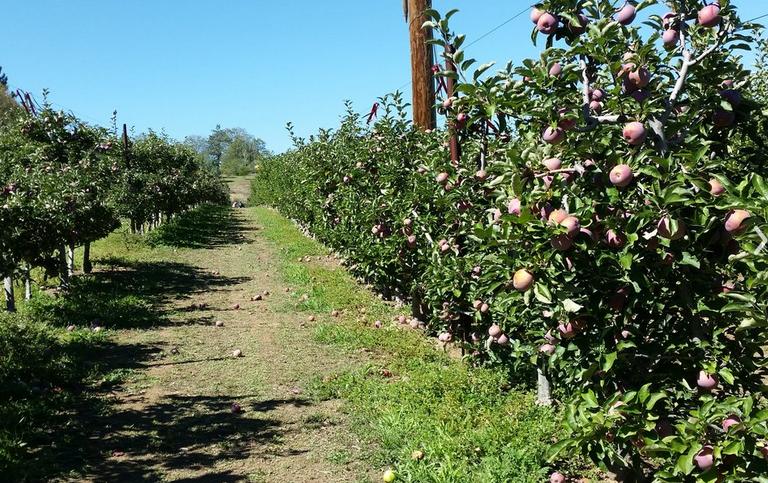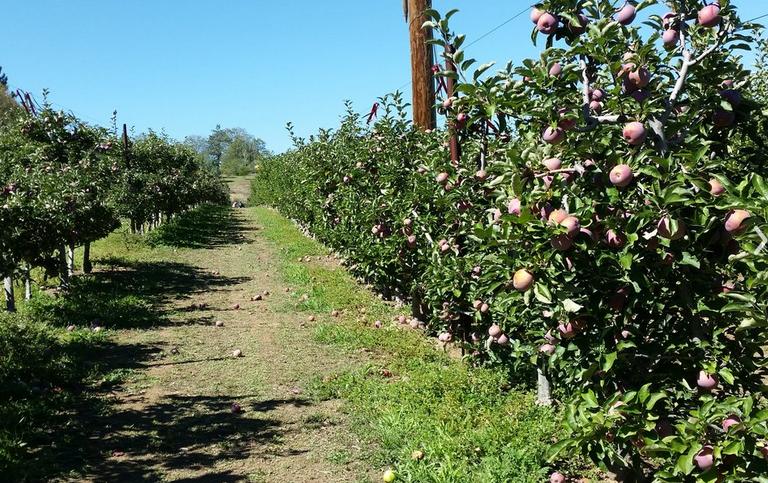 12. Julian U-Pick Apple Season August – October
During the fall, the apple crop is harvested, including a couple of u-pick apple farms where visitors can wander through the orchard picking their own. Most of the apple orchards are open weekends only, some by reservation only. Orchards get picked out quickly due to the popularity of this activity.
13. Apple Starr Orchards
U-Pick Organic Apples & Pears. Open mid to late August or until the apples are all gone. Picking is by the bag, about 12 pounds of apples fit into a bag for $25.00. No reservations are needed for U-Pick, but the trees are usually picked clean in just a few days. Address 1020 Julian Orchard Drive, Julian. Website.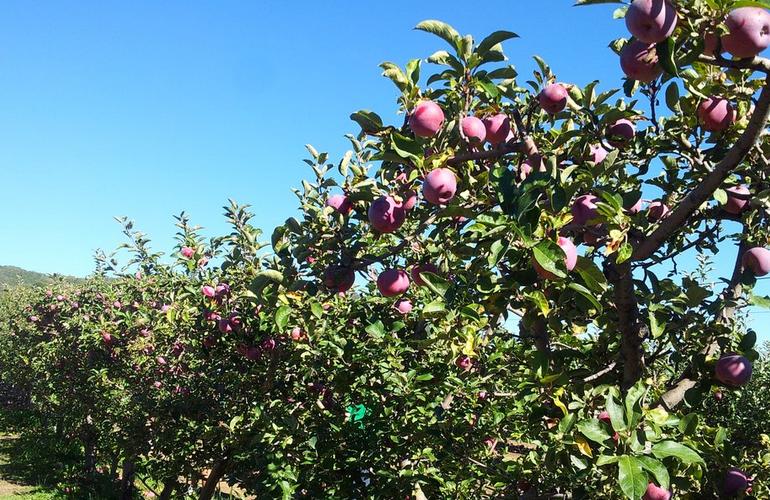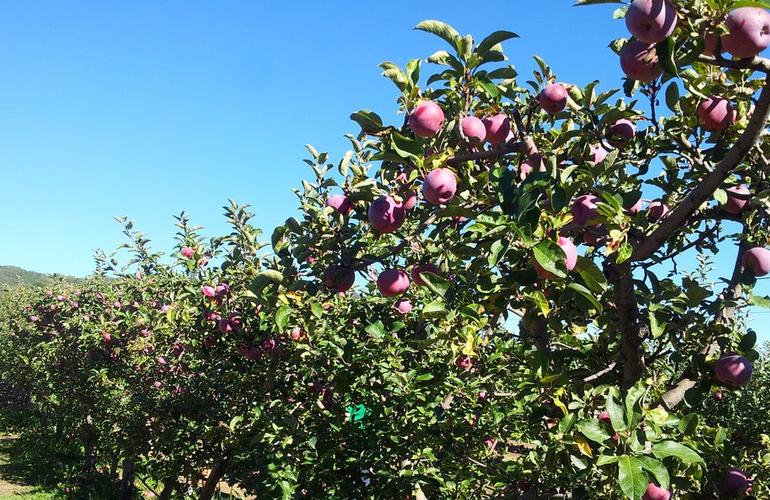 14. Calico Ranch and Cidery
This Orchard is right on Highway 78 and was planted in the early 1930s. Calico is a family-owned 30-acre orchard and one of the few apple orchards in the Julian area that still features pick your own fruit. Seasonal fruit stand with pre-picked apples and pears. 4200 Highway 78. Website.
15. Volcan Valley Farm
Volcan is the largest apple farm in Julian that offers apple picking. U-Pick apples are $12 a bag, which holds about 6 to 8 pounds of apples. Volcan also sells pies made with Fuji apples and hand-rolled crust. If you work up a thirst picking, the orchard is situated between Menghini and Volcan Mountain Wineries. If anyone has apples, Volcan Valley will. 1.5 miles from downtown at 1284 Julian Orchards Drive. More info.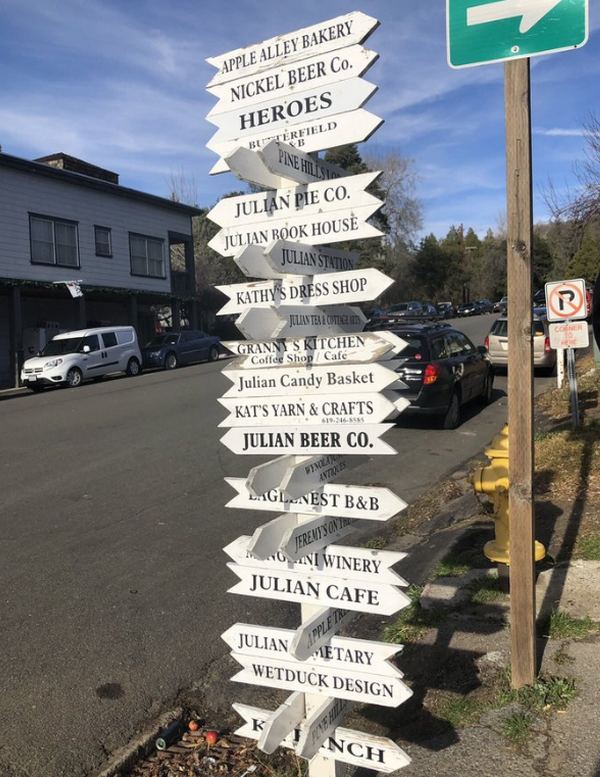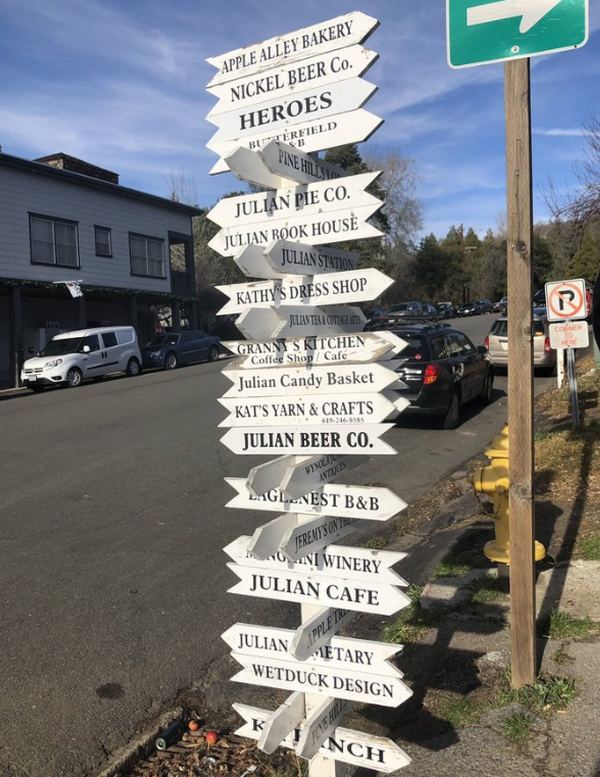 Getting To Julian from San Diego
Directions: From Interstate 5 & 15: head east on Hwy. 78 past San Diego Zoo Safari Park head past Ramona, then to Julian. Travel distance from downtown San Diego is about sixty miles, with trip time under two hours.