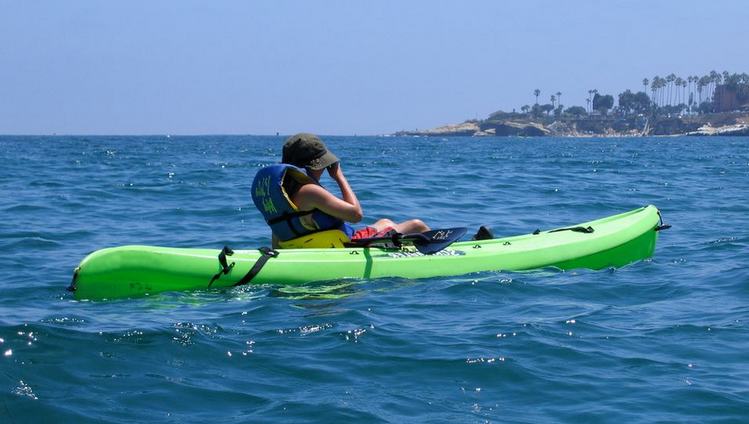 La Jolla Sea Cave Kayak Tours discount tickets. You will get wet, but it's all part of the fun.
La Jolla sea caves can only be visited by kayak or boat. One exception is Sunny Jim Cave which can be seen by climbing down a stairway and through a tunnel. The tunnel entrance is inside the Cave Store on Coast Blvd and the store charges a fee to see the cave.
---
Full price tickets $79.00 – you pay only $39.50. No experience is necessary. Two-person kayak with an experienced guide on every trip.
---
Tickets for all days including weekends. Recommended to call and check availability before booking as availability is limited.
---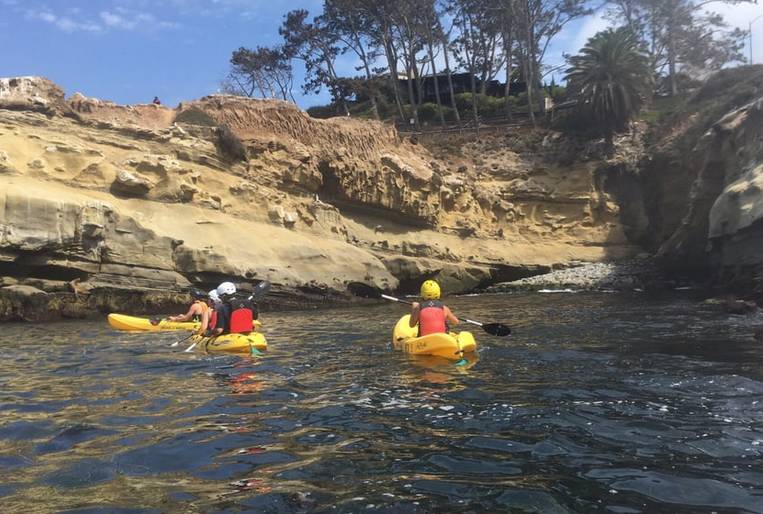 La Jolla Sea Caves
A much better way to see Jim's cave and the other caves are by taking a kayak tour. These guided tours last about two hours and you will go inside the caves depending on water and tidal conditions.
While you are out on the sea kayak to look for sea lions, Garibaldi, leopard sharks and maybe even a dolphin. These tours are designed for people on vacation or locals looking for an adventure. An expert guide will be with you at all times to ensure your safety. Chances are you will get wet on this trip buts it's all part of the fun. Kayaking is an experience that the whole family can enjoy.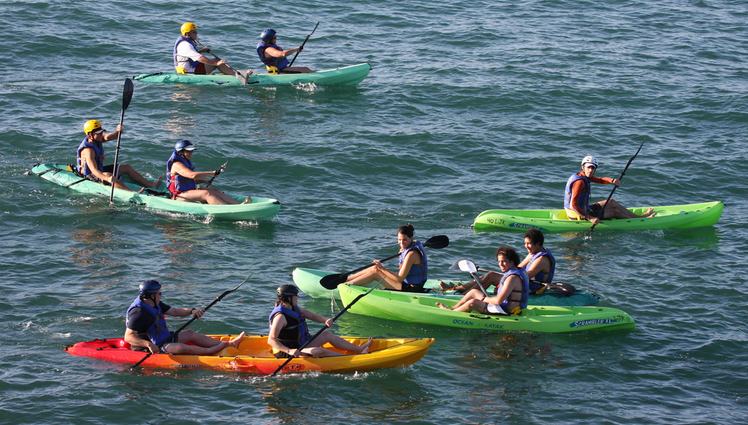 Over the years, visitors have been attracted the seven caves of La Jolla. Long ago smugglers used it to bring in illegal Chinese and other immigrants. Contraband whiskey was also smuggled through the cave during Prohibition.
Today many visitors visit "The Cave Store". The cave opening has been revived and protected over the past 100 years of preservation. The old Crescent Cafe, which is now called The Cave Store is located on 1325 Coast Boulevard in La Jolla.
La Jolla Sea Caves can only be visited by kayak or boat but occasionally when there is an extremely low tide you might be able to walk into the caves. At all other times, guided tours are the best choice.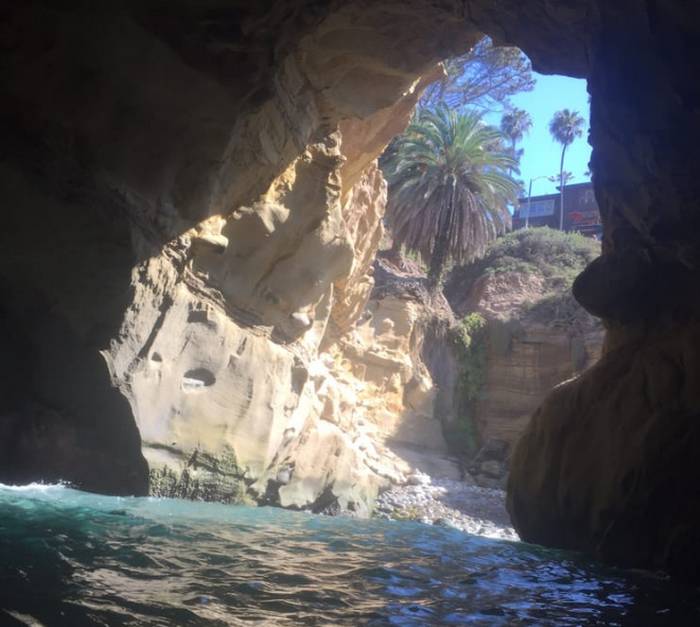 Experienced kayakers can rent a kayak go on their own, but for the average person, the tours are a better choice. No kayak experience is required; however, all participants must be able to swim and have general water experience.
All equipment is provided including life jackets, helmets, and a quick water safety course. Go ahead give it a try, it's an experience you will not forget.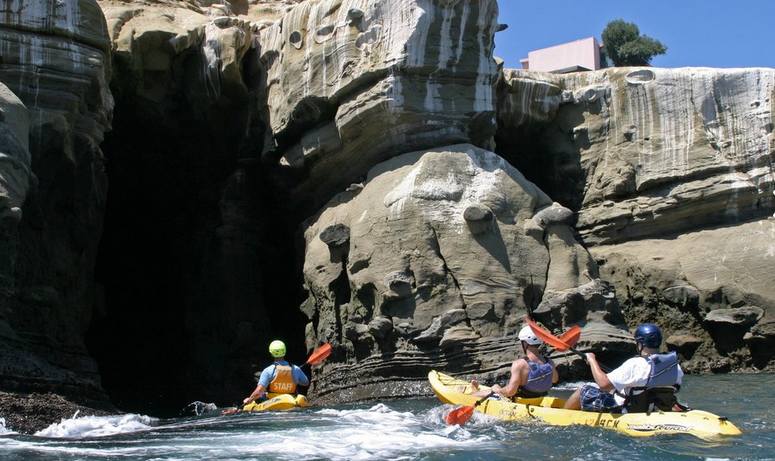 The seven sea caves in La Jolla are part of a 75-million-year-old sandstone sea cliff. The seven sculpted caves open to the north, as they sit in between the beach of La Jolla Shores and La Jolla Cove. The seven sea caves are named as follows, from west to east: The Clam's Cave, Sunny Jim's Cave, Arch Cave, Sea Surprise, Shopping Cart, Little Sister, and White Lady.
The La Jolla Sea Caves are only accessible by kayak, except Sunny Jim's. This cave is the only La Jolla cave that is accessible by land via a hand-dug tunnel leading down from the historical landmark, the Cave Store. The cave was given the name "Sunny Jim" by Frank Baum, the author of The Wizard of Oz. Mr. Baum gave the cave this unique name due to the shape of the cave's opening.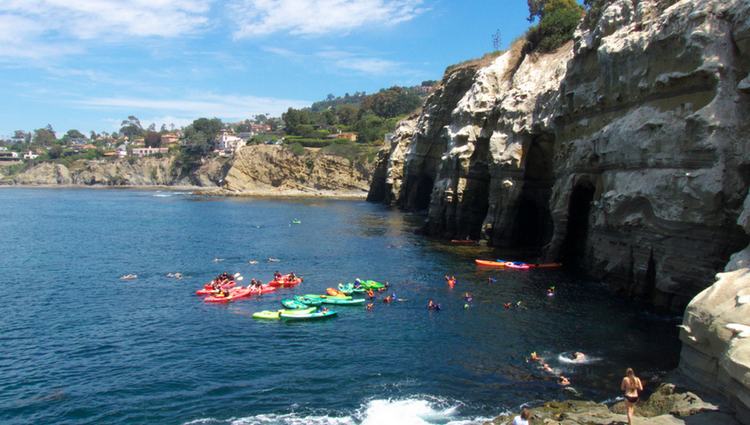 The Clam's Cave is the only sea cave that is visible from land. Clam's Cave is double-sided and the backside can be seen from Goldfish Point on Coast Blvd. The rest of the La Jolla caves are only visible via the ocean. These other caves are usually awash in waves and therefore seldom seen by anyone except kayakers.
White Lady, named for her long, bustled-dress silhouette, is located on the eastern corner of the sea cliff. In front of the cave, there are lots of larger rocks in the ocean that promote crashing waves and whitewash, lending significance to the description "white." Attraction website.