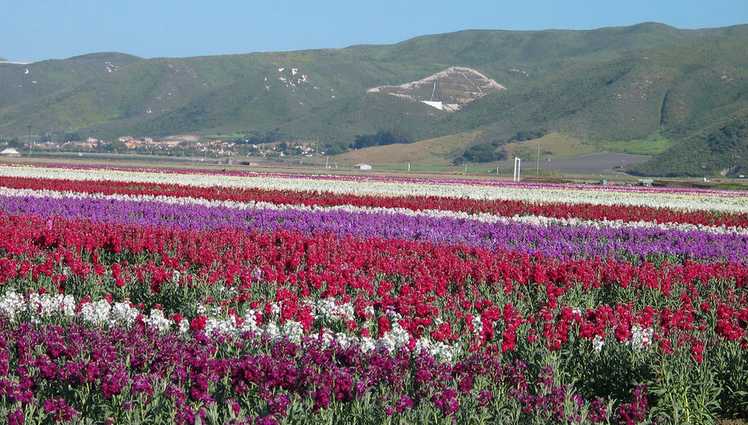 Situated between Santa Barbara and Santa Maria, and nestled among the rolling green hills of California's central coast, Lompoc is known for its beautiful flower fields, historic landmarks, beautiful murals, secret beaches, vineyards and fertile agricultural fields.
The centerpiece of the area is the La Purisima Mission that provides a step back in time and a glimpse of what life was like for the first European settlers to the Lompoc Valley.
Considered to be the most completely restored mission in California, with ten of the original buildings fully restored and furnished, including the church, shops, living quarters, and blacksmith shop, this historical treasure is surrounded by lush gardens and livestock representing what would have been found at the mission during the 1820's.
There are special living history events scheduled at the mission throughout the year, and the visitor's center features information, displays, and artifacts, plus a self-guided tour.
Another historical gem is the Lompoc Museum that expands visitors knowledge of the archeology and history of the Lompoc Valley and Santa Barbara County. The Museum is located in Lompoc's former Carnegie Library and displays the Clarence Ruth Collection of Native American artifacts.
Before leaving the downtown area, be sure to check out the some of the most beautiful murals in the world. Start by picking up a map of from the Chamber of Commerce, and then prepare to embark on a journey of art and history as told in the paintings scattered on the walls, alleys and buildings throughout the city.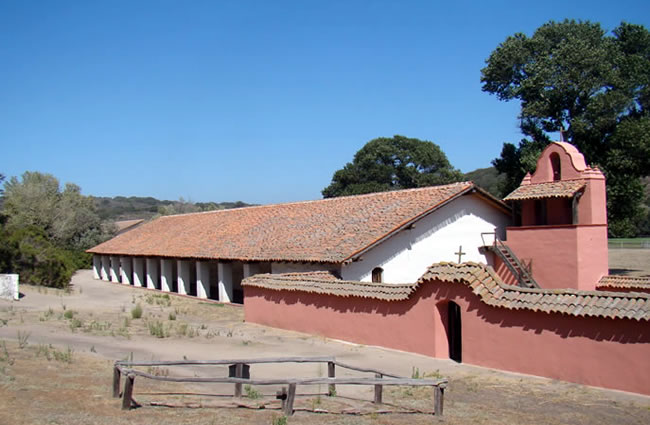 Once you've explored Lompoc's history, it's time to enjoy its geography. And a great place to start is at one of the area's best kept secrets, Jamala Beach County Park.
With the decline of beaches that still allow beachcombers to set up camp on the sand, Jamala is a delight to outdoor enthusiast and campers.
There are nearly 100 campsites, all overlooking the ocean or beachfront, and each has its own picnic table and BBQ pit, with hot showers, restrooms and water nearby.
Jalama Beach is a reprieve from typically bustling seaside parks and also boasts a day-use picnic area to set up base while you're enjoying a day of surfing, whale-watching, bird watching, nature photography, rock hounding, or fishing.
For the serious angler, a trip to the nearby Santa Ynez River, one of the largest rivers on the Central Coast of California, is a must. The river flows from east to west through the Santa Ynez Valley, reaching the Pacific Ocean at near Vandenberg Air Force Base.
The area around the mouth of the river is known as Ocean Beach, a 36-acre park between Purisima Point and Point Arguello. The park borders a 400-acre lagoon and marsh and is a natural habitat for migrating birds and various waterfowl. Vandenberg Air Force Base, which surrounds the park, allows beach access for 1.5 miles north and 3.5 miles south.
After a long day at the beach, and for travelers looking for a taste of local flavor, the Lompoc Wine Ghetto is a loose collection of wineries sure to please any palette. Consisting of numerous production facilities and thirteen tasting rooms, and spread over an entire two-block industrial complex, you will find great world-class wine, presented in a laid back atmosphere.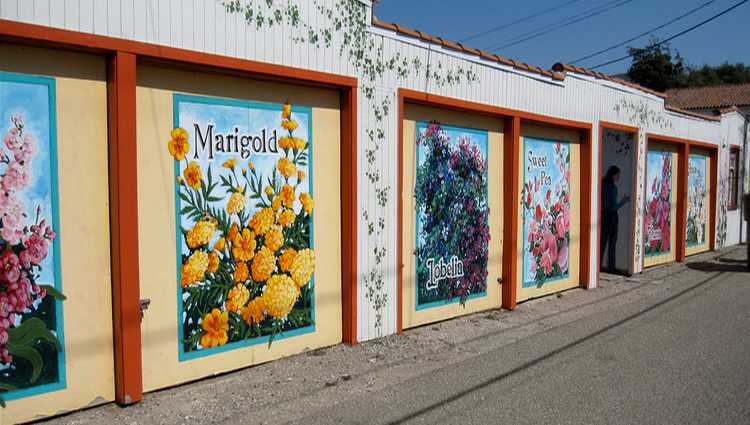 Finally, one of Lompoc's many claims to fame is its annual Flower Festival at Ryon Park. The festival is held in June. There is always a parade and residents as well as tourists from all over come to see and take part in the parade.
There are plenty of local food vendors, as well as rides, games, and live entertainment. Food booths are present at the park during the festival so anyone can have some great food while enjoying the event.
Vandenberg Air Force Base tours of the base are on the second and forth Wednesday of each month, security conditions and mission permitting. Reservations are required at least two weeks in advance and there is a minimum age of 10 years. Contact: Public Affairs office at (805) 606-3595.
The Murals of Lompoc are located in the downtown area. Lompoc has over 32 major commissioned murals painted by noted artists, as well as an additional 40 murals, all located in Lompoc's historic old town area.
Lompoc is approximately 150 miles from downtown Los Angeles and can be easily accessed from US 101.