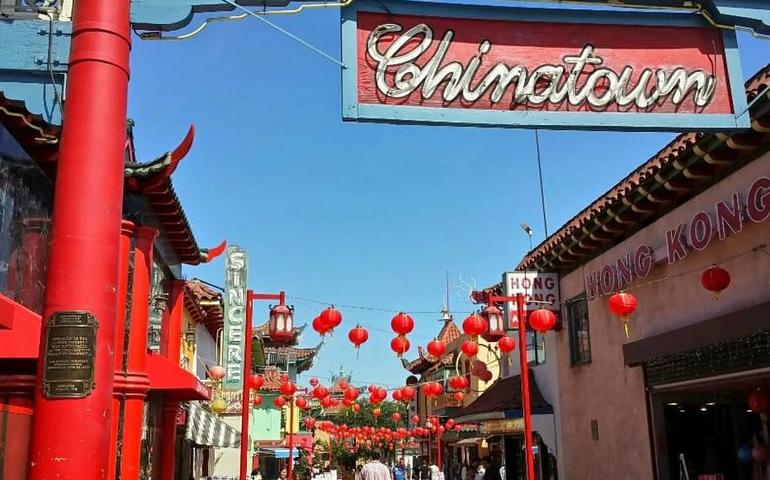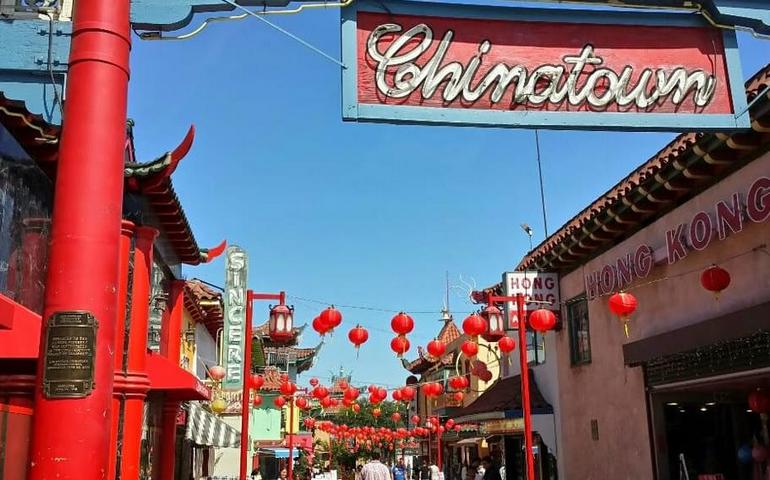 While it may not be as old as San Francisco's, Chinatown Los Angeles provides every bit of cultural history and makes a fun Los Angeles day trip.
Entering through its golden dragon gateway spanning Broadway, Los Angeles' Chinatown is a five-block walk bound by Bernard Street to the north, Cesar Chavez Avenue to the south, North Main Street to the east, and Yale Street to the west.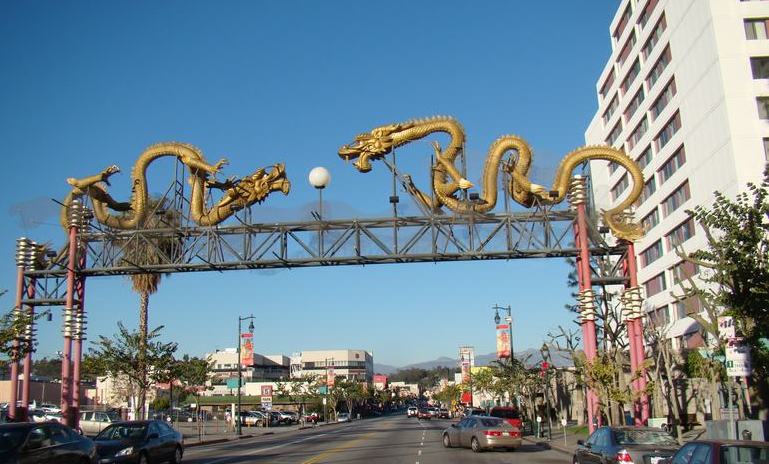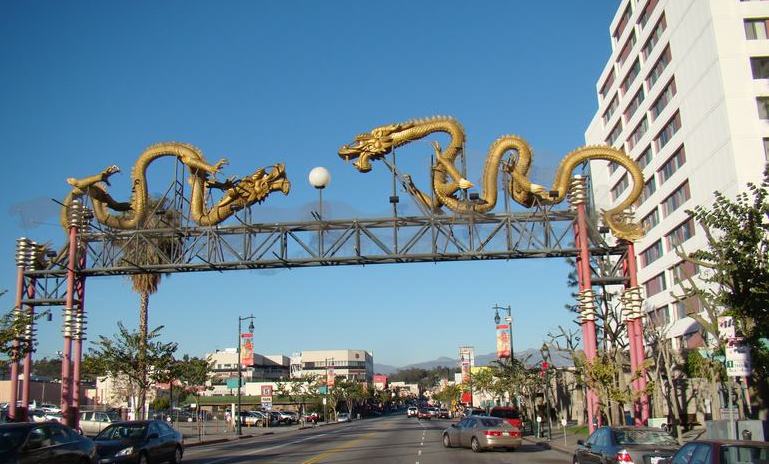 Home to approximately 25,000 residents, this vibrant Asian community was first settled around 1938 and has grown into a self-sustaining pillar of the Los Angeles community and a popular tourist attraction.
Dozens of restaurants, herbal shops, and temples with pagoda rooftops make up a tiny Asian world with its residents zigzagging their way through the ocean of sightseers and regulars.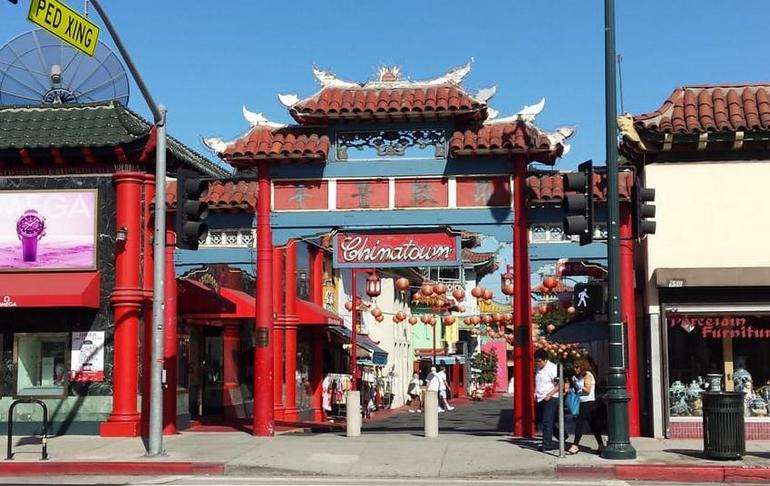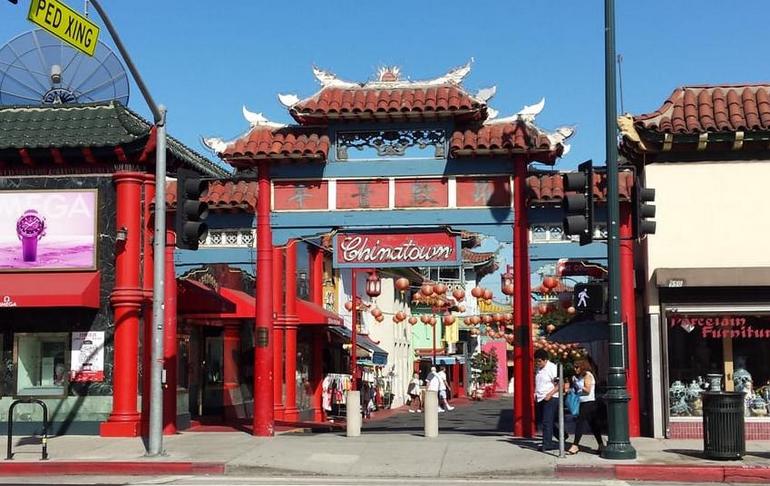 Central Plaza
The centerpiece of Los Angeles Chinatown is Central Plaza on N. Broadway near Bernard. With its neon sign, the area has become an icon, featured in many Hollywood movies, including the Rush Hour trilogy, Lethal Weapon 4, and of course, Roman Polanski's 1974 classic Chinatown.
Points of interest in the plaza dating back to the 1930s include a wishing well and one of the oldest fraternal organizations in Chinatown–Hop Sing Tong.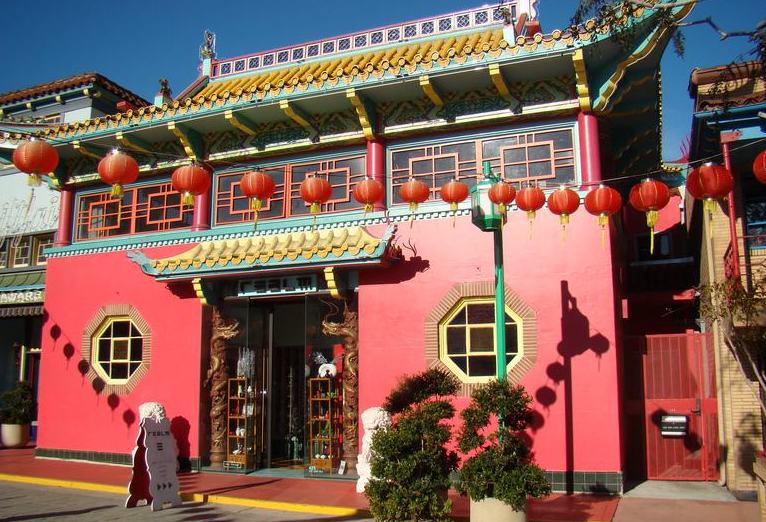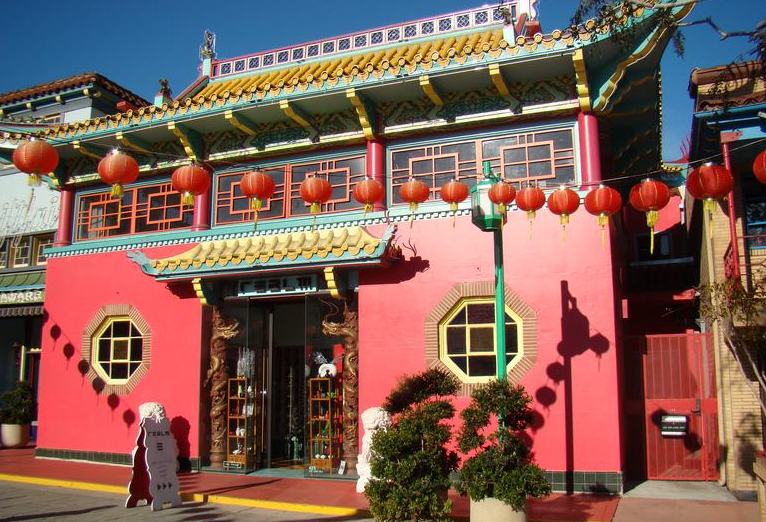 More recent additions are a statue of the father of the Republic of China–Dr. Sun Yat-Sen, concrete impressions of the hands of film star Chow Yun-Fat, and a beautiful dragon mural painted by Chinese artist Tyrus Wong.
Before arriving at Los Angeles Chinatown, visitors may want to first stop by the Chinese-American Museum in the nearby 44-acre El Pueblo historic district. Here guests will learn more about the history of the Chinese in Los Angeles. The museum houses many ancient and contemporary arts, documents, images, and artifacts.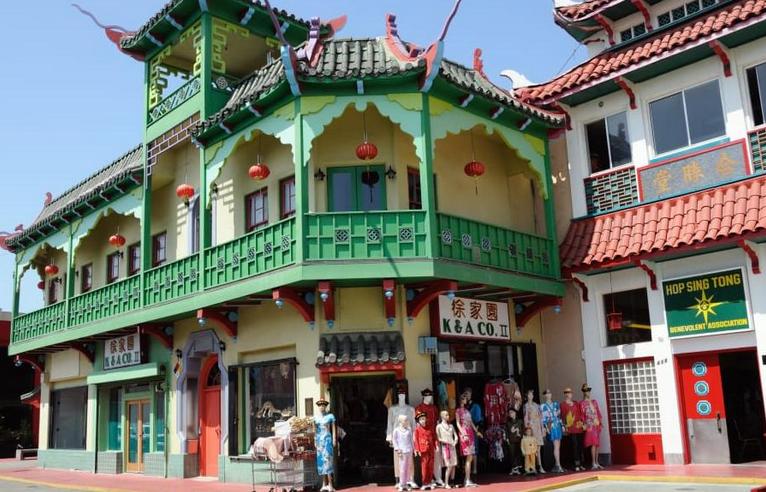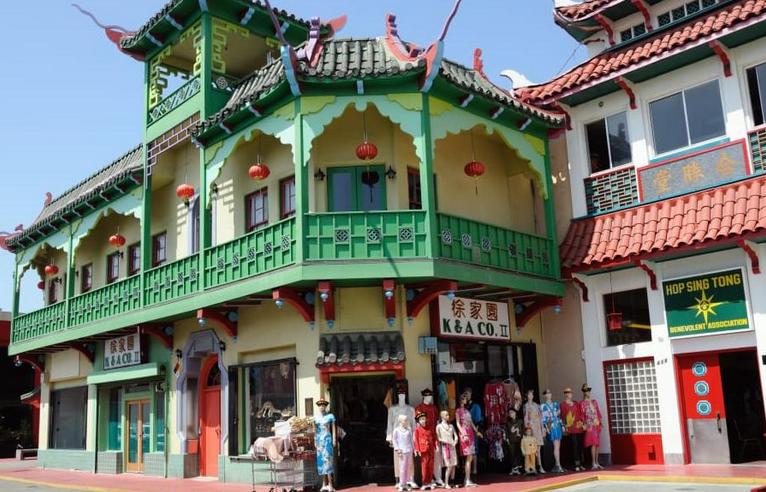 The museum building itself is historic, being one of the oldest surviving Chinese buildings in Southern California, and provides a beautiful platform to soak up, appreciate and understand Chinese art, history, and culture.
For a more street-level experience, taking a self-guided walking tour makes a fantastic journey of old and new with their sights, sounds, and smells, both familiar and unknown.

Shops and Micro-Malls
The tour steers guests through many alleyways, temples, and courtyards, 25 blocks of quirky shops and micro-malls peddling Chinese-theme souvenirs, knock-off designer brands, curio shops, jewelry stores, and delicatessens selling live fish and roast duck hanging in the window.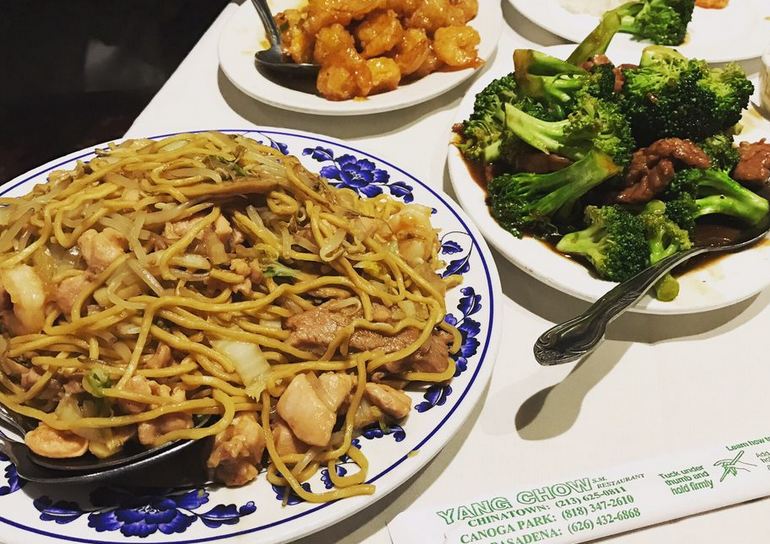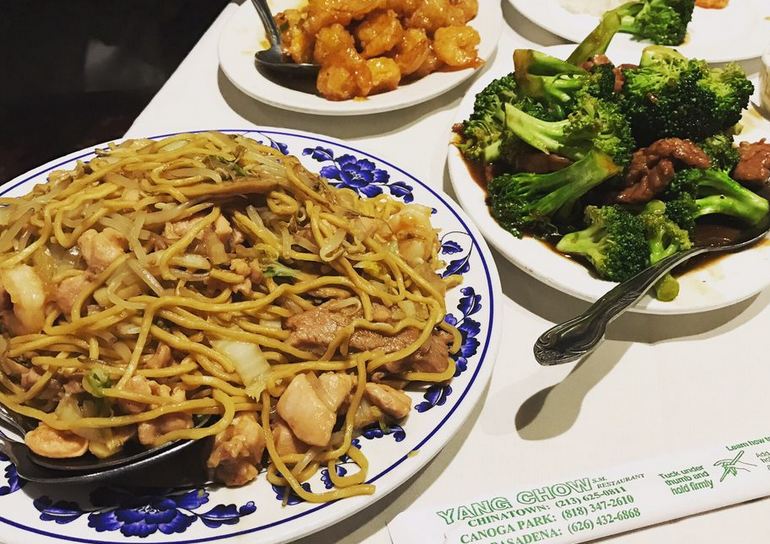 Los Angeles Chinatown Food
If all this exploring makes you hungry, several restaurants serve different types of food, from Cantonese street food to dim sum. One place on your list should be Foo Chow Restaurant on N. Hill Street with its "Rush Hour was shot here" painted onto the outside facade.
While the fare is a standard menu of noodle dishes and fried dishes of pork and chicken, the real reason to go is to check out the stairway that Jackie Chan kicked the bad guys down in the blockbuster film Rush Hour 2. Other restaurants in the area provide a more traditional cuisine, with many having no English on the menu to add to the experience.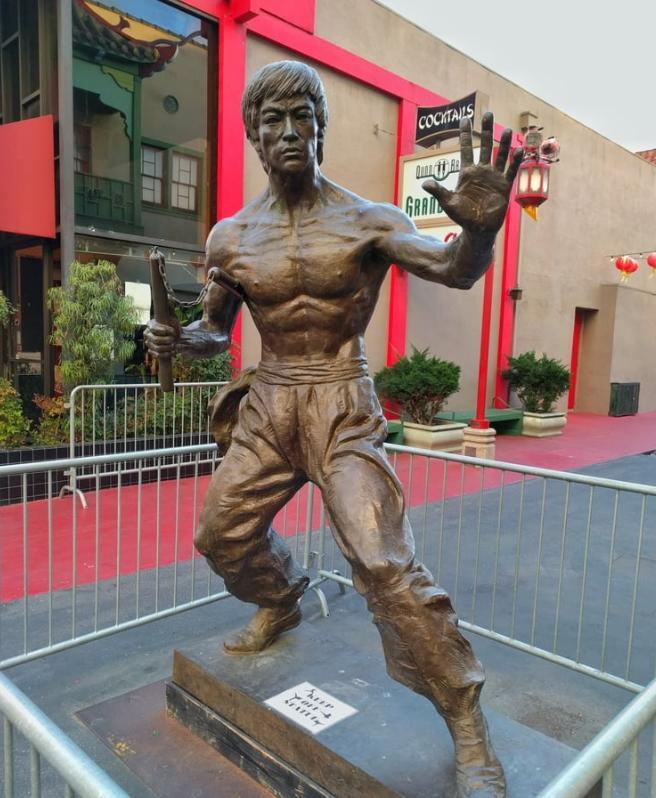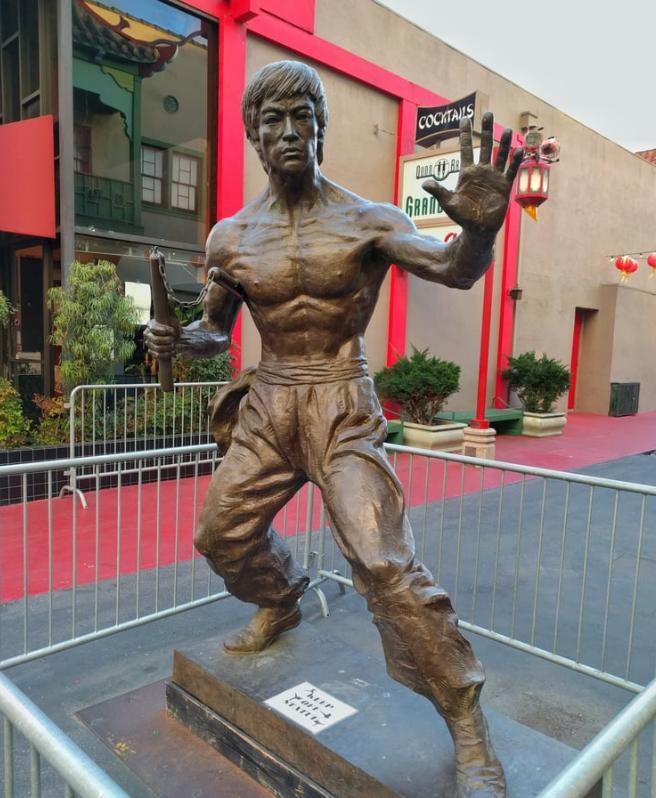 A few other must-sees while visiting Los Angeles Chinatown District are the Bamboo Plaza which contains the famous Empress Pavilion Restaurant, the Chinese Confucius Temple and Chinese School, and the celebrated Phoenix Bakery.
And one last must-see attraction is the giant Superior Poultry Chicken–a landmark in the center of Chinatown for more than 50 years. Getting to Los Angeles' Chinatown is easy.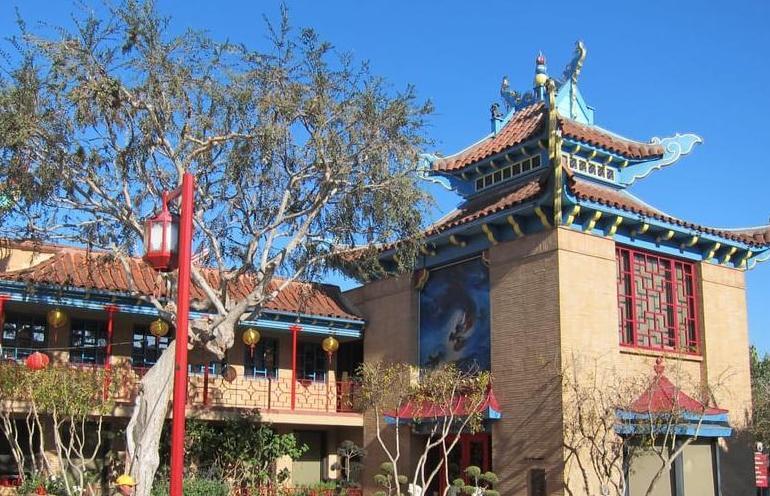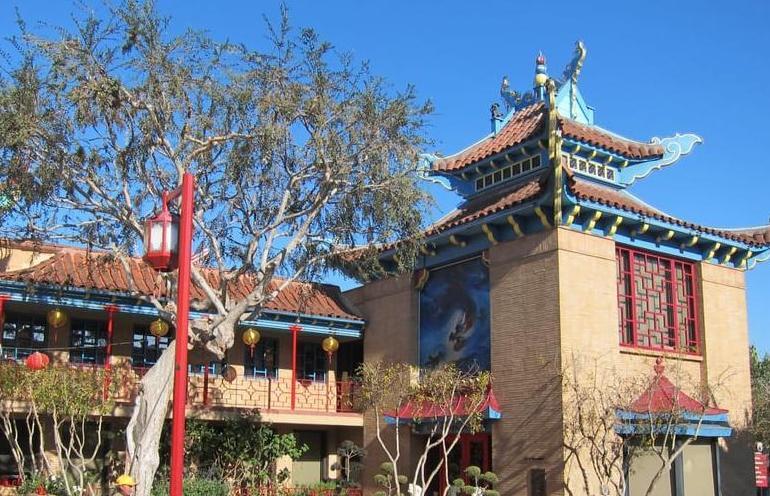 Getting To Los Angeles Chinatown -Parking
If you arrive by automobile, parking is available in several areas for a fair price. Public transportation is also available, as visitors may take the Metro link to Union Station and transfer to Metro Gold Line to get to Chinatown. Old Chinatown Plaza is located at 943 N Broadway, Los Angeles, California.
Next time you are near downtown Los Angeles, be sure to visit Chinatown, even if for just the day. Try an unfamiliar dish at a new restaurant, swap with a vendor, and most of all — have fun.
Nearby Los Angeles Chinatown