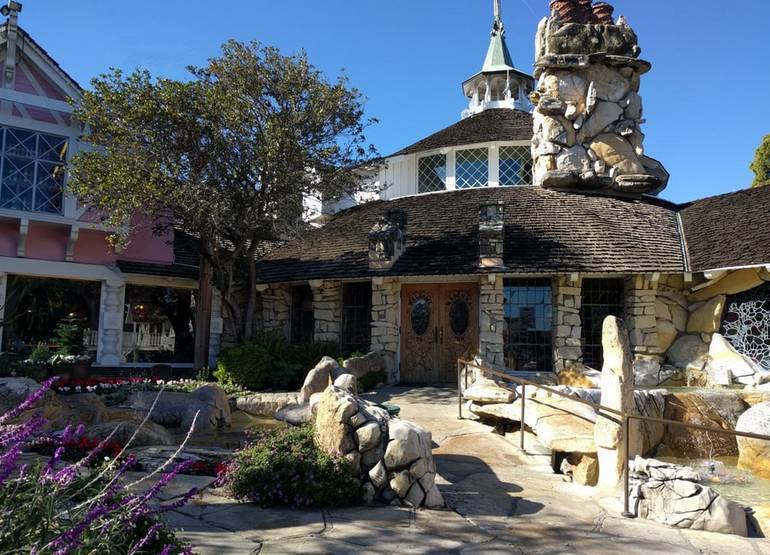 Are you bored with the same old, cookie-cutter hotels? Looking for a unique travel experience? Hoping for a bit of sass, many quirks, and a ton of Instagrammable moments? Look no further than the world-famous Madonna Inn in San Louis Obispo, CA.
Since 1958, the Madonna Inn has been welcoming guests looking to have some serious fun on their vacations. It boasts 110 rooms, each decorated in a unique and fabulously fun way.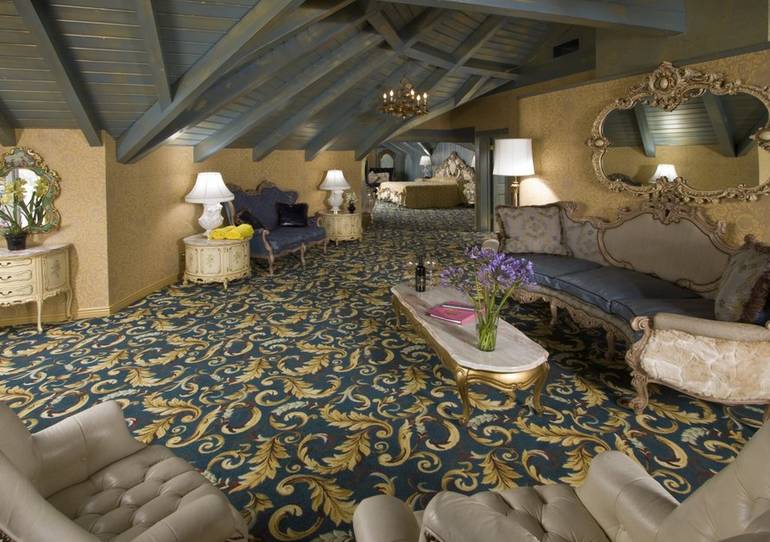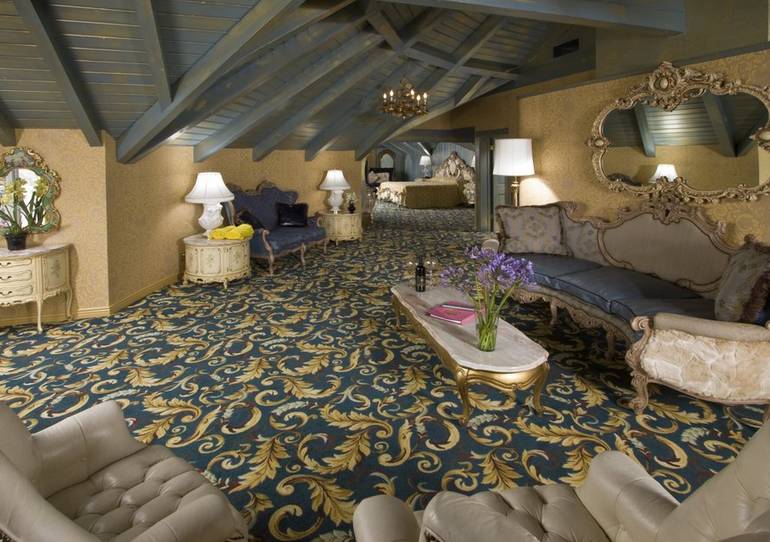 Madonna Inn Rooms
The unique attractions at Madonna Inn are the various themed rooms and suites, like the rock-walled "Cave Man," the plush pink "Love Nest," or the wood-paneled "Golfer's Room" complete with green grass carpet and a cart path to the bathroom.
But the Barbie-Dream-House-like exterior of the Madonna Inn holds so much more than just a series of quirky hotel rooms. Get ready for every sense to be assaulted in the best possible way.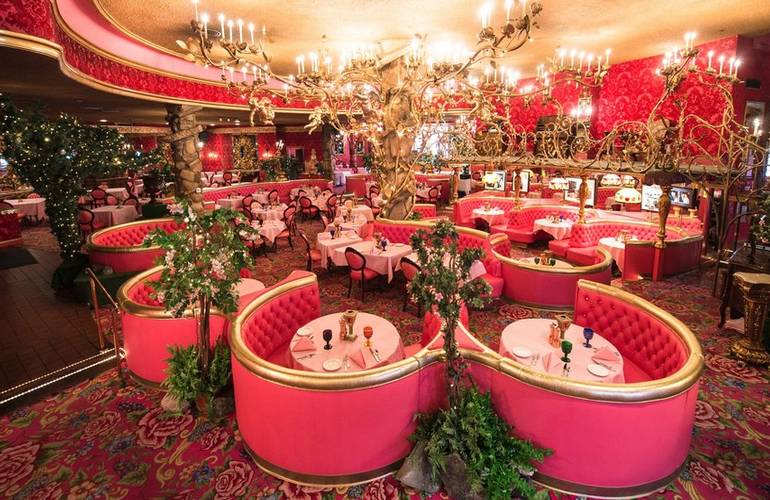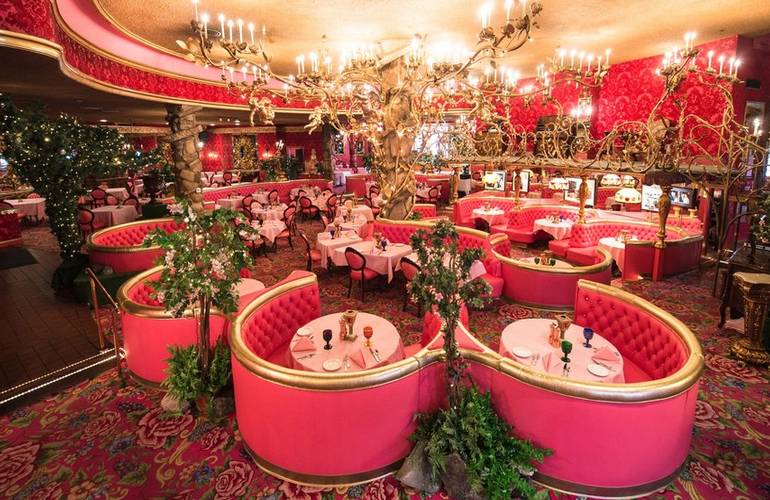 Gold Rush Steakhouse
Madonna Inn is worth a trip to visit the restaurants and bars alone. The hotel's main dining room is Alex's Gold Rush Steakhouse. But don't let the name fool you; there are no western cowboys here. Inside, you'll find a series of circular plush pink booths, ornate gold chandeliers straight out of Disney's "Beauty and the Beast," and tiny fairy lights that twinkle in indoor trees. And the steak isn't bad either! It's always best to make a reservation ahead of time if you want to enjoy an evening here.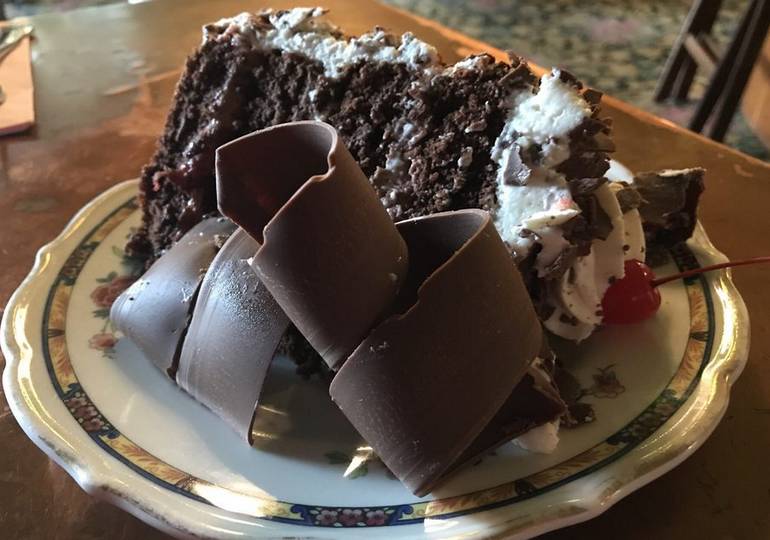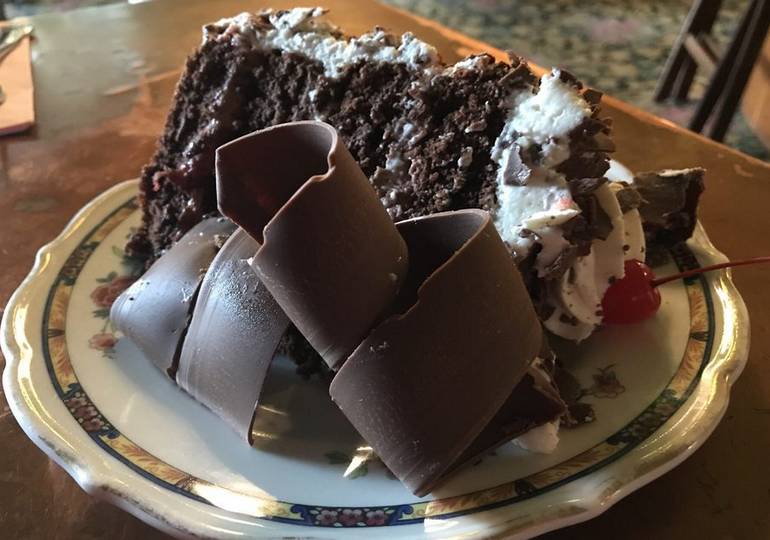 Cooper Café
For more casual fare (though with no less personality!), stop by the Cooper Café for hearty sandwiches and salads at the quaintly painted and carved wooden bar worthy of a Hansel and Gretel fairytale. They also serve excellent baked goods, including the famous Black Forest Cake, and have gluten-free and vegan options for guests with special dietary restrictions.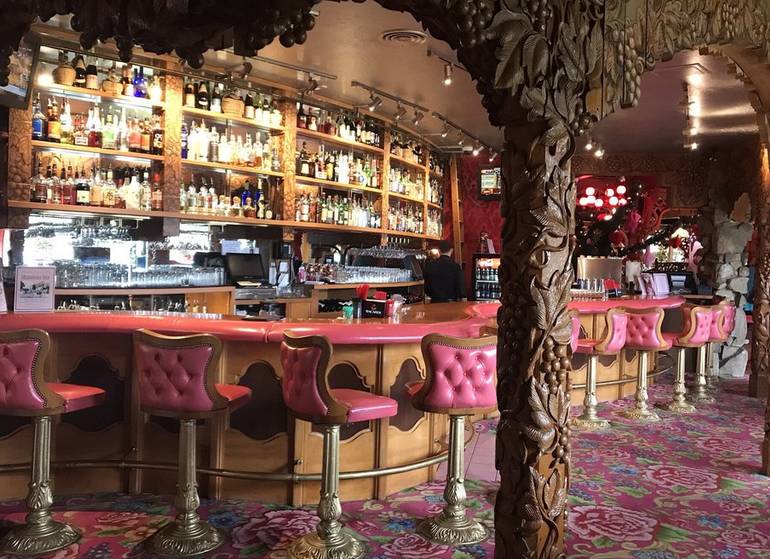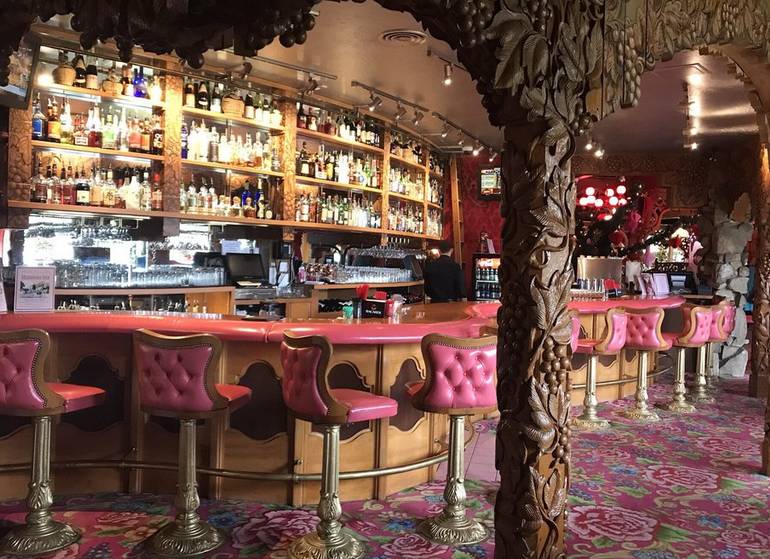 Silver Bar Cocktail Lounge
Pop into the Silver Bar Cocktail Lounge if it's the liquid courage you're looking for. Though, "Hot Pink and Fire Engine Red" Bar Cocktail Lounge would be a more appropriate name. Sip a sweet signature cocktail underneath the carved wooden vineyard that hangs overhead and dance along to upbeat tunes as you snap some seriously awesome pictures. Lastly, if you're a guest at the hotel, you can enjoy the poolside terrace bar with a varied beer, wine, cocktails, snacks, smoothies, and sandwiches.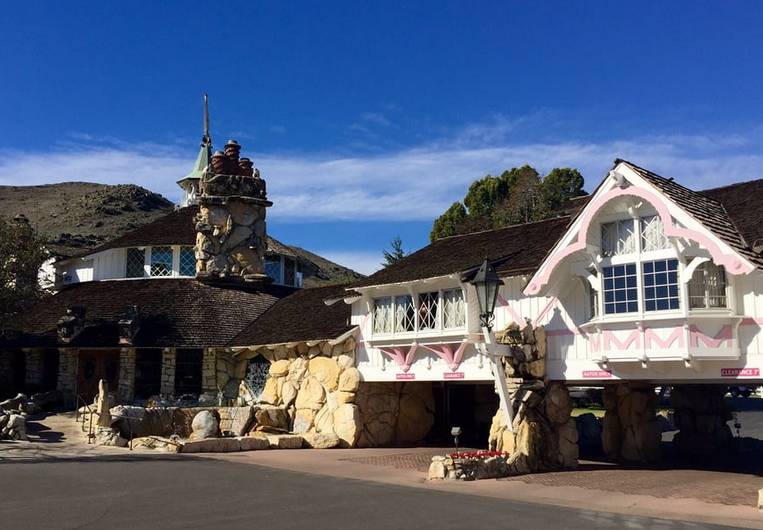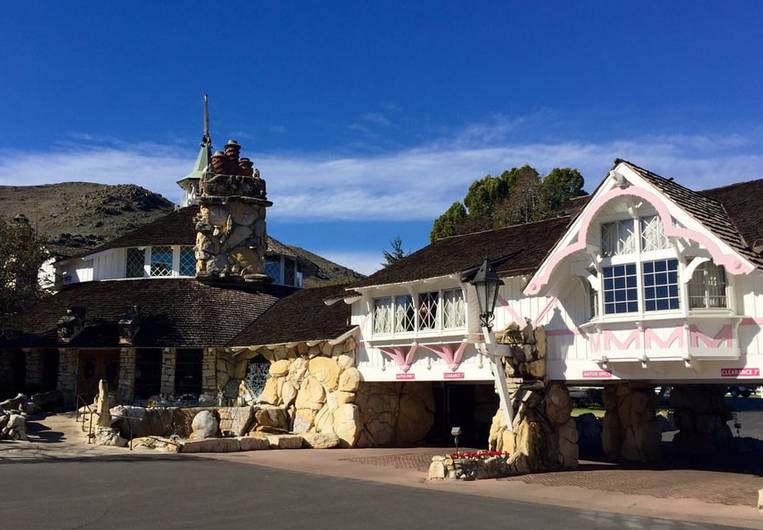 Gifts & Shopping
The Madonna Inn also has some unique and fun shopping options! Their fabulously curated boutique carries fun and trendy options for any occasion. Pop into the hotel gift shop to purchase unique decor finds to commemorate your trip, like a set of colored wine glasses in every shade of the rainbow or hand soap shaped like a pastry. If you're hoping to pack a picnic for later, the Gourmet & Wine shop has everything the hungry traveler could want.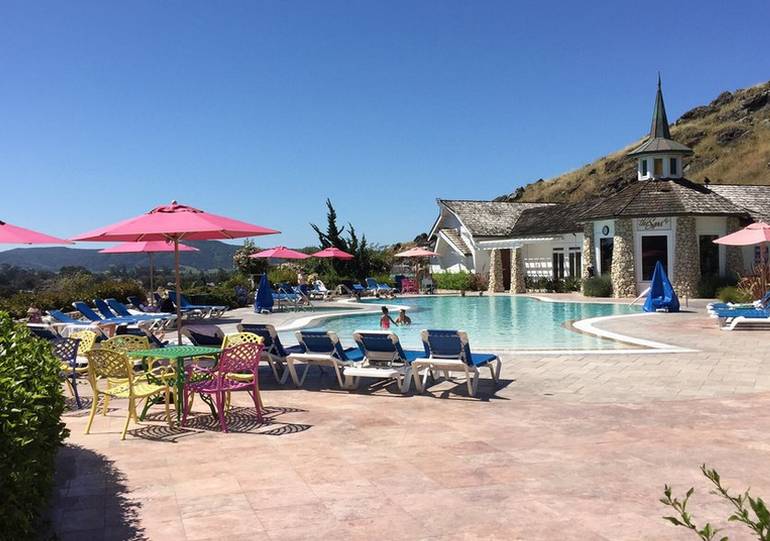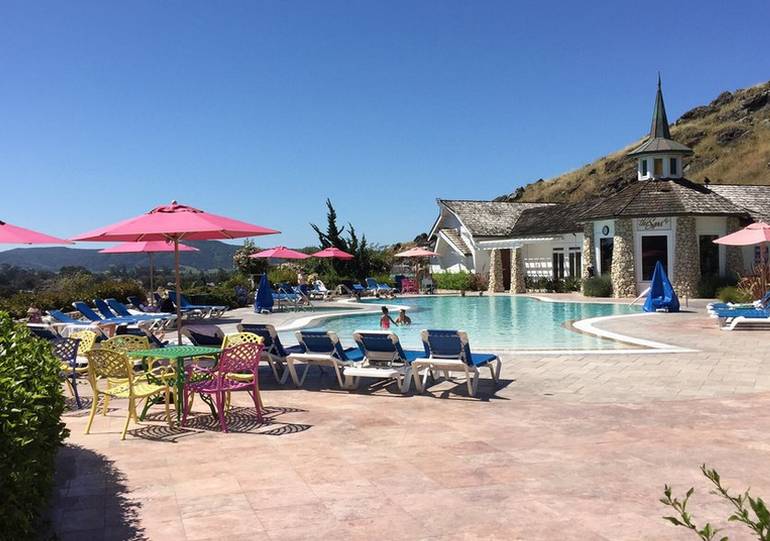 Getting There
When you plan your visit, be sure to check out the extensive calendar of events and the many on-site activities you can take advantage of. (I mean, who hasn't dreamed of playing tennis on a hot pink court?!).
Next time you're in SLO, be sure to stop by and visit the Madonna Inn for a unique, once-in-a-lifetime travel experience you'll never forget! Address: 100 Madonna Rd, San Luis Obispo, CA 93405. Website.