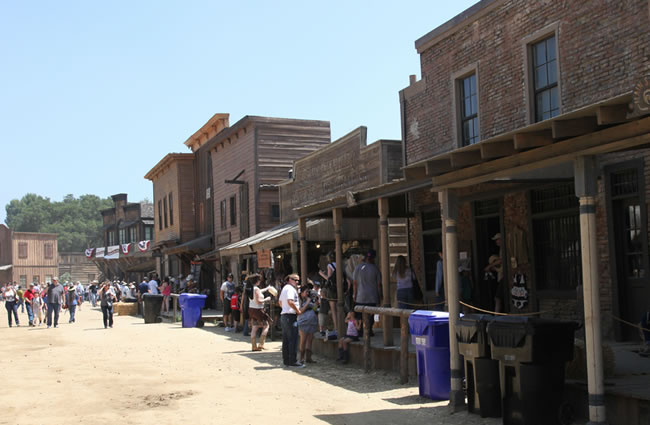 If the Old West has a place in your heart, you need to put a visit to Melody Ranch in the Santa Clarita Valley to the top of your list.
Melody Ranch Studios has a nearly 100-year history in the film industry. It started in 1915 as a location for filming westerns. At that time, it was known as Monogram Movie Ranch.
If you have seen classics like the Lone Ranger, Gun Smoke, Hopalong Cassidy, Annie Oakley or Rin Tin Tin, then you are likely to recognize some of the settings and scenes as those housed at Melody Ranch Studios. In fact, over 750 western were filmed at the ranch between the opening and 1952.
1952 is the year that Gene Autry purchased the ranch and changed the name to Melody Ranch, after his movie with the same name. Gene Autry was known as The Singing Cowboy and had a film career that spanned three decades.
A fire ravaged the Melody Ranch in the 1960's, which destroyed the western main street set. Autry kept the property, but it was mainly used as a retirement pasture for his favorite horse, Champion. When the horse died, Autry sold the remaining part of Melody Ranch to the Veluzat brothers.
The Veluzat brother restored the western main street sets that were burned in the 1960s, which brought the studio back to life and ready for more filmmaking.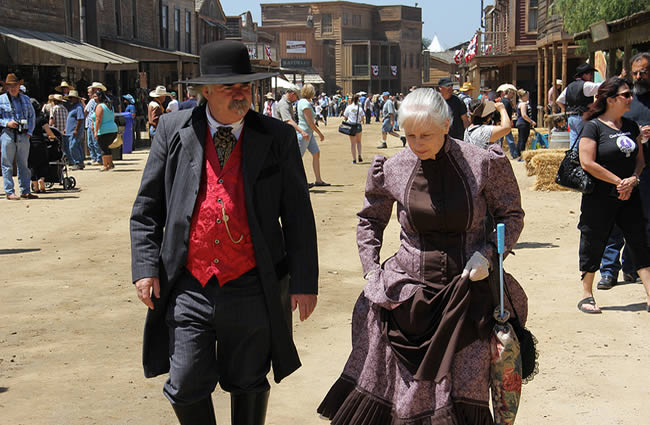 Productions filmed at Melody Ranch include Deadwood, Tall Tails, Last Man Standing and the Magnificent Seven.
In addition to being a working movie set, Melody Ranch has a museum. The museum opened in 2001 and is chock full of one-of-a-kind movie memorabilia spanning 90 years of filmmaking. You can see props from shows such as M*A*S*H, Rambo, Bonanza, Dirty Harry and Deadwood, just to name a few.
Visitors to Melody Ranch can take a tour and also visit the museum. Spread over the 22-acre movie lot, the museum lets you experience movie settings like the old west, military camps and gangster settings from the 1930's.
Museum visits, which include a tour of the old west streets is, can be arranged by calling 661-259-9669. All tours and museum visits are by appointment only, so make sure you plan ahead if you plan to visit. No drop-in visitors are permitted.
Getting There: Melody Ranch is located in Newhall near Santa Clarita. From Highway 5, take Antelope Valley freeway exit. Proceed approximately three miles to Placerita Canyon Road and turn left. Proceed another mile and you will arrive at the studio gate (Oakcreek Avenue).
What to Take: Wear comfortable walking shoes. In the warmer summer months, bring a sun hat, sunscreen, and water. It can get warm in the Santa Clarita area.
In the Area: Melody Ranch is located near Magic Mountain and can help round out a nice weekend getaway for the family. Lodging is available in Santa Clarita and Valencia and there are plenty of family-friendly dining options in those two cities.
If you want to enjoy something on the natural side, include a visit to Placerita Canyon Nature Center as part of your visit to the Newhall area. Family nature walks and live animal presentations are available on most Saturdays, as well as monthly bird walks and flower walks.