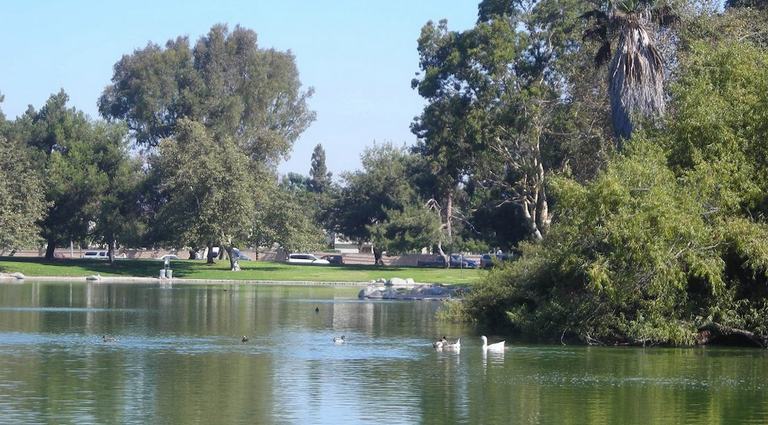 Mile Square Park in Fountain Valley is a 640-acre urban oasis. Mile Square Park has three golf courses, tennis courts, soccer fields, baseball & softball diamonds, an archery range, and a wilderness area. There is also two fishing lakes and concession-operated bike and paddle boat operations.
Mile Square is a favorite for runners and casual bike riders with a paved path going all the way around the outside making a nice loop. If you are not up to a four-mile run there are numerous paths that through the park that let you take a shorter route.
Golfers have a choice of three regulation golf courses: The David L Baker course is an 18-hole, par-62 mid-length course with six lakes. David L Baker is night lighted and includes a 30-stall driving range.
Mile Square Park Golf Course features two 18 hole courses and a modern clubhouse. The driving range is open to 10 pm each evening and has 40 stalls.
In the center of the park near David Baker course is a nature area that is open to the public. The area features Southern California native plants including coastal sage scrub, chaparral, and grasslands.
Mile Square park also has a nature center and it is defiantly worth a look. however, suffers from having too many trails? With fewer trails and more plants, the nature center would rival the Fullerton Arboretum.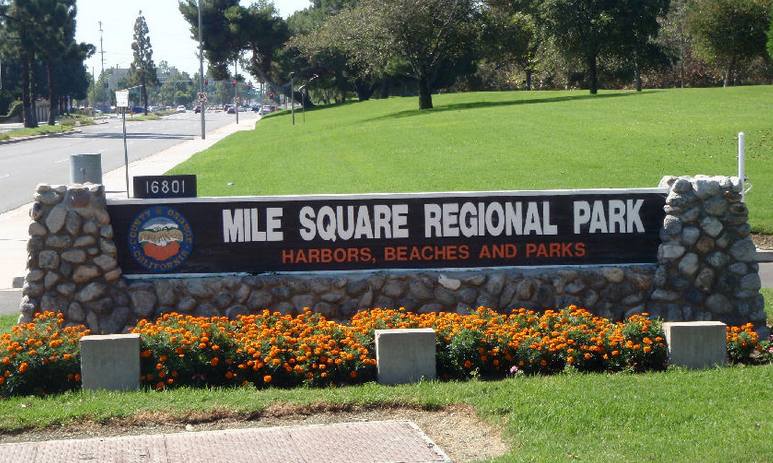 The park was once agricultural land planted with sugar beets, beans, barley, and wheat. In1942 the Navy bought the 640-acre plot and used mile square as an auxiliary landing field.
The triangle landing runways in the center of the park were finally dug up in 1987 when the executive golf course was built. The first 85 acres section of the park to open to the public was in 1970
The center of Mile Square Park continued to be used by the navy until 1974 when all operations ceased. Since then Mile Square has been completed developed except for a 20-acre wilderness area near the center. The Boot Camp scenes from 1997 film Starship Troopers were filmed at Mile Square Park on the old airstrip.
During the morning hours, runners take advantage of the four-mile loop for their workouts. Later on, in the day families arrive with picnic lunches and bicycles. Fishing is available at both lakes and during the winter the lakes are stocked with small size trout.
The Pacific ocean is just a few miles away and there is usually a cool breeze even on the hottest days. Mile Square Park has activities for everyone.
Mile Square Regional Park is a great place to walk your dog, go for a run, take a bike ride, play tennis, go golfing, or sit under a tree and do nothing. There is plenty of free street parking along with paid parking inside the park.
Mile Square can get crowded on holiday weekends and it's best to arrive early to secure a shady picnic area. Mile Square Regional Park is located at 16801 Euclid Fountain Valley, CA 92708.