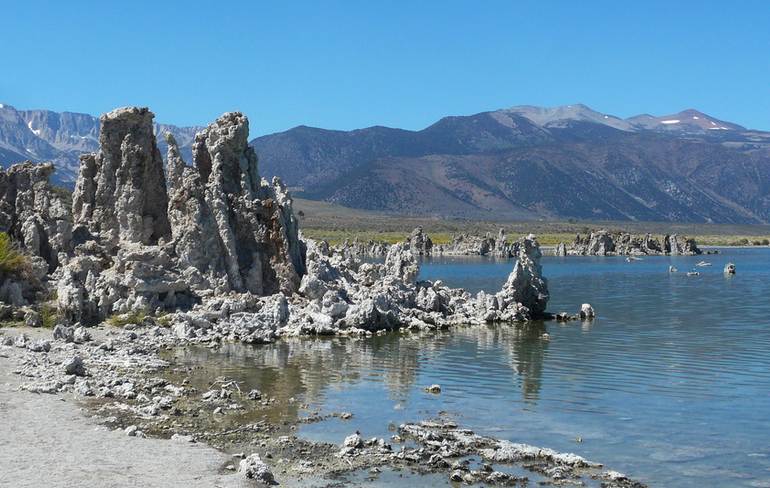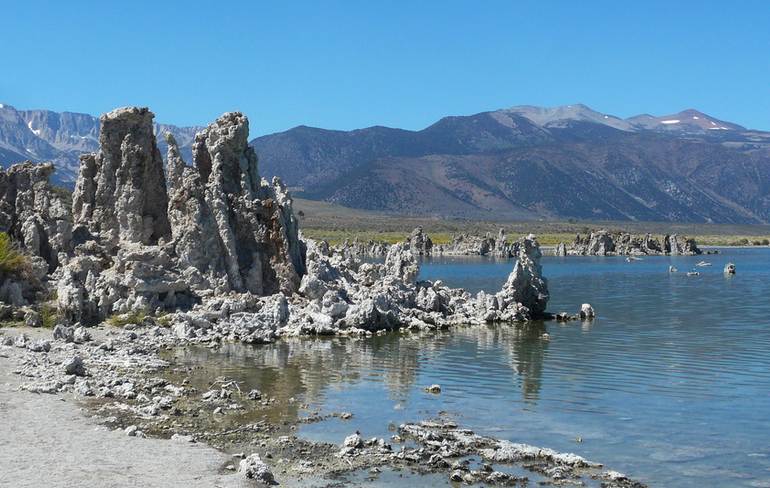 Mono Lake is a saltwater oasis of the Great Basin located just 13 miles from Yosemite National Park in California's Eastern Sierra. Although it has suffered for decades at the hands of humans diverting water from its tributaries, the lake still supports an ecosystem that includes brine shrimp and millions of birds.
Aside from its ecological importance, this 70 square miles lake is stunningly beautiful.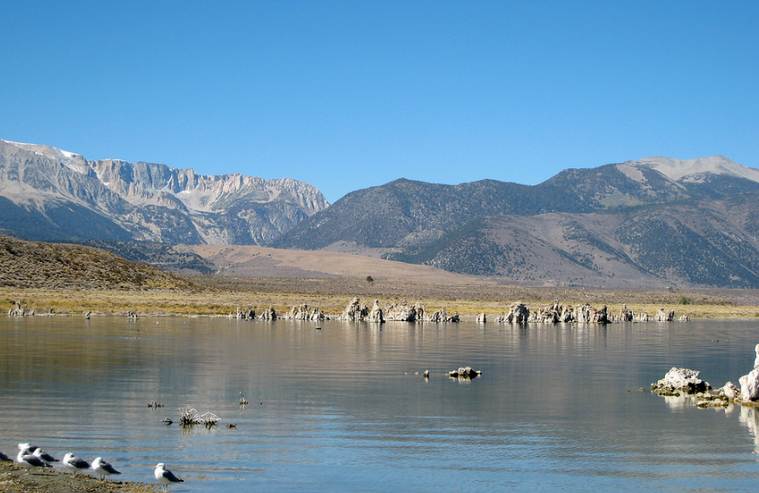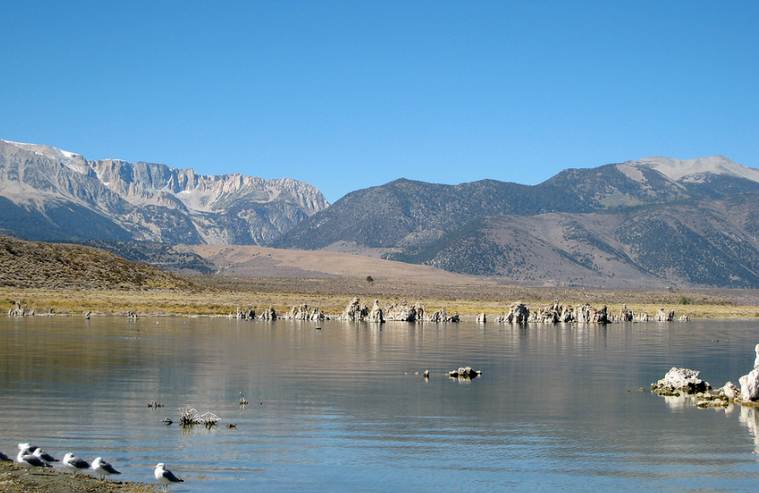 The Mono Lake Tufa State Reserve and Mono Basin National Forest Scenic Area surrounding the lake are also natural wonderlands where the entire family can go boating, swimming, hiking, and biking.
Visitors come across the globe to admire the Sierra Nevada reflected in its still waters, the image is broken only by the tufas and small islands rising hauntingly from the lake's surface.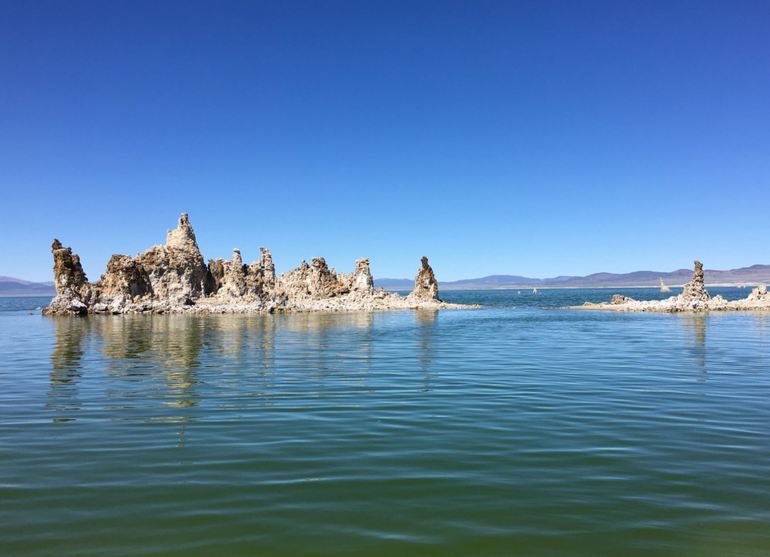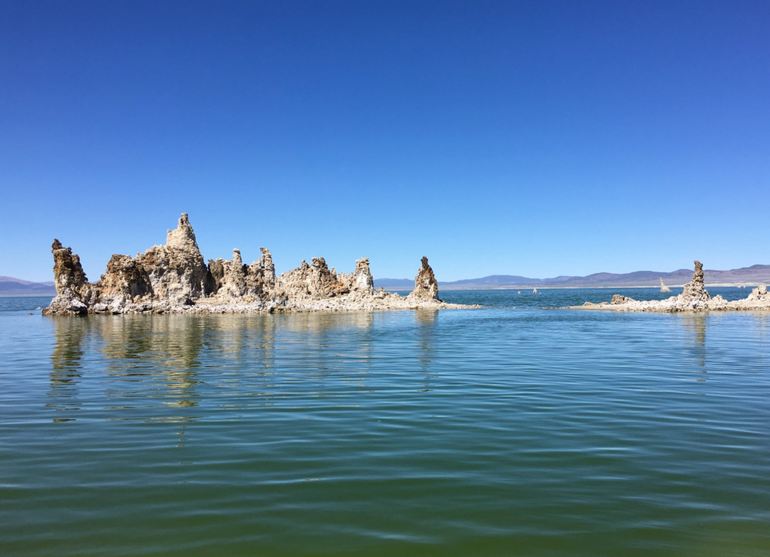 Mono Lake History
Formed over one million years ago, the lake is one of North America's oldest lakes. Since it was formed, the lake has supported a unique ecosystem that includes algae, brine shrimp and millions of migratory and nesting birds.
The first humans to come in contact with Mono Lake were from the Native American tribe of Northern Paiutes called the Kutzadika'a, who foraged the lake for alkali fly larvae. However, it wasn't until the Los Angeles Department of Water and Power diverted the lake's tributary streams in 1941 that Mono Lake was negatively affected by humans.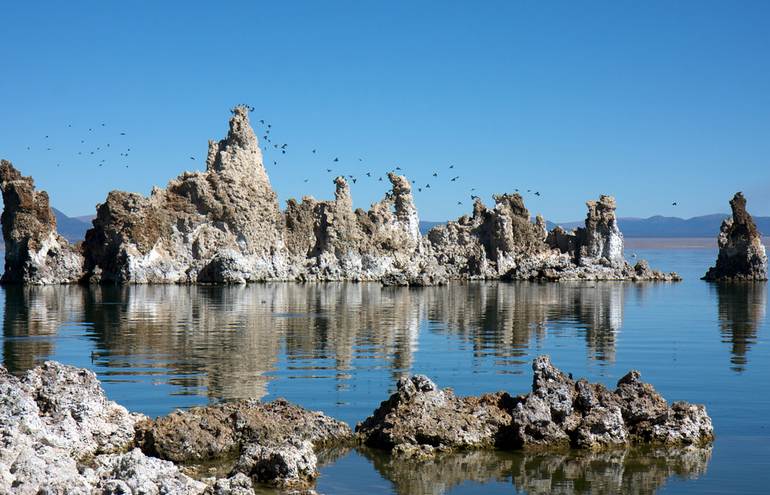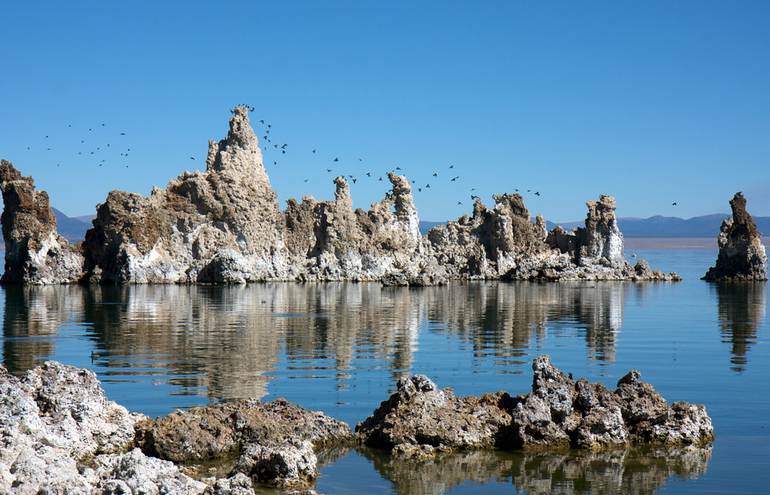 By 1990, the lake had lost half of its volume, dropped 45 feet in depth and doubled in salinity as a result of the water diversion. Since 1978, however, the Mono Lake Committee has fought to save the lake. As a result of the committee's efforts, the lake's water level has risen to 6,383.56 feet – just a few feet to go until it is at a healthy level again.
Saving the lake from extinction not only saves an entire ecosystem, but it also preserves one of California's most dazzling destinations. People come from all over the world to capture Mono Lake on film. It's a uniquely stunning beauty and easy accessibility makes it a perfect destination for professional and amateur photographers alike.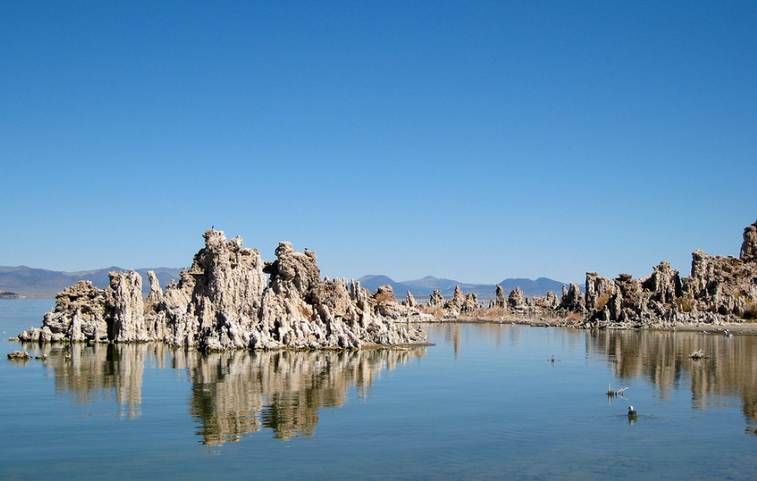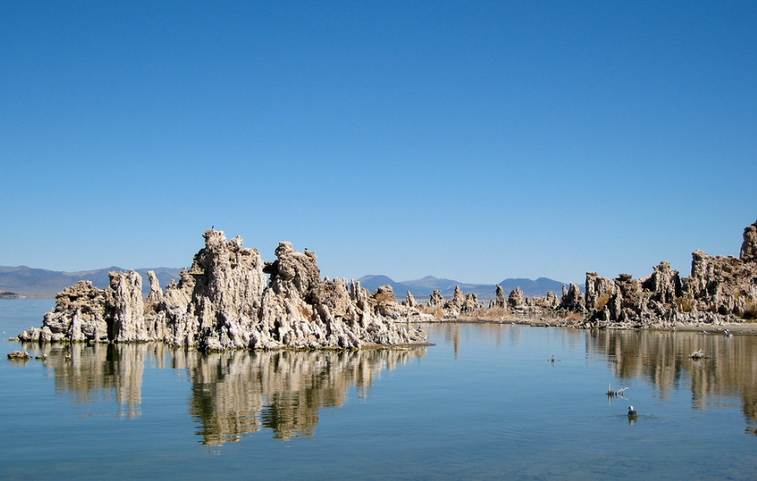 Boating Mono Lake
For those who would rather become a part of Mono Lake's scenery instead of observing it through a lens, there are plenty of opportunities to glide across the lake's glassy surface on a canoe or kayak. Adventurous and seasoned boaters are free to bring their own small vessel or rent one but should plan to be off of the water by noon when high winds can become dangerous.
Boat tours led by experienced guides are available during the summer. These tours allow visitors to experience Mono Lake's beauty from a unique perspective and provide information about conservation efforts and the lake's history.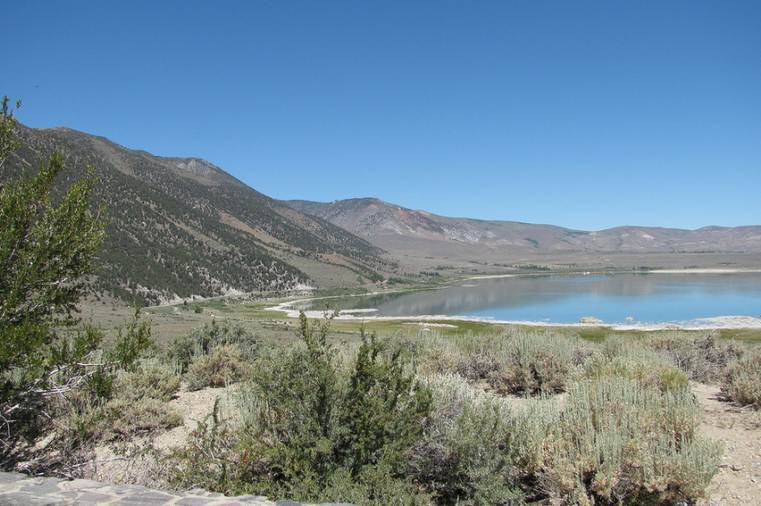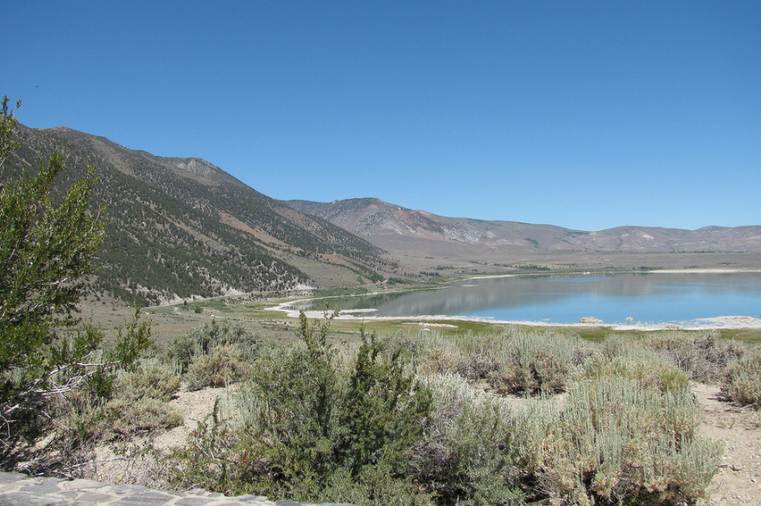 The Mono Basin Scenic Area Visitor Center is another great place to learn about the lake's natural and human history. Its variety of exhibits and knowledgeable staff provide information that is sure to enrich any visit to Mono Lake. The visitor center staff can also help plan the best activities for a visit of any length.
Hiking Trails
Although there are a wide variety of longer and more strenuous hiking and biking trails in the Mono Basin, there are plenty of small and less challenging trails along Mono Lake that allow visitors many opportunities to enjoy its beauty.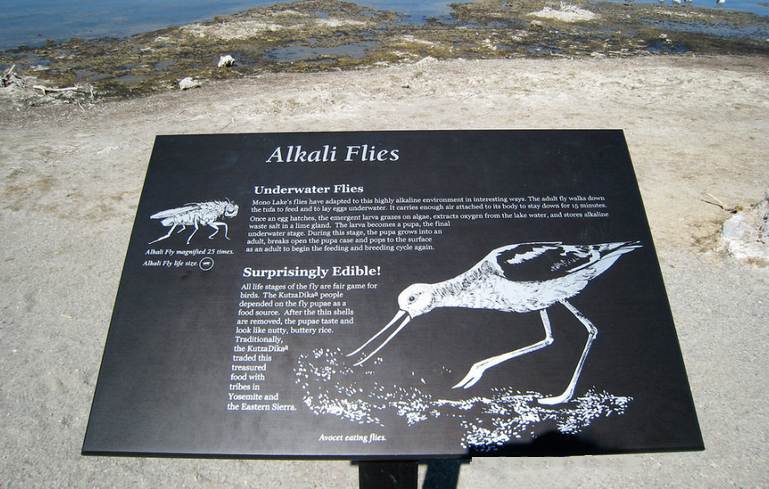 The popular one-mile South Tufa Trail, in particular, takes hikers along the shore to view the area's landlocked tufas and those that rise majestically from Mono Lake's waters.
Visitors have the option of looping back to the parking lot right away or continuing down to Navy Beach, home to Mono Lake's best swimming area.
A dip in the lake is not something to be missed because the water's high salinity makes it extremely buoyant. Visitors will find it delightfully easy to float on top of the lake's surface while admiring their stunning surroundings.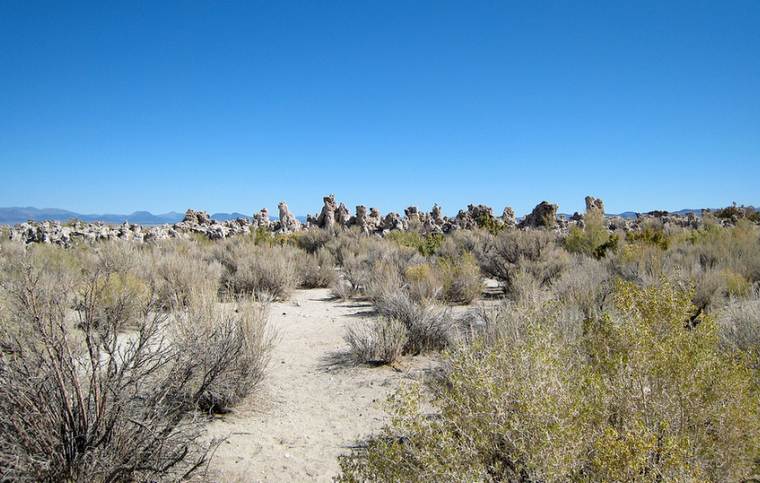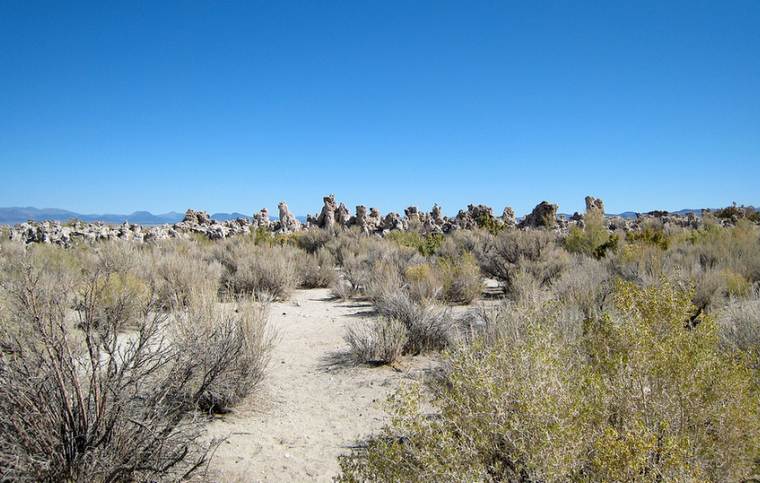 Although it is always fun to explore the lake independently, most visitors find tour offerings – ranging from bird walks to sunset tours to conservationist talks – highly rewarding. Most are free and last from one and a half to two hours.
Weekend field seminars are another way to get to know Mono Lake. These in-depth classes led by expert instructors provide instruction on everything from photography to hydrology.
Getting There
Mono Lake is located 13 miles east of Yosemite National Park on Highway 395 near a town called Lee Vining. From Los Angeles, take I-15 N or Hwy 14 to Hwy 395 towards Lee Vining and Bishop.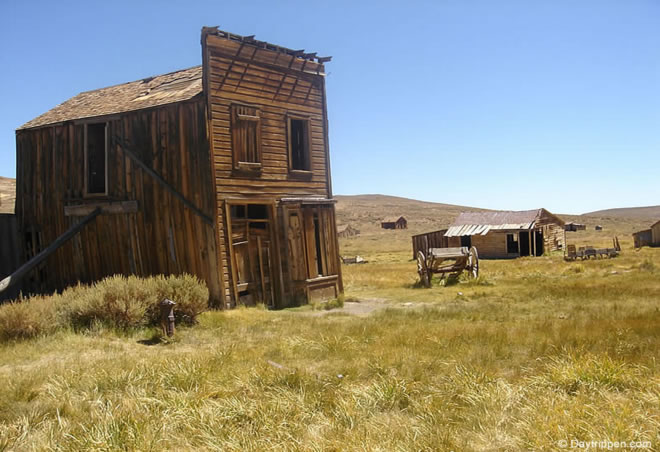 Many visitors to Mono Lake also take a trip to Bodie Ghost Town. If you are staying in Mammoth Lakes these two amazing destinations make a great day trip.