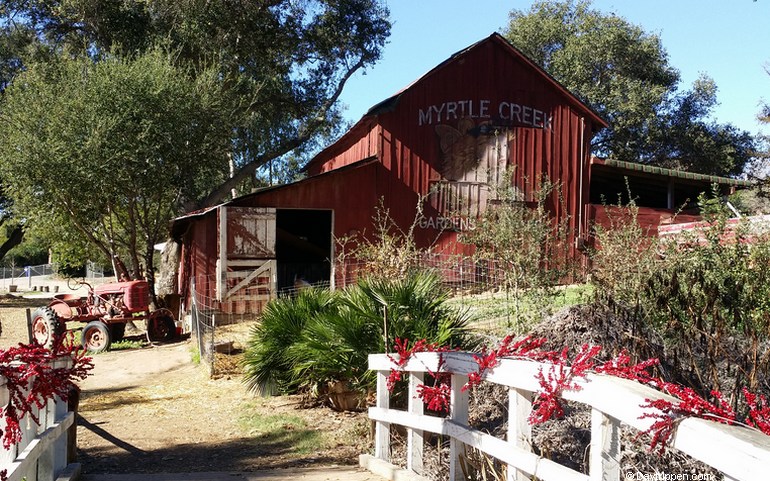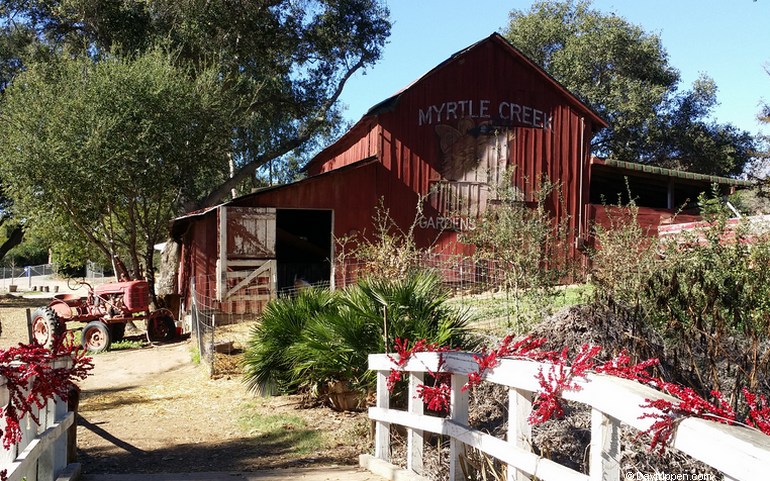 Myrtle Creek has closed after 40 years in business.
You'll find charming Myrtle Creek Botanical Gardens in Fallbrook, not all that far down the road from San Diego. But once you arrive, Myrtle Creek will make you feel like you are a million miles away from the hustle and bustle of that California metropolis.
Myrtle Creek Botanical Gardens makes for a fantastic getaway for a girls day out, a romantic picnic in the park, or a fun-filled day trip for the whole family to enjoy. Located just off Highway I-15, it's an easy and pleasant drive out to the gardens. Once there, lose yourself in over 30 acres of flowers, shrubbery, farm, and fields.
Do you like what you see, but you're not sure what it's called? No problem. There are horticultural experts on hand to answer any questions visitors have. They can even advise you on some top picks at their nursery that you can add to enhance your own green spaces.
There are over 10,000 plant species growing here, and the majority are perfectly suited to the local climate and terrain. Check the Myrtle Creek website as seminars and special events are frequently arranged. Learn more about growing citrus trees and other fruit in your garden, or get up to speed on "vertical gardening" techniques.
Plan Your Day Myrtle Creek Botanical Gardens
There are gourmet food tastings, live music events, and the opportunity to register for short courses on creating your own wreaths, holiday decorations, or even a miniature fairy garden.
Two recent additions to Myrtle Creek are the Wild Bird Sanctuary and the Butterfly Garden. Be sure not to miss either.
Myrtle Creek Botanical Gardens History
There is a ton of history in these hills as well. 30 years ago the Sherman family founded the nursery, but there are buildings on the site that date back to 1895. The Fallbrook Landmark Barn is perhaps the most impressive of the structures to be found in Myrtle Creek.
The old livestock barn was hand-crafted with round timbers and square nails. The rich red color of the barn came from the mixture of linseed oil and rust from old farm tools that the settlers used as a paint and preservative on wooden structures.
A magnificent mural adorns the side of the barn. An angel meant to be looking protectively down over the property and the people who call Myrtle Creek home.
Another historic building worth a visit is the Landmark Farm House that now houses a gift shop. Browse the unique home and garden decorations, many of which were hand-crafted by local artisans. Myrtle Creek also has an online store and can deliver plants from their nursery to your backyard.
Cafe Bloom Myrtle Creek Botanical Gardens
Try not to blow your entire excursion budget in the gift shop! You will by now have worked up an appetite. And Cafe Bloom has plenty of delicious, homemade treats to keep your hunger at bay.
The organic kitchen at the cafe prides itself on its "Farm to Table" philosophy. Forget the "100 Mile Diet". At Cafe Bloom, most of what you find on your plate will have been grown on the land surrounding the patio where you're seated.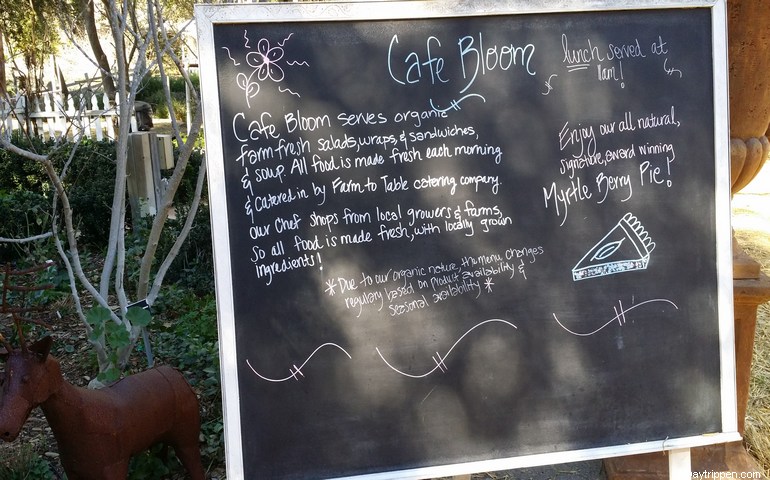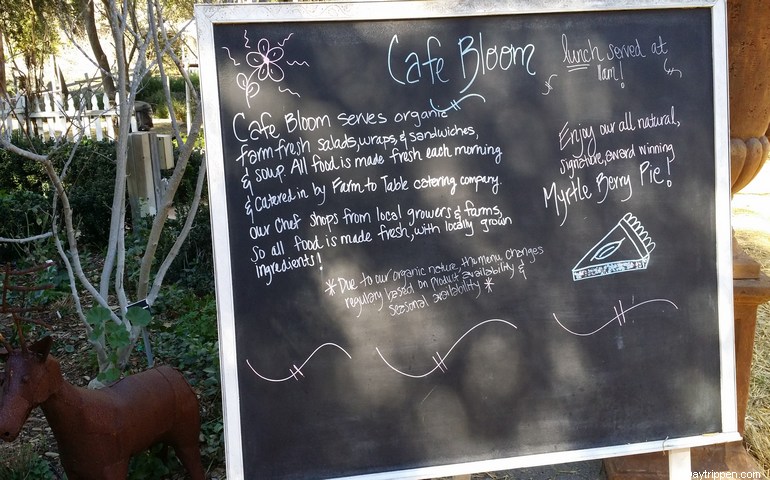 Another alternative is to have the cafe pack a picnic lunch (and blanket) for you and your party. Wander the woods until you find the perfect place to park yourself. Enjoy scratch-made soups, sandwiches, and wraps.
Be certain to save room for dessert. Cafe Bloom's Myrtle Berry Pie is legendary and for good reason. Enjoy a slice stuffed with sweet, rich, purple berry filling that's topped off with flaky, light pastry. It's a Sherman Family recipe, and it tastes even better with a tall jar of homemade lemonade. A perfect combination of citrus and sweetness.
Myrtle Creek Botanical Gardens pie and lemonade are reason enough to visit,  never mind the spectacular surroundings!
Walk off your lunch, and head over to make friends with the four-legged inhabitants at the farm. A gang of goats can be found bleating and eating, and entertaining both visitors and staff at the farm. Take care not to get too close, they have been known to attempt a "love bite" every now and again.
Where is Myrtle Creek Botanical Gardens
The Myrtle Creek Botanical Gardens and Nursery are open from 9 am to 5 pm seven days a week. They have an excellent website with comprehensive directions, and information on upcoming events and live concerts. Myrtle Creek Botanical Gardens 2940 Reche Road Fallbrook, CA 92028. website.