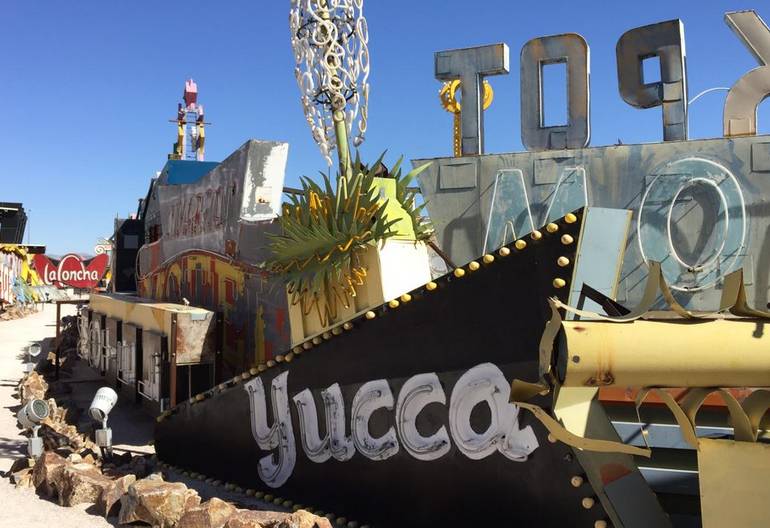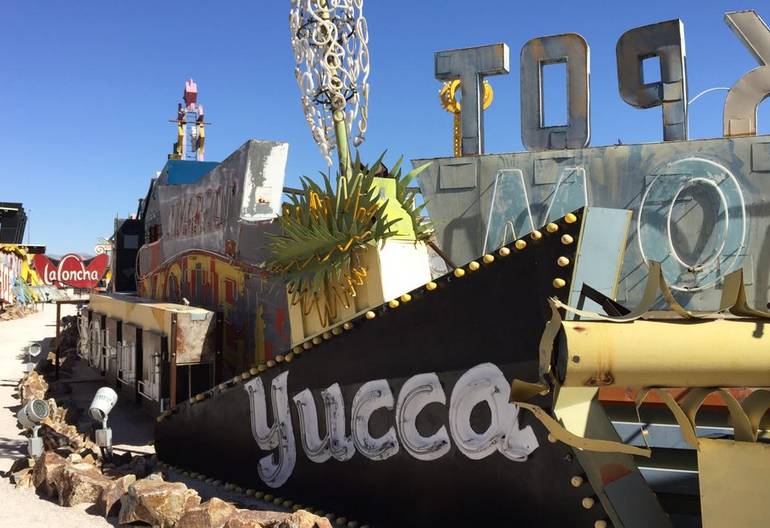 No road trip would be complete without a stop at a roadside attraction. Our list includes Nevada Roadside attractions you may never see again but will be happy you stopped to check them out. Be sure to add this page to your favorites we will be adding more places. Feel free to make suggestions for this list in the comment section below.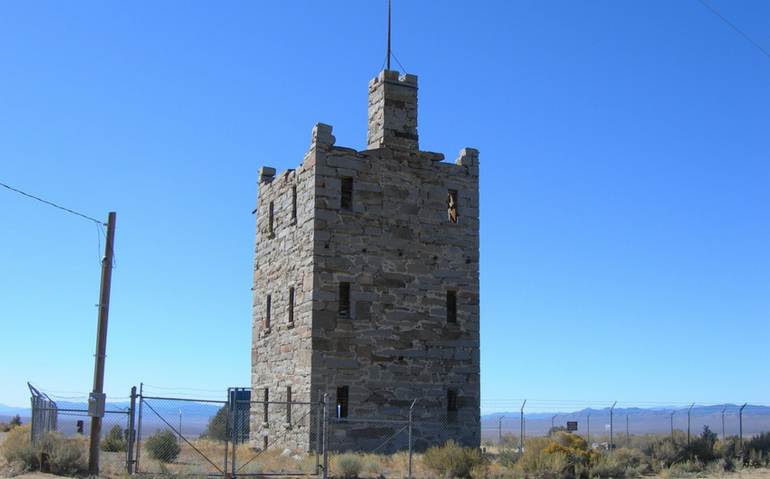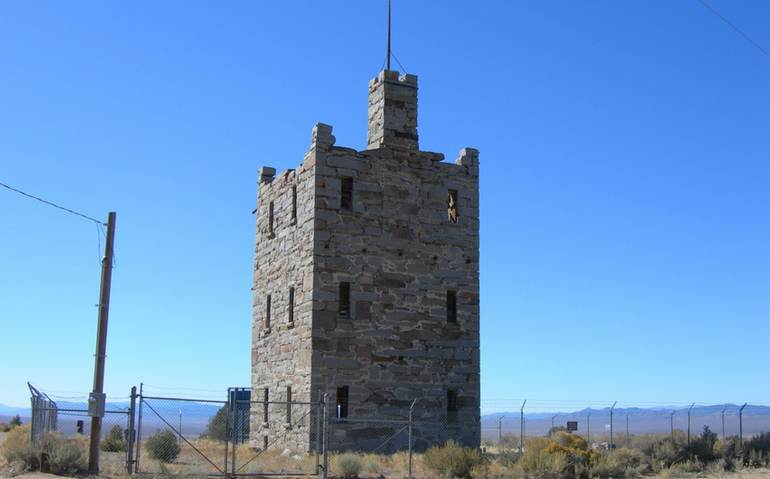 Built as a summer retreat in 1897 by mining baron Anson Phelps the castle was only used for a few weeks before being abandoned. Originally the stone tower had three floors. Today the inside has totally collapsed. Listed on the National Register of Historic Places Stocks summer house is well worth a look. The Castle overlooks the town of Austin along US Highway 50 the loneliest road in America.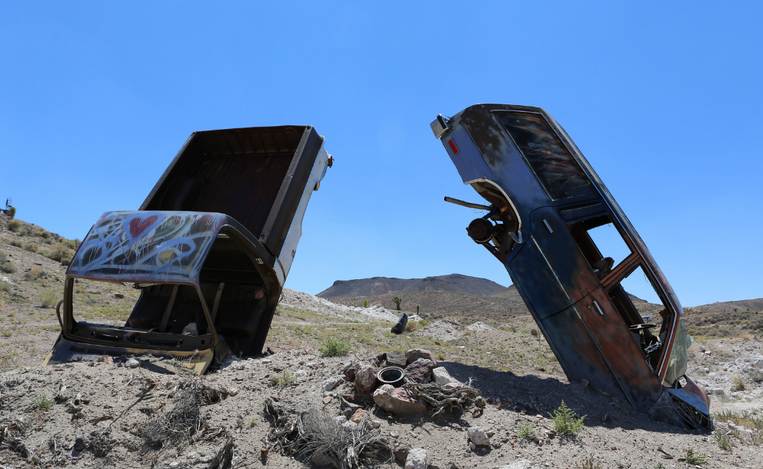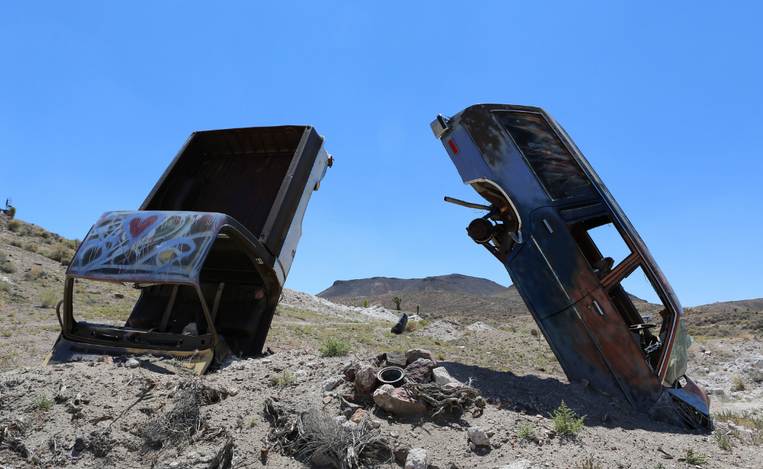 A collection of about 40 vehicles planted into the desert floor at different angles. Each car, bus, or van is covered in graffiti art. The Junk Car Forest is a great to take photos and wander around. The International Car Forest of the Last Church is located just outside of the town of Goldfield along Nevada Highway 95. Nearby Goldfield has some interesting historic buildings including the 1906 Goldfield High School, Esmeralda County Courthouse, and the Goldfield Hotel.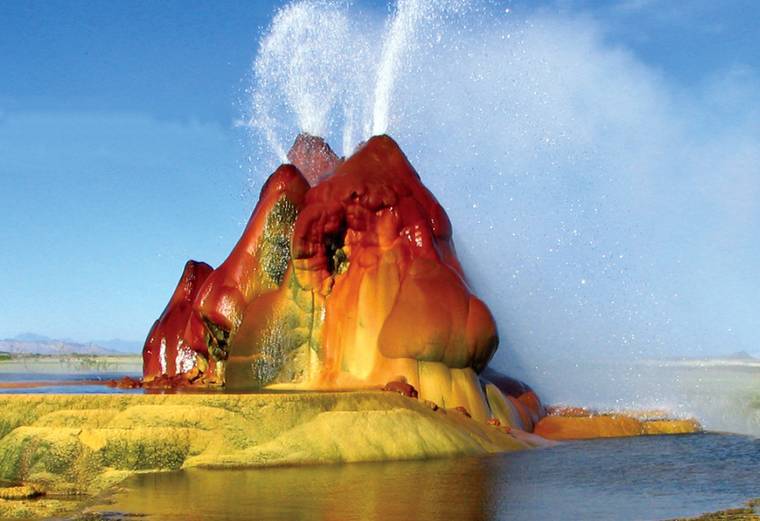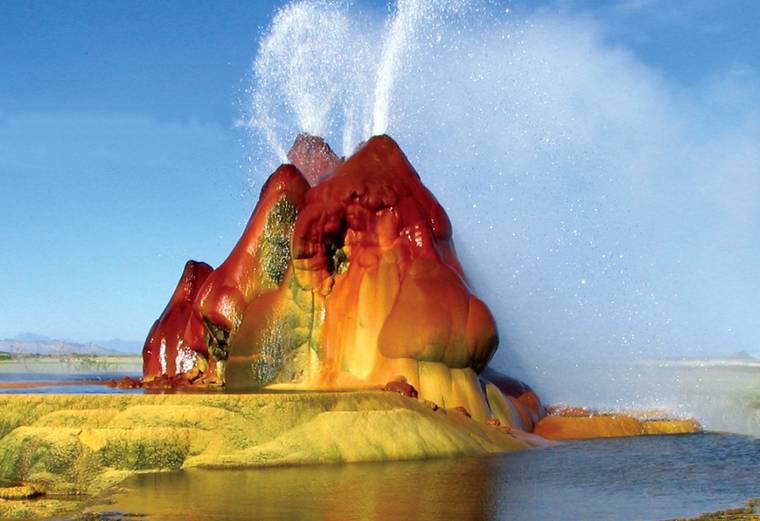 Fly Geyser Black Rock Desert
Fly Geyser is a human-created natural wonder in northwestern Nevada. The geyser was created when a hole was being drilled for a geothermal project in 1964. Minerals have accumulated around the base of the unplugged drill hole creating a colorful mound surrounded by pools. In 2016 The Burning Man Project purchased the Fly where the geyser is located and plan on providing access to the geyser for donations. Location 20 miles north of Gerlach Nevada along with County Rd 34. You can just barely see the geyser from the road.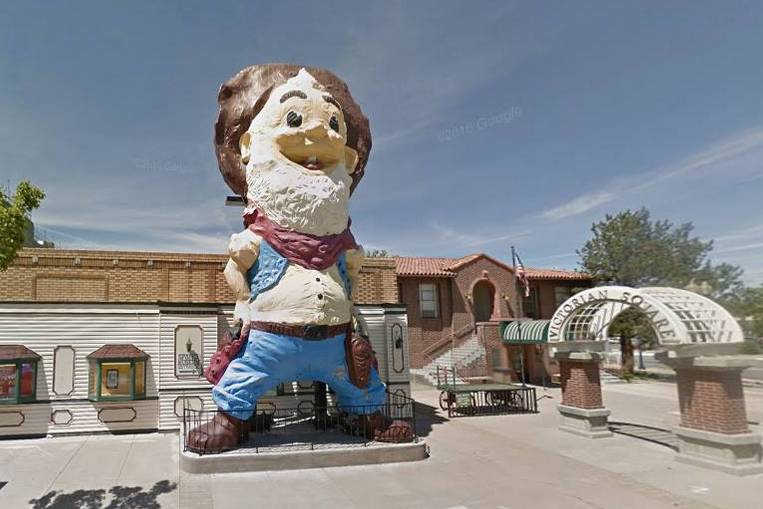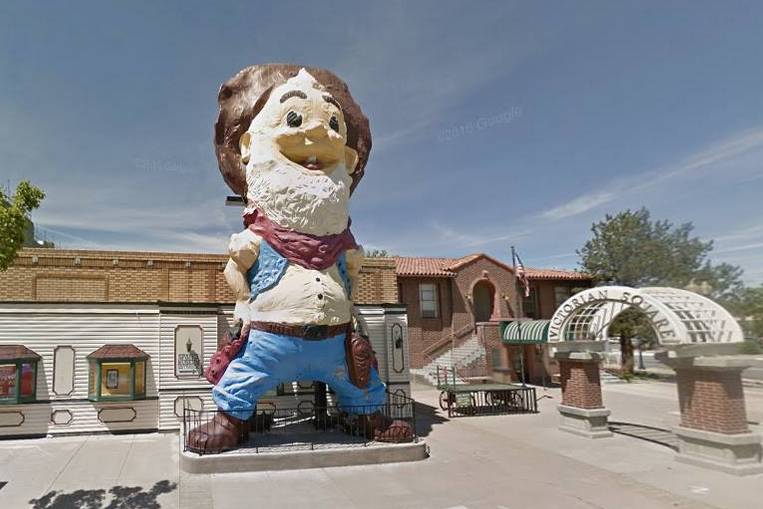 Last Chance Joe Sparks Nevada
Last Chance Joe stood guard at Sparks Nugget hotel for 56 years. When the Ascuaga family sold the Nugget in 2013 everyone thought that Jow had run out of chances when the 35-foot statue was set to be demolished. Lucky for Joe the public stepped in and collected enough funds to move Joe to the Sparks Heritage Museum on Victorian Avenue where he still stands today. Address: 814 Victorian Ave, Sparks, NV 89431. website.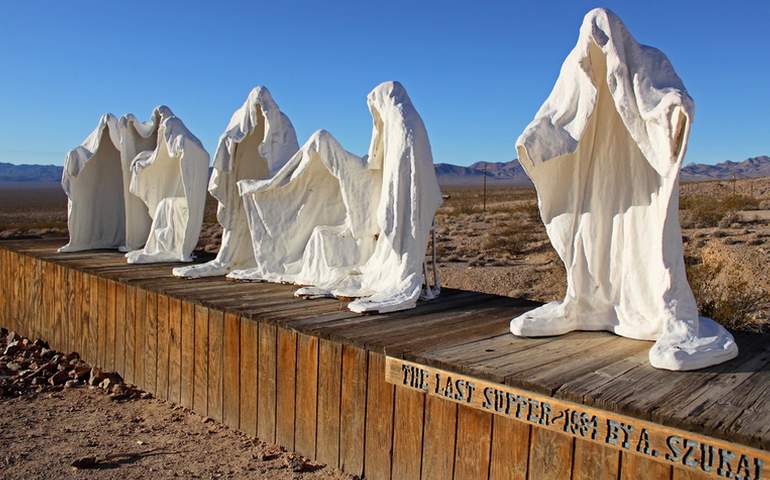 Goldwell Open Air Museum features unique art near the ghost town of Rhyolite, Nevada. Visitors can see Lady Desert The Venus, Tribute to Shorty Harris, Ghost Rider, and The Last Supper. there is also a mosaic couch, a miniature town, and a large rock labyrinth. Admission is free and the site is open 24 hours. Location 120 miles northwest of Las Vegas along State Route 374. 4 miles west of Beatty Nevada.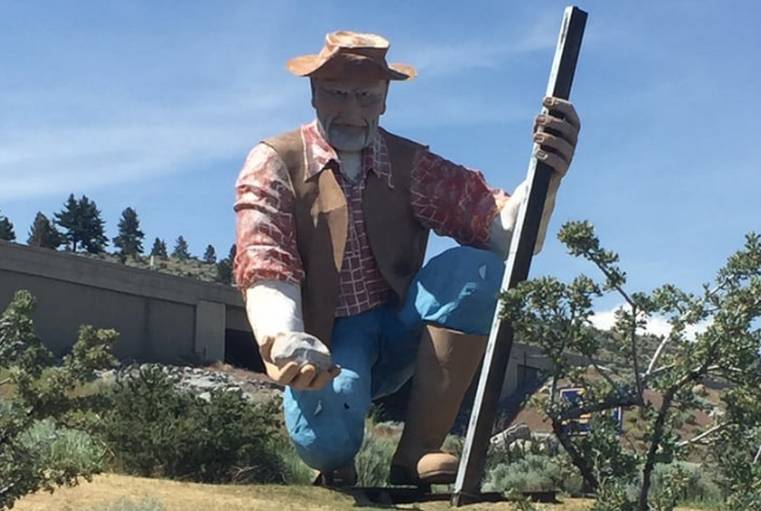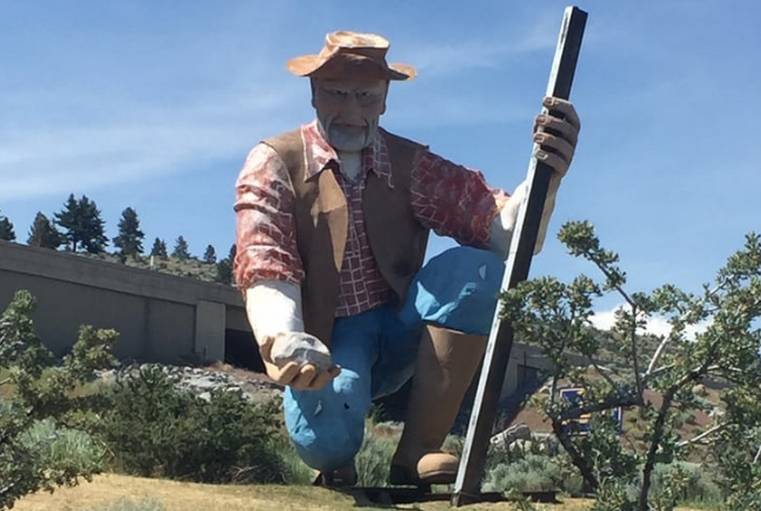 Chocolate Nugget Factory Old Prospector
Located halfway between Carson City and Reno along Old Highway 395 is an iconic Nevada Roadside attraction called the Chocolate Nugget Candy Factory. For three generations the Saltzwimmer family has been selling the finest homemade chocolates, gifts, and souvenirs at the same location. The old prospector sitting on the hill behind the store helps attract business since many travelers now use Interstate 580 now instead of Highway 395. Address: 611 US-395, New Washoe City, NV 89704. Website.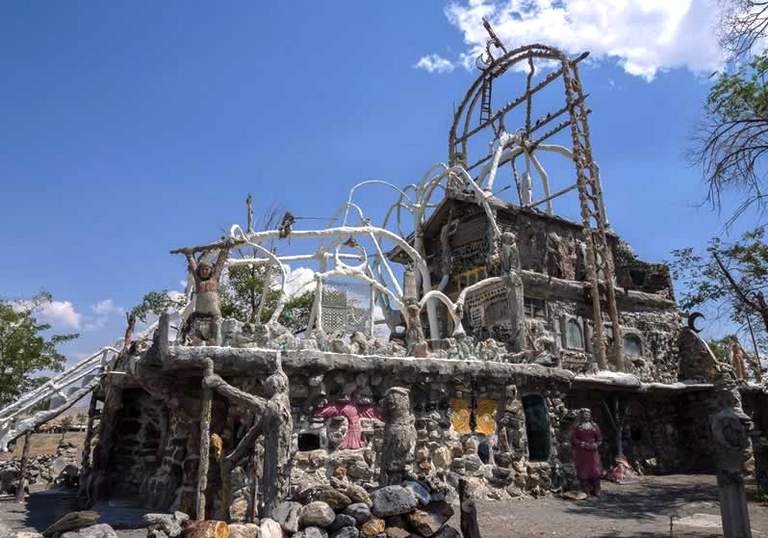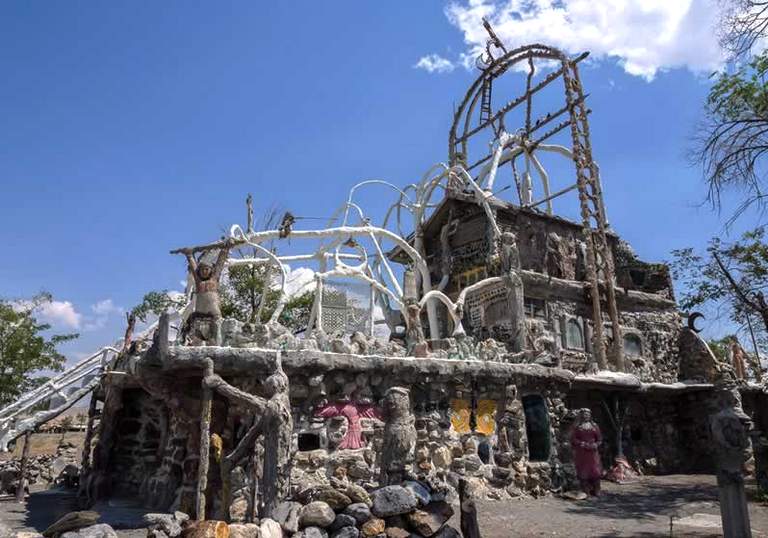 Thunder Mountain Monument is located adjacent to Interstate 80 about 130 miles east of Reno, Nevada. This roadside oddity was assembled from just about every object you can imagine including old tires, sinks, typewriters, and pieces of cars. From a distance, Thunder Mountain looks like a pile of junk but as you get closer you will see its real uniqueness.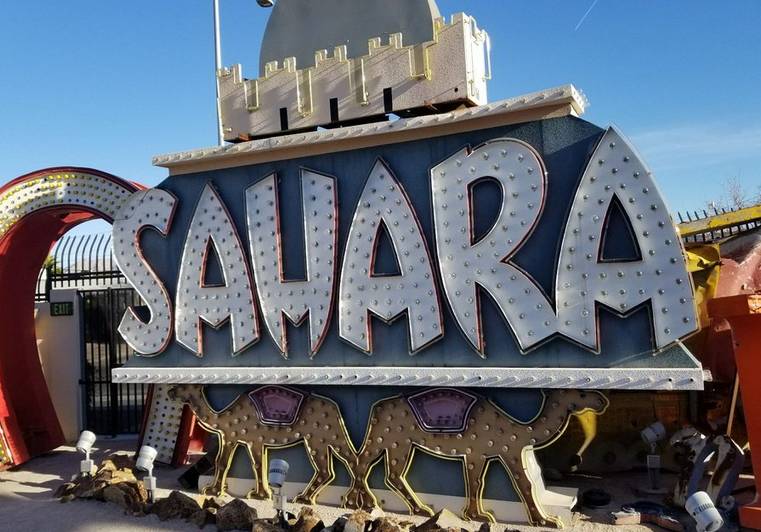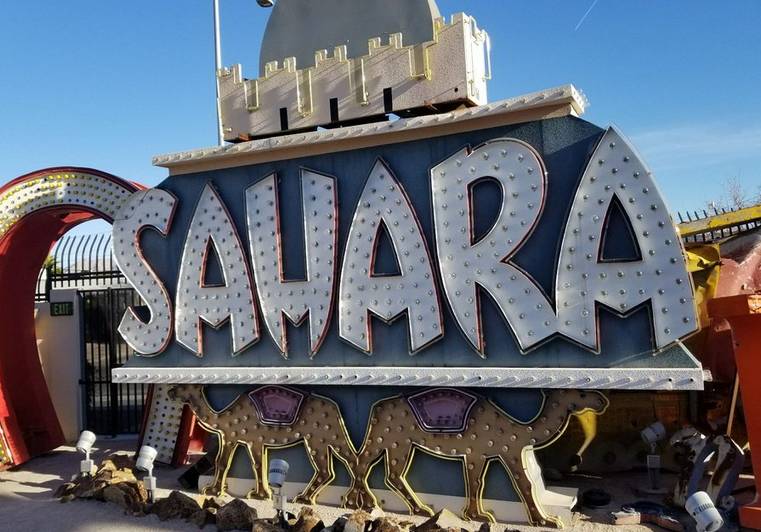 Neon Museum Las Vegas
Las Vegas is the ultimate Nevada roadside attraction. Visitors to the Boneyard can view a collection of a six-acre collection of vintage signs from old casinos, fiberglass sculptures, and signs from long-gone business sand around Las Vegas. If you're short on time but want to see some of the sparkle and glitter from old Las Vegas then a trip to the Neon Museum is a must-do. Address: 770 N Las Vegas Blvd, Las Vegas, NV 89101. Website.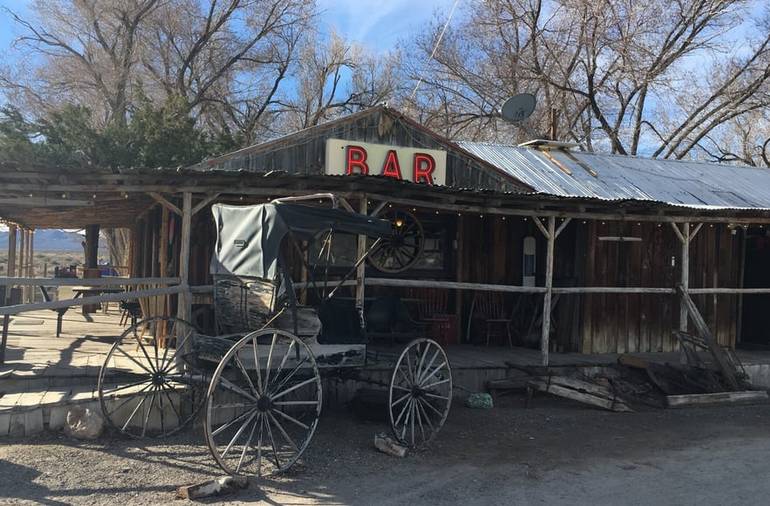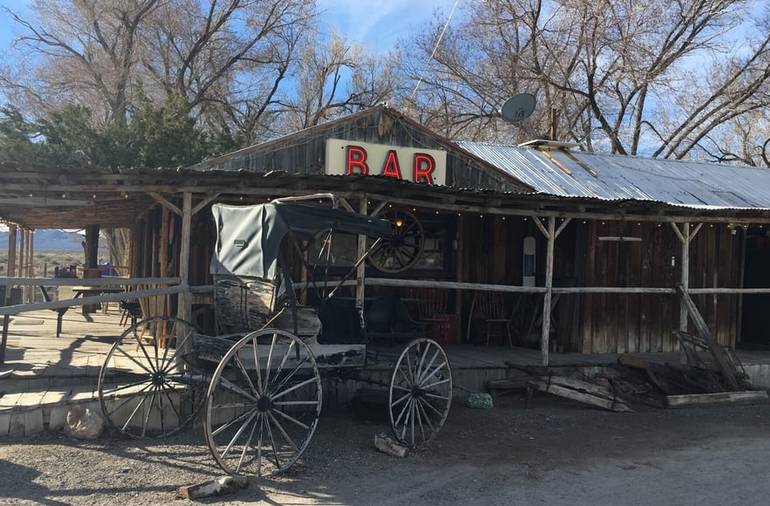 Middlegate Station Historic Roadhouse
Located in the middle of nowhere this onetime stagecoach and pony express station is well worth a stop when traveling along the Loneliest Highway in America. These days Middle Gate's claim to fame is the Monster Burger challenge. If you are able to finish the burger you will get a free t-shirt. Inside and out there historic artifacts and pictures decorating the place. Address 42500 Austin Hwy, Fallon, NV 89406.
Closed but not forgotten. Bonnie Springs Ranch is another stage stop turned roadside attraction. Located a few miles outside of Las Vegas in Red Rock Canyon the ranch was a stopover point for wagon trains heading to California on the Old Spanish Trail to California. Today the ranch closed but still deserves a listing on Nevada Roadside Attractions.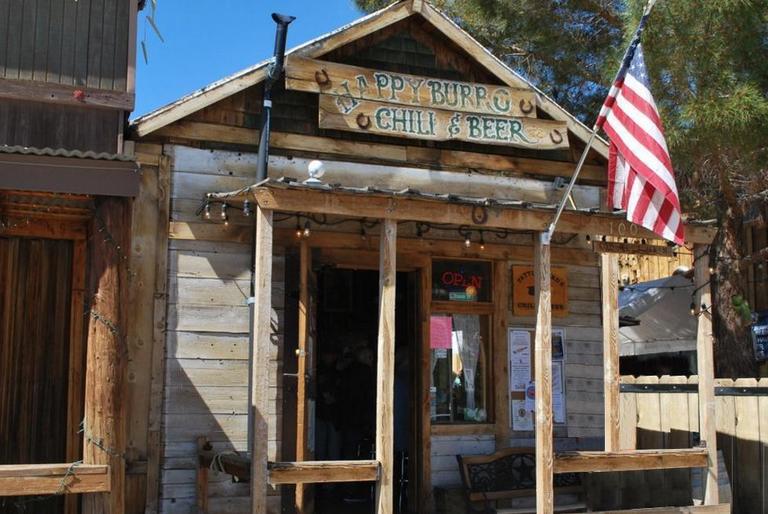 Happy Burro Chili and Beer Beatty Nevada
The Happy Burro is a small watering hole on the way to Death Valley. Located in one of Beatty's original buildings that used to be the assay office. This small bar serves up cold beer and hot chili, burgers, and hot dogs. To learn more about Beatty Nevada and the surrounding area we suggest you stop at the Beatty Museum.