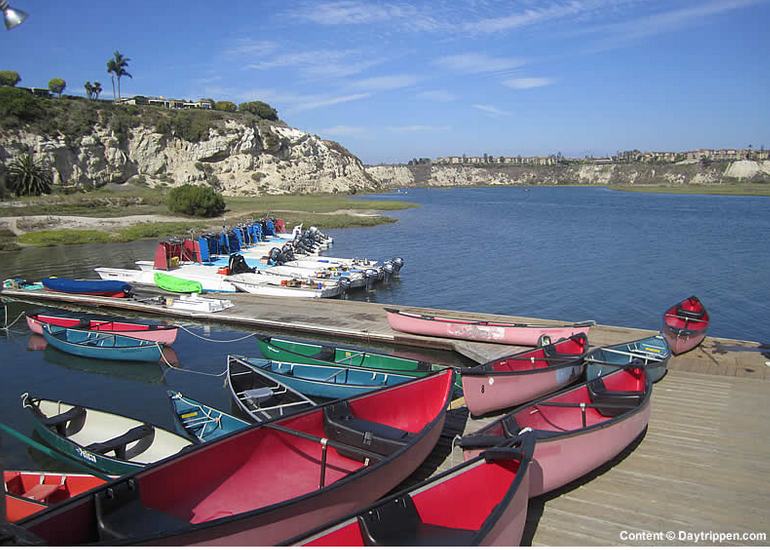 Newport Aquatic Center is located at the entrance to the Newport Bay Nature Preserve and Ecological Reserve which spans over one thousand acres of marshlands. The aquatic center is an 18,000-foot facility with meeting rooms, weight training facilities, locker rooms and storage areas for and kayaks and canoes.
Visitors to the Newport Aquatic Center can rent one or two person kayaks by the hour. Children must be at least 8 years old and be accompanied by an adult. No reservations are required to rent a kayak its first come first serve. Aquatic center members can use kayaks and, canoes plus all facilities including the lockers. When you rent a kayak you become a member per hour.
Guided Kayak tours are available on every Saturday and Sunday. A naturalist leads the tour through the Upper Newport Bay Ecological Reserve. The Back Bay is a salt marsh estuary that is home to many birds and several endangered species. The guide will discuss the history of the bay and talk about native plants, birds, animals and marine life.
Renting a kayak is quick and easy with affordable hourly pricing. Be sure to bring along sunscreen because you are going to be out on the water with the sun shining directly on you with no shade other than a hat. Always remember that you have to paddle back. If you have the wind behind you on the way out you will have a headwind on your return trip.
Newport Back Bay is the home of nearly 200 species of birds and serves as a sanctuary for migrating flocks. The back bay is also an important fishery habitat.
The Newport Back Bay is usually a quiet place however during certain times of the day the calm is interrupted by the sound of planes taking off from nearby John Wayne Airport.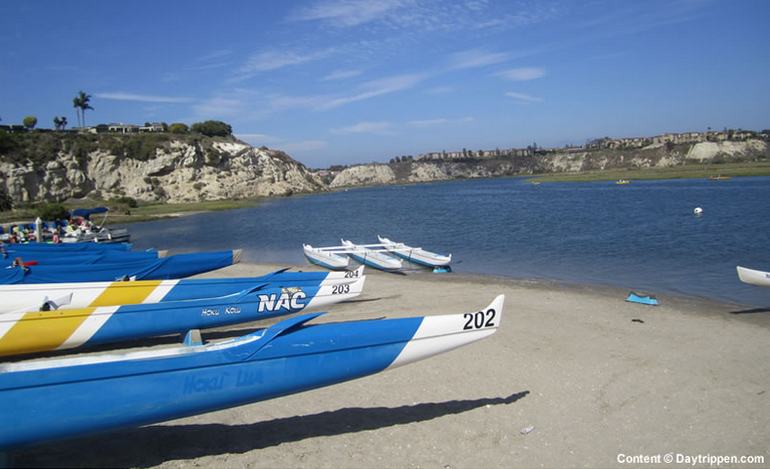 Most of the back bay is surrounded by homes but when your down on the water it's easy to forget where you are. Newport Aquatic Center provides an interesting and convenient way to enjoy the beauty of the back bay plus you get a great work out.
Single kayaks are much easier to maneuver, but the double kayaks are harder to capsize. Something to keep in mind if you're taking children with you. Private introductory and advanced lessons for both SUP (stand up paddle) and kayaks are offered by the Newport Aquatic Center if you need instruction before you head out on your own.
Newport Aquatic Center asks that you carry kayaks to and from the water and wash off your kayak upon return. You may also be asked to return the kayak to its rack unless someone is waiting to use it.
The Newport Aquatic Center was incorporated in 1982 as a non-profit Corporation. Construction of the facility was completed in 1987. In addition to public access and recreational human-powered boating, the NAC offers the public unique opportunities in the Olympic water sports of rowing, canoeing, kayaking and outrigger canoe competition.
Directions from Pacific Coast Highway: Turn onto to Dover Drive, Right on Westcliff Drive, left on Santiago Drive, right on Galaxy, right on Polaris and finally left on Whitecliffs Drive.
Directions from 55 Freeway: South to 17th street and take a left on Dover Drive, .right on Westcliff Dr, Right at first and then second stop signs and finally right on Whitecliffs Drive. Perhaps not the easiest place to find but its worth it.
Newport Aquatic Center Hours are Monday – Friday: 7 am to Sunset and Saturday and Sunday: 7 am to 5 pm. Public rentals of recreational single or double kayaks by the hour.
Newport Aquatic Center 1 Whitecliffs Drive Newport Beach, CA 92660 Phone:(949) 646-7725