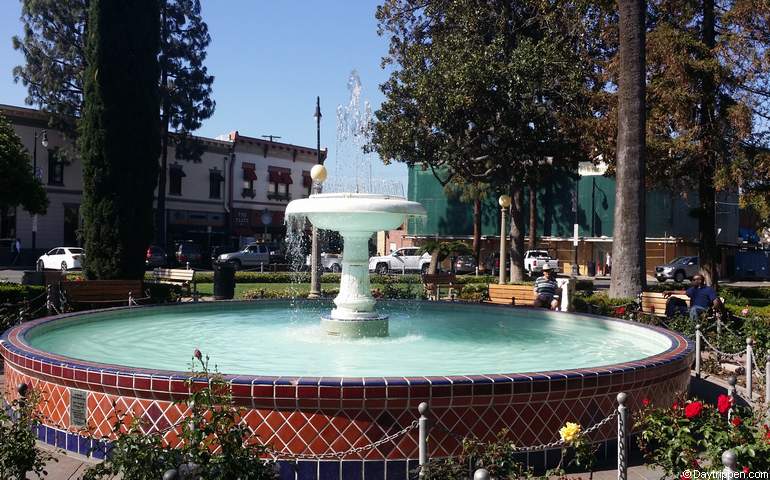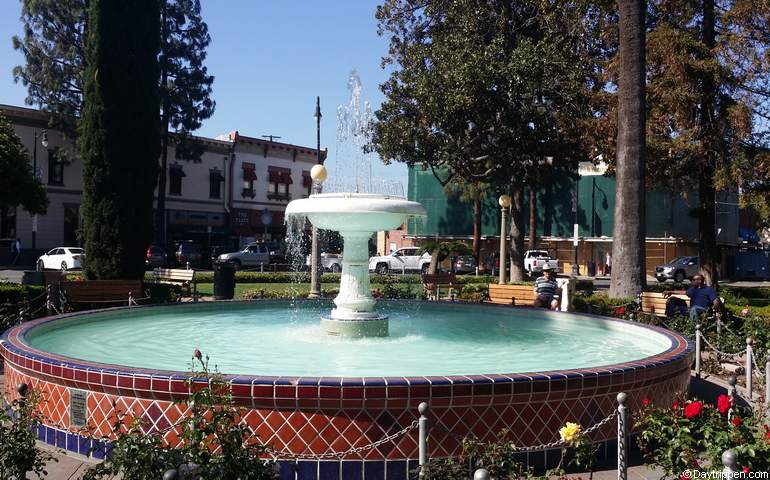 Old Towne Orange Day Trip things to do and see along with some great places to eat. Located in Orange County, California, the City of Orange and its circa 1920s Old Town District is the perfect destination for a lazy weekend day trip when all you want to do is unwind.
Old Town Orange will not disappoint with selecting bric-a-brac antique stores tucked neatly between cozy sidewalk restaurants and soda fountains.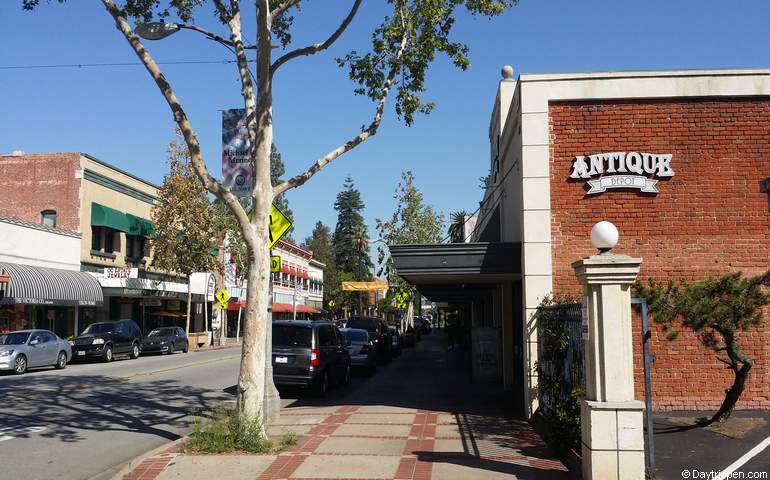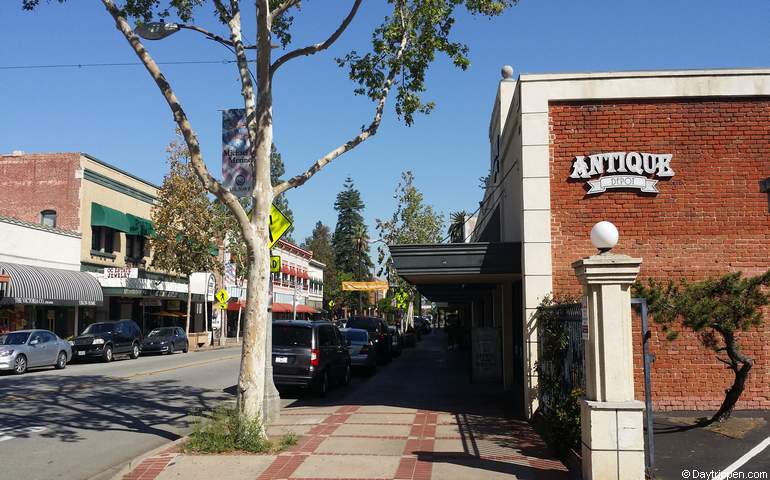 Most of the antique stores and eateries are near the traffic roundabout at Chapman Avenue and Glassell Street. Established in 1871, the area is the most historic city in Orange County and is one of the best walking districts in all of Southern California.
Covering just one square mile and encircling a charismatic central plaza created in the late 1800s, there are more than 100 antique dealers, eateries, art galleries, and boutiques.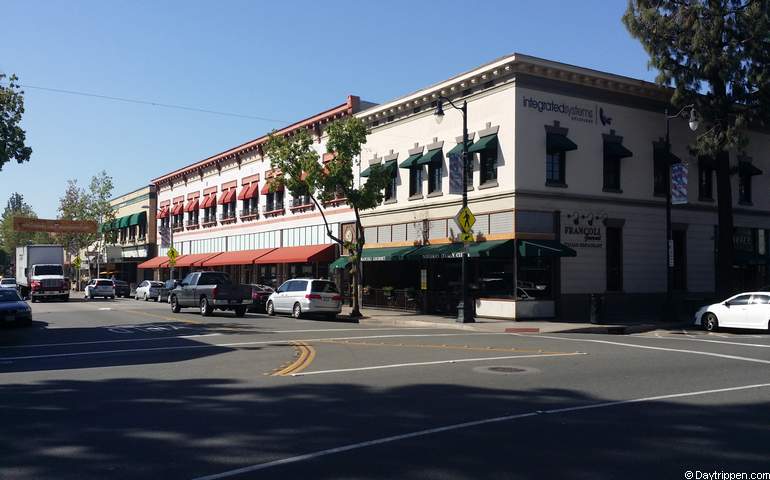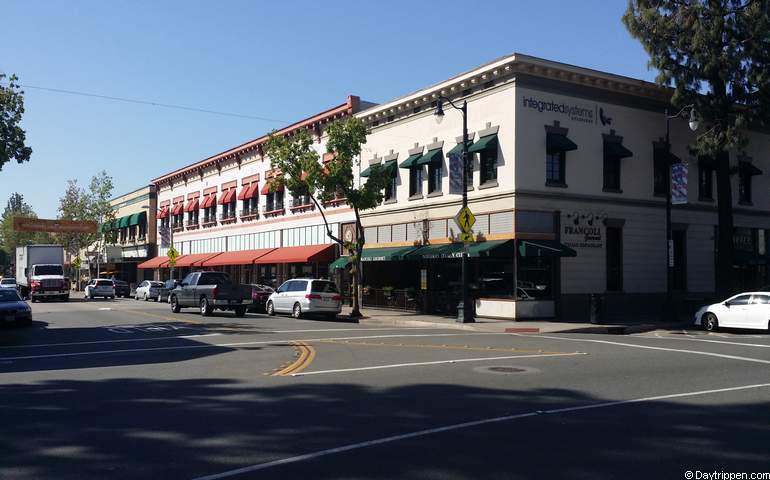 Many businesses occupy one of the area's various historic commercial buildings listed on the National Register of Historic Places.
Scattered about the vibrant business district are old-fashioned residential neighborhoods with one of the largest concentrations of pre-1940's homes in Southern California, full of small, charming bungalows with pretty cottage gardens.
The Orange Public Library and History Center offer a history walk around the 120-year-old neighborhood. In contrast, the Old Towne Preservation Association offers yearly home tours and an annual Holiday Home Decoration Contest. Residents are invited to deck the halls and decorate their houses in the Christmas tradition.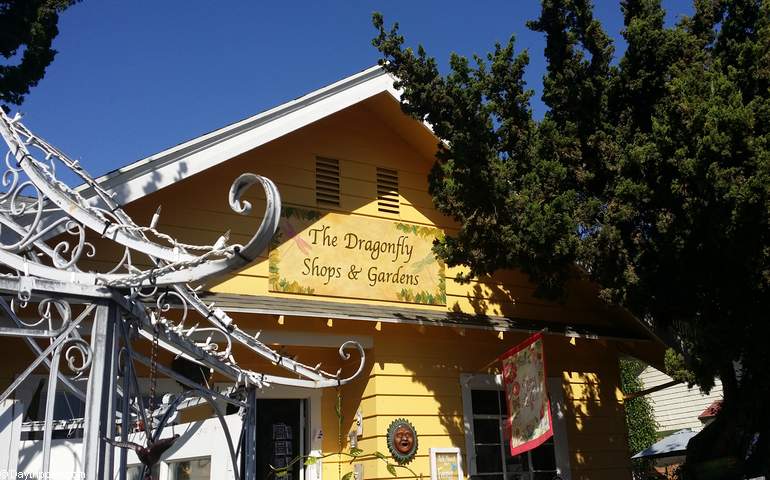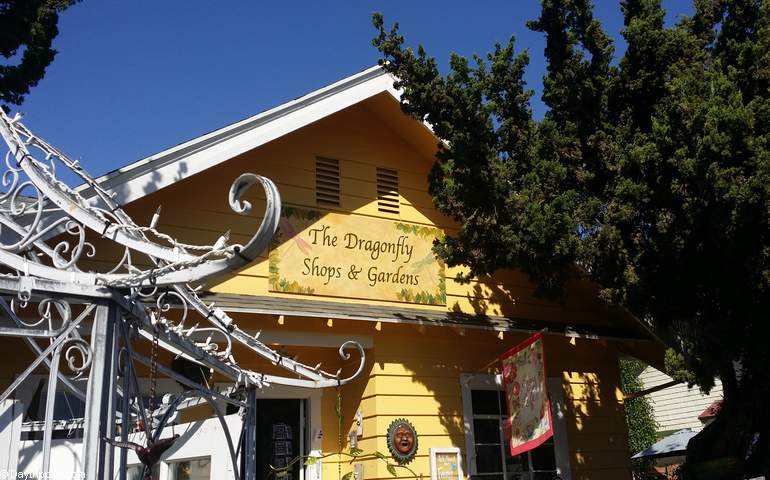 Closer to the center of town is the central plaza, an old-fashioned tiled water fountain that boasts 126 lightings and flows combinations, and a beautiful rose garden.
It's a perfect spot to sit, relax, sip some tea from one local tearoom, read a book, and take in the view of this quaint little town.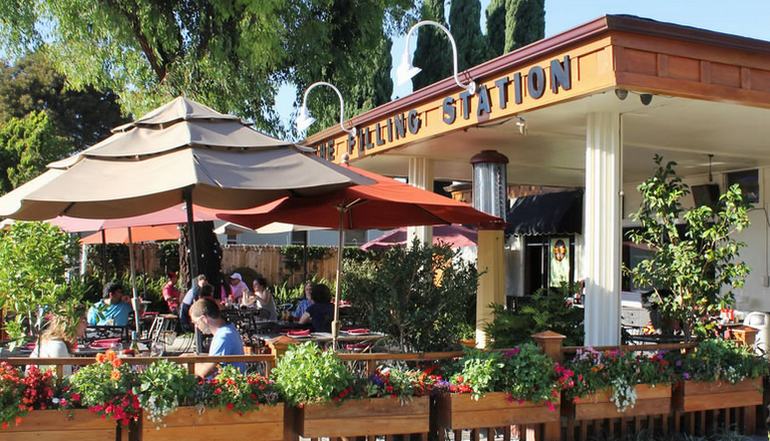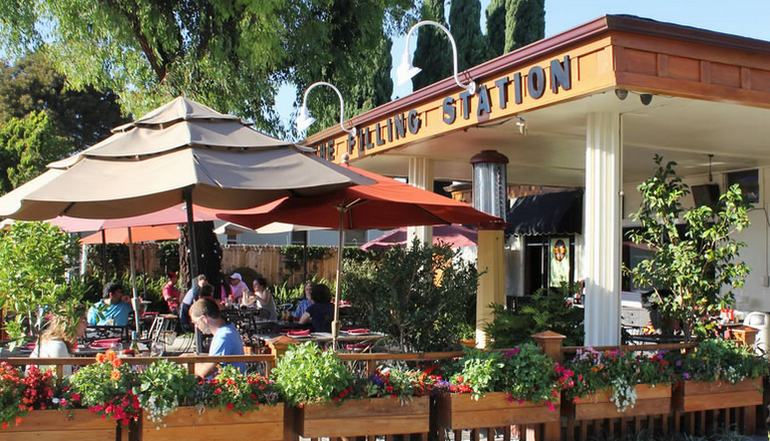 Filling Station Restaurant Orange
Converted gas station located at 201 N Glassell St. Filling station serves breakfast all day long. Indoor and outdoor seating.
Filling Station restaurant Orange CA also has a vintage bicycle shop that offers classic Schwinn bicycles for sale and a retro record shop that sells tens of thousands of rare 45s and albums.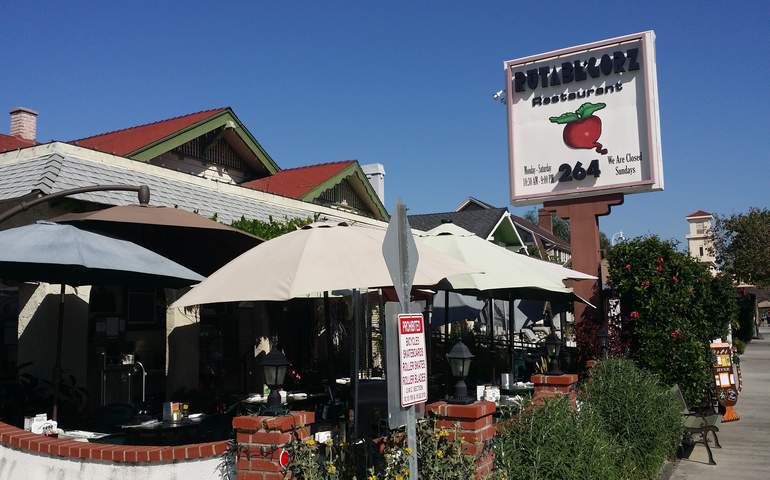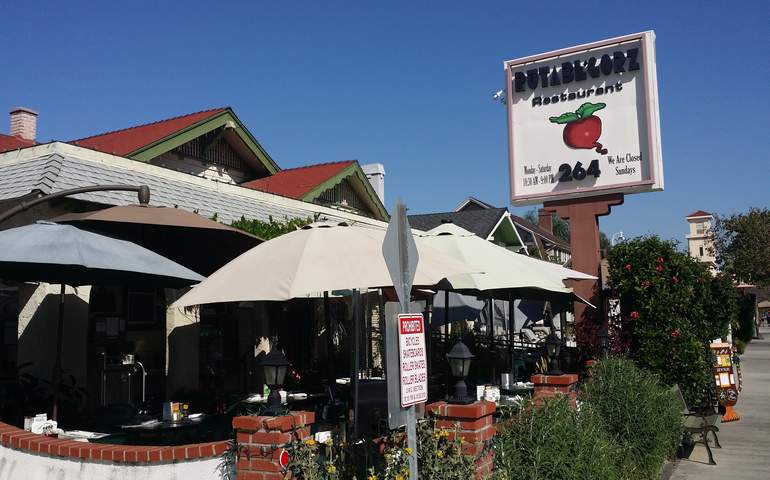 Rutabegorz in Orange
Rutabegorz  264 N Glassell St, Orange. (Rutas Orange.) This vegetarian restaurant is located in a 100-year-old home that is said to be haunted.
There are both vegetarian and meat dishes on the menu, outdoor seating, and daily specials.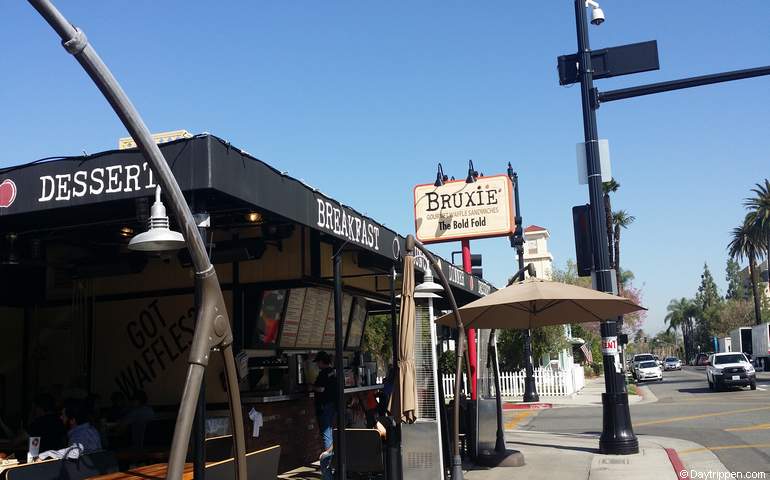 Bruxie Old Towne Orange
Bruxie Old Towne Orange 292 N Glassell St, Orange.  Waffle sandwiches, waffle fries, just about anything you want comes in or on a waffle.
Popular with the college crowd as it is just down the street from Chapman University.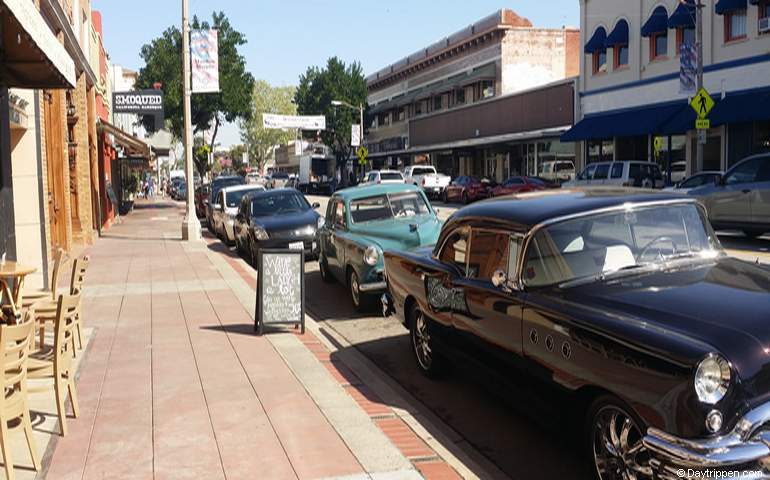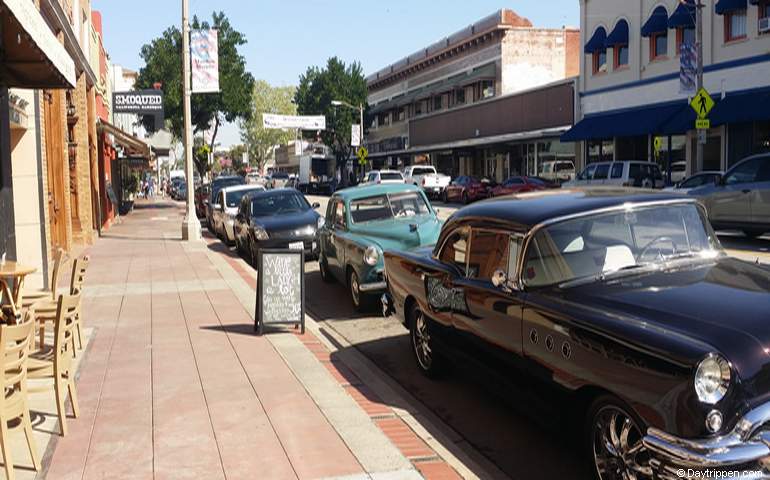 Near the plaza is Orange County's oldest operating bank and the oldest operating soda fountain — Watson's Soda Fountain and Lunch Counter on Chapman Avenue.
There are few places like Watsons left in America, and even fewer in Orange County. Decked out in Formica, chrome, and red checkered tablecloths with swivel stools, Watsons oozes nostalgia.
Serving as both a drug store and a diner since it first opened in 1899, it's a great place to wander in, grab a seat at the counter and order a slice of apple pie and a chocolate malt.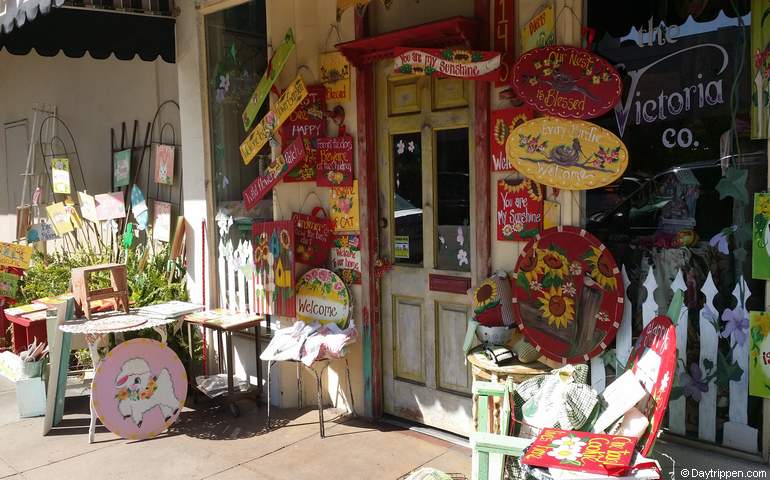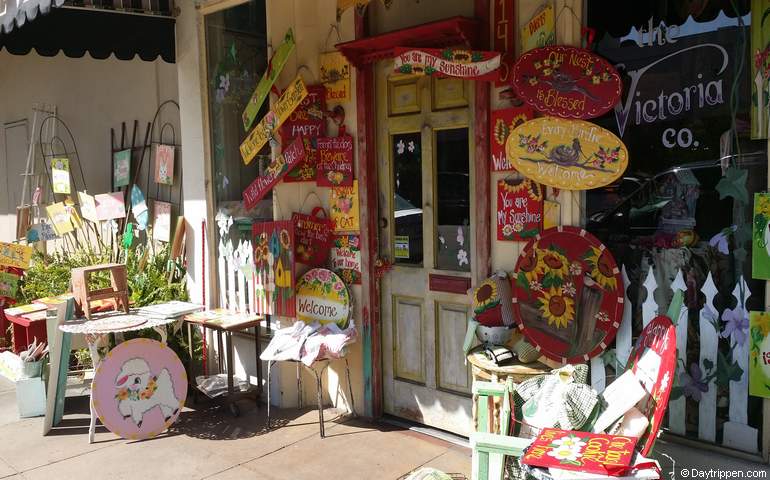 There are also several art galleries in the area, including The Exchange Fine Arts Gallery, which occupies the Sunkist Orange County Fruit Exchange Building. The structure was constructed in 1922 and was open until 1994.
The rest of the year, Old Town is fairly quiet. There is the occasional car show, and the central plaza area is a popular setting for movie and television crews, but most of the time, it's a relaxing destination for a day trip.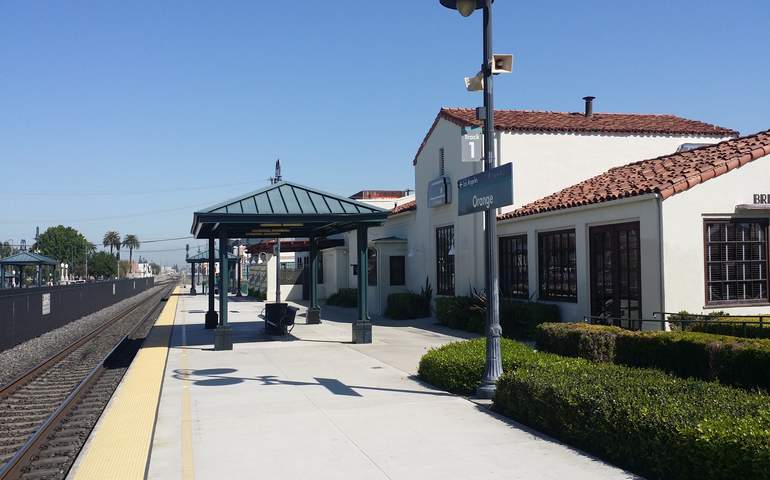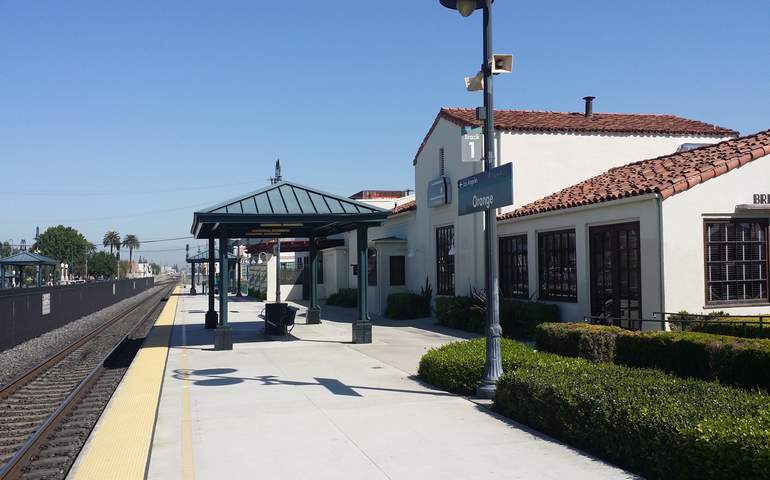 Getting to Old Town Orange
A day trip to Old Towne Orange is like stepping back in time to a long-gone era and is the perfect blend of old and new.
Both Amtrak and Metrolink trains stop at the Orange train station. Old Towne Orange is an easy three-block walk from the station.
Getting it is easy from the 5, 22, 55, 57, and 91 freeways, and plenty of free parking is available. Old Town Orange central plaza is located at W Chapman Avenue and Glassell Street. There is plenty of free parking.
You Might Like These Trips