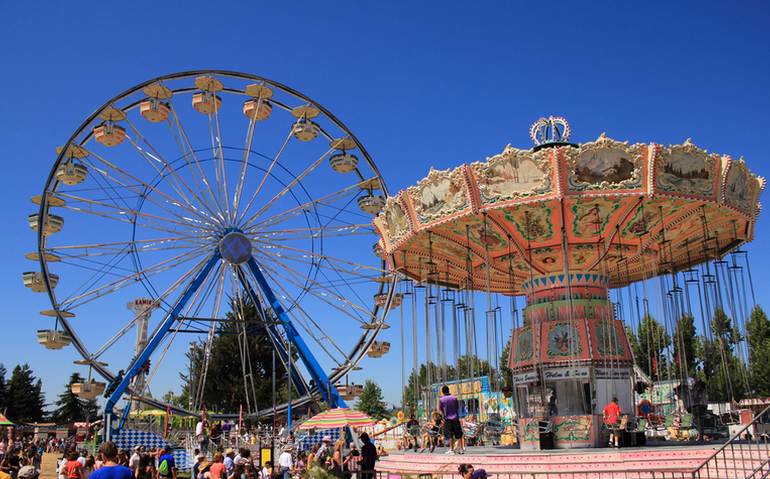 Orange County Fair Discounts & Coupons are listed at the bottom of this page. Opening Day Free admission Noon – 1 pm. Discounts include concert tickets up to 50% off plus free OC Fair admission and daily deals. For nearly a month every mid-July to August, one of Orange County's most eagerly awaited annual events rolls into Costa Mesa bringing with it all of the sights, sounds & smells of a 125-year old tradition.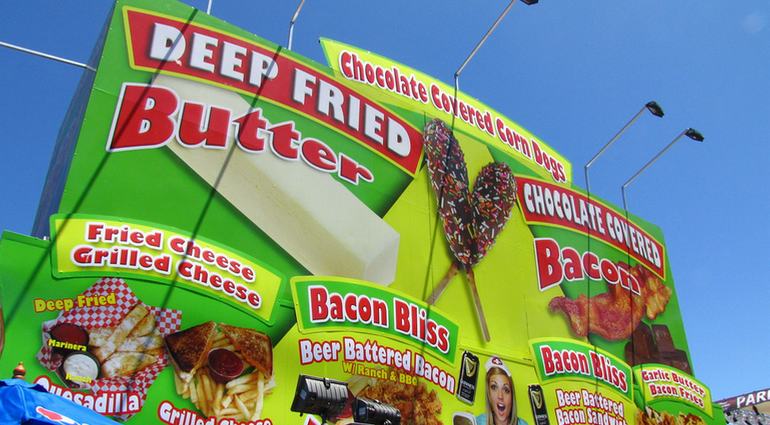 Every year since the turn of the century, the Orange County Fair's twinkling lights, and buzzing sounds along the midway with both its nostalgic and modern games and rides.
The Orange County Fair has attracted over a billion people from around Southern California to experience its mid-summer time magic.
From its humble beginnings in 1890 that included nothing more than a horse race and a few exhibits to today's livestock exhibitions and the spectacle that is the "Carnival of products" with its new and improved mousetraps.
And when it comes to entertaining the masses, the Orange County Fair is perhaps best known for its Summer Concert Series at the nearby Pacific Amphitheater, which includes everything from alternative and country favorites to pop superstars. There are also several action sports shows that include skateboards, BMX, motocross, and a demolition derby.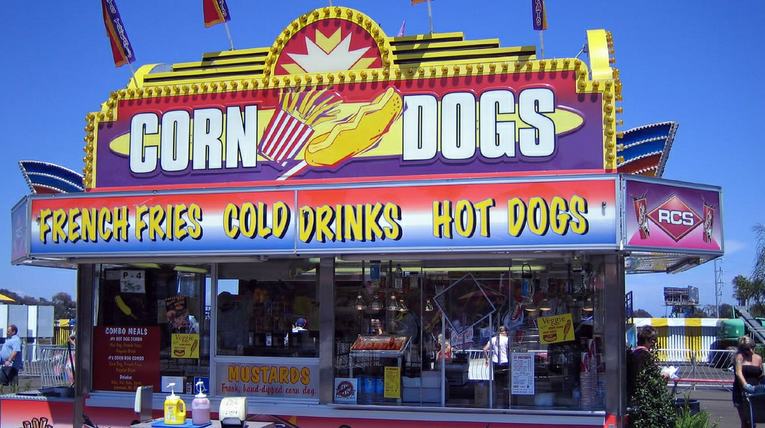 The OC Fairs' Ice Museum features spectacular works of art rendered entirely from ice to charming displays of antiques, miniatures, toys, and accessories, to photography, wine making, and even an Alaskan pig race
There is also the Centennial Farm, a four-acre working exhibit that is dedicated to educating guests about the wonderful world of agricultural by highlighting California's rich agricultural heritage.
Of course, all the traditional staples like cooking contests, arts and crafts, and a myriad of horses, cattle, goats, sheep, turkeys, pigs, dogs and rabbits and the youth of the Future Farmers of America and 4H who raised them.
But if that's not enough, the OC Fair's carnival is designed for a multitude of electrifying thrills, featuring an updated 100-ft. Ferris Wheel ride, the hair-raising Chaos, the Viper, Tilt-A-Whirl, and the classic Zipper.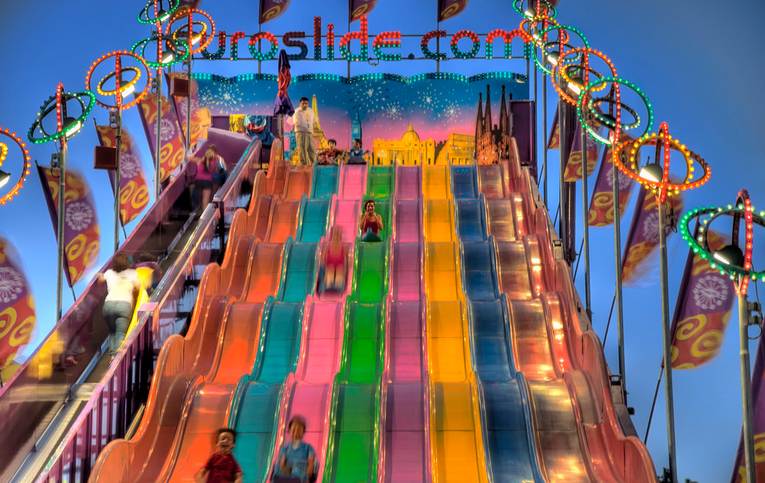 And for those with children, the OC Fair has you covered too.
There is the Russel Brothers Circus that features creative performances using people instead of animals, a petting zoo which houses llamas, a mini-horse, potbelly pigs, and more.
And last by not least, The Fun Zone, where kids of all sizes can participate in a host of hands-on activities, exhibits, demonstrations, contests while also getting a rare chance to peer inside a real live buzzing beehive at The World of Insects exhibit.
After a full day of perusing the exhibits and sampling one of the many culinary concoctions that always somehow seem to taste better when they are on a stick or fried in a vat of bubbling oil -like Chicken Charlie's deep-fried Kool-Aid and Girl Scout Cookies– you're going to be ready for some entertainment.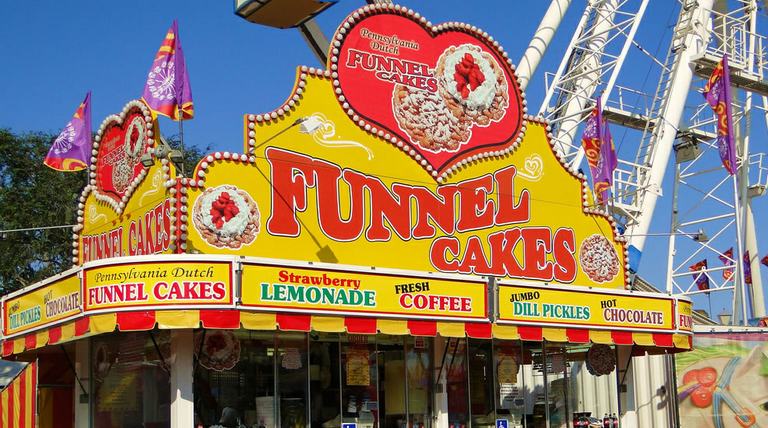 Orange County Fair Discounts 50% Off Shows & Events
El Fantasma, Voz de Mando & Kanales
July 7 – 7:00 pm. ($20.00) Celebrate the sounds of Mexico as a lineup of great artists — El Fantasma, Voz de Mando, and Kanales — comes to Orange County for a night of Spanish-language hits. This concert is at Pacific Amphitheatre takes place before the OC Fair starts, your ticket still includes admission to the fair (July 13 – August 12)
---
>Ratt, Cinderella's Tom Keifer & Lynch Mob
July 13 – 7:00 pm. ($14.00) OC Fair Tickets included. You're invited to a headbangers' ball as hair metal giants Ratt join Cinderella's Tom Keifer and Lynch Mob for a night of hard-rocking hits at Orange County's Pacific Amphitheatre.
---
> Motorcycle Speedway Derby at OC Fair
Saturday 14 -8:00 pm. ($9.00) Enjoy it all in a family-friendly atmosphere as part of an awesome day of fun, since your ticket to the Derby includes admission to the world-famous OC fair.
---
> Kool & The Gang and The Village People at the OC Fair
Wednesday July 18 – 7:30 pm. ($17.50) OC Fair Tickets included. R&B legends Kool & the Gang have been funking up house parties since the early '70s. And The Village People Featuring original vocalist Victor Willis.
---
> Lynyrd Skynyrd Tribute
July 19 – 8:30 pm ($10.00) OC Fair Tickets included.Vintage Skynyrd concert, performing rollicking live renditions of Skynyrd's biggest hits like "Gimme Three Steps," "Saturday Night Special" and more.
---
>Action-Packed Motorcycle Stunt Show
July 18 through 21 – various show times. Save $5.00 – This live stunt spectacular is packed with plenty of high-flying, rip-roaring action as motocross riders take to the track to perform jaw-dropping aerial feats.
---
> Extreme Rodeo OC Fair
August 1 8:00 pm ($9.00) The bravest of cowboys will attempt to play a game of poker while a wild bull runs loose around them, and ride Toro Totters in an attempt to keep away from the large, untamed beasts.
---
>Country Troubadour Hunter Hayes
August 1 – 7:00 pm. OC Fair Tickets included. Five-time Grammy nominee, CMA New Artist of the Year, multiple Teen Choice Award winner and the youngest male act ever to top the Billboard Hot Country song chart.
---
>I Am King: Michael Jackson Tribute
August 1 – 8:30 pm. ($11.50) OC Fair Tickets included. From the iconic dance moves to timeless hits Michael Jackson impersonator Michael Firestone brings all of the Gloved One's signature talents to life.
---
> Rick Springfield With Loverboy, Greg Kihn & Tommy Tutone
August 2 – 7:00 pm. ($15.50) includes same-day admission to the OC Fair. Rick Springfield totally ruled the '80s, locking in his cultural legacy with the No. 1 mega-smash "Jessie's Girl.
---
> Guns N' Roses & AC/DC Tributes
August 2 – 7:15 pm.($10.00) OC Fair Tickets included. This talented group sports dead-on looks for Guns N' Roses and AC/DC.
---
> Turn The Page Honors the Music of Bob Seger
August 4 – 8:30 pm. ($10.00) You'll feel as though you've been transported back to Detroit's Cobo Hall as you relive "Old Time Rock and Roll," "Night Moves," "Against the Wind" and more at the The Hangar at OC Fair.
---
> Fiesta Del Charro: Mexican-Style Cowboy Feats at the OC Fair
Sunday, Aug 5, 2018 – 7:00pm – ($9.00) Your ticket also includes admission to the OC fair, giving you the chance to enjoy an entire day of fun and entertainment both before and after the show.
---
>Mariachi Sol de Mexico de Jose Hernadez
Sunday August 5 – 1:30 pm ($10.00) The first mariachi ensemble to be nominated for a Grammy. Celebrate mariachi-style at The Hangar at the OC Fair. Your ticket also includes admission to the fair.
---
> Toto, With Special Guest Asia
August 8 – 7:30 pm. Your ticket also gets you same-day admission into the OC Fair. Rocking since 1976, Toto has sold over 40 million albums. They'll be joined by progressive-rock group Asia.
---
> The Go-Go's and Billy Idol Tributes
Thursday, August 9 – 7:15 ($10.00) OC Fair Tickets included. Go-Go's tribute band Totally Go-Go's comes to The Hangar at OC Fair. They'll be joined by Billy Idol tribute Idol X.
---
>Damsels of Destruction Demolition
Friday, August 10 – 8:00 pm. (10.00) The latest generation of all-female demolition derby roars back to the OC Fair's Action Sports Arena for another bang-up year of smashin' and crashin' stock-car racing.
---
>Depeche Mode & Erasure Tributes
August 10 7:15 pm. ($10.00) Experience some of the best synthpop the '80s and '90s had to offer as two of the Southland's top tribute bands hit the stage at The Hangar at the OC Fair.
---
>Terrible Trucks Demolition Derby
August 11 – 1:00 pm. (10:00) OC Fair Tickets included. This classic pedal-to-the-metal event provides plenty of automotive mayhem for the whole family as daredevil drivers try to knock each other out in a loud and chaotic race to the finish.
---
Daily promotions & deals for the Orange County Fair
Week Day Fair Tickets 40% Off Buy Now
All military (active and veterans) receive free admission with I. D.
We Care Wednesday is from noon until 3:00.
FREE Admission and 1 Carnival Ride Per Person Every Wednesday with Donation. (changes weekly)
Every Thursday: Kids Day Free admission 12 and under all day. (great deal)
Every Friday Seniors Day (60+) $2 off plus free Ferris wheel and merry-go-round. $2 Taste of Fair Foods, (Noon – 4 pm)
$2 Rides & $2 Games (Sold until 4 pm)
Sat-Sun $3 admission from 10:00-11:00 am. Get here early or you will get stuck in traffic and end up paying full price.
Every Wednesday & Thursday – $30 Unlimited Carnival Ride Wristbands – Plus 2 Free Games (Sold until 5 pm – valid until 8 pm)
All deals subject to change.
Check your local Ralphs store to see if they are offering any fair coupons. Costco stores usually do not offer Orange County Fair discounts.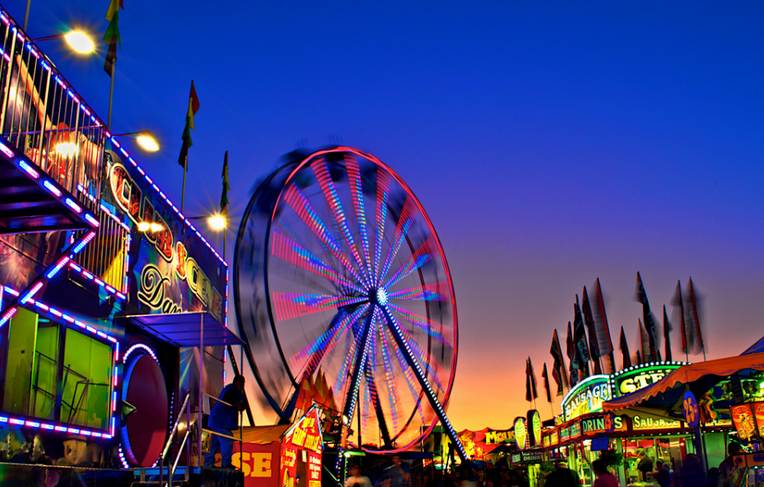 Orange County Fair Hours
The 2018 OC Fair is open 13 through August 12. Orange County Fair & Event Center, Costa Mesa California.
Wednesday-Friday Noon-Midnight
Saturday-Sunday 10 am-Midnight
Monday-Tuesday Closed