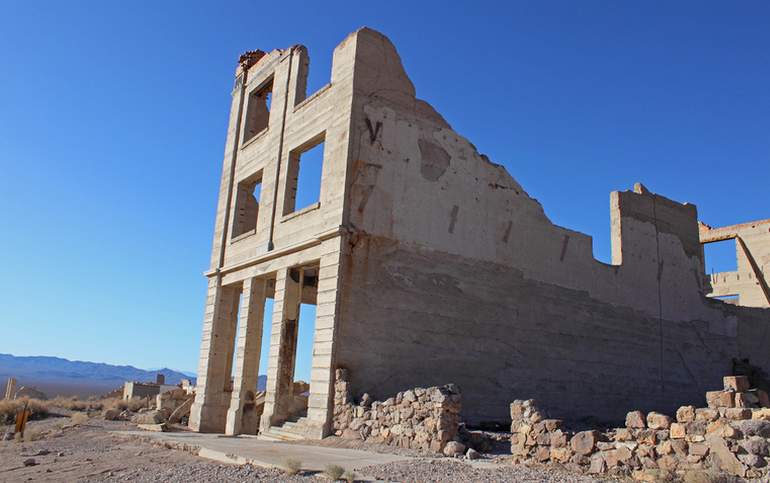 Rhyolite Ghost Town is about a two-hour drive from Las Vegas or less than one hour from Furnace Creek in Death Valley. Rhyolite was once a mining town of 10,000 people with over 50 saloons and 18 grocery stores. Today all that is left are hundreds of house and business foundations.
The town is named for rhyolite, an igneous rock composed of light-colored silicates, usually buff to pink and occasionally light gray.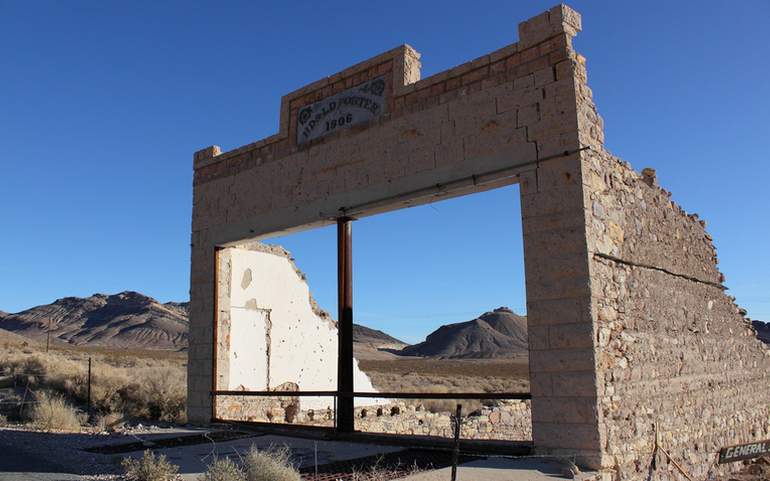 The town began in early 1905 as one of several mining camps that sprang up after a prospecting discovery in the surrounding hills. During an ensuing gold rush, thousands of gold seekers flocked to the Bullfrog Mining District.
Many settled in Rhyolite, which lay in a sheltered desert basin near the region's biggest producer, the Montgomery Shoshone Mine.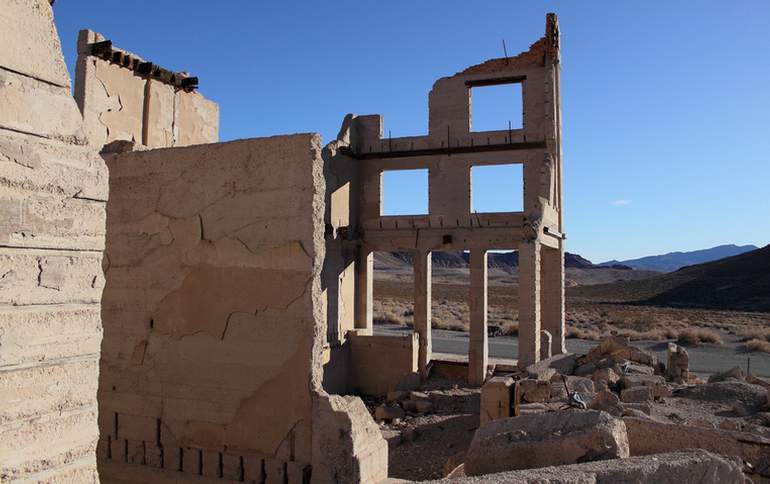 By 1907, Rhyolite had electric lights, water mains, telephones, newspapers, a hospital, a school, an opera house, stock exchange and a railroad station.
Rhyolite declined almost as rapidly as it rose. After the richest ore was exhausted, production fell folks began to leave as fast as they came. By 1920, the population of Rhyolite was near zero.
The Decline of Rhyolite
After 1920, Rhyolite and its ruins became a tourist attraction and a setting for motion pictures. Most of its buildings crumbled were salvaged for building materials or were moved to the nearby town of Beatty. The railway depot and a house made chiefly of empty bottles were repaired and restored at the townsite.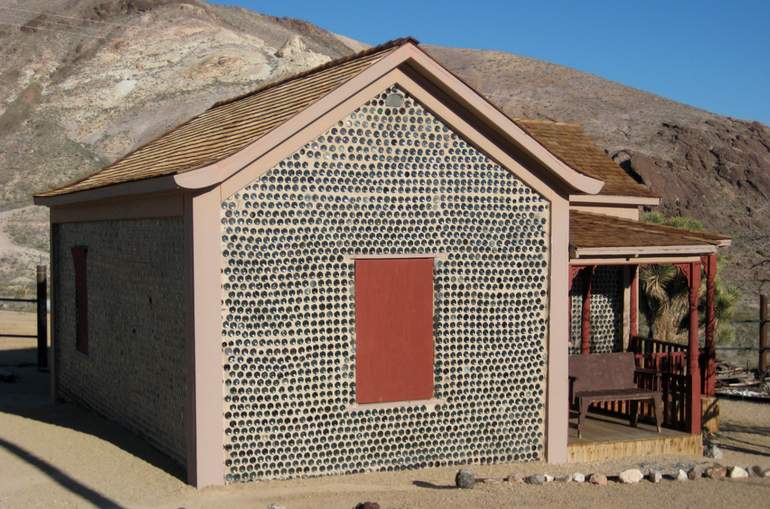 Rhyolite is bordered on three sides by ridges but open to the south, the ghost town is at 3,800 feet. There is a paved road all the way to the ghost town but don't be surprised if you are the only visitor.
Rhyolite is a true Ghost Town and has no permanent residents. there are a few signs explaining the history and remains but other than that you are on your own to explore the ruins.
Rhyolite in 1907 had concrete sidewalks, electric lights, water mains, telephone and telegraph lines, daily and weekly newspapers, a monthly magazine, police and fire departments, a hospital, school, train station and railway depot, at least, three banks.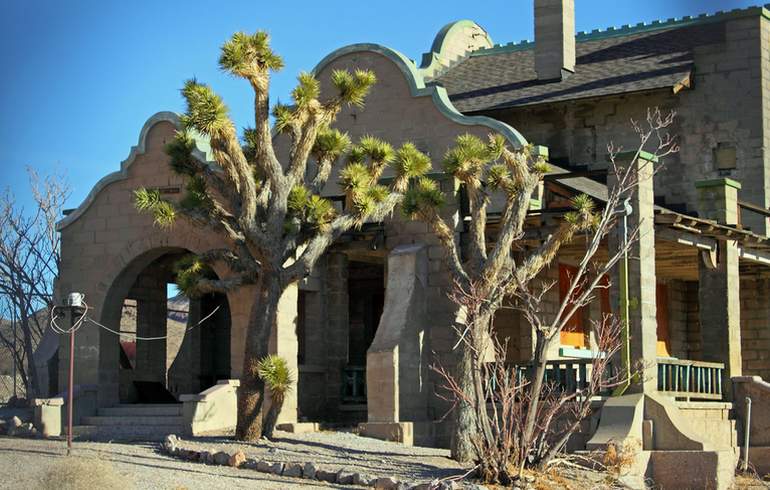 The town boasted several large buildings included the train depot, the three-story Overbury Block, and a two-story eight-room school. A miner named Tom T. Kelly built the Bottle House in February 1906 from 50,000 discarded beer and liquor bottles.
After the decline, many of Rhyolite's structures became a source of building materials for other towns and mining camps. Whole buildings were moved to Beatty.
Rhyolite Buildings Moved to Beatty NV
The Miners' Union Hall in Rhyolite became the Old Town Hall in Beatty, and two-room cabins were moved and reassembled as multi-room homes. Parts of many buildings were used to build a Beatty school.
The Rhyolite historic townsite is maintained by the Bureau of Land Management and is "one of the most photographed ghost towns in the West". In 1937, the train depot became a casino and bar called the Rhyolite Ghost Casino, which was later turned into a small museum and curio shop that remained open into the 1970s.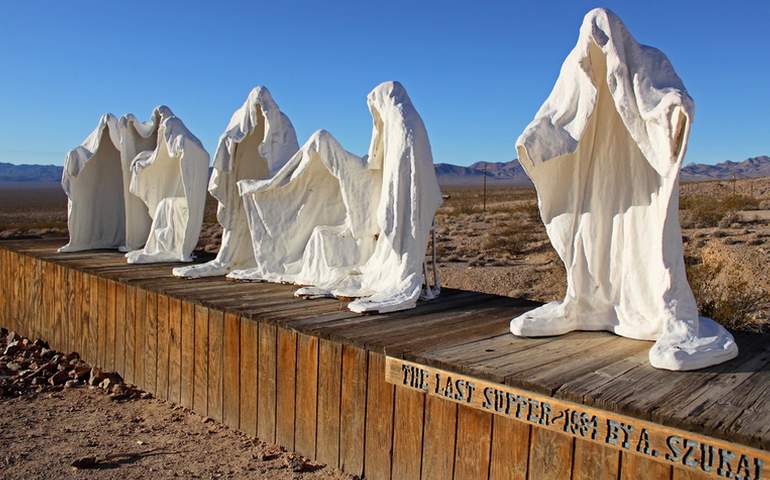 Belgian artist Albert Szukalski created his sculpture The Last Supper on Golden Street near the Rhyolite railway depot. The art became part of the Goldwell Open Air Museum, an outdoor sculpture park near the southern entrance to the ghost town.
Getting To Rhyolite Ghost Town
Rhyolite offers photographers, explorers and ghost town enthusiasts an enjoyable experience.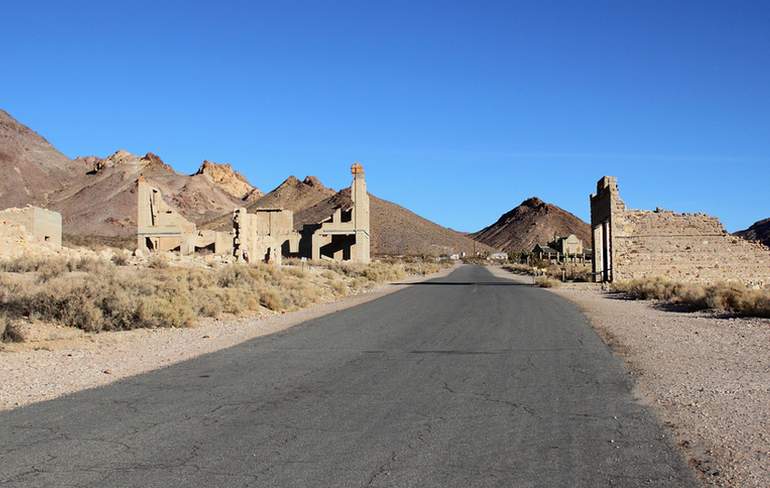 Rhyolite is 35 miles from the Furnace Creek Visitor Center in Death Valley. Rhyolite is located 4 miles west of the town of Beatty, Nevada on HWY 374. For more information contact: Friends of Rhyolite, PO Box 85, Amargosa Valley, NV 89020.
Best California and Nevada Ghost Towns to Visit