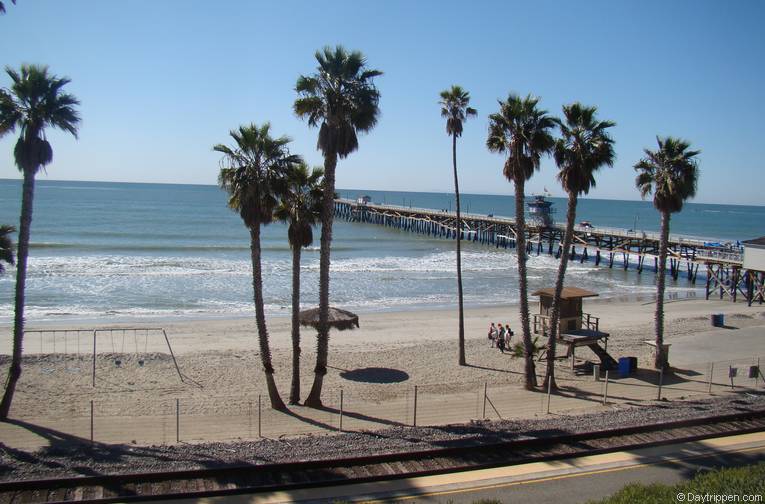 San Clemente Beach is located in Southern Orange County and is the last town before you enter the wide open space of Camp Pendleton. What was once a sleepy beach town populated by surfers and marines from Pendleton is now a popular beach destination.
There are no high-rise hotels along the coast here although there are plenty of places to stay for a weekend getaway. There are several boutique hotels within walking distance of the beachfront train station so you can even leave your car at home.
Avenida Del Mar is San Clemente's main shopping district and it looks much the same as it did in the 1960s. This quaint street is lined with small shops and restaurants and is a pleasant relief from the crowded shopping malls.
San Clemente's main attractions are its excellent beaches including North Beach, San Clemente Main Beach at the pier and San Clemente State Park.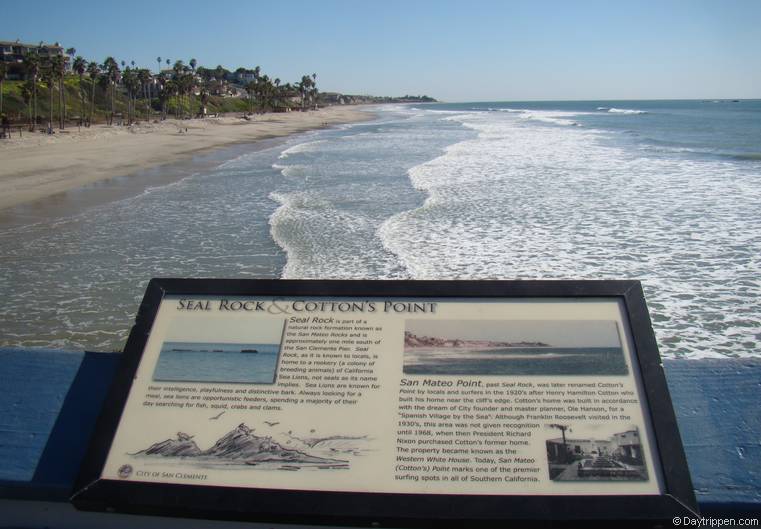 T street is popular with surfers and just a short walk south from the pier. Locals can be very territorial so if your 'e new to surfing stick close to the pier where beginners are more welcome.
Main Beach is located at the end of Avenida Del Mar Main Beach and is San Clemente's main destination. The beach is crowned by it's 1928 the 1,200-foot long wooden pier. There is a large public parking lot along with metered street parking.
San Clemente Pier is home to one of the most popular places to dine in town, Fisherman's restaurant. If you are looking for a light snack then try Pier Shack at the end of the pier.
There is an Amtrak station at the foot of the pier (not all trains stop here) only steps to the sand. This is the only train station on the beach between Los Angeles and San Diego that Amtrak stops at. During the summer, Metrolink runs beach trains from the Inland Empire to San Clemente Pier.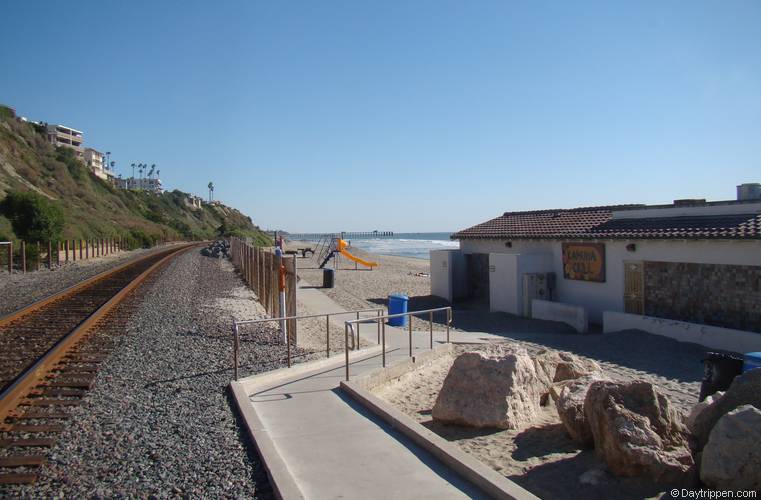 The beaches of San Clemente include North Beach, just off coast highway as you enter the city from Capistrano Beach. North Beach has a Metrolink Station and a metered parking lot.
During the winter, most of the sand is washed away and North Beach is almost entirely rocks. From North Beach, you can take the San Clemente Beach trail all the way to Pier. During the summer months, a snack shop is open on North Beach.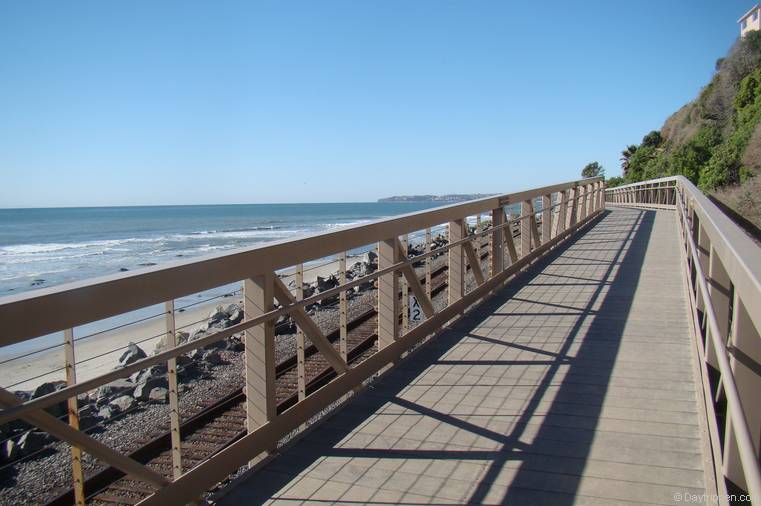 Linda Park and Beach and Park is operated by the city of San Clemente and is located at the end of Linda Lane. The park has metered parking, Puccini areas and a tunnel under the railroad tracks which lead to the beach.
The t-street beach is located 1/2 mile south of the pier and named after Trafalgar Street which ends at the beach. The beach is nick-named T-Street in order to hide its location from nonlocals. T-Street is popular for surfing and body boarding.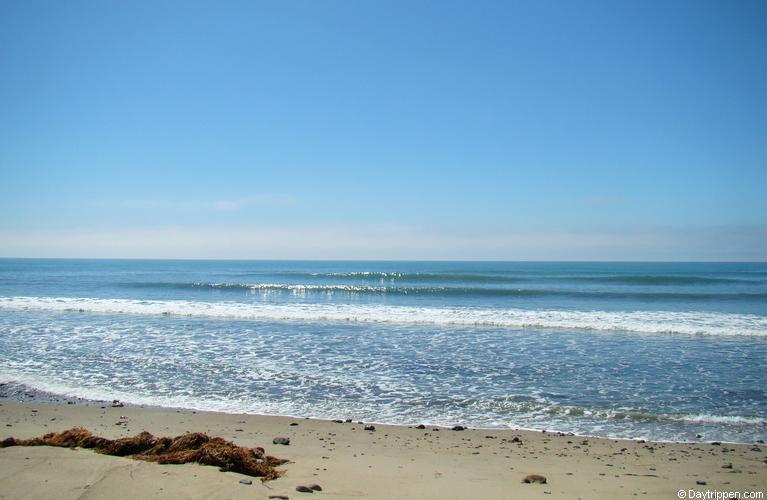 Located at the south end of town is the world famous surf break known as Trestles. Trestles are named after the railroad bridge over San Mateo Creek near the entrance to the beach. The 3½-mile-long beach consists of five separate surf breaks: Cotton, Uppers, Middles, Lowers, and Church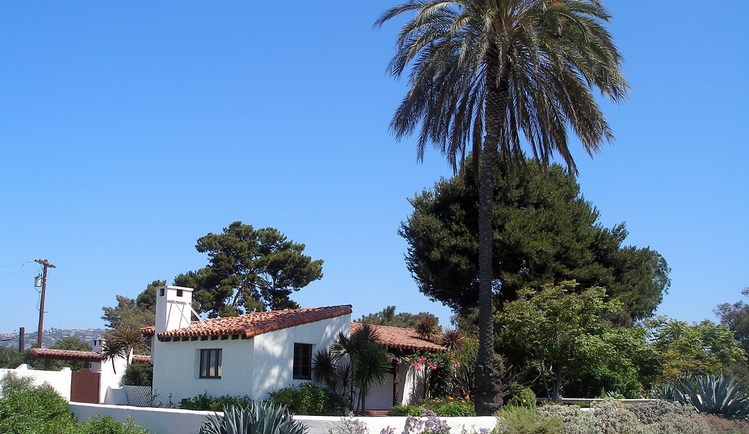 San Clemente State Beach is on the south end of San Clemente. There is a large state-run campground overlooking the beach and also a public metered parking lot at the end of Avenida Califia.
San Clemente offers plenty to see and do for a day trip from Los Angeles or San Diego. Most activities you find here are beach related however there are some unique shops in town especially along Avenida Del Mar off Pacific and adjacent to the pier.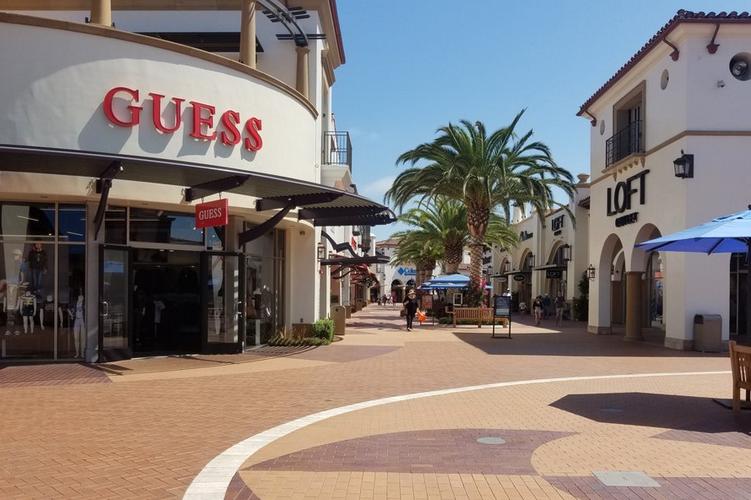 The Outlets At San Clemente offers factory stores and retail stores. Built in Spanish architecture style with archways that will offer ocean and hillside views. No other outlet mall in California is located in a more spectacular location.
San Clemente is the Southernmost beach town in Orange County. The city is located about halfway between Los Angels and San Diego. At one time, San Clemente was the home of the Western White House occupied by Richard Nixon.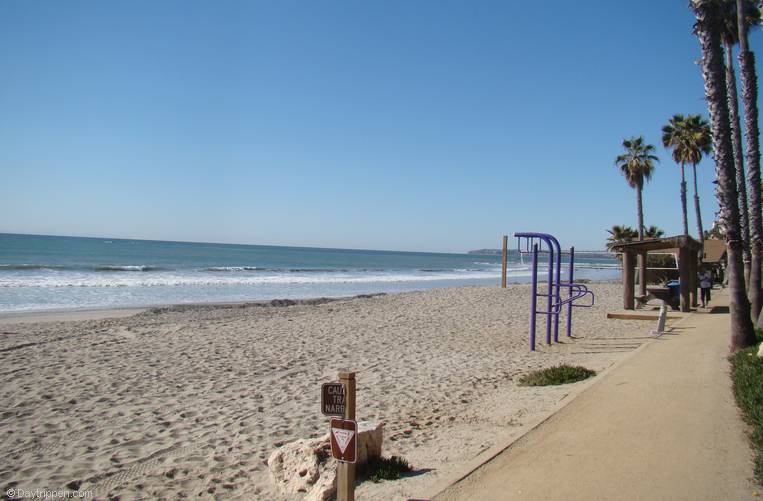 Interstate 5 runs through San Clemente and there are numerous off-ramps leading to different sections of the city. Daily Amtrak and Metrolink train service San Clemente with stops at main and north beaches.