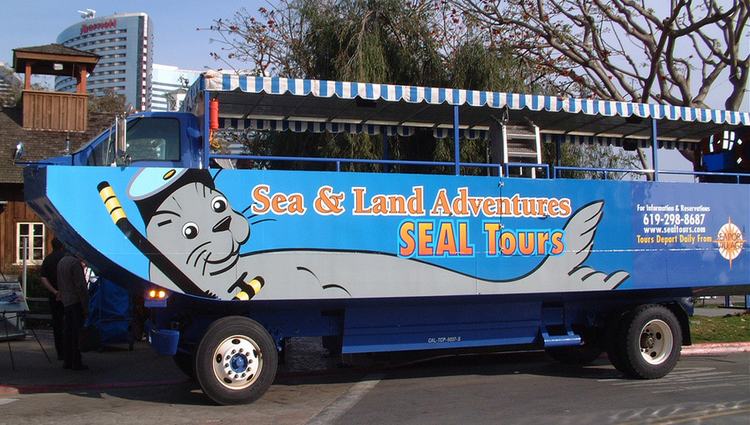 San Diego SEAL Amphibious Tour lets you see the city like no other sightseeing tour can. The 90-minute fully-narrated lets you view San Diego from both land and water. The tour departs from Seaport Village and heads down Harbor Island Drive to Shelter Island, where you splash into the San Diego Bay.
Once in the water your voyage takes you almost to the tip of Point Loma and back. Bring along a camera for this adventure there is a new photo op at every turn of the boat. Ont the return trip back to dry land the Captain will allow the kids to take turns driving the vessel. Bring along the whole family for this fun educational amphibious sightseeing tour.
It's a boat! It's a bus! It's San Diego's only amphibious Sea and Land Adventure. Your 90-minute fully narrated SEAL Tour departs daily from Seaport Village. Wind your way through picturesque San Diego streets before splashing down for a cruise through the waters of San Diego Bay.
San Diego SEAL Amphibious Tour Tickets Print at Home tickets.for this 90-minute full-narrated journey departs from Seaport Village.
Experience the history and ecological wonders of San Diego in the comfort and security of a virtually unsinkable Hydra Terra. Here you will learn first hand of our rich military history and cruise through the waters that are the playground of the California Sea Lion.
Don't miss this exciting, entertaining adventure of a lifetime to see America's Finest City as you have never seen it before! Tour departs daily from Seaport Village.
The Amphibious craft is completely U.S. Coast Guard approved and meet all regulations for passenger's vessels.The DUCKS even come equipped with driver and passenger-side airbags. Every effort has been made to make these vehicles the strongest and safest possible.
San Diego has a very mild temperatures year round. It might be sunny on dry land but once you hit the water the air is cooler. Bring along a light sweater or jacket to make sure you are comfortable. Kids will love the ride, there is no other tour in San Diego that even comes close to this one.
Tours depart several times throughout the day. Please check schedule for specific dates. Tour length is approximately 90 minutes. This tour is appropriate for all ages. Cameras and video cameras a permitted. Seating is on a first-come, first served basis.
San Diego SEAL Amphibious Sightseeing Tour U.S. Navy Pier 910 North Harbor Drive San Diego, California.