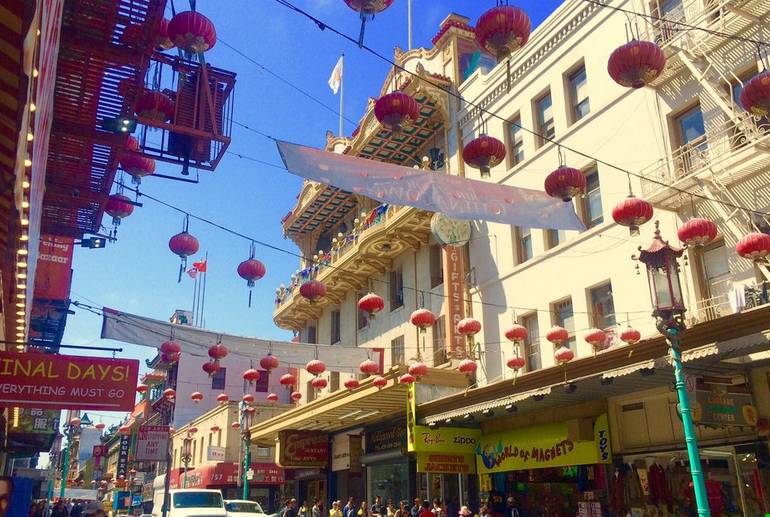 San Francisco's Chinatown is the oldest in North America and the largest Chinese community outside Asia. The first residents began building the city in the 1840s, and since then, it has been highly influential in the history and culture of Chinese immigrants to the United States.
Chinatown is traditionally defined by the neighborhoods of North Beach, and Telegraph Hill. These areas bound by Bush, Taylor, and Bay Street, as well as the Embarcadero.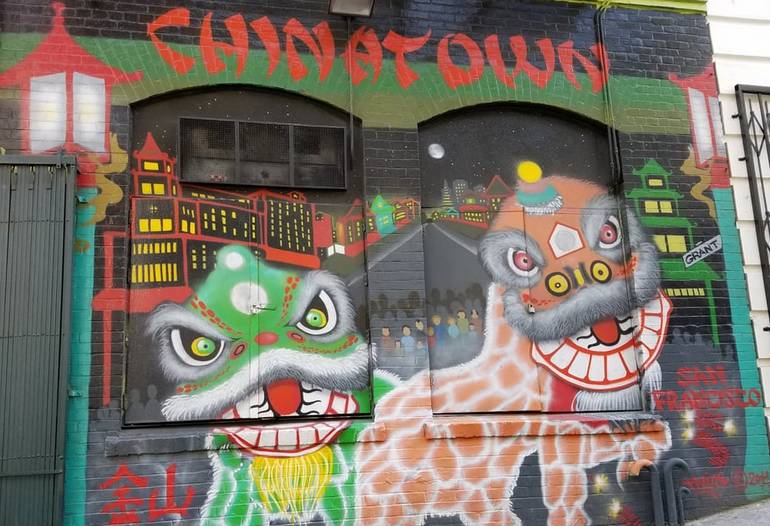 Popularly known as a "city-within-a-city," Chinatown continues to retain its customs, languages, places of worship, social clubs, and identity. Over 300 restaurants, herbal shops, and temples with their pagoda roofs make up a miniature Asian world with its hustle and bustle residents weaving their way through the sea of tourists and regulars.
After arriving, visitors will want to first stop by the Chinese Culture Center. The center is a major community-based organization established to foster the understanding and appreciation of Chinese art, history, and culture. It is an excellent place to soak in the artistic sense of the area.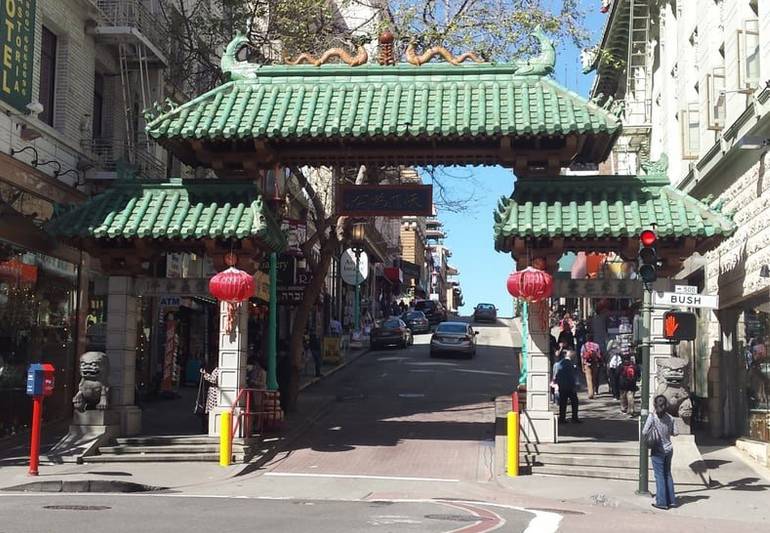 The facilities total 20,000 square feet and include a 299-seat auditorium, a gallery, bookshop, and classroom located between Chinatown and the Financial District. It is a great place to take the kids to learn a little history while adults can appreciate the significant body of artworks.
The real allure of San Francisco's Chinatown is its funky shops as well as some fancy antique stores. Boutiques are everywhere and offer imported goods and quirky items as well as unique objects that are hard to find anywhere else.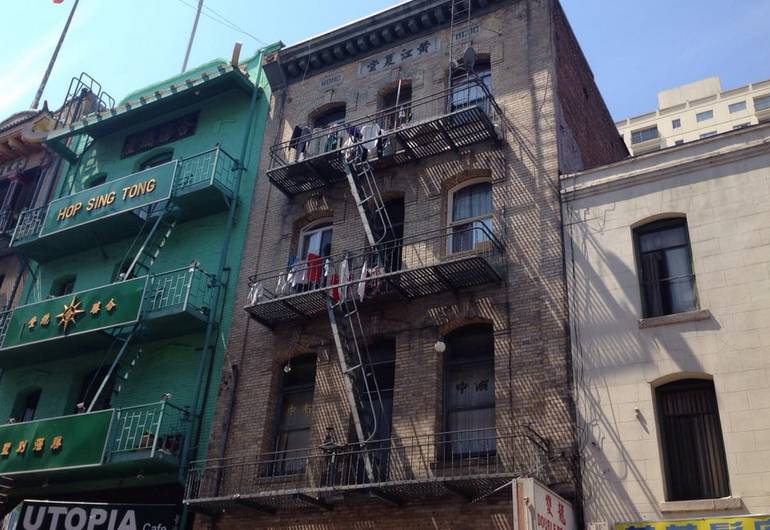 Grant Avenue
Grant Avenue is the touristy section full of shops and restaurants that more appeal to those seeking the "exotic" or "mysterious" Chinatown experience
Stockton Street
Stockton (the next main street west) is often considered the "real" San Francisco Chinatown, full of markets packed with people and eateries with no English on the menu. You'll see people hanging underwear out to dry from the upstairs windows and balconies and locals bargaining over fresh fruit and fish. It's fascinating seeing the stark contrast between the two.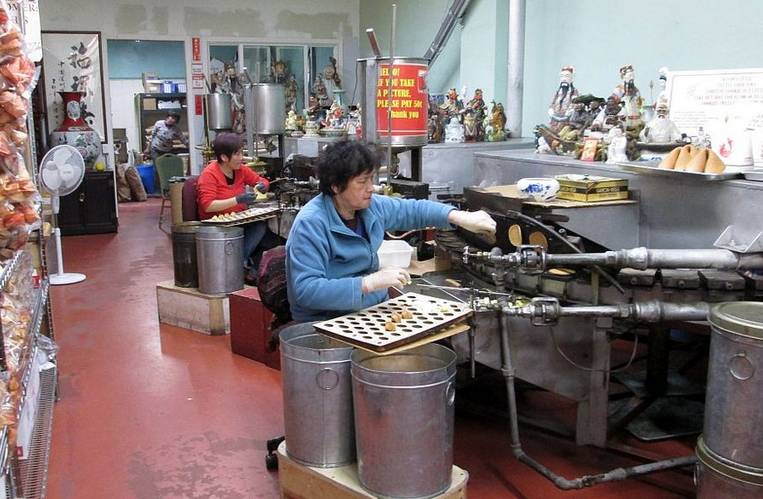 Golden Gate Fortune Cookie Factory
A few must-sees are the Bank of Canton, the Fortune Cookie Factory located in Ross Alley, and a stroll down Waverly Place to visit the Tin How Temple on the third floor of 125. No photography is allowed, but it's beautiful inside the small space deemed the oldest Chinese temple in the U.S.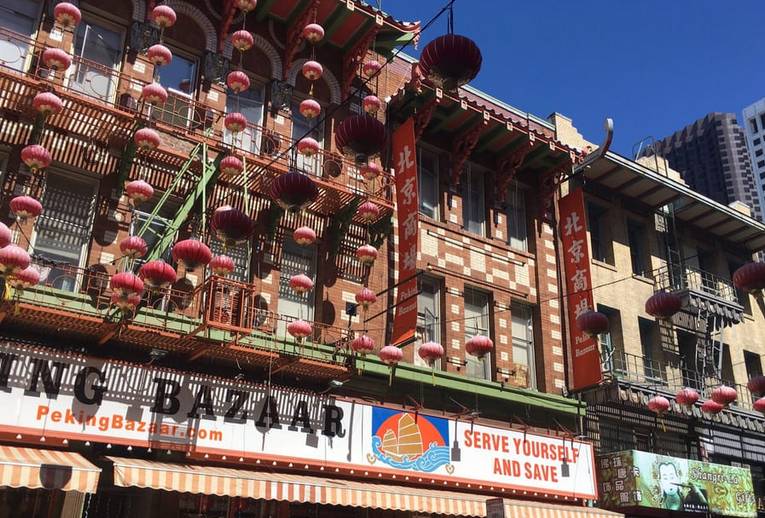 Duncombe Alley
The adventure doesn't have to end when the sun sets over the pier, as one to the best ways to see San Francisco Chinatown is a self-guided or guided tour of the historic alleys and streets. Duncombe Alley, home of the opium den, is located across from Ross Alley.
Once famous for its gambling and brothels, Duncombe Alley was the center of the opium trade, where dens started to pop up in the 1850s. These days Chinatown is a busy attraction, although you never know what these shadowy alleyways hide after dark. If all this adventure makes you hungry, then you're in luck.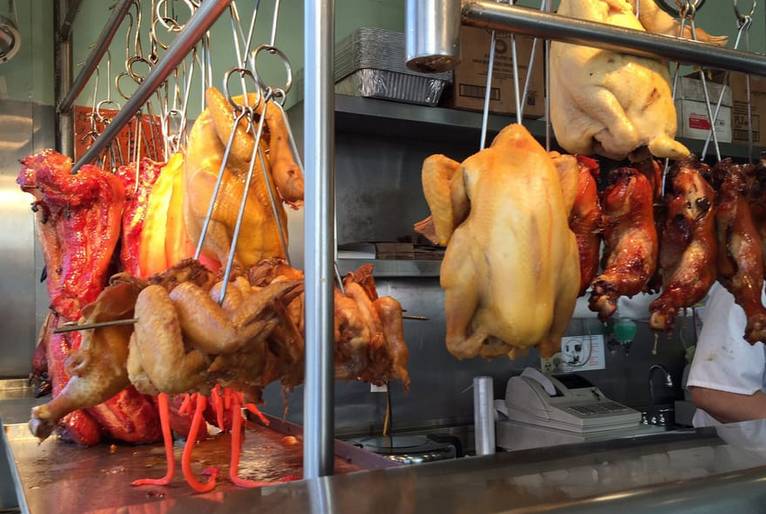 Where to eat San Francisco's Chinatown
San Francisco Chinatown restaurants are the birthplace of westernized Chinese cuisine, creating such items as chop suey, and introducing dim sum to American tastes.
Its dim sum tea houses are a significant tourist attraction, and many of its restaurants are featured in food television shows such as Martin Yan – Quick & Easy.
With so many restaurants in the area, it would take several trips to visit them all. Among them are local favorites that include the Broadway Dim Sum Café and Chef Hung's on Clay Street. Anna Bakery is also a great place to stop for delicious pastries to snack on while walking the many miles of alleys and narrow streets.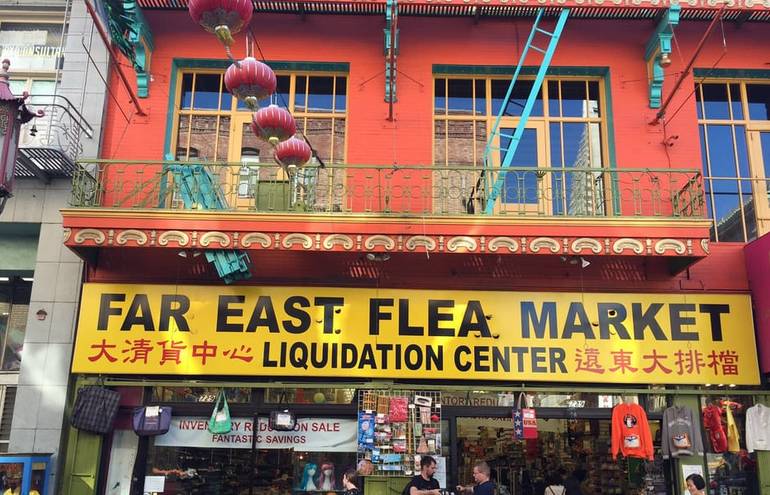 Getting to San Francisco Chinatown
Getting to San Francisco Chinatown can be challenging. If you arrive by automobile, parking is available in several spots. North Beach at Vallejo Street is at carpool rate; Portsmouth Square requires validation and has a charging station. St. Mary's Square is where to go for the weekend or reduced rates. Public transportation is accessible in the area, and taking a train or bus into town may allow you more time.
Next time you're near San Francisco, be sure to stop into Chinatown even if for just the afternoon. It's easy to reach from outlying areas and should take about an hour with regular traffic.