Fisherman's Wharf is the most popular tourist destination in San Francisco, and probably one of the most popular places for local San Franciscans to avoid.
If you've lived in the bay area for very long, you've learned to skip this area of the waterfront, but Fisherman's Wharf is much more than a magnet for visitors.
The pier gets its name and neighborhood characteristics from the city's early days during the Gold Rush, where Italian emigrants settled in the area and fished for the Dungeness Crab.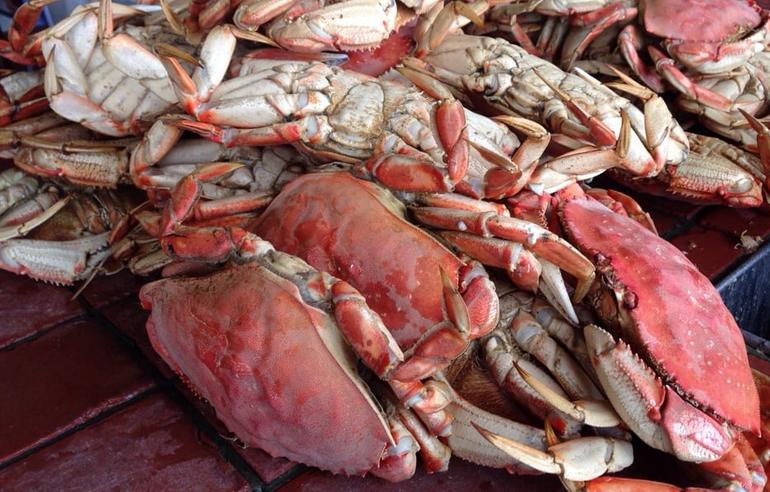 From then until the present day, it remained the home base of San Francisco's fishing fleet. Despite its redevelopment into a tourist attraction during the 1970s and 1980s, the area is still home to many active fishers.
Fisherman's Wharf is an integral part of San Francisco's history, and if you're willing to brave the crowds, it offers a great deal. Below are some of the top picks for locals at Fisherman's Wharf.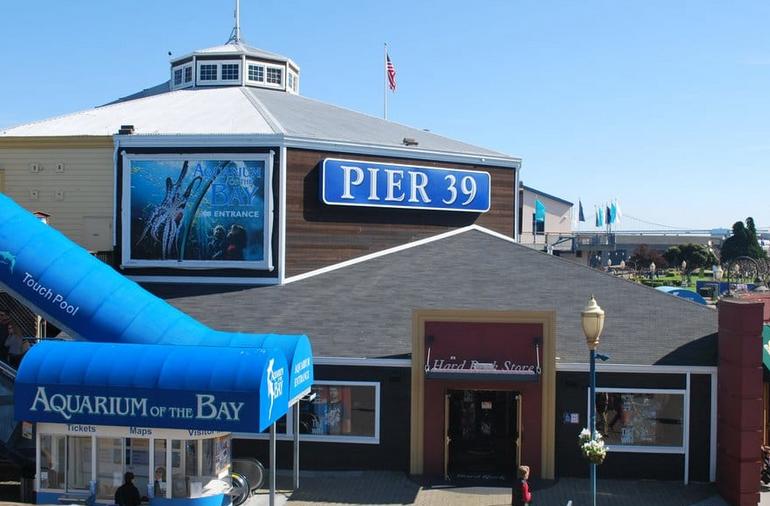 Fisherman's Wharf  Pier 39
Pier 39 is an excellent place for people watching. It's free and has a variety of small restaurants with great views of the waterfront. Boudin Bakery has a small store at Pier 39. If your e craving sourdough bread, this is a great place to avoid the crowd at the main bakery.
PIER 39 Savings Fun Pack – Aquarium of the Bay, Blue & Gold Bay Cruise, plus two more attractions.
For a different view of the Golden Gate Bridge, try a San Francisco Bay Cruise. Romantic, fun, and with a price of around $15, you can even bring your alcoholic beverages onboard. Most cruises leave from Pier 33 or Pier 39. Aquarium of the Bay is located on Pier 39 and is well worth a look, especially if you have kids along.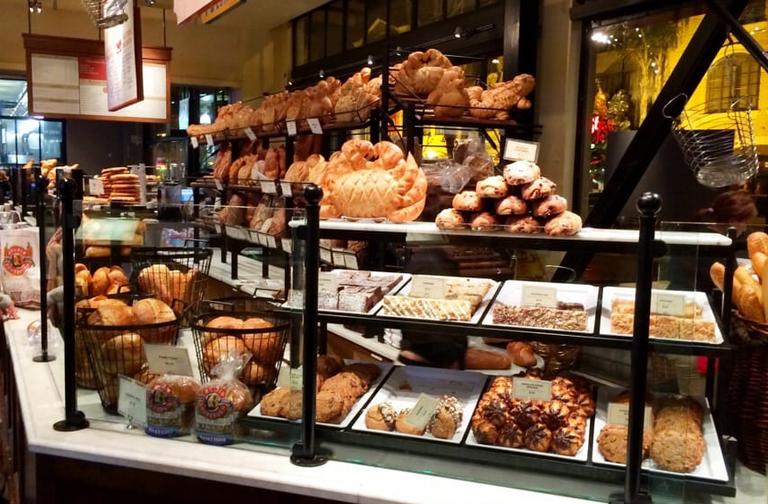 A walk through history in arcade form, Musee Mecanique is a part game arcade and part museum. Devoted to showcasing mechanical games, early movie viewing machines, and amusements from the 19th through the mid-20th century, it's a unique, fascinating, and sometimes creepy step back into the past.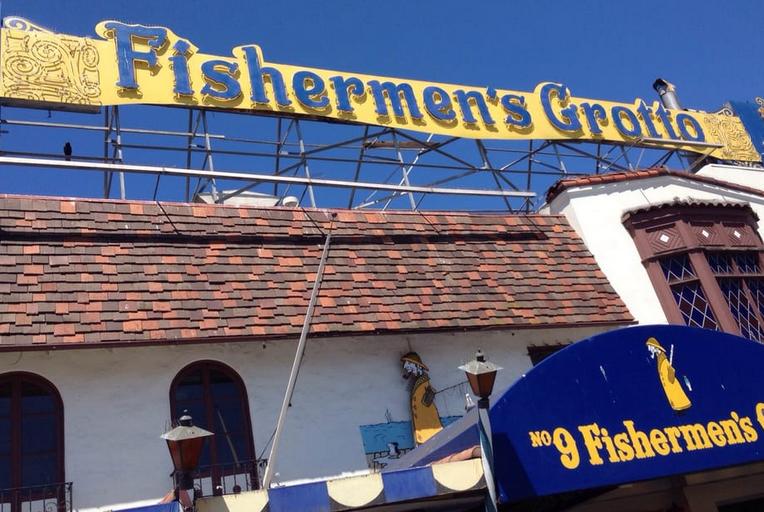 Seafood Restaurants
Italian immigrants made the fishing industry in San Francisco what it is today, and Italian-American influence can still be found throughout the area, including the variety of Seafood Restaurants found at the pier.
Most of them are still family-owned and locally operated, serving fresh seafood and Italian specialties in an atmosphere that is a welcome break from the chain restaurants that have recently taken over the area.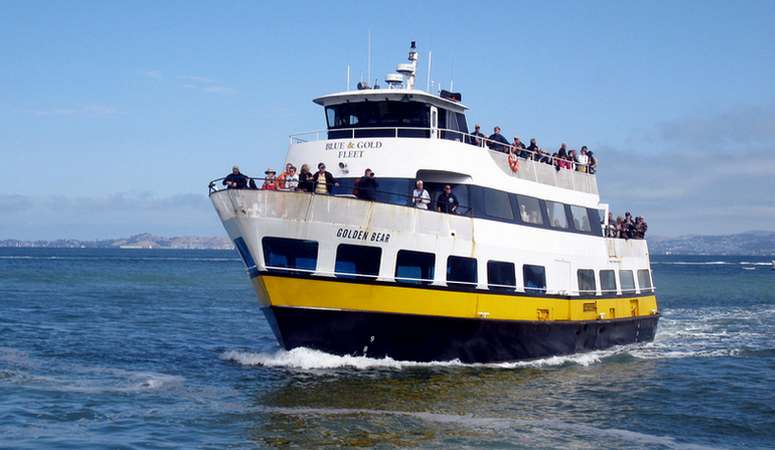 Locals and tourists delight at viewing San Francisco's world-famous landmarks from the comfort of the tour company's fleet of ships. Both Red and White Fleet and Blue and Gold Fleet bay cruise boats depart from the Fisherman's Warf area of San Francisco.
Portwalk at Fisherman's Wharf
Gorgeous waterfront views and walking trails with 27 markers can be found along the water's edge at Port Walk. Make sure to visit the Fishermen's and Seamen's Memorial Chapel across from Pier 45.
This simple, wooden chapel filled with plaques bearing the names of hundreds of seafaring men and women who died at sea was built in 1860 and still hosts the Blessing of the Fleet, an age-old fisherman's tradition that takes place on the first Saturday of October.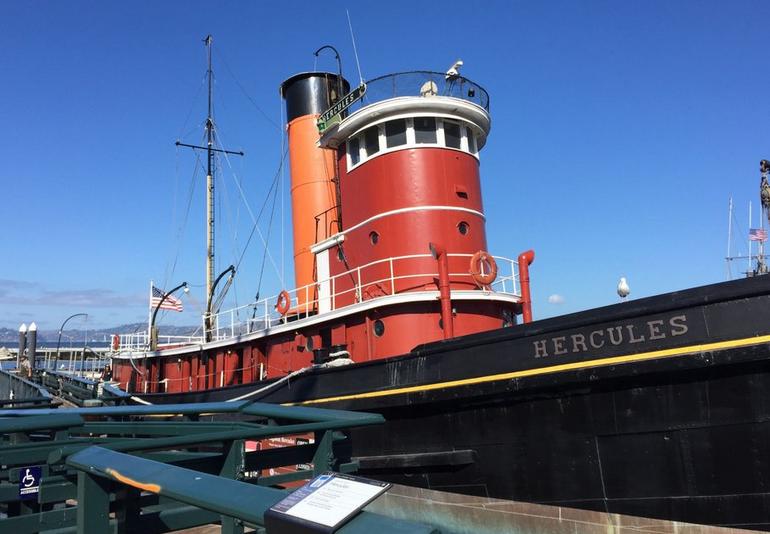 San Francisco Maritime Museum
The 9000 square foot San Francisco Maritime National Park Museum shares a building with the Argonaut Hotel. It is dedicated to the maritime history of the west coast.
Nearby is Aquatic Park, the best swimming beach in San Francisco. If you don't want to swim, you can sit on cement bleachers and enjoy the fantastic views or walk out to the end of the pier.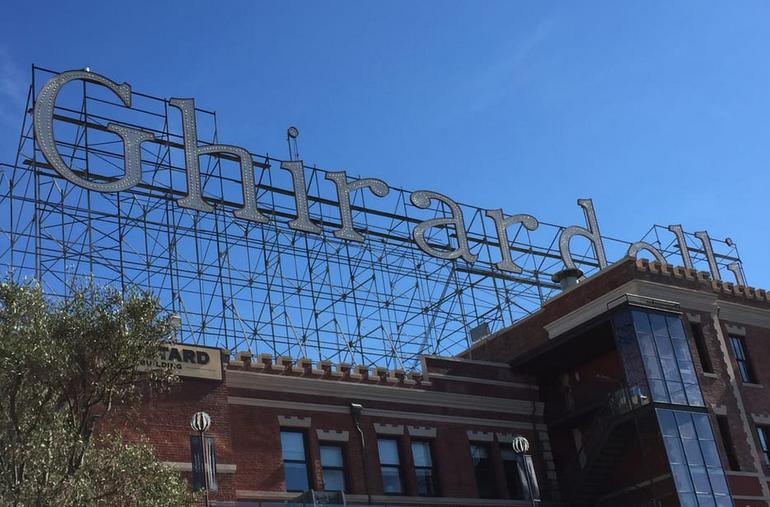 Ghiradelli Square
They are often overlooked by tourist art galleries that dot the Wharf. They showcase some of the best, cutting edge contemporary artists in the U.S. and are all free to enter.
Most galleries are located off of Jefferson Street and in the shopping complexes of the Cannery, Ghiradelli Square, and Anchorage Square.
Finally, San Francisco is renowned for its embrace of the unusual and has always been a mecca for people who feel they don't quite fit in anywhere else.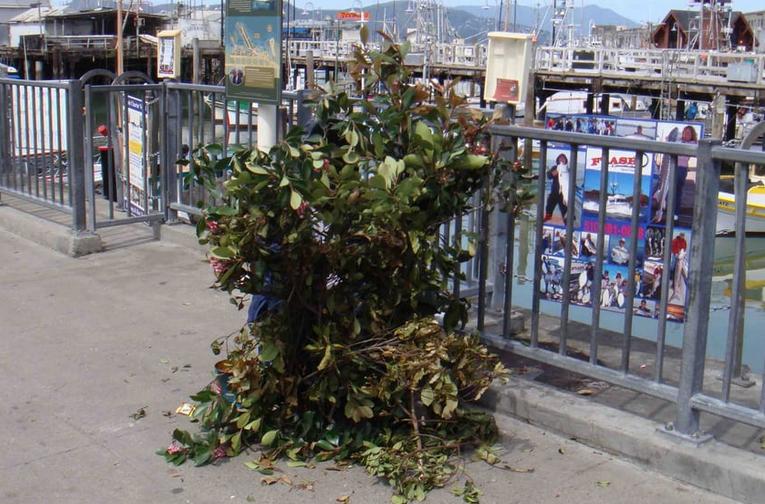 Fisherman's Wharf Bushman
No attraction better exemplifies this than The Bushman, who has been hiding behind the branches of Eucalyptus trees and bushes and scaring passersby since 1980. He has become such a fixture that he even has his own Wikipedia entry.
He can be found toward the western end of the Wharf, usually near Jefferson and Hyde Streets, to the west of the Grotto.
Getting to Fisherman's Wharf
Fisherman's Wharf San Francisco can be reached by cable car from Union Square. Tours of the bay and Alcatraz leave from here. Parking can be a real problem. Be sure to get a voucher from one of the merchants, or you will end up paying a considerable sum to the park.