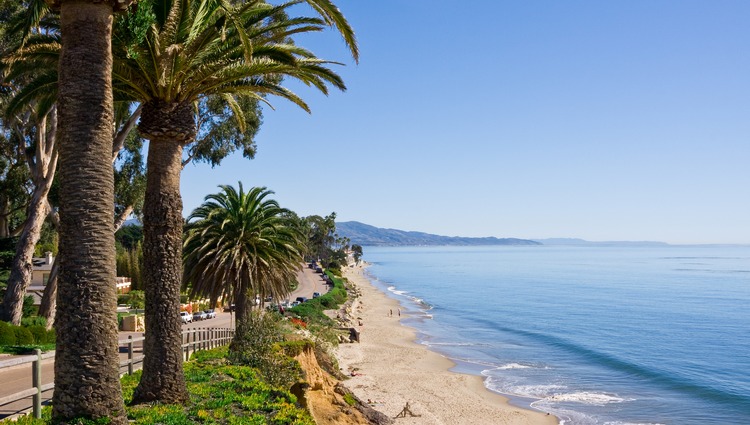 Santa Barbara is within easy day-trip distance from Los Angeles. If you are planning on making the journey get an early start because there are plenty of things to do in this beautiful coastal city.
Santa Barbara is about 90 miles north of Los Angeles, well within day-trip distance. To enjoy all this city has to offer you might want to spend at least, one night.
Quick Links: Ocean View Dining –  Wine Country – Santa Barbara by Train
Things To Do in Santa Barbara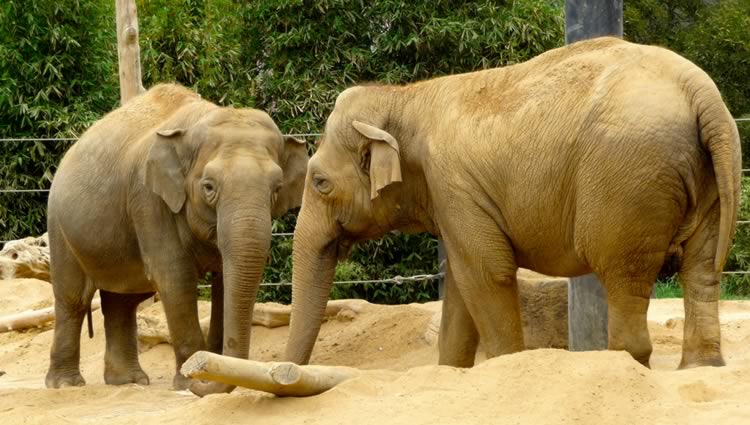 Rated as the best mid-size zoo on the west coast the Santa Barbara Zoo should be on the top of your to-do list. The Zoo is just the right size for kids and has a nice train that circles the zoo that is sure to be a hit with the whole family. The zoo is 2-miles south of Stearns Wharf at 500 Ninos Drive.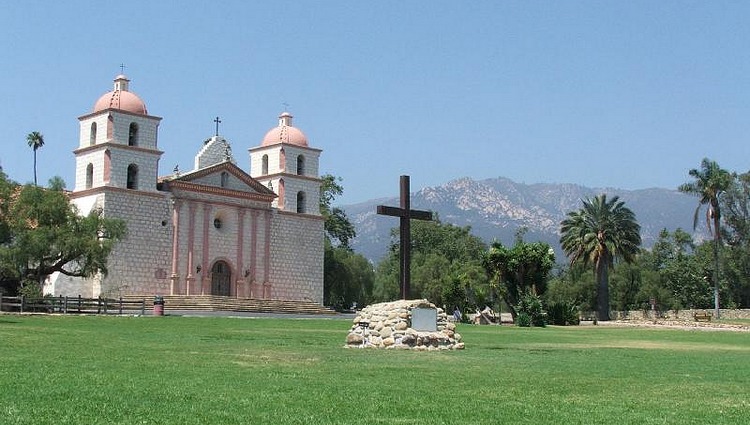 Mission Santa Barbara is one of the most beautiful in California and one of the most photographed missions in all of California. Self-Guided and docent-led tours are available. The mission is open seven days a week. You can find Santa Barbara's mission at 2201 Laguna Street.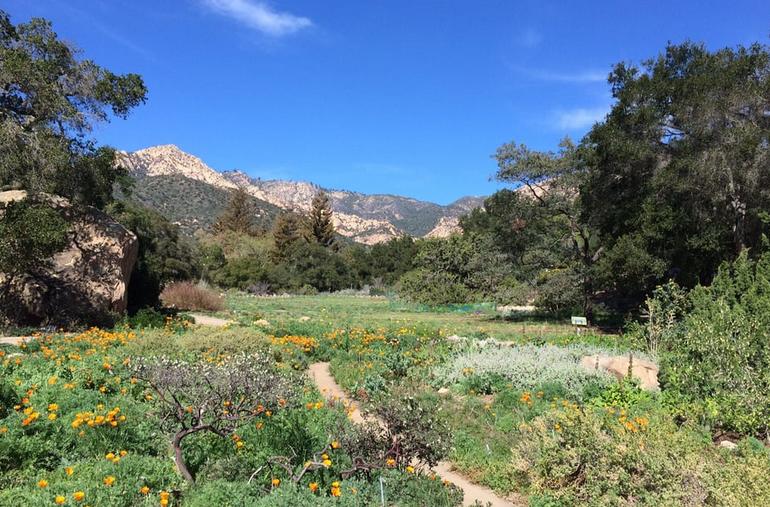 Located in Mission Canyon 1.5 miles inland from the Old Mission Santa Barbara you will find the Santa Barbara Botanic Garden. Explore 78 acres of plants in various themed sections, including mountains and the California Channel Islands. A creek runs through the garden that once the main source of water for Mission Santa Barbara. 1212 Mission Canyon Rd.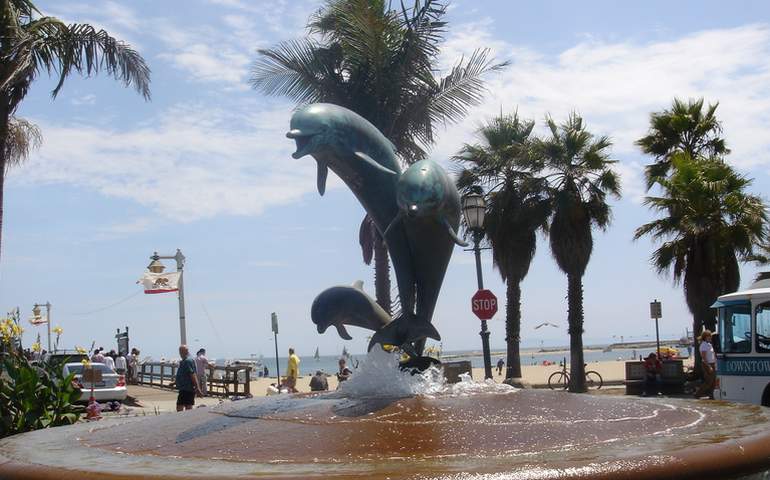 4. First-time visitors to Santa Barbara should head to Stearns Wharf. On the historic pier, there are restaurants, a museum, charter boats, and some stunning views of Santa Barbara and the mountains beyond. A fun activity is to rent a beach cruiser from one of the rental shops that line the beach near Stearns Wharf. There are miles of bike paths to explore however most people follow the trail from Stearns Wharf to Shoreline Park and back. Parking is available on the wharf, or along the beach at several parking lots.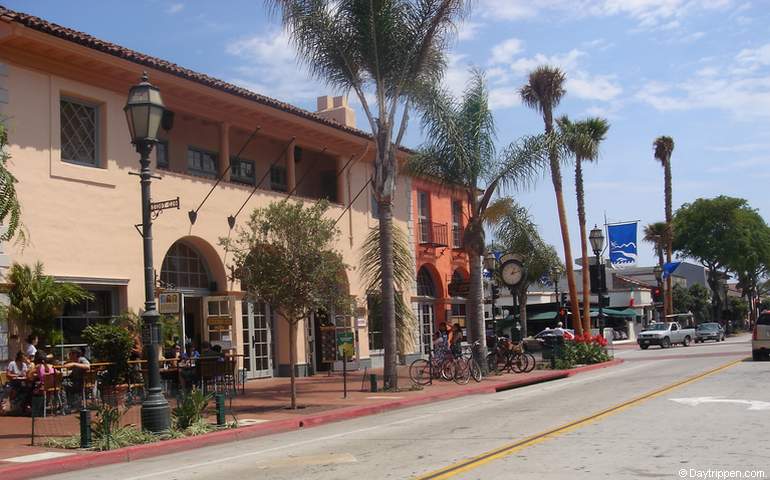 5. Santa Barbara State Street
State Street in Santa Barbara offers boutiques, art galleries, trendy shops and outlets and plenty of eateries serving everything from fast food to gourmet cuisine. Lower State Street is considered Downtown Santa Barbara and most visitors end up there. This area runs from Highway 101 for about 15 blocks and is considered one of America's most pedestrian-friendly downtowns.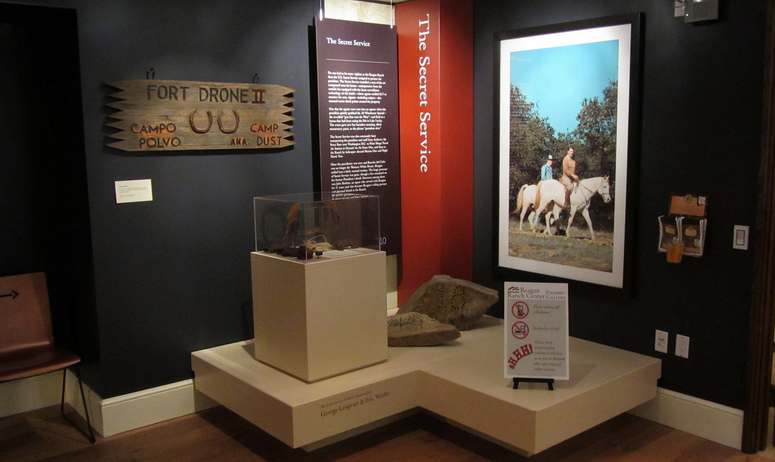 Reagan Ranch Center is located adjacent to the Amtrak station on State Street. The center features original Reagan Ranch artifacts displayed in interactive exhibits that highlight the history of Ronald Reagan's quarter-century at Rancho del Cielo along with select pieces from his presidency. 217 State Street. Admission is free.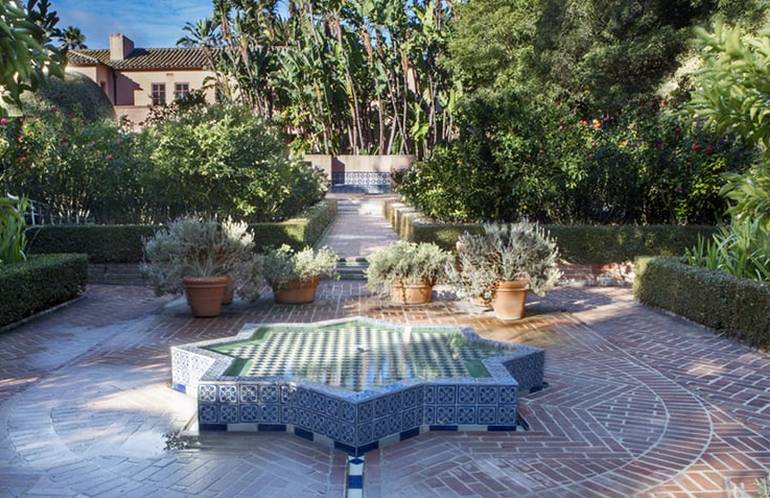 Lotusland in Santa Barbara is a spectacular collection of more than 3,000 plants from all over the world and the historic Montecito estate of Madame Walska. Lotus flowers are the highlight of the garden, which when in bloom in the summer are beautifully displayed in a swimming pool that was transformed into a spectacular centerpiece. Cold Springs Road and Sycamore Canyon Road.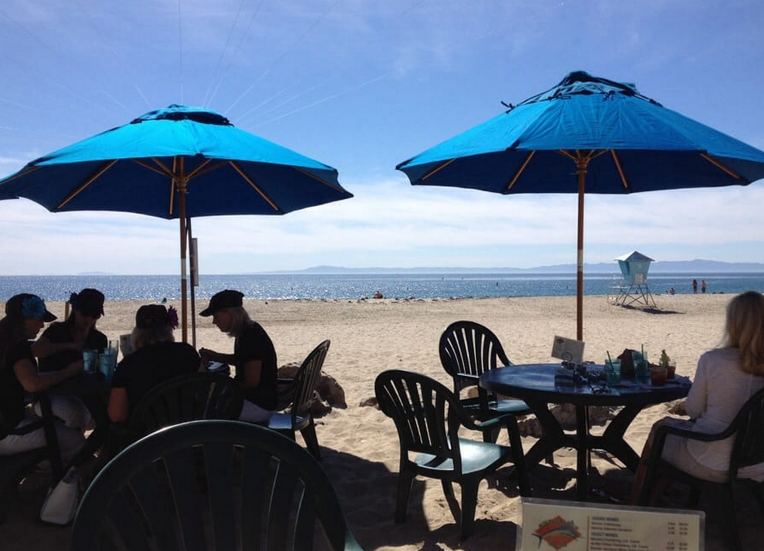 8. Shoreline Cafe Leadbetter Beach
Eat and drink on the beach at the Shoreline Cafe in Santa Barbara. Serving breakfast, lunch, and dinner on their glass-enclosed deck or directly on the beach with the sand under your feet. The menu at the Shoreline Cafe is casual and includes sandwiches, burgers, hot dogs, tacos and fresh fish. Beer, wine, and cocktails are also served here. Happy Hour Monday – Friday 4 pm – 6 pm. 801 Shoreline Drive.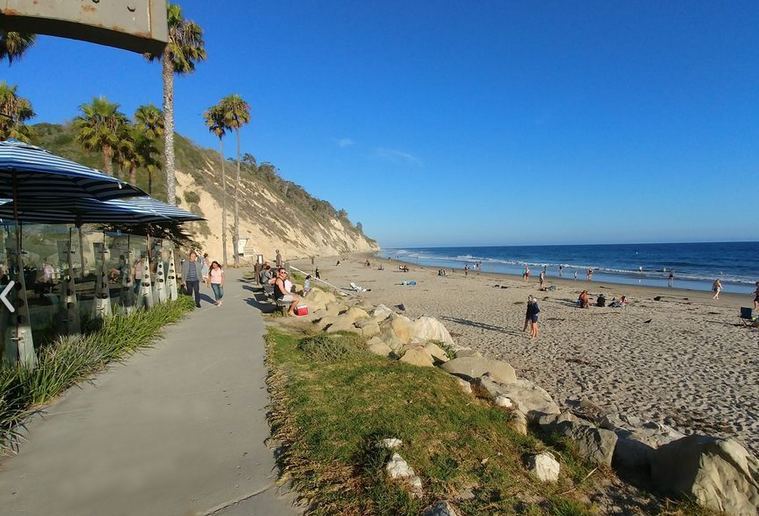 9. Boathouse at Hendry's Beach
For a more upscale dining experience along the beach, we recommend the Boathouse at Hendry's Beach. Serving breakfast, lunch, and dinner the Boathouse is one of Santa Barbara's most popular restaurants. The prices have a lot to do with the location but they are not too over the top. Fresh seafood is the specialty here but they do offer chicken and steak. At sunset, the wait can be 45 mins or longer. 2981 Cliff Dr, Santa Barbara. website.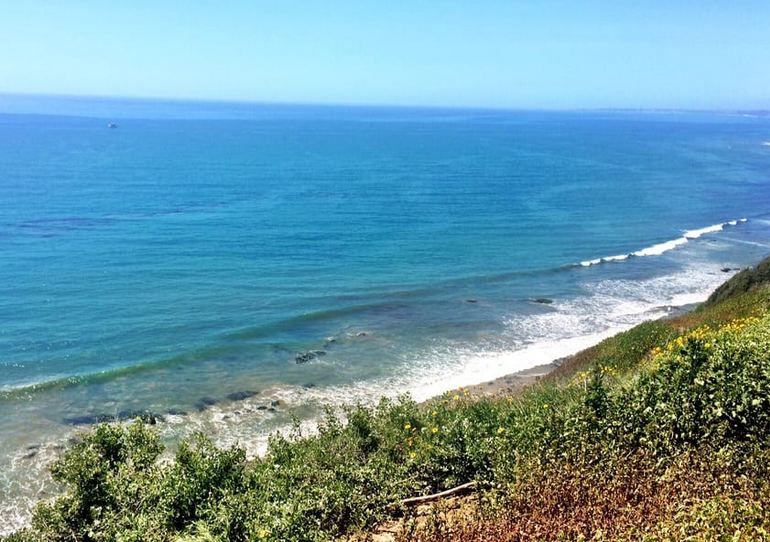 10. Douglas Family Preserve
Just South of Hendry's Beach you will find the 70-acre Douglas Family Preserve. The largest area of coastal open space within the city limits. The preserve features 3 miles of dog-friendly walking trails, amazing views of the Santa Babara coastline and there is even an area where you can launch a hang glider. The property, a former nursery, was named "Douglas Family Preserve," in recognition of a large contribution by actor Michael Douglas that helped make the preserve Public Land. website.
Cold Spring Tavern looks much as it did when it was first built. Nestled in an oak-filled canyon most of the buildings look like they are right out of a western movie. Along with the original tavern, there is the 1873 Ojai jailhouse, Treasures and Trash Gift shop, a road gang cabin, and the Log Cabin Bar which is open on weekends.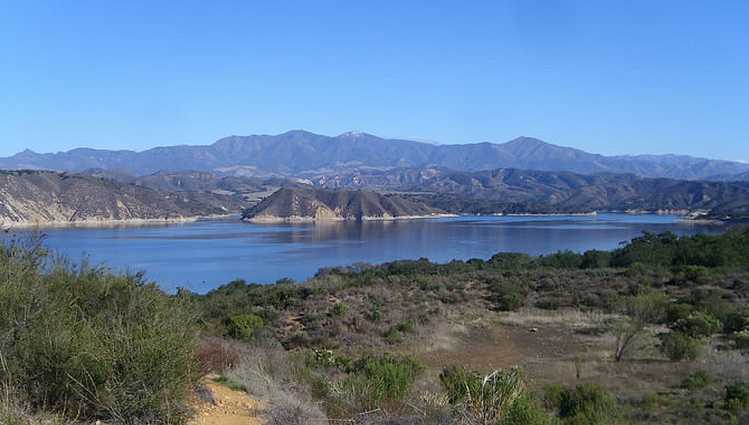 Located in the Santa Ynez Valley is beautiful Lake Cachuma. Fishing, camping, and hiking are the main activities here. If you are looking for a fun way to camp with some of the comforts of home you may be interested in a Lake Cachuma Yurt. Just bring sleeping bags and supplies everything else is included.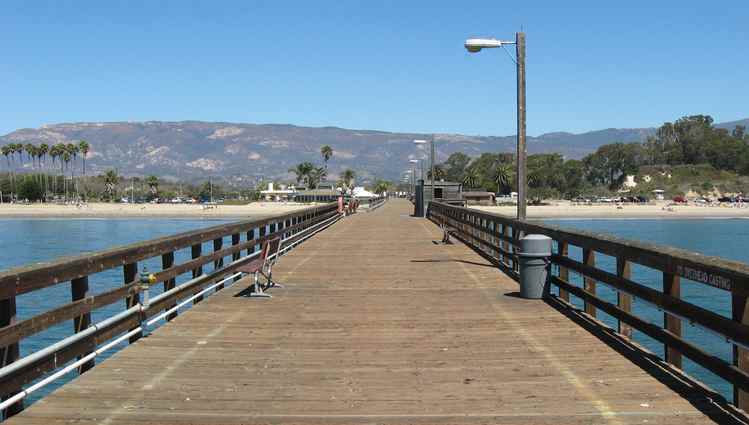 Goleta beaches are typically less crowded and an ideal destination for a quiet family day trip or a romantic weekend getaway. Known for its 1,500-foot-long fishing pier the park provides a 29-acre outdoor playground, popular for bicyclists and families out for a stroll.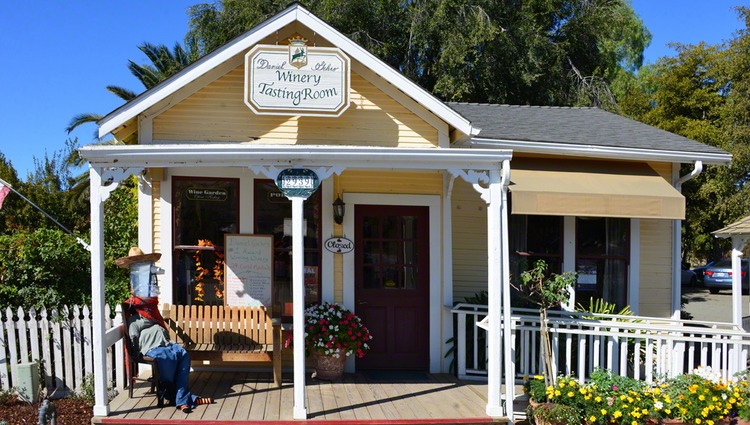 Widely recognized for its world-class wineries and tasting rooms the Santa Ynez Valley us ab easy drive from Santa Barbara. Along with wine tasting, visitors can enjoy browsing art galleries, clothing boutiques, and antique stores. Dining options run from mouth-watering meals from gourmet wine country cuisine to Danish specialties.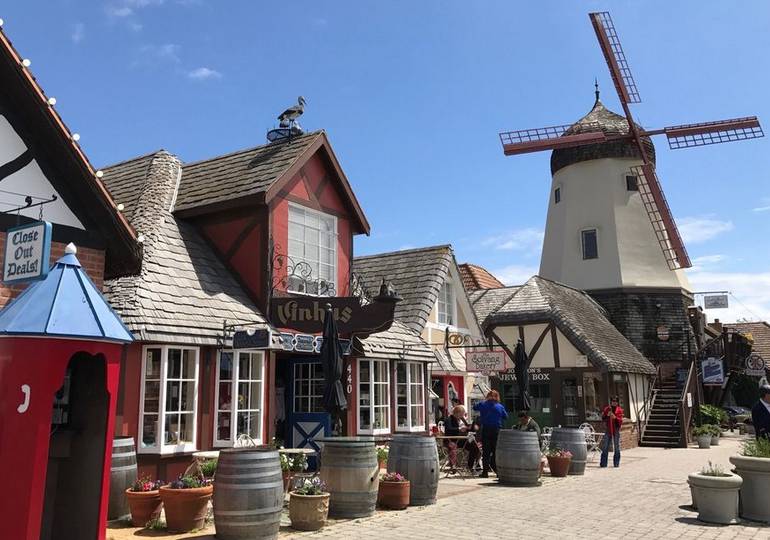 From Santa Barbara, visitors can also take Highway 154 to reach Solvang. This Danish village is a major tourist attraction in California with over a million visitors a year. See Danish windmills, half-timbered houses, enjoy fresh-baked banish Bakeries, or sip wine in downtown tasting rooms. Travel time from Santa Barbara is about 40 minutes.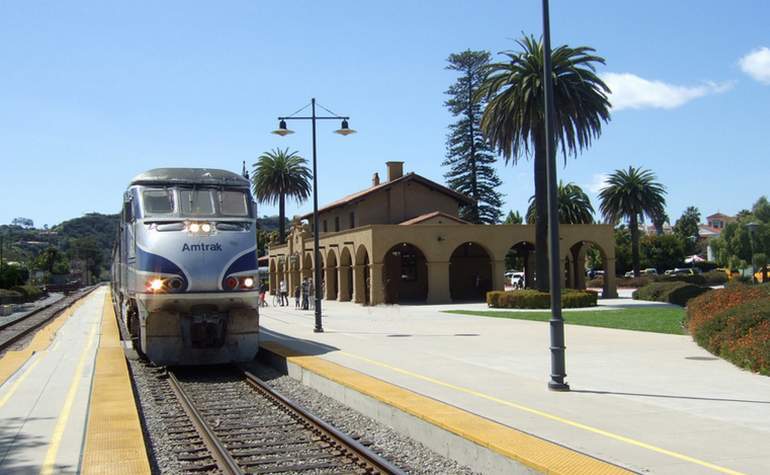 On the summer weekends highway, 101 will have heavy traffic in and out of Santa Barbara. Start your trip put as early as possible to avoid the rush. A fun way to visit by Amtrak. Pacific Surfliner.  There are four scheduled stops every day of the week. Several hotels are within walking distance of the station.