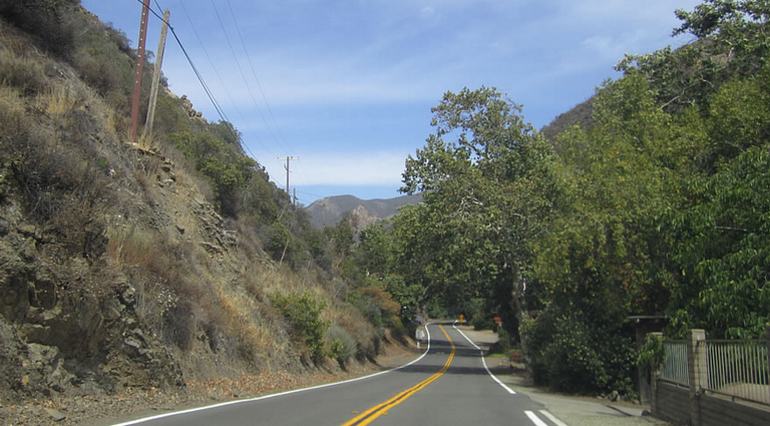 Sometimes the best journeys begin are an interesting road trip. One that can more exhilarating than your final destination. Nothing rivals a relaxing drive along an unspoiled strip of Southern California highway.
And a weekend drive along winding Santiago Canyon Road, which meanders its way through Santa Ana mountains in southeast Orange County, provides the perfect spot for man and machine to enjoy a day out.
Orange County's last back-country road, Santiago Canyon Road, also known as County Highway 18, extends for about 12 miles between the City of Lake Forest and the City of Orange.
To make the most of the drive, travelers will want to start their excursion at the north end, just where the city disappears at the mouth of the Santa Margarita Mountains at the base of the Cleveland National Forest.
The mountains here are sharp and rugged and, for the most part, untouched. Some parts of this area of Orange County are preserved as open space, with hiking and horse trails heading into the hills like the ones found at Irvine Regional Park.
Nestled amid a grove of heritage Oak and Sycamore trees, the rolling foothills surrounding the park are filled with a variety of wildlife, including those at the Orange County Zoo located inside the park.
Trees and shaded turf areas also provide a perfect setting for picnicking, barbecuing and numerous outdoor activities.
Santiago Creek bisects the park and is fed by water from Irvine Lake.

Irvine Lake a privately run facility that offers camping and picnic areas, a few miles south of the park. The 750-acre lake features steep rocky cliffs and shallow coves that provide excellent fishing without a license.
Next up is the turnoff to Silverado Canyon, a must see on your drive along Santiago Canyon Road. Silverado was a silver mining town in the late 19th century that also produced timber and some coal. If you know where to look you can find a couple of abandoned mines. For safety, it's best to stay clear of these relics of the past.
These days Silverado Canyon still has its own post office, fires station, and the quaint little Silverado Cafe. On weekends, there is a small farmers market across the street from the cafe. Silverado Canyon is also the main entrance for those wishing to explore the Santa Ana Mountain trails.
A little further to the south on the east side of Highway 18, are the Modjeska Canyon Nature Preserve and Tucker Wildlife Preserve, which are protected natural areas surrounded by national forest.
Also, tucked away on the banks of Santiago Creek nearby, lies the century-old home of world-renowned actress Madame Helena Modjeska. The National Historic Landmark is aptly named Arden for its resemblance to the Forest of Arden in the Shakespearean play, "As You Like It."
Docent-led tours of the historic house and gardens are currently offered four times a month, by advance reservation only.
Finally, there is one last stop along Highway 18 that is legendary.
Best described, but much more than a "biker bar", Cook's Corner at the intersection of Santiago Canyon, El Toro, and Live Oak Canyon roads, has been welcoming travelers on two or four wheels since 1926.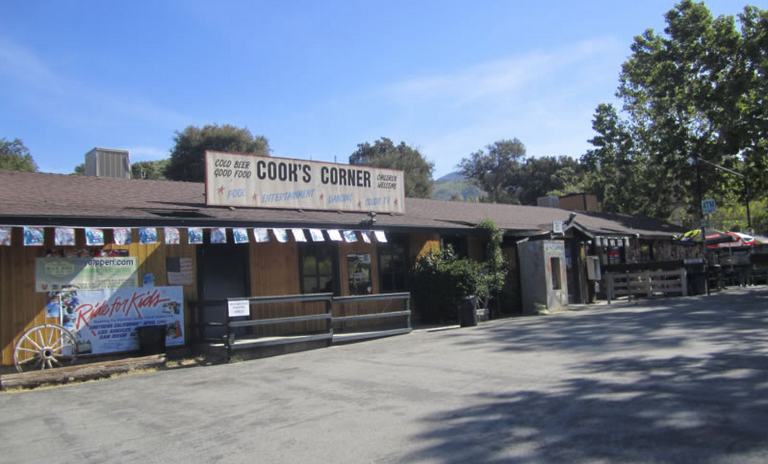 Always packed on weekends with a line of bikes parked out front, the wooden structure similar to a World War II-era restaurant and bar is one of Orange County's most popular waterholes and eateries. If you turn right at Cooks onto Live Oak Canyon road its a quick trip under a canopy of Oak Trees to O'Neill Regional Park.
The drive along Orange County's last county road is fairly short but with side trips, you can easily fill up a day. Housing tracts are planned near Irvine Lake and on both sides of the Foothill Toll Road so in the future, the trip will even be shorter. So don't delay and enjoy what's left of the wide open space before it's paved over.
If your looking for a quick escape from the hustle bustle of Orange County a trip along Santiago Canyon Road is a great place to explore. Bring along some hiking shoes and discover oak woodlands and majestic mountains only minutes from the traffic-jammed streets of Orange County.
To drive Santiago Canyon Road, take Interstate 5 to SR-55 in Orange County. Exit at East Chapman Avenue. Head east. Continue onto Santiago Canyon Road (S-18). From South county take El Toro road east, past the rows of houses. Once you arrive a Cooks Corner your trip begins.