Seaforth Sportfishing out of San Diego offers whale watching trips year round. December through April you can see the annual migration of the Pacific gray whale from Alaska to Mexico.
These massive creatures can get up to 50 feet in length and weigh up to 40 tons. Gray whales can be seen as close as 1/2 mile from Mission Bay San Diego.
May through November the mighty blue whales along with finback whales can be seen off the coast of San Diego. The blue whale is the largest animal to ever on the earth and can grow to over 100 feet in length. These two whales can be found 5 to 9 miles offshore feeding from early summer to fall.
Whale watching tours last about three hours and our narrated by the captain and crew. Along with whales, you might also see dolphins, sea lions, blue whales, and even the occasional orca.
Weekends there are two whale watch trips one at 10.00 am and one at 1.00 pm. During the week, the there is one trip which leaves at 1.00 pm. Seaforth Sportfishing has year-round sports fishing day trips.
Privately charter whale watching trips are also available. Year round half day fishing trips trip are perfect for the beginner and the casual angler. Fishing ranges from La Jolla south to Imperial Beach, giving you a good view of the California coastline as well as good fishing.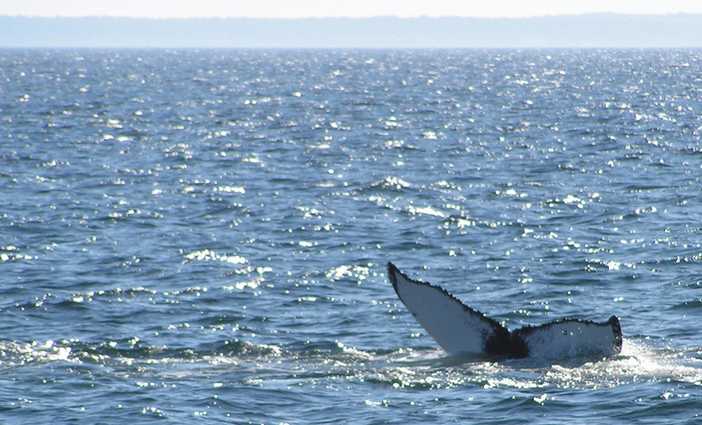 Seaforth Sportfishing operates out of Mission Bay San Diego just around the corner from Sea World. The boat trip out to the ocean only takes a few minutes. See marine birds, sea lions, seals, dolphins and of on nearly every trip, whales.
Seaforth even has a Whale Guarantee. "If you don't see a whale or dolphin then you'll receive a free pass for another whale watching trip. If you don't see a whale but get to see dolphins then you get a 50% off pass."
Whale watching trips are offered Monday through Friday at 10:00 am; Sat & Sun: 10 am & 1:30 pm with The length of cruise is about 3 hours. Free parking is available with boarding begins 15 minutes prior to departure.
Treat your family to a whale watching adventure. This is one trip they will be talking about for a long time to come.
Phone: 619.224.3383 Seaforth Sportfishing 1717 Quivira Road San Diego CA 92109