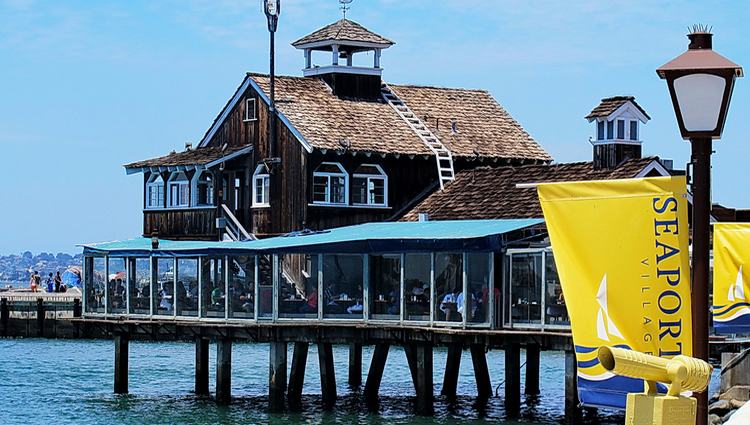 Located along a prime stretch of waterfront that spreads out across 14 acres, connecting both sides of the San Diego Harbor are Seaport Village, a unique San Diego shopping, dining, and recreation experience.
Designed to reflect New England clapboard and Spanish Mission architectural styles of early California, the three bustling shopping areas that make up the Village provides the right setting for grabbing lunch or dinner, browsing for trinkets, or just wanting to enjoy the beautiful San Diego waterfront with its endless photo opportunities.
Four miles of pathway, including a ¼-mile boardwalk with sweeping bay views and fresh ocean breezes, winds its way past more than 70 specialty shops and restaurants including everything from a kite store and swing emporium to a shop devoted to old nautical and pirate-themed swag and a of course–a surf shop.
Snack bars and restaurants–many with harbor views–can also be found, ranging from surf and turf to burgers and pizza. A few eateries open early for breakfast, and many have extended nighttime hours, especially in summer.
There are also horse and carriage rides, and at the center of the Village is an 1895 Looff carousel, with its 54 hand-carved and hand-painted animals including horses, a giraffe, dragon, elephant, and a dog. Tickets are only two dollars to ride the carousel.
Frequent public entertainment is always a side attraction at Seaport Village and visitors will often encounter strolling clowns, balloon sculptors, mimes, minstrels, and magicians wandering throughout the village to entertain adults and children.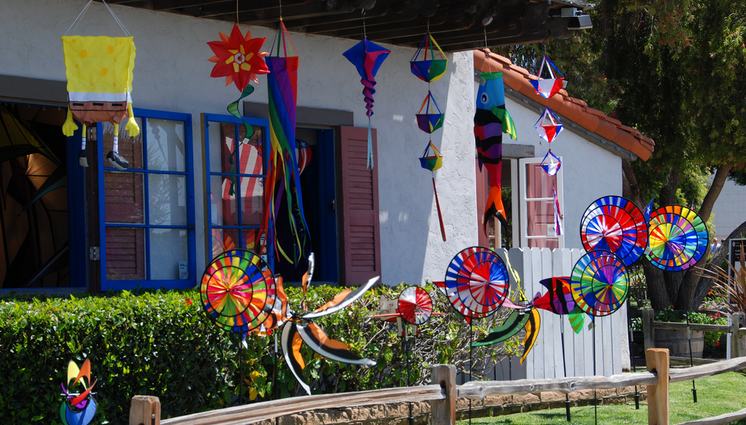 Because San Diego's weather is nearly perfect year round, any season is a great time to visit. However, if you happen to visit San Diego in late November or early December, you can catch Surfing Santa's arrival and even have your picture taken with the jolly ole soul on his giant wave. Also, every year in April, be sure to catch the Seaport Buskers Fest, featuring a wide array of street performers.
Seaport Village is conveniently located and is within walking distance of several hotels, the San Diego Convention Center, the San Diego Trolley and other nearby areas worth exploring.
One of those being the USS Midway, a real-life floating tribute to American military history where visitors can view first-hand what life was like on this massive superstructure, exploring the galley, bridge, berthing spaces, hangar deck, and flight deck.
Admission includes a self-guided audio tour. Docents, many of whom served on the USS Midway, are on board during the day to talk about the ship and to make the experience even more educational and interesting for visitors of all ages.
Next to the USS midway is the San Diego Maritime Museum. After paying a modest admission fee, visitors will embark on a fascinating journey through nautical history exploring several ships, ferries, and sailing vessels, as well as a both a US and Soviet submarine. One of the ships showcased at the museum is the Star of India.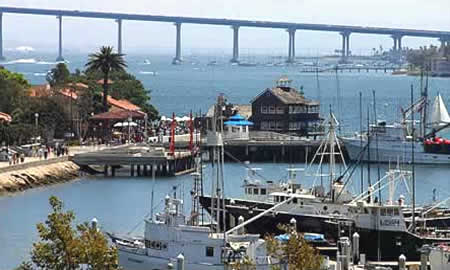 After a day of walking, a fun way to get around San Diego is via the San Diego Ferry. Just steps from the museum, the ferry departs from the Broadway Pier commercial boat area and takes just 20 minutes to reach The Ferry Landing Place on nearby Coronado Island.
The Marketplace boasts a collection of unique shops and eateries to grab a quick bite or pick up a nautical trinket to commemorate your trip.
Visitors can also rent bicycles or surreys to pedal along winding waterfront bike paths that lead to places such as Tidelands Park, Spreckels Park, or Silver Strand Beach.
This can be the start of a great day trip for the entire family. Bring a picnic lunch and head off to Glorietta Bay Park for a day of outdoor fun and adventure. But don't fret if you forgot to pack a basket, as dozens of small cafes dot the main road making it easy to pick up a sandwich and something cool to drink.
To end your day, a fun treat for eats is the 94th Aero Squadron, located on the edge of Montgomery Field Airport. Housed in a replica of a World War I French farmhouse, this restaurant is especially well known for its upfront view of the airport, extensive brunch menu, and kid-friendly menu choices. You can even grab a table with headphones and listen to the FAA control tower while dining.
San Diego Seaport Village and its surrounding attractions are located just 2-3 hours depending on traffic from Los Angels, and just a short 80 miles from south Orange County.
Seaport Village's shops are open 10 am to 9 pm daily. Parking is easily accessible with two hours free with purchase validation