If you are looking for a new twist on a dinner theatre, then Teatro Martini Dinner Theatre in Buena Park, California, could just fit the bill. Prepare yourself for a uniquely entertaining evening of music, cabaret comedy, and cirque-style acts.
Located in Buena Park, California, near two of Orange County's main tourist attractions — Knott's Berry Farm and Disneyland— the Teatro Martini Dinner Cabaret is a cozy 200-seat venue that offers a new experience. In the dining theatre arena.
The adult-only shows (18 years and up) features the finest entertainers, bartenders, chefs, and beautiful dancers, brought in from all over the world. Teatro Martini Dinner Theatre is perfect for a date night, girl's night out, birthday party, or adult group event. Parents need to leave the kids at home for this one.
Teatro Martini is classic entertainment with a naughty twist. Fun and good-natured, with reviews citing it as tasteful and hilarious, it's sure to get the grownups rowdy. Guests begin their evening, feasting on a five-course meal including appetizer, tomato bisque soup, garden salad, and a cheesecake dessert with drizzled chocolate.
Teatro Martini Dinner
Dinner entrees include filling portions of your choice roast chicken, braised brisket, or salmon fillet. Iced tea is unlimited, with a full bar of alcoholic beverages or soda available for an additional fee. There is also an option to upgrade your dinner to a Surf and Turf, including a split of champagne. Upgrade two meals, and they will bring you the entire bottle.
Teatro Martini Show
Following is the tantalizing late-night entertainment, which is both edgy and sexy with nonstop comedy, magicians, daring acrobatics, and energetic music, all to ensure guests an evening of fun and antics. The entire show will hold the audience's attention with excitement and magic, providing an amazing full theatrical experience.
Full of talented and well-trained actors, this group entertains endlessly throughout the night. Seating does not matter because interactive entertainment is offered at so many different angles. Every seat is a front-row seat.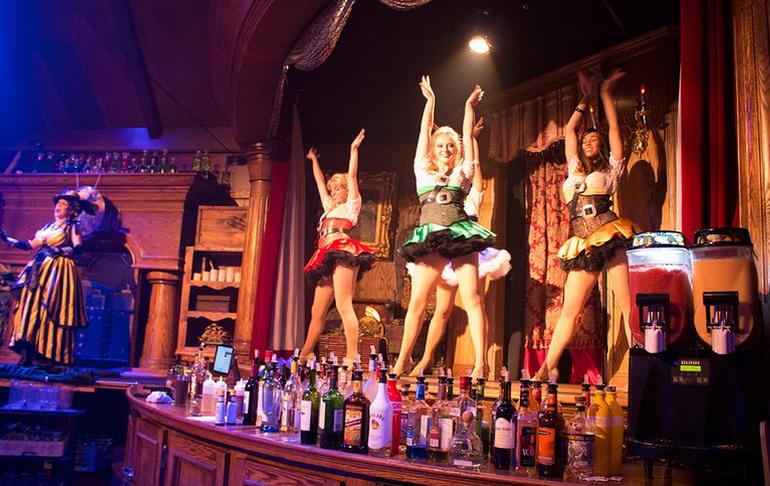 Teatro Martini Dinner Theatre is for guests age 18 and over, and ID must be presented. An additional note is that valet parking is mandatory.
Tickets are not cheap, $75.00 when you include parking. We recommend you purchase tickets in advance.
Showtimes are Thursday, Friday, and Sunday at 8:00 pm. Saturday starts a bit later at 9 p.m. The venue is closed Monday, Tuesday, and Wednesday.
If you arrive early to the show, free appetizers are offered. The Teatro Martini Dinner Comedy Theatre is located in Buena Park, at 7600 Beach Boulevard.
Nearby: