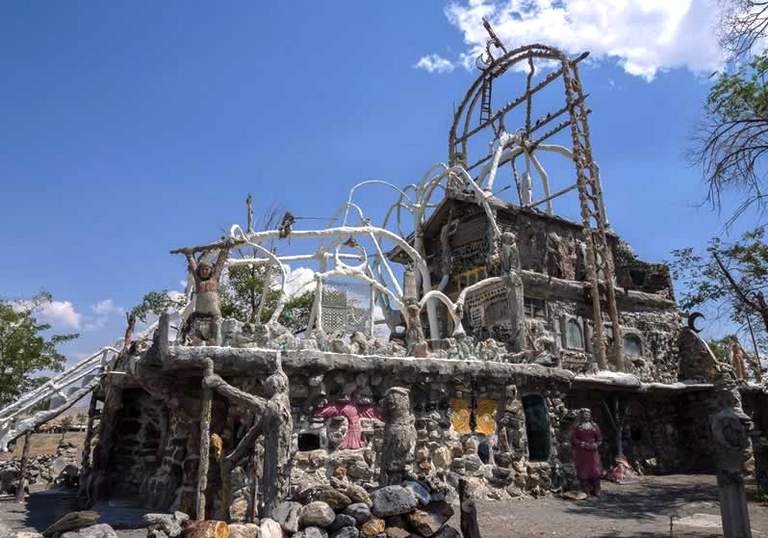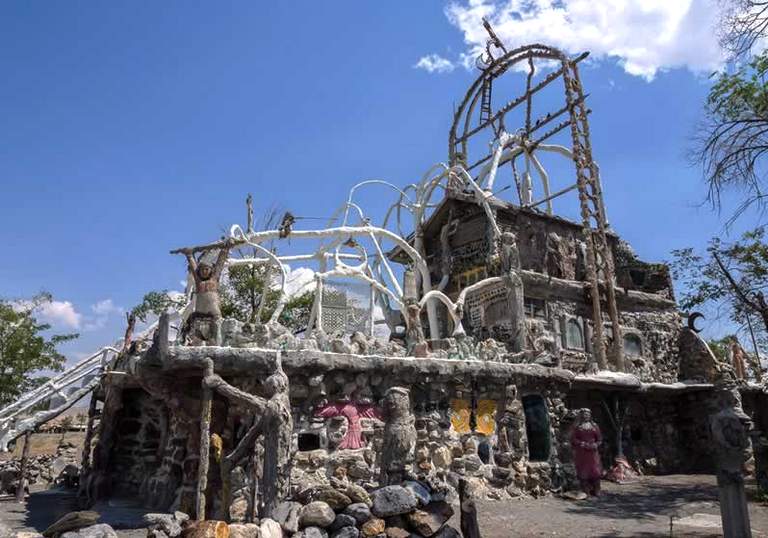 Thunder Mountain Monument Imlay Nevada. This unusual attraction is located along Interstate 80, about 130 miles east of Reno, Nevada. Thunder Mountain is One man's creation dedicated to the North American Indians.
Imlay, Nevada, is a tiny railroad town about a two-hour drive from Reno, Nevada. This desert town offers two fascinating attractions, Thunder Mountain Monument and a wonderful wildlife sanctuary, Safe Heaven Rescue. Both places are worthy of a visit but due to the town's remote location its best to see both simultaneously.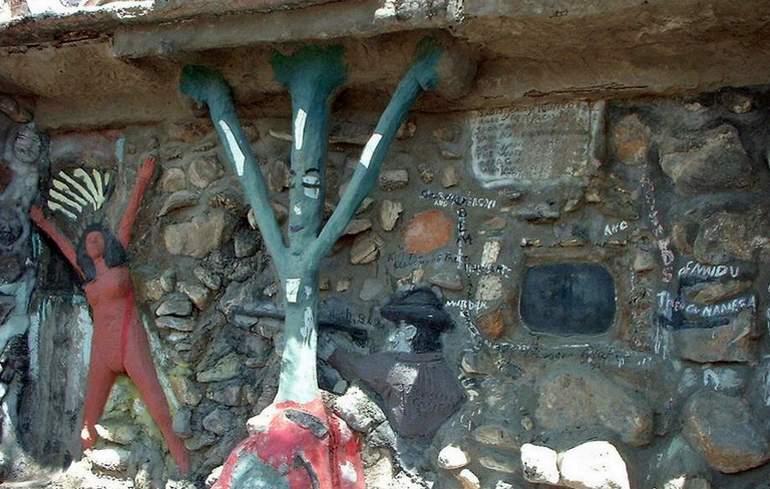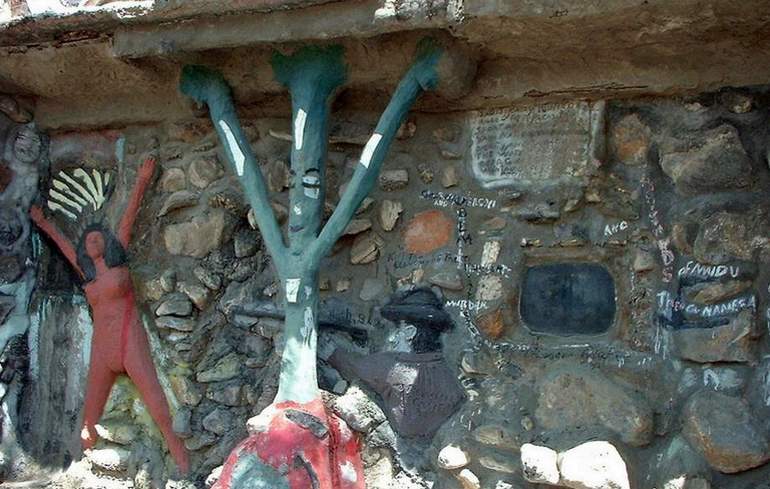 Thunder Mountain Monument is the creation of Frank Van Zant, AKA Chief Rolling Mountain Thunder. The chief used objects he found at a nearby junkyard or picked up discarded objects along the highway to create his monument in the desert.
The buildings, or what's left of them, are assembled from just about every object you can imagine, including old tires, sinks, typewriters, and pieces of cars. Frank Van Zant lived here with his wife for nearly 20 years, along with drifters and hippies.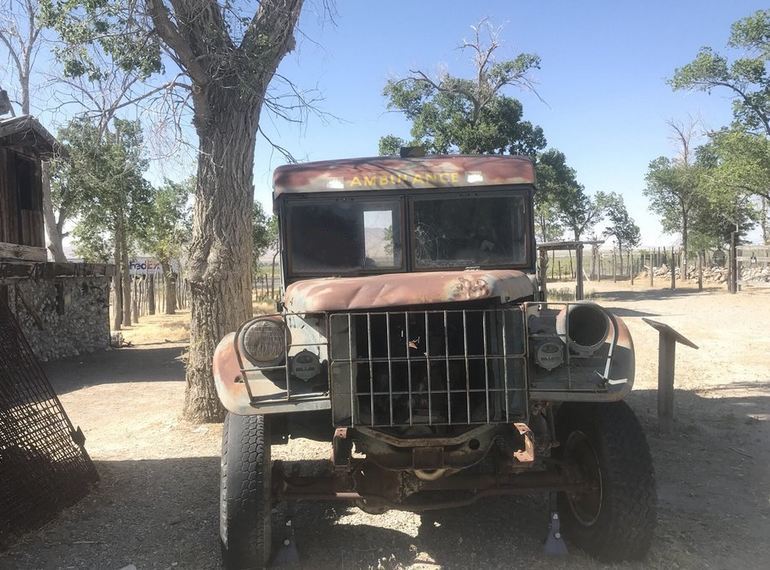 The local town folk was not too happy with the chief's unusual creation and did everything they could to rid the community of the blight, including (rumored) setting a fire that destroyed the three-story commune building.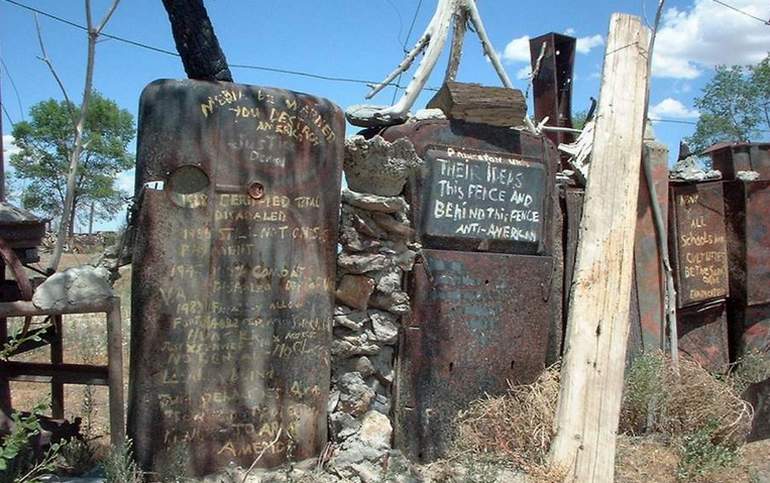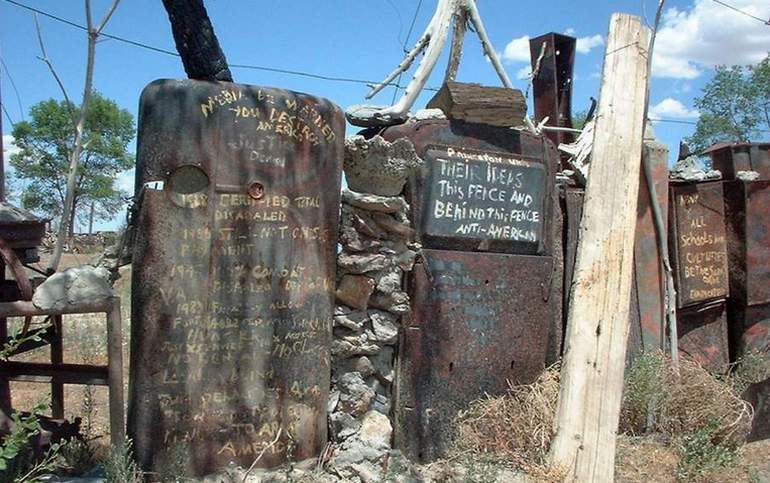 Thunder Mountain Monument
Thunder Mountain looks like a pile of junk from a distance, but as you get closer, you will see its real uniqueness. Hundreds of sculptures are blended into walls, and the grounds are scattered with concrete creations of every kind.
The theme of the Thunder Mountain Monument brings attention to the history and culture of the North American Indians.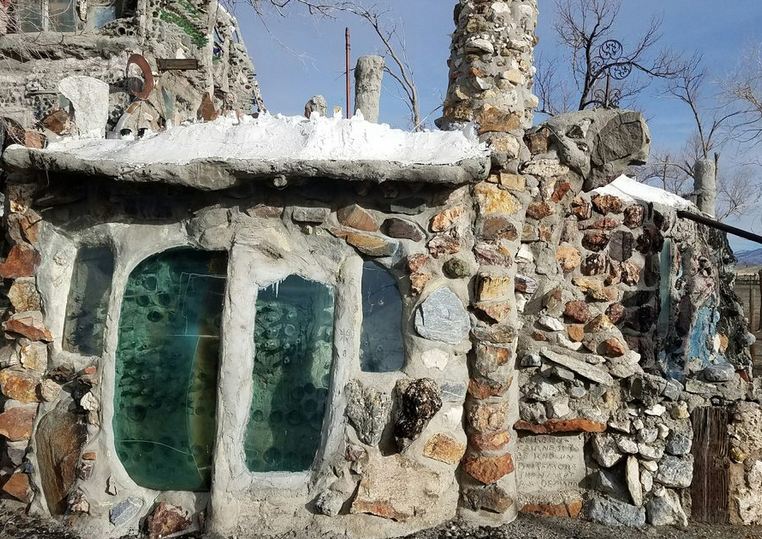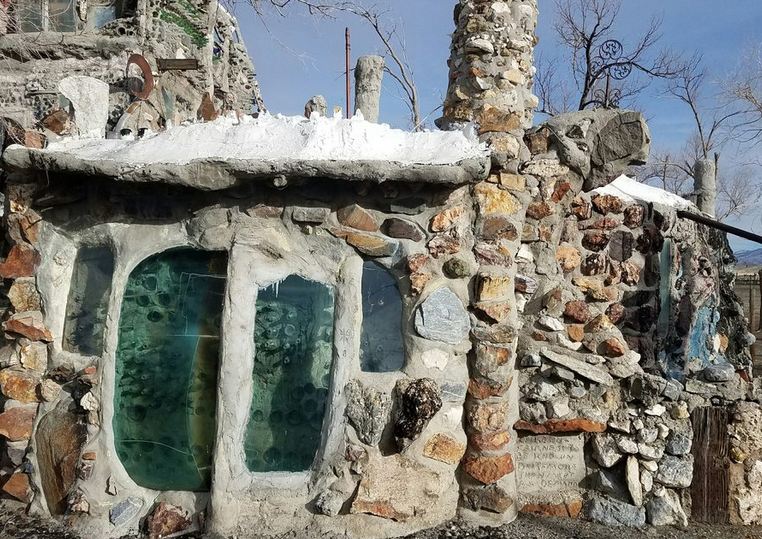 Many of the artifacts have been damaged or removed by vandals over the years. Thunder Mountain is the State of Nevada Historic Site Restoration Project, but it does not have any rangers to protect it. The area has been fenced in with a gate and a sign that says closed after dark, but for a determined vandal, access is easy.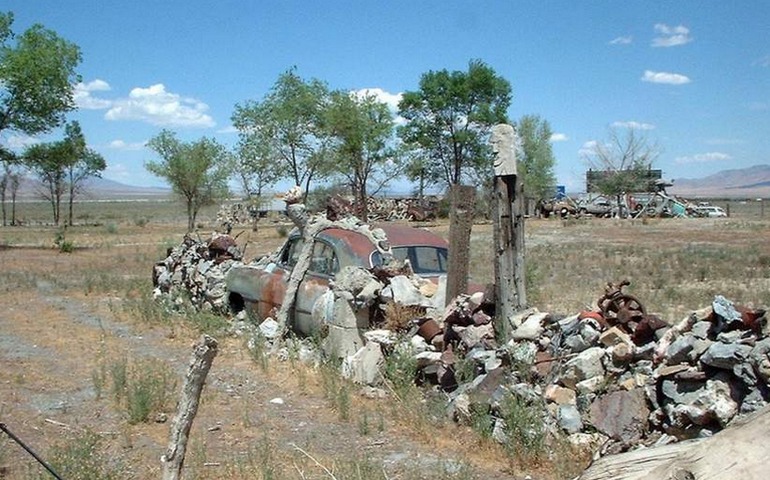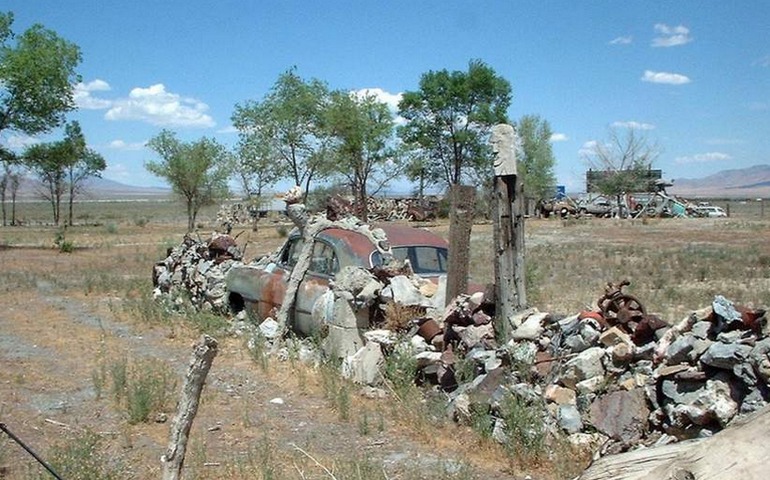 Chief Thunder continued his work on the site even after the fire in 1983 and his wife's departure soon after. In 1989 at the age of 69, he put a gun to his head, ending his life and the era of Thunder Mountain.
Thunder Mountain is designated a Nevada State Historic Site and a National Monument and is an exciting side trip while traveling along Interstate 80 in Nevada.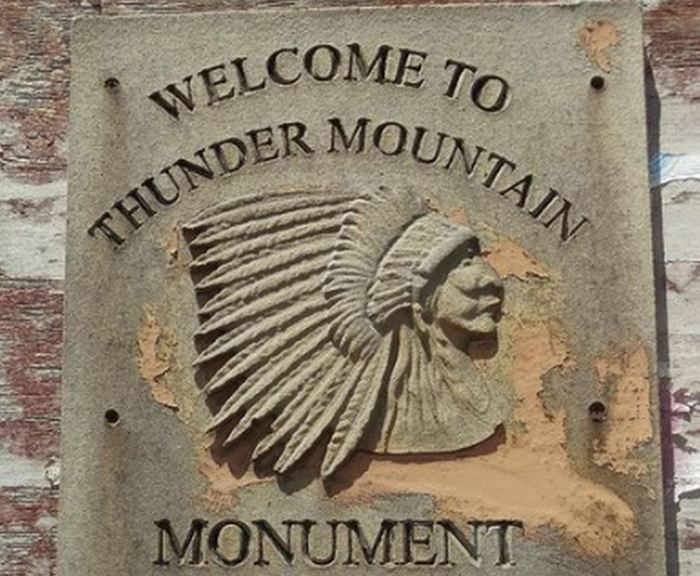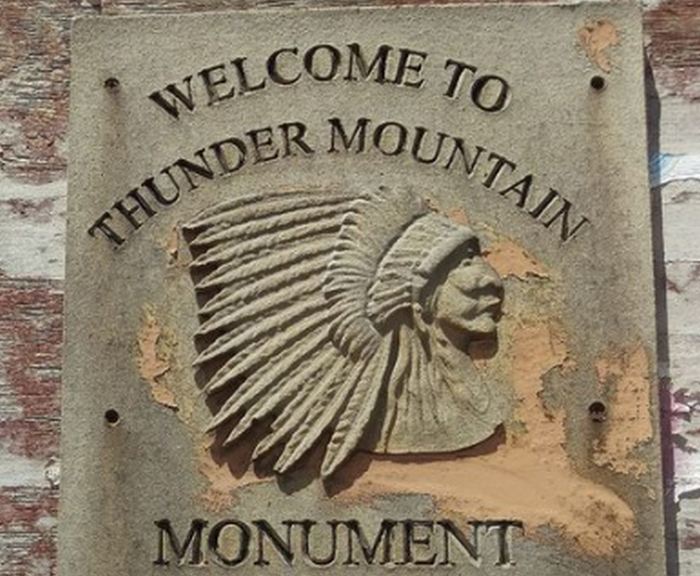 Getting There
Plan on spending about an hour checking out the monument. From there, head over to the Safe Haven Rescue Zoo. Call ahead to let them know you are visiting.
The drive from Reno is about two hours, with not too much to see along the way except for the high desert landscape.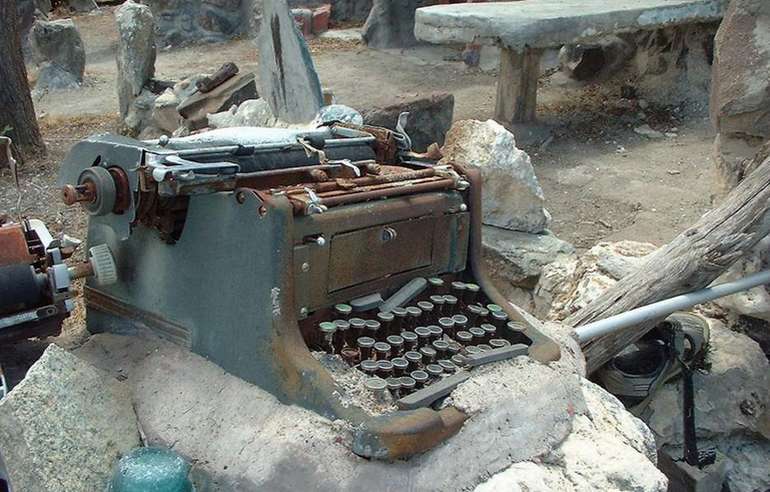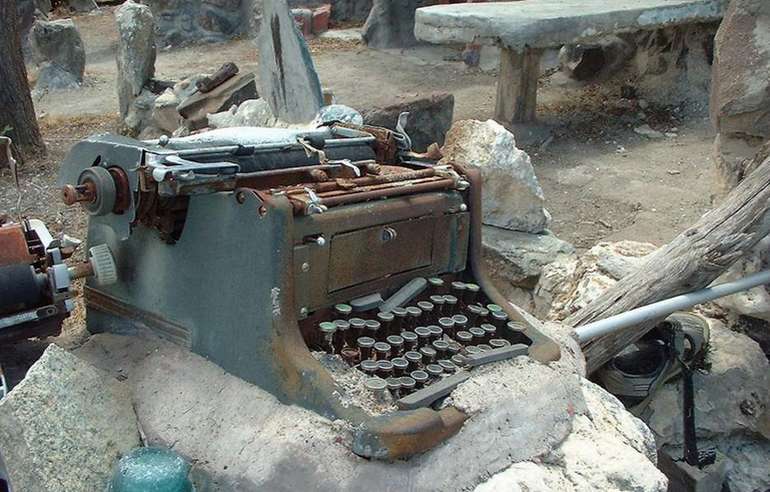 The nearest town with lodging, food, and gas is Winnemucca, 34 miles northeast of Imlay. Mill City, five miles away, does have a vast Travel Centers of America truck stop.  Dining and gas facilities can be found here.
Take the Imlay exit off I-80 (exit 145) to visit Thunder Mountain Historic Site and Park. The monument is on Frontage Road adjacent to I-80 in Imlay, Nevada.