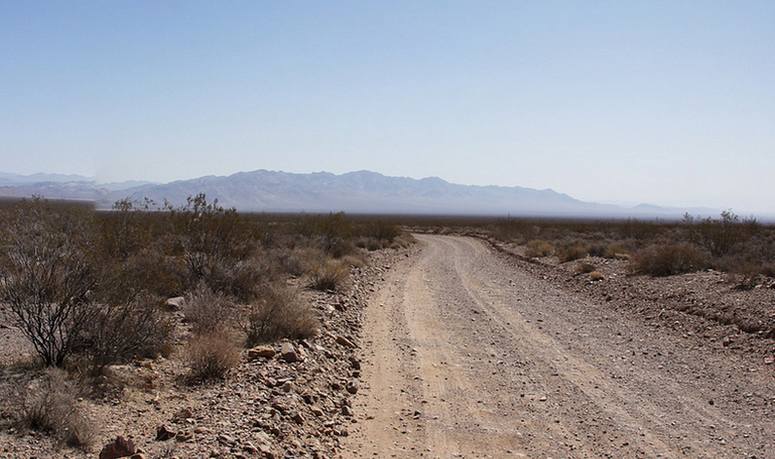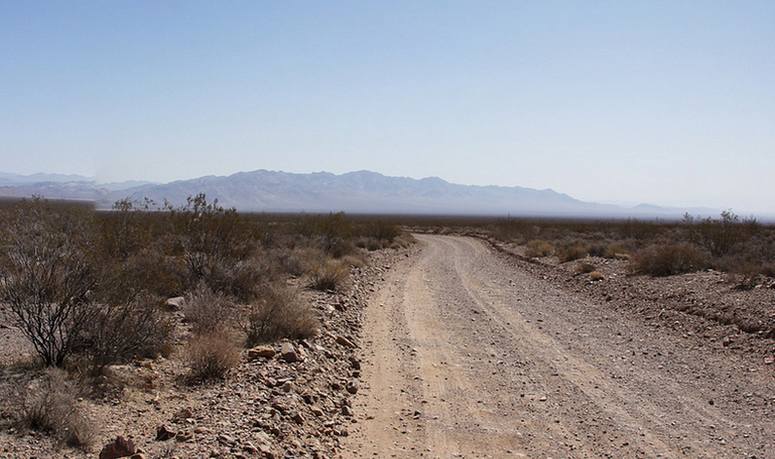 There are two ways you can enter Titus Canyon in Death Valley National Park. The easy way is to park at the west entrance and walk-in. The fun route is to drive in from Nevada Highway 374. The 27-mile trip starts near the Nevada town of Beatty and climbs to 5,000 feet before winding down to lower Titus Canyon and out into Death Valley.
Titus Canyon Road is one-way east to west. The graded dirt road has several steep and narrow sections along with several places where the way is only a couple feet from the edge of a canyon. This trip is not for the faint of heart but definitely worth the effort.
High-clearance or four-wheel-drive recommended for this trip. However, most of the drive is relatively straightforward. Plan ahead, and this trip will be one of the most amazing road trips you will ever take.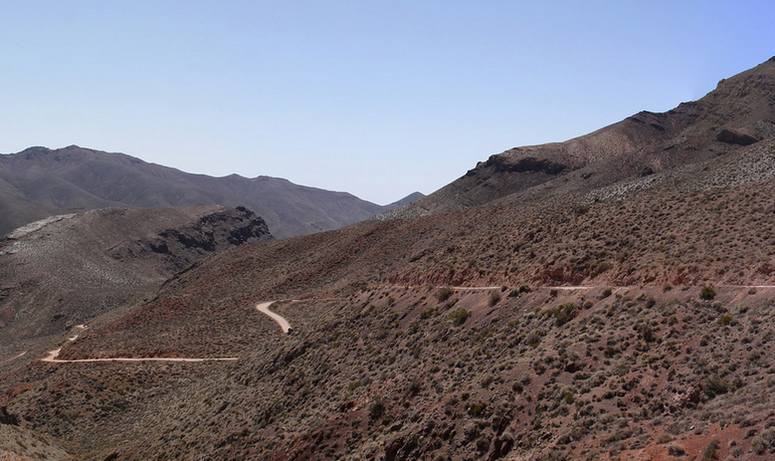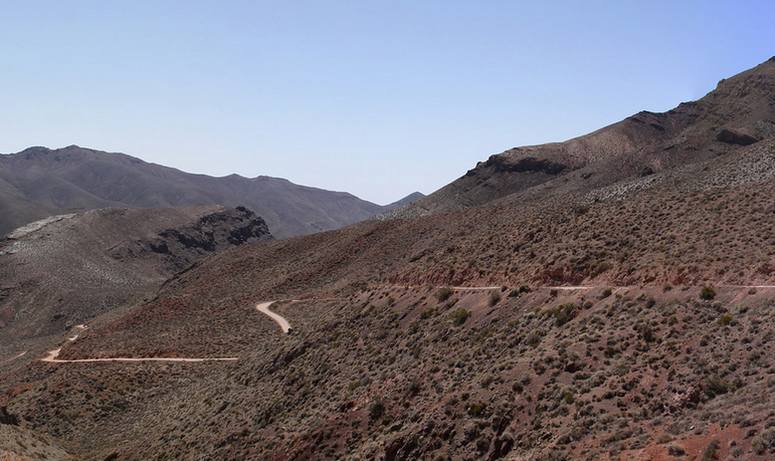 To enjoy this trip it is a good idea to spend the night in Beatty, Nevada. This will give you time to check out Rhyolite Ghost Town before heading off into the desert toward Death Valley. Titus Canyon Road is about 6 miles from the town of Beatty along Highway 374.
The road to Titus Canyon is marked with a sign but easy to miss. The first ten miles are flat with some washboard sections. From there, the route heads into the foothills and slowly twists and turns up to the top of Red Pass, the highest point on the way at 5,250 feet.
Red Pass is a great place to stop and take in the view of the surrounding mountains and valleys. Many unusual rock formations can be seen in this section of the road, so be sure to take plenty of photos. Titus Canyon Road is one-way, so the only choice you have at this point is to proceed down the mountain toward the Ghost Town of Leadfield.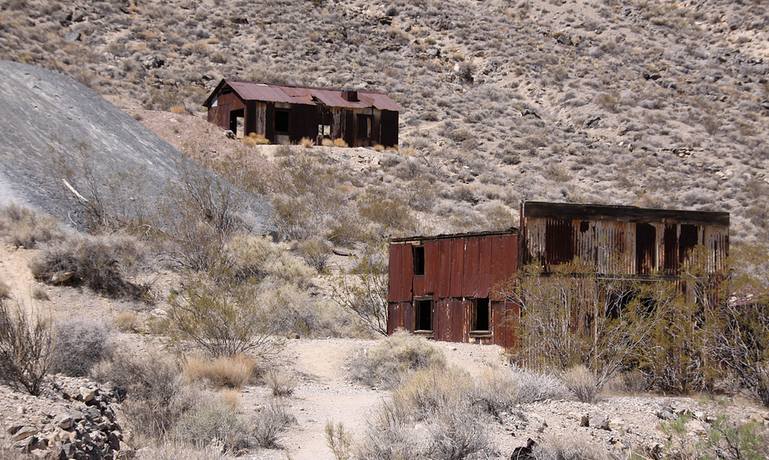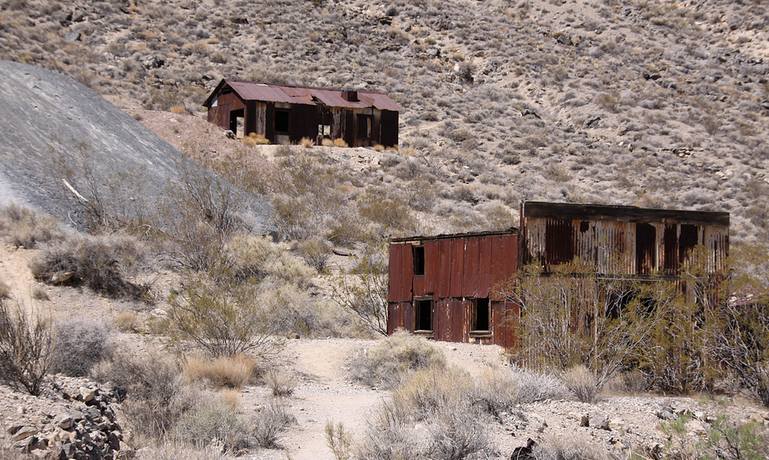 The Leadfield ghost town is located at the head of the Titus Canyon and was only an active mining town for about two years. There was never any lead ore mined here. It was a boondoggle thought up by C.C. Julian to sell mine claims to unsuspecting investors.
A few test tunnels were dug, buildings erected, and a road built up Titus Canyon from Death Valley to shuttle investors to the fake mining claims. By 1926, C.C. Julian had disappeared with the money soon after, the town's residents departed victims of a get-rich-quick scheme.
All that is left of Leadfield California is a couple of rusting buildings, the footings of a never-built stamp mill, and not much else. From Leadfield, Titus Canyon Road slowly winds down into a steep-walled canyon and out into Death Valley.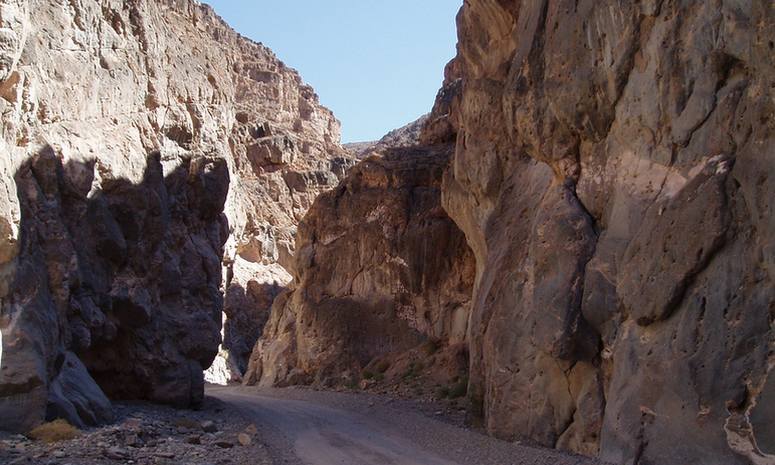 The lower section of Titus Canyon is probably the most photographed area of the trip and the easiest to access. The road here is the creek bed. Some parts are just wide enough for a vehicle to squeeze through. Canyon walls rise to over 100 feet on both sides of the road, making it seem like you are in a tunnel rather than a canyon.
There are several side canyons that you can explore in the lower section of the canyon. Klare Spring trail takes you to a small watering hole used by Bighorn Sheep. Native Americans left petroglyphs near the spring. Unfortunately, vandals have left their mark here, also masking the ancient writings.
The final mile of the canyon is the most narrow and where you may encounter hikers who have parked their cars at the west entrance.  Finally, you're out and can see Death Valley National Park below in all its glory. From here, the road is two-way until it intersects Scotty's Castle's Road.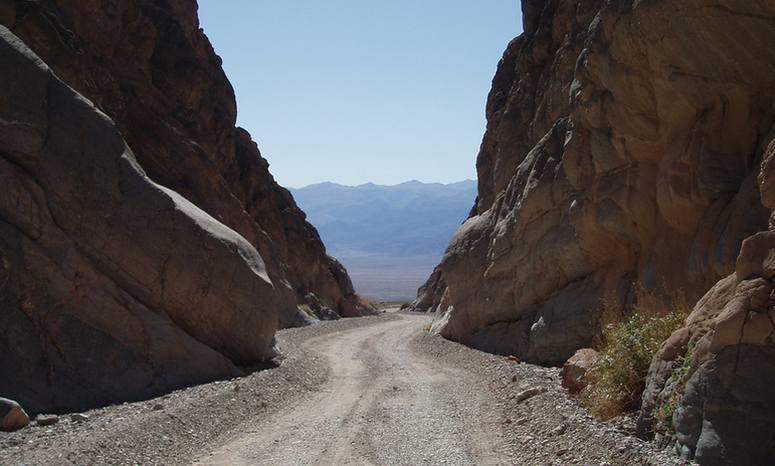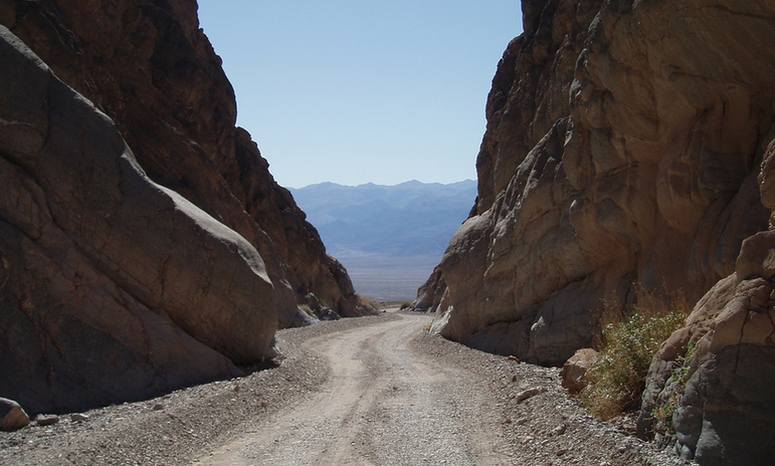 Before you go Titus Canyon Off-Road Trip
Total trip distance is 27 miles, with an average speed of ten miles an hour. Plan on at least four hours with stops along the way. Titus Canyon Road is one-way East to West.
During the summer, temperatures can be well over 100 degrees and travel on this road not recommended. Check weather conditions before you go. Rain can wash out this route with flash floods a real possibility.
Most vehicles can make this trip. However, high-clearance two or four-wheel drive is a must. There is no cell phone coverage, so come prepared with a full tank of gas, plenty of water, and a spare tire.