There's no better way to spend a day than traveling by train. Our choices for the top ten California train trips include scenic excursions, luxury dinner trains and historic rail routes.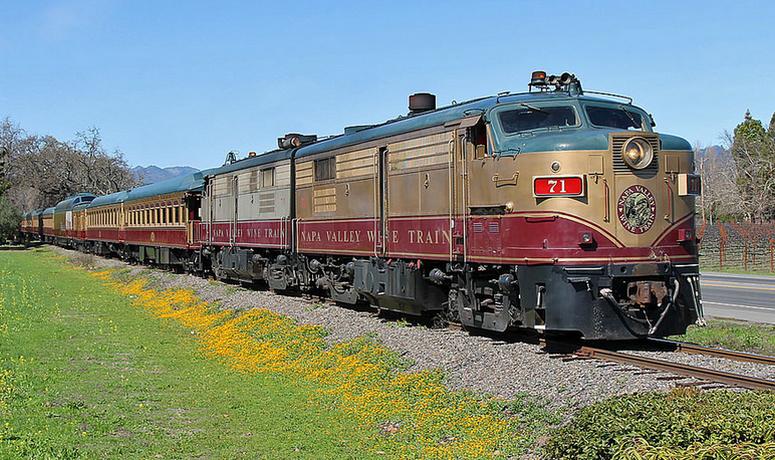 Napa Valley Wine Train has been in operation since 1989. The wine train can carry nearly 400 passengers through the Napa Valley and usually makes two trips a day.
The train is pulled by a 1950s era diesel engine and travels adjacent to highway 29 on a 3-hour trip through the Napa Valley. Napa Valley Wine Train • 1275 McKinstry Street, Napa, CA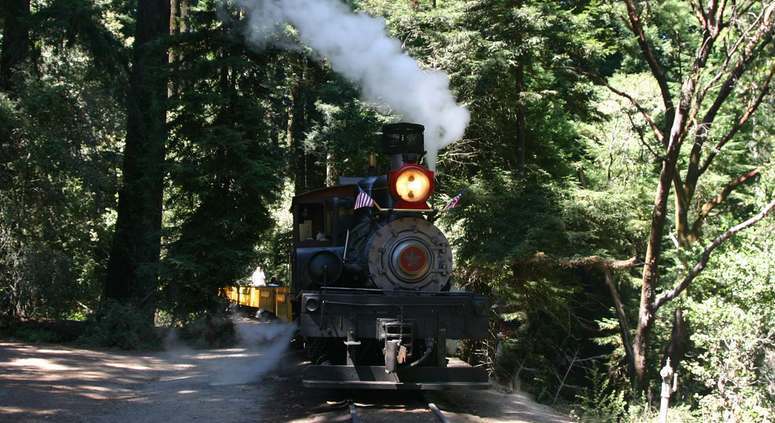 Roaring Camp Railroad offers two different tours to suit your tastes. The Roaring Camp & Big Trees is a steam-powered narrow gauge line using Shay and Heisler locomotives.
Starting at the Roaring Camp depot in Felton, California, the line runs up steep winding grades through the redwood forest to the top of nearby Bear Mountain. 5401 Graham Hill Road, Felton, CA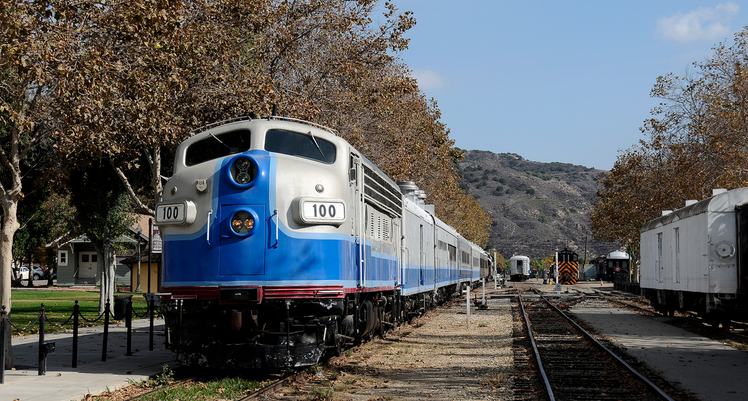 Fillmore and Western Railway winds its way through the Heritage Valley offering views of miles of orange, lemon, and avocado groves.
Halfway point stop over is the town of Santa Paula where passengers can enjoy lunch and explore before the return train trip. Fillmore & Western Railway 351 Santa Clara, Fillmore, California.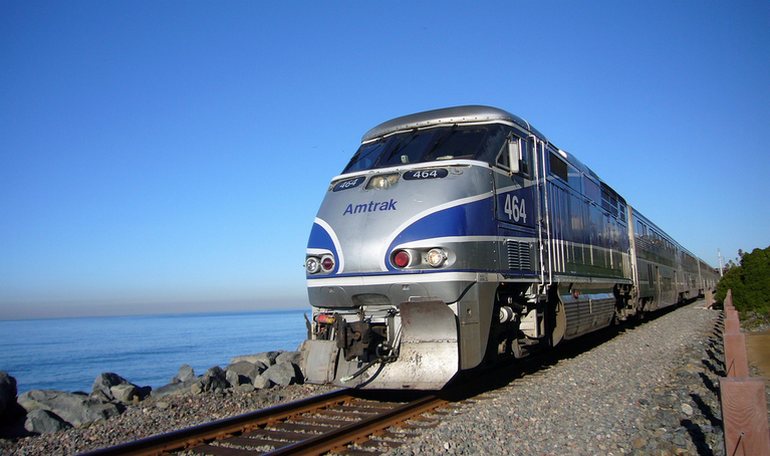 Amtrak Pacific Surfliner travels along the California coast  from San Luis Obispo and ends in San Diego.
Some sections of the trip are inland, however, there are many miles of spectacular Pacific Ocean Views. Point Conception, Gaviota Coast, Santa Barbara Coast, North, and Central San Diego County coast.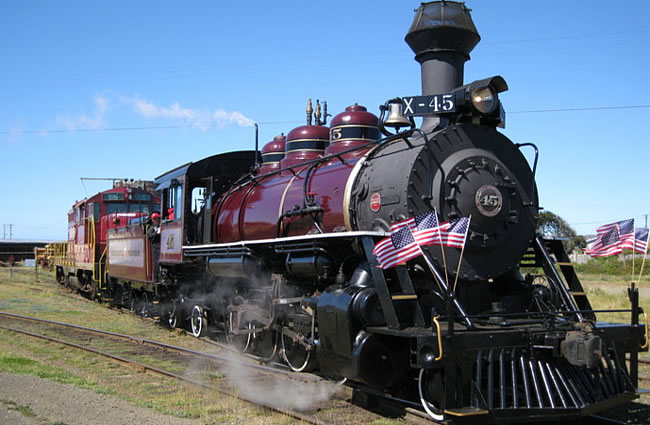 Fort Bragg Skunk Train was originally built by the Fort Bragg Redwood Company as the Fort Bragg Railroad in 1885. Today the Skunk Train takes passengers on a 40-mile trip from Fort Bragg on the coast to Willits
The train crosses numerous bridges and travels through two tunnels on the trip to Willits. Passengers enjoy miles of beautiful Northern California scenery with views of redwood trees.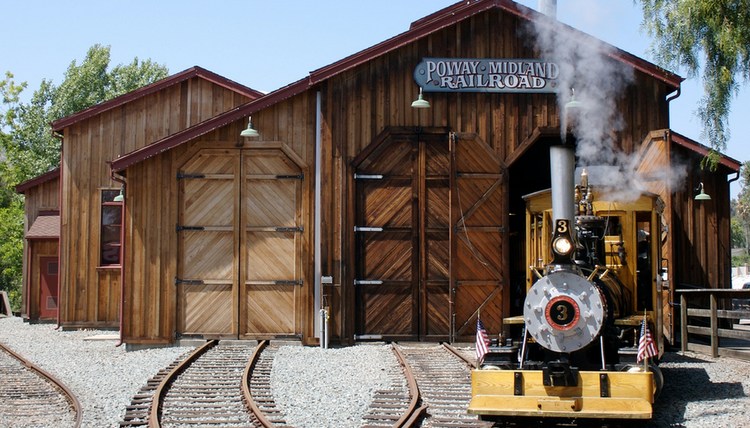 Poway-Midland Railroad while this trip may be short it's definitely worth checking out.
Take a ride on a vintage 1907 Baldwin Steam Locomotive, Los Angeles Yellow Trolley Car or 1950 Fairmont Speeder.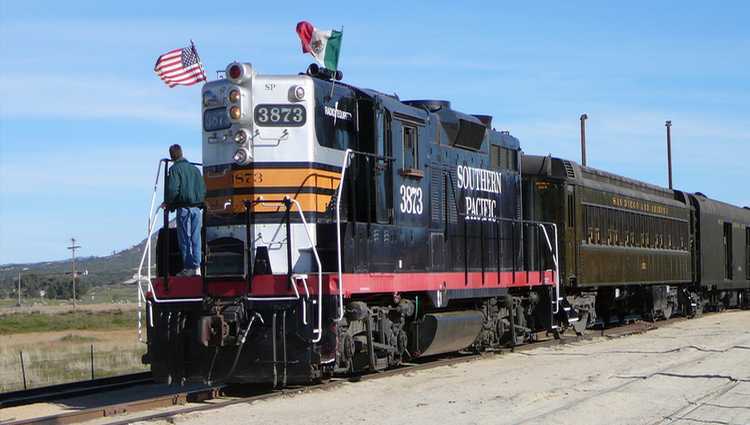 Pacific Southwest Railway takes passengers on a 12-mile round-trip journey along the old San Diego & Arizona Railway track.
Vintage passenger cars are pulled by a Diesel-electric locomotive over this historic railroad route.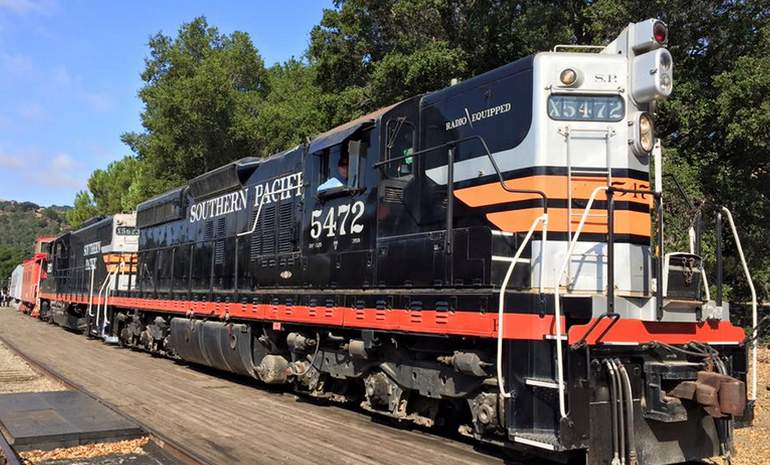 Niles Canyon Railroad operates along a portion of the First Transcontinental Railroad constructed in the 1860s.
The railway runs excursions on Sundays year-round, usually every week during the summer and less frequently during the winter.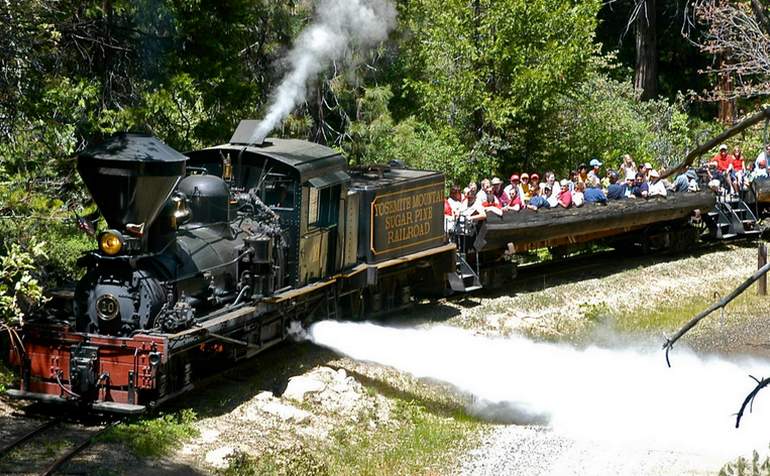 Yosemite Sugar Pine Railroad. the Sierra National Forest's majestic woods provide the backdrop for the narrow gauge journey back in time.
The two steam locomotives operate daily during the summer months.  A "Jenny" railcar runs on the line during the off-season. Yosemite Mountain Sugar Pine Railroad 56001 Hwy 41, Fish Camp, CA 93623.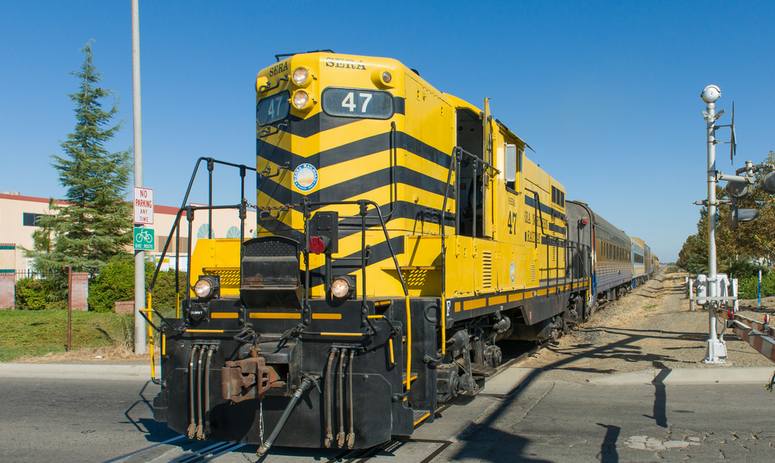 Pulled by a diesel locomotive, the Sacramento River Train features two dining cars, club car, concession car, and two open-air cars.
The train travels along the banks of the Sacramento River on a 28-mile route. Popular trips include Dinners, Great Train Robbery, Murder Mystery Dinner Theater.
Best Nevada Train Trips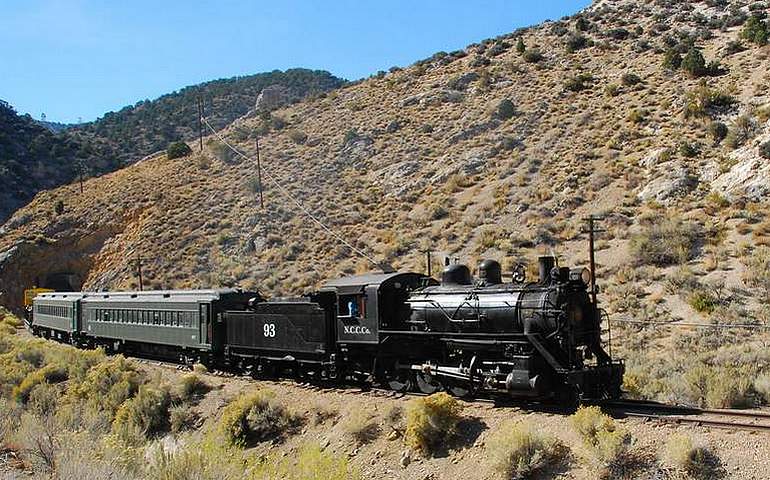 Located in the town of Ely, Nevada, the Nevada Northern Railway offers train trips pulled by steam engines. Excursions are offered on weekend April through January, with daily service between Memorial Day and end of September.
If riding the train is not enough for you, the Nevada Northern Railway offers several unique packages that let you operate the train or work on the railroad.