Troutdale is currently closed with no opening date available
Trout Dale in Agoura Hills is one of those places you drive by and wonder what is that. Trout Dale is an all you can catch fishing lake tucked away in the Santa Monica Mountains at the corner of Troutdale Road and Kanan Road.
Trout Dale is not your average fishing hole you are pretty much guaranteed to catch a fish here. The small pond is stocked with hungry rainbow trout ready to bite on just about anything tossed into the water.
No need to bring any fishing gear Trout Dale supplies a fishing pole which is the bare basics, a bamboo stick with line and hook.
Admission is seven dollars with a pole, corn bait, and a bucket to keep your fish in. If you want to use worms as bait it will cost an extra five bucks. If you catch a fish (and you will) you are required to keep it.
There is a per pound charge for each fish so your bill can add up fairly quickly.
It may be cheaper to go to the local market and buy a trout but not nearly as much fun. Kids will have a blast here and are the perfect place to introduce them to fishing. You will just about always catch trout, but the more you catch the more you pay.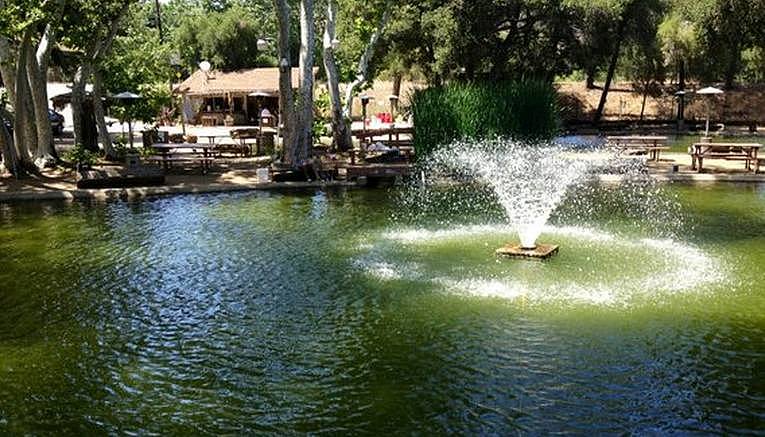 Trout Dale has been around for over forty years and is one of those places that you drive by and wonder what it that. If you're an avid trout fisherman then this is not the place for you. If you are looking for some family fun or a unique activity, fits the bill.
Trout Dale is open from 10 am to 8 pm. Troutdale is perfect for kids to learn about fishing or adults who want fresh trout for dinner.
If you are squeamish about cleaning fish the staff will take care of the gory part for a small fee. Trout Dale also host birthday parties and events for groups. Check out this unique little place in the Santa Monica mountains.
The fun factor is way up there especially if it is a first time fishing experience, so don't let the cost put you off. When you factor in the cost of a fishing license, not required at Troutdale, bait and boat rental it's no such a bad deal. Plus you are going to catch fish here.
Trout Dale is a hidden gem in the Malibu Hills. The area surrounding area is full of interesting places to visit and makes a wonderful day trip destination.
Trout Dale Inc. 2468 Troutdale Road. Agoura, California 91310 Phone 818 889-9993